Real Weddings
|
March 7, 2017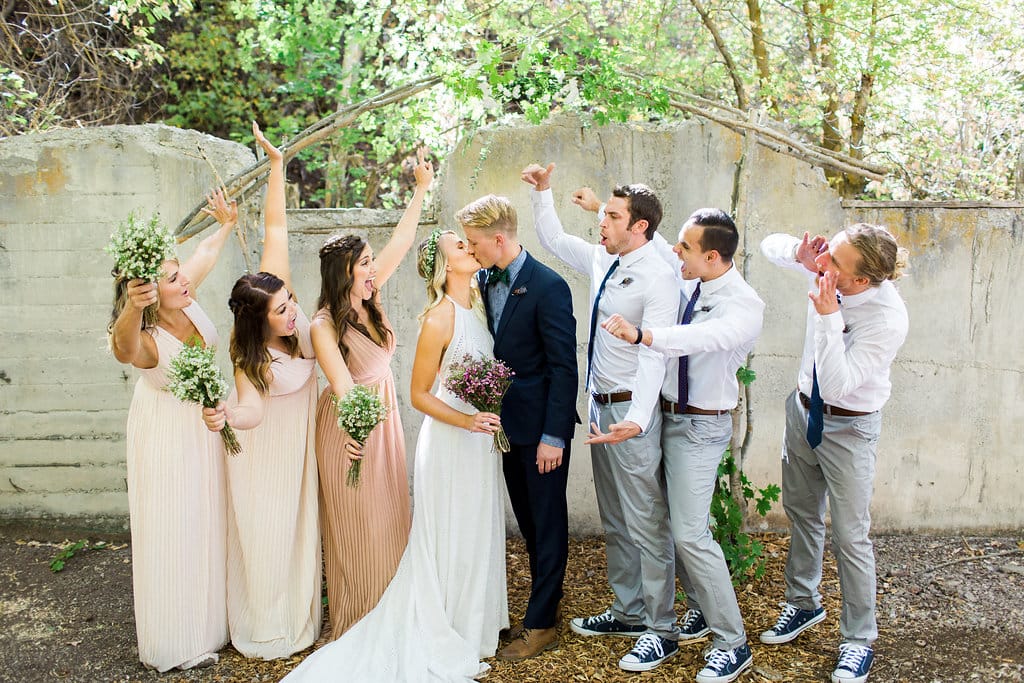 If you took our Find Your Style quiz and got "boho bride," an eyelet lace wedding dress is right up your alley. And Nicole by Sottero and Midgley fits a summery outdoor wedding like a dream. Featuring a halter neckline, open back, and lightweight cotton lace, this gorgeous A-line makes a chic statement while keeping you cool under pressure. Ooh la la!
Keep scrolling for Midgley bride Jena's simple yet stylish outdoor nuptials, shot beautifully by Jadie Jo Photography of Utah.
Have you seen us on the Instagram? Follow us for your daily dose of dreamy wedding inspiration!
Which Maggie Sottero Designs gown did you wear?
Nicole by Sottero and Midgley
What was your favorite part of the dress?
The eyelet lace.
How did you know when you found "the dress"?
I just knew, before I even tried it on. It was everything I was looking for.
How did you and your partner meet?
On a bike taxi after a concert downtown.
How did he propose?
We went to his cabin in Flaming Gorge for a long weekend getaway. Our first morning we floated and fished the Green River. We pulled over and had lunch on the bank. After we finished eating, I was fishing when he called me over to come see a pretty spot he had found. He proposed there and it was very intimate and special because it was just the two of us with an amazing backdrop. He even managed to get it on film. It was the best moment of my life. He then laid a blanket down and opened some champagne. It was absolutely perfect.
Where did you get married?
Our ceremony was in a really old concrete foundation that is tucked away up in the trees in Emigration Canyon. The celebration was down the hill and across the street in my late grandmother's backyard.
Did your wedding have a theme?
We didn't have a theme but the three things that were important to us was that everything was outdoors, that Bren Hill played our wedding, and that we would keep it as small as we could.
How did you decide what you wanted your wedding to look like?
We knew we wanted our wedding to reflect us so we decided on minimal decor and the idea that less is more.
What was your favorite wedding day moment?
Before the "official" first dance, Bren Hill was playing during the cocktail hour and said, "How about a dance?" We had an organic first dance. It was that moment where everything and everyone around us disappeared. It was very special.
Describe your wedding in one word.
Magic.
What advice do you have for future brides?
Focus on the "feel" of your wedding rather than the "look." Also, make it longer than just a few hours. Ours went all day and well into the night and we both felt that it still went pretty quickly but that we had enough time to enjoy it.
Find an Authorized Retailer.