Real Weddings
|
September 18, 2017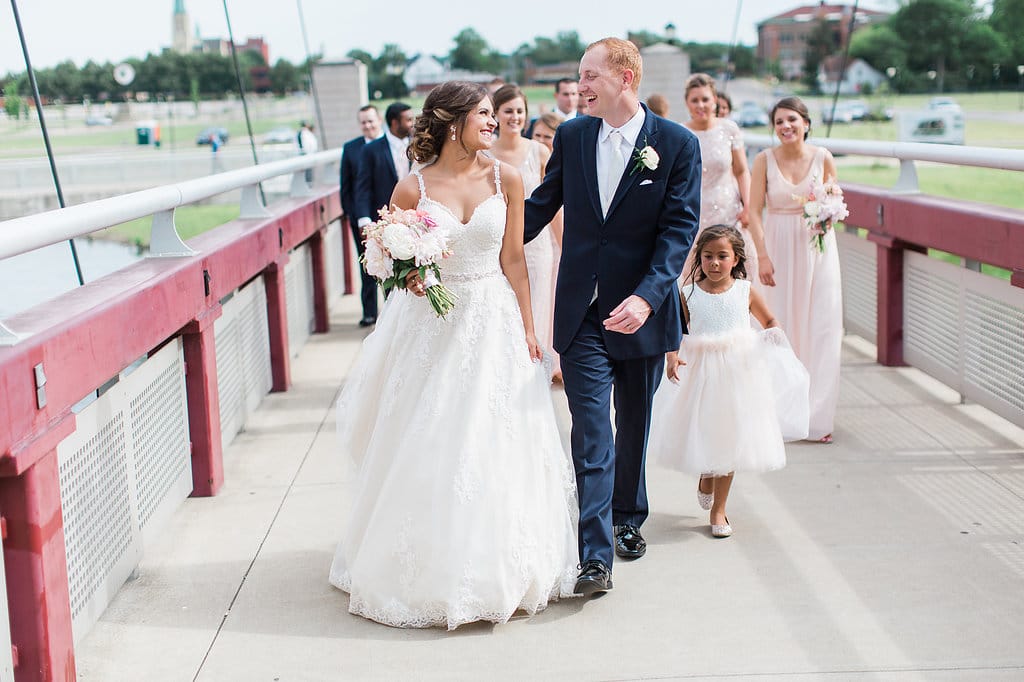 Sometimes you don't need to overcomplicate your wedding vision. Pretty, elegant, and a little sparkly does the job quite wonderfully, and gives you time to enjoy the things that truly matter, like your dad's poetry and your once-in-a-lifetime party! Keep scrolling for Lindsey's lovely blush wedding courtesy of Arielle Peters Photography, and head to an Authorized Retailer to find your affordable wedding dress by Rebecca Ingram!
Which Maggie Sottero gown did you wear?
Allison by Rebecca Ingram
How did you know when you found "the dress"?
When I tried on the Allison-Rebecca Ingram I knew it was the dress because I felt like a real bride. The other dresses were pretty but they felt like any other dress. Everyone with me thought the same thing as well.
What was your favorite part of the dress?
It's hard to choose my favorite part of the dress because I loved everything about it. I loved the light gold underlay as well as the shape. I also loved the belt on top of the lace!
How did you and your partner meet?
John and I met at Purdue University through a campus ministry. I was a freshman and he was a junior. One Friday night our dorms went roller skating together and went out for half price appetizers at Applebee's after! When we got to Applebee's the older girls in our dorm told us that the boys were already seated and we had to go sit with boys so my best friend and I sat with John and his best friend!
How did he propose?
John proposed at a barn on his grandmother's property. He worked for weeks on clearing the overgrown path and fixing up the barn. He had lanterns, candles, rose petals and pictures of us covering the barn when I walked in. It was beautiful! When we walked in he got down on one knee and asked me to marry him. Of course I said yes!
Where did you get married?
John and I got married at First United Methodist Church in Mishawaka, IN.
Did your wedding have a theme?
I wanted an elegant feel with a touch of glam (which is where the sparkles and pinks came into play).
How did you decide what you wanted your wedding to look like?
I knew I wanted my girls to wear mismatched blush dresses. I wanted many different textures in their dresses. This lead to different shades of pinks. I wanted everything to be sweet and elegant but still have a little sparkle here and there.
What was your favorite wedding day moment?
I think one of my favorite moments during the wedding was when John and I exited the church. Our guests had bubbles and they made me feel like royalty! I also loved the poem my dad wrote for his toast at the reception.
Describe your wedding in one word.
Fairytale.
What advice do you have for future brides?
Relax and soak it all in on the day of. Give your phone to your maid of honor so that you can be in the moment! Think about anything you would worry about on the day of and a few days before, and designate your girls to worry about those things for you on the day of! I knew I could count on my girls and the groomsmen as well who were given some tasks!