Real Weddings
|
March 15, 2017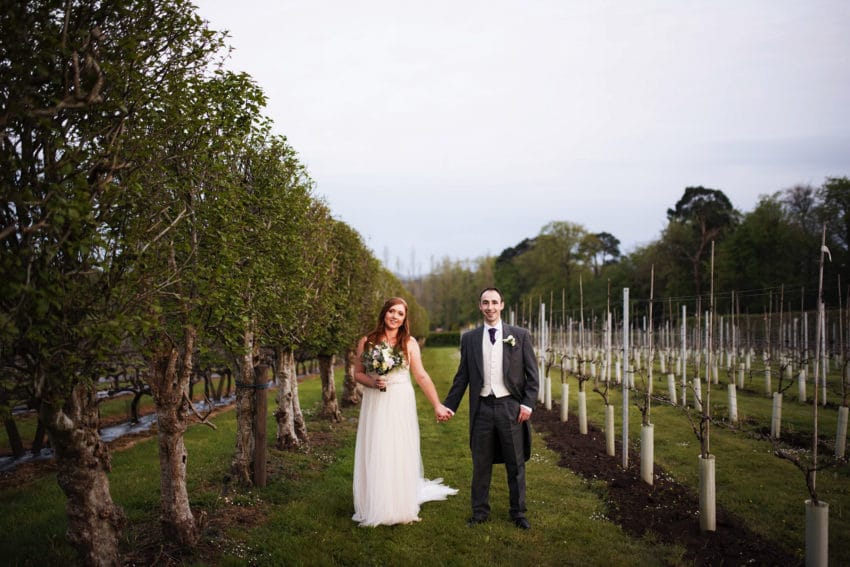 One of our absolute favorite lace wedding dresses, Patience by Maggie Sottero, delivers simple elegance to a seemingly endless array of wedding aesthetics, from classic to boho to vintage. Today we have gorgeous Maggie bride Alex in a customized version of this sheath gown—featuring delicate lace straps atop the sweetheart neckline—for her chapel-and-vineyard wedding in the UK countryside. Keep scrolling for more!
📷: Sian Owen
Which Maggie Sottero Designs gown did you wear?
Patience by Maggie Sottero.
| | |
| --- | --- |
| | |
How did you know when you found "the dress"
I went to several boutiques and didn't quite find anything that felt right. My last appointment was at a stunning boutique in Newcastle upon Tyne called Y.A.P Bridal. The owner, Jo, sat down with me and asked me about myself, my style, how I envisaged looking on the day and details about the venue and decorations. She then pulled four dresses that she thought I'd like – three of them were Maggie Sottero, so I had a pretty good idea that I would end up being a Maggie bride! My favorites were Carmen and Patience but I wasn't sure which I preferred, so I booked a second appointment to try them on again. In the time between the appointments, I kept Googling pictures and searching on Instagram for real brides who had worn Patience! I asked my mum, bridesmaids and friends to join me for the next appointment. When I tried Patience on again, I knew that was "the dress." It was different from anything I'd tried on before and I thought it would be a perfect match for our vineyard venue.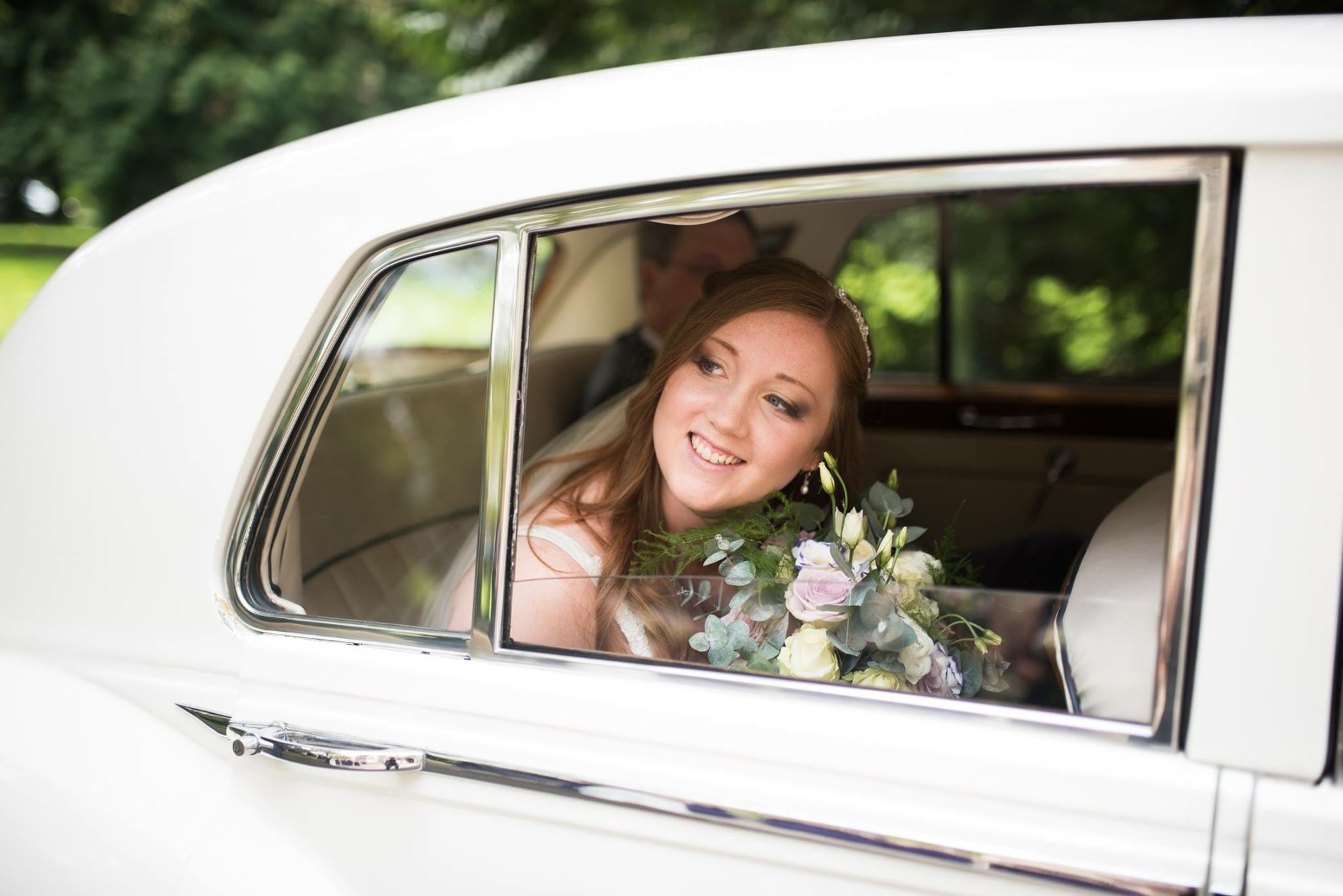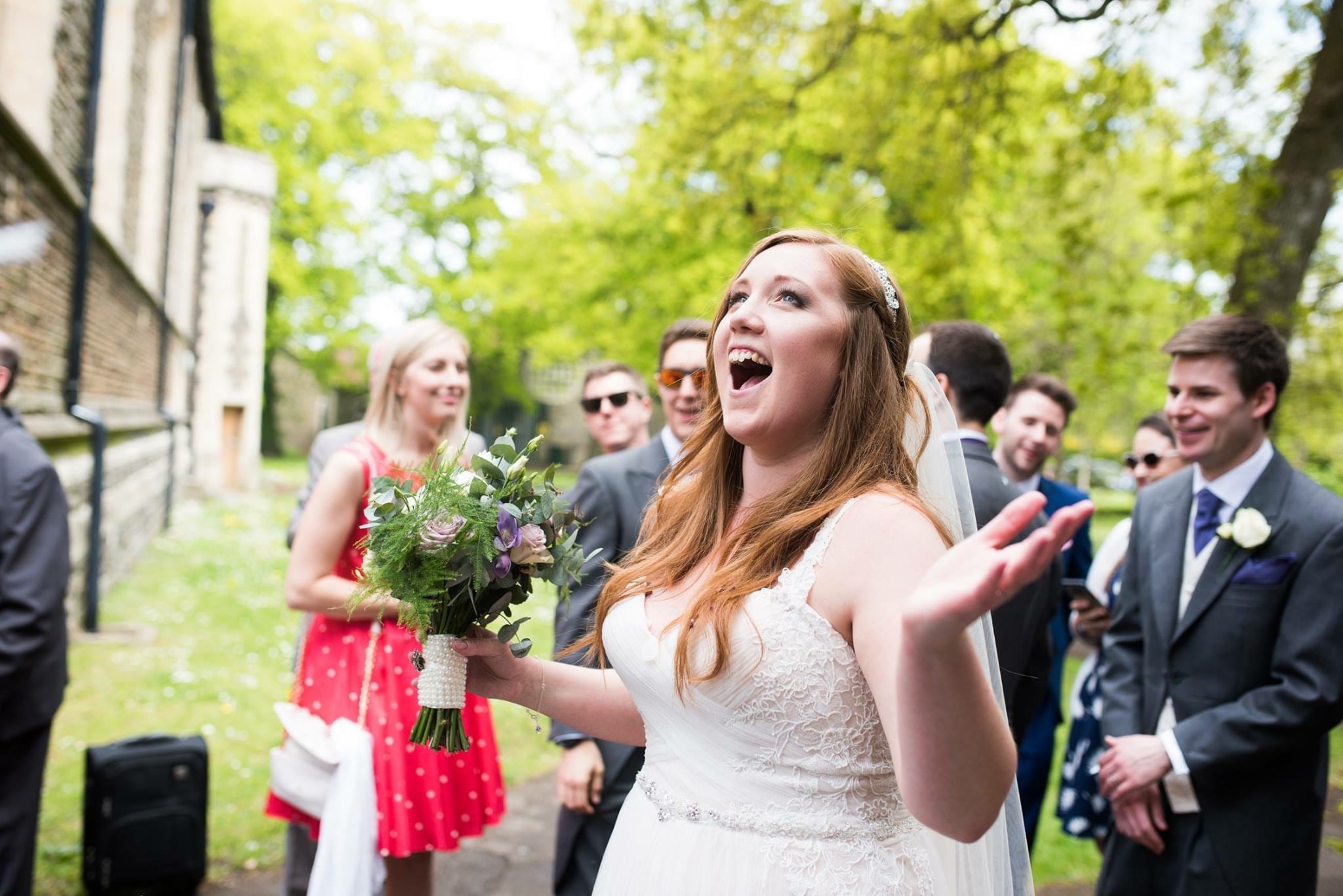 What was your favorite part of the dress?
I loved the color, tulle skirt, and the lace motif detail at the sides. It felt so light and comfortable on. The amazing Anne Hall at Diva Designs (who does the dress alterations for Y.A.P brides) even found nearly identical lace to add straps onto the dress for me.
How did you and your partner meet?
Chris and I met when we were both studying abroad at Arizona State University. We were both students at Manchester University but didn't meet until I moved into the spare room of the apartment Chris had rented in Arizona. He had already lived there for six months by the time I arrived in January 2009. We quickly became close – he showed me around town, took me on my first (and long-awaited) trip to Vegas and introduced me to people who are now some of my best friends.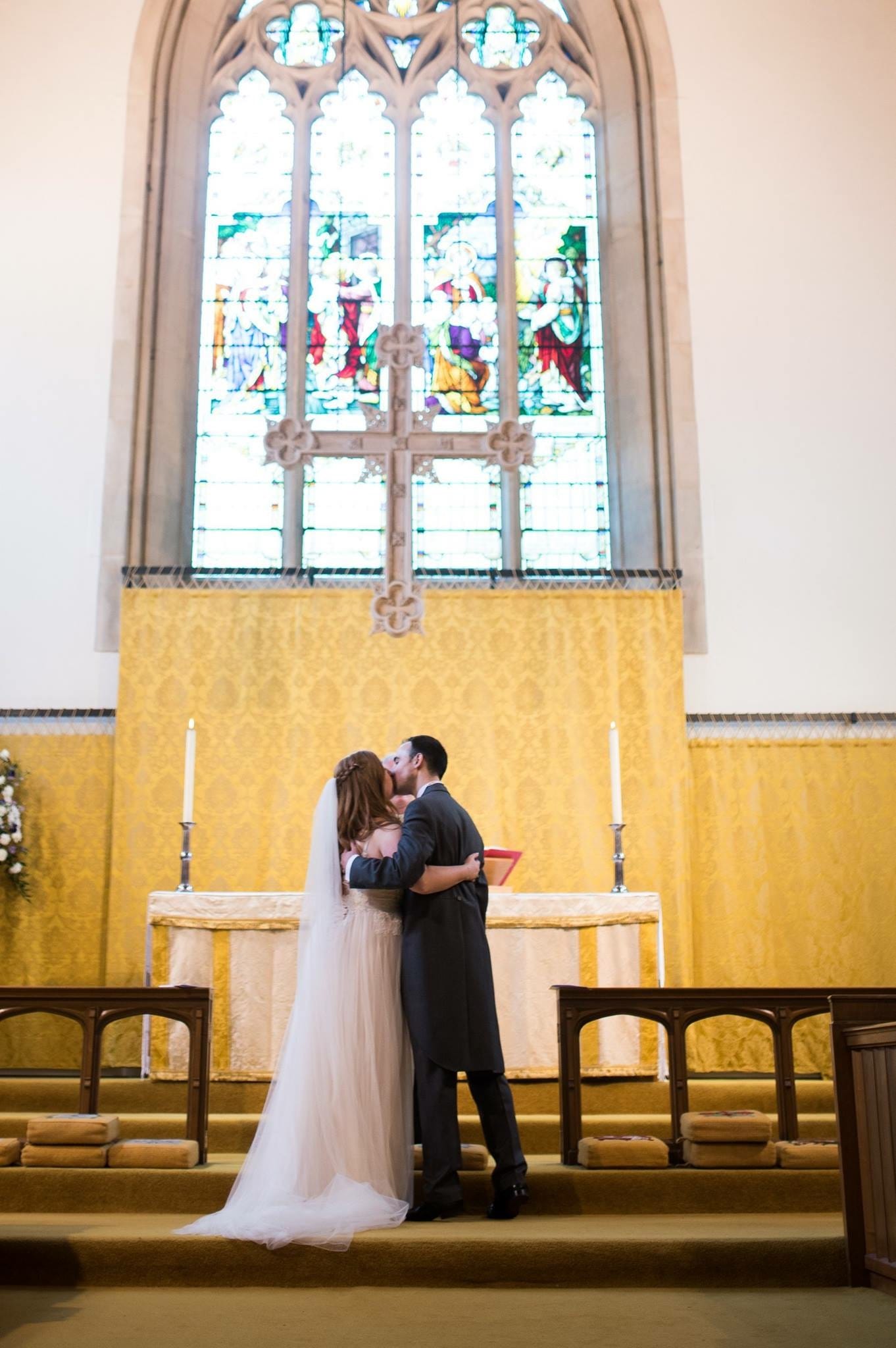 How did he propose?
After five years together, we bought our first house together and moved in in June 2014. A couple of months later, I got home early from work on a normal Friday and was told to go and relax in the garden with a gin and tonic. Funnily enough, I painted my nails while I was outside and was very glad of this later on! After some time, I was invited back inside and escorted up the two flights of stairs, which had handwritten notes all the way up. When we got to the third floor, I saw a red box, which looked too big to contain a ring so that was slightly confusing! I opened it, saw a note saying 'turn around', and there was Chris on one knee with the actual ring box. Of course, I said yes!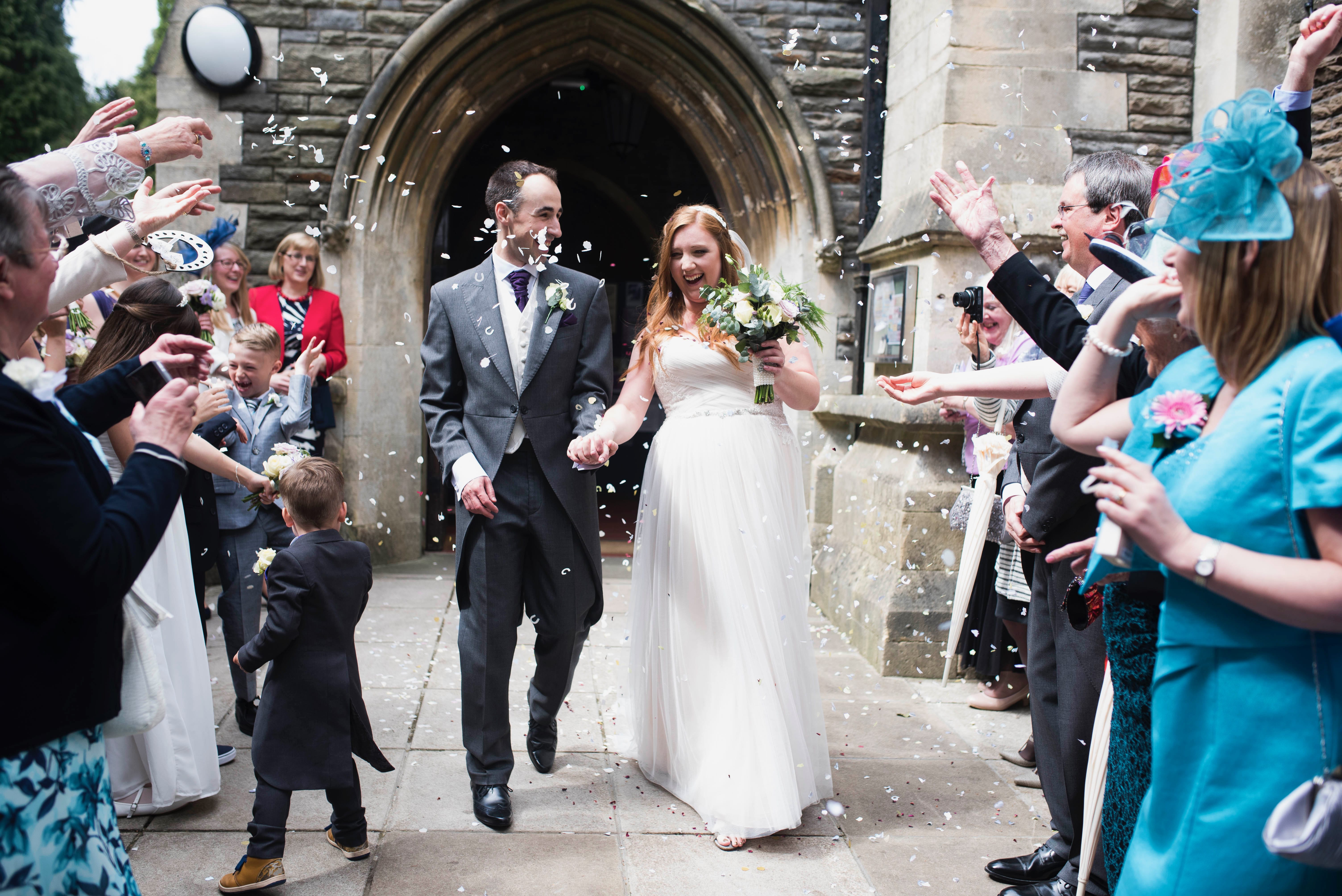 Where did you get married?
Our ceremony was at All Saints Church in Penarth (where I grew up and my parents still live), followed by a reception at Llanerch Vineyard. As wine lovers, we thought a vineyard location near my hometown was perfect for a spring wedding. We loved the beautiful outdoor space – we had our cocktail hour in the vineyard's new Calon Lodge with a secret garden overlooking the vines, then the main reception in the woodland marquee.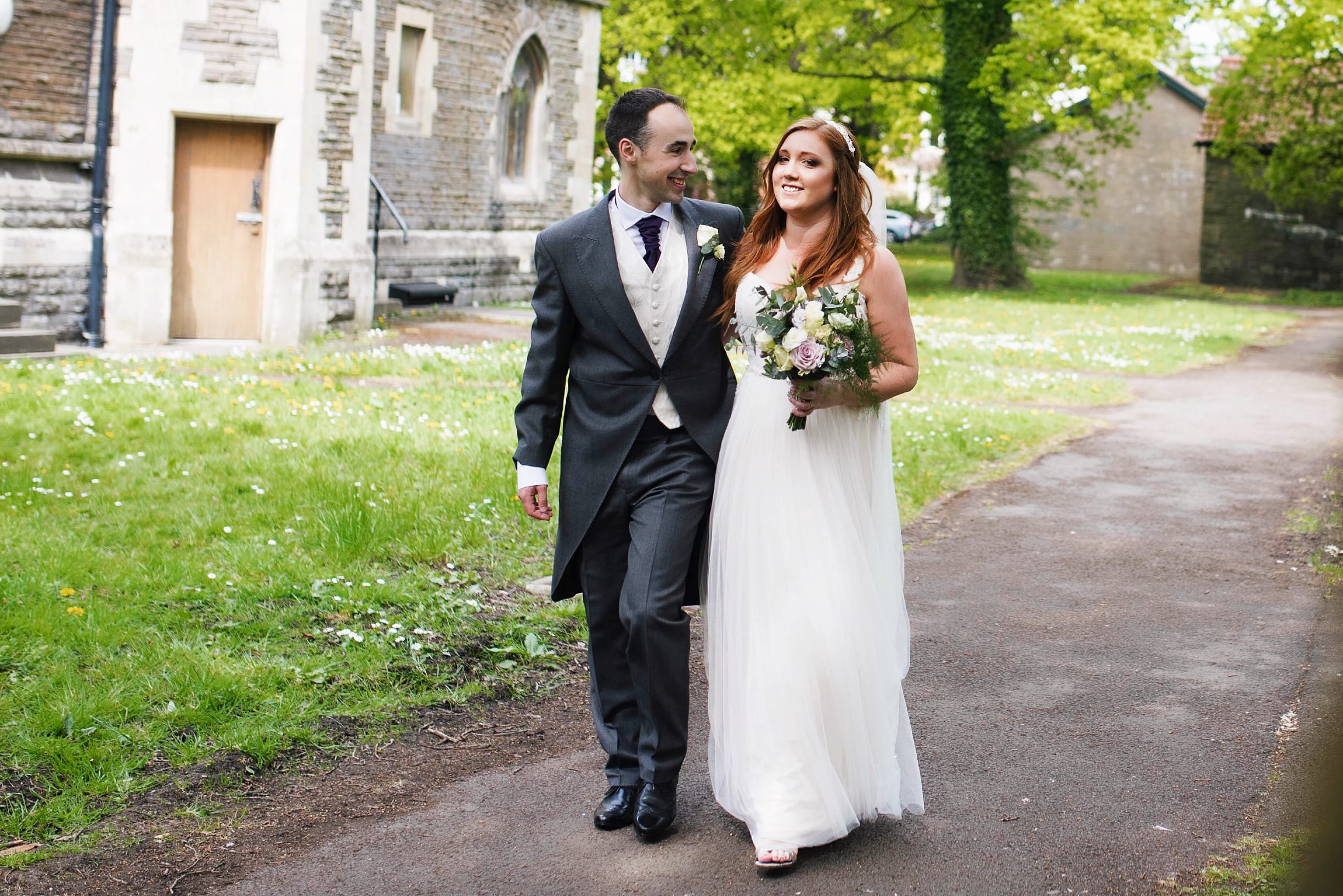 Did your wedding have a theme?
We added some details in keeping with the vineyard venue, such as a table plan made of corks that one of my best friends, Hayley, made from scratch; wine corks as place card holders; slices of wood as part of the centerpieces; and we of course served the vineyard's own 'Cariad' wine (this means 'love' in Welsh).
Our colors were purples and gold, which came through in the bridesmaid dresses, centerpieces, signage (which was made by one of my bridesmaids, Sarah), and cake, which also had gold frames around it with pictures of our parents and grandparents on their wedding days.
As we met when studying abroad in Arizona, we wanted to include a few nods to this in the wedding. We had an 'Arizona Sunrise' signature cocktail, and all the tables were named after towns or canyons in Arizona.
We were keen to have personal touches, so my uncle, who is well-known among our family and friends for working in the fashion eyewear industry, provided personalized sunglasses to every guest as wedding favors. These had our names on one side and the date on the other.
In addition, our guests travelled from all over to attend, so our friend Katie handmade a directional sign which included most of the locations people had come from. This was one of our favorite unique decorations of the day.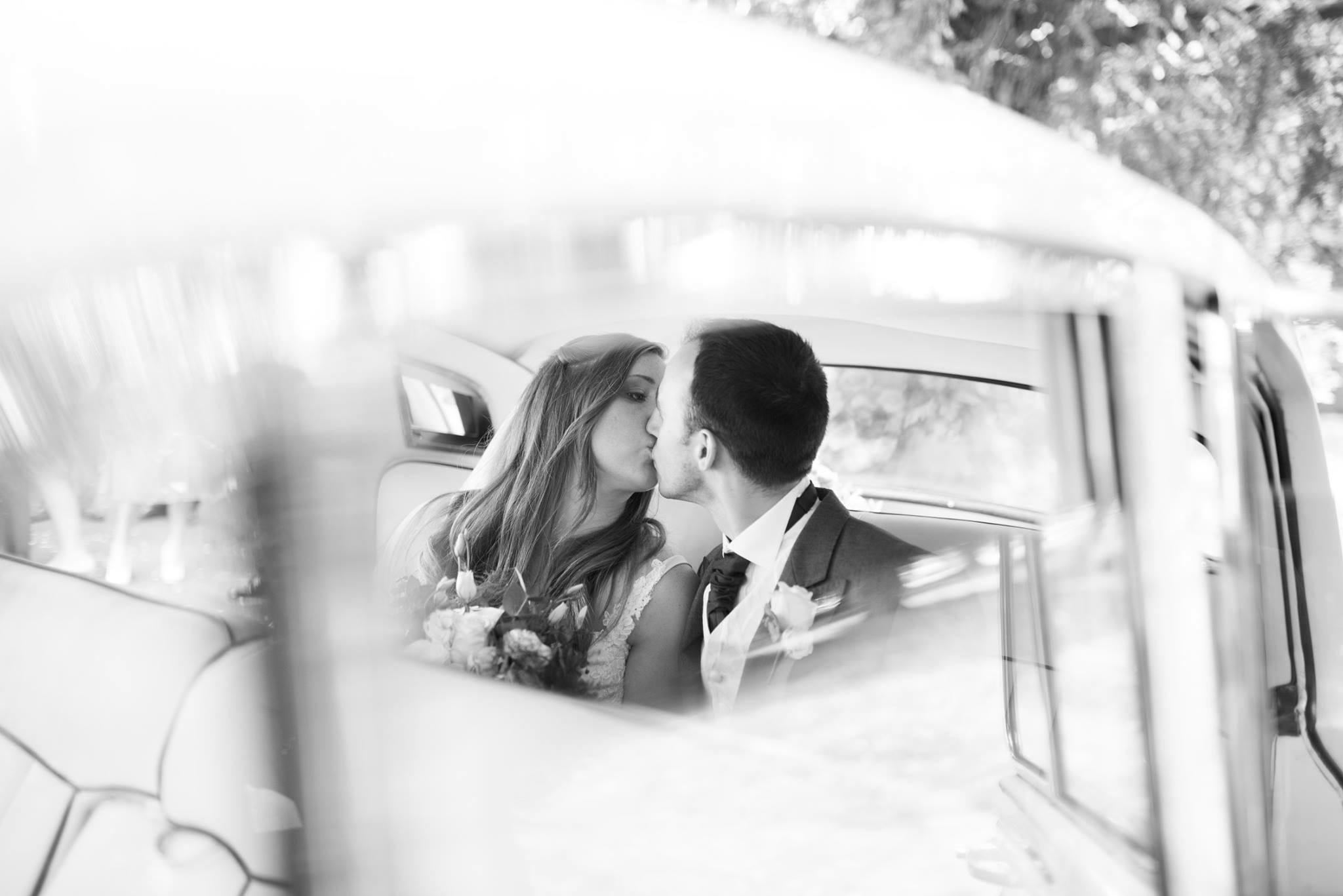 How did you decide what you wanted your wedding to look like?
I must have spent hundreds of hours on Pinterest! I had always known what colors I wanted, and the Arizona-inspired touches, and once we booked Llanerch Vineyard for the reception it all came together quite easily. It's such a stunning venue that it really didn't need much added to it.
What was your favorite wedding day moment?
My favorite moments were the walk down the aisle with my dad (while seeing everyone from all over the world and different parts of my life all in the same room in my hometown), the surprise wedding salute I received with oars from the local rowing club as we drove to the church, and the time between the dinner and the speeches when we were all outside enjoying the vineyard's wine and beautiful grounds in the sun.
Describe your wedding in one word.
Unforgettable. And surreal!
What advice do you have for future brides?
Don't be afraid to ask friends and family for help! Especially if they have a specific skill or talent. Also, try to have everything finalized by a week before the wedding, so that you can relax and enjoy the run-up to the day without any stress.