Real Weddings
|
June 13, 2016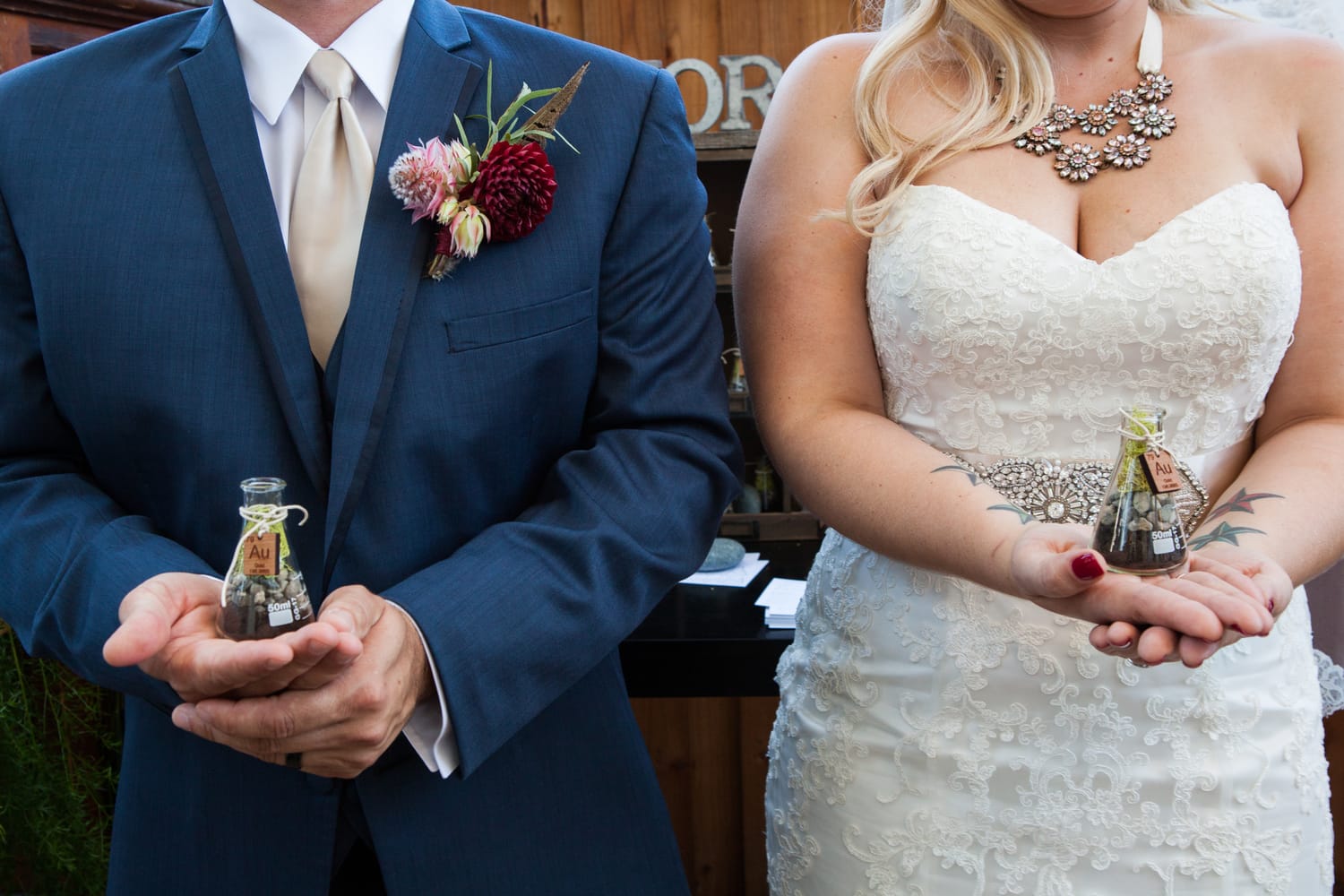 We love, love, LOVE Christy and James' chemistry-themed wedding. Christy looked like a rockabilly princess in victory curls, vintage jewelry, and her Chesney gown by Maggie Sottero, and everything about her ceremony and reception was bold, delightful, and inspiring (really, this couple took the "rustic-vintage-nature-themed wedding" concept to a whole new level!). Read on to hear about James' seriously adorable proposal, and how Christy found the dress of her dreams after what felt like an impossible search. (And while you're at it, check out our selection of lace wedding dresses to get ideas for your own nuptials.)
Gorgeous images by A Heart String Photography
| | |
| --- | --- |
| | |
| | |
| --- | --- |
| | |
What was your wedding theme and how did you choose it?
I think in a way our theme ended up choosing us. The one thing that was really important to James and me was that our wedding stayed true to who we were as a couple, but also focused on being surrounded by what made us happiest. Once we began to reflect on what that was, two common themes kept showing up: 'Science and Nature'. Since James and I first met, any free time we had was spent exploring the outdoors. There is something about being out in the woods or along a river that really gives you that 'reset button' moment and allows us to put away any distractions and really focus on each other. Some of our best memories have been on our spur of the moment exploring and adventure trips. Over the years we've been lucky enough to travel to a few off-the-beaten-path locations, and along the way we usually come across an antique store.
James and I both have chemistry backgrounds and have always had a thing about collecting miscellaneous vintage and antique science equipment and comparing it to what we use at our jobs today. Over time, we built up quite a collection of equipment, books, geodes, feathers, and thingamabobs; when we thought about a theme for our wedding it just seemed natural (pun intended!) to make it an extension of what we love and already had plenty of.
Tying it all together, though, really fell upon my creative- and style-minded sister Jessica, owner of Story Board Wedding. She was able to make our vast collection of stuff, crazy ideas, and a few sketches look like something out of a fairytale. It was so amazing to walk around on our wedding day and look at all of our little treasures on display, each filled with meaning and memories, as if it were a gallery featuring the story of our love and the tokens of our adventures that brought us to that day. I could not possibly imagine any other theme.
What is the name of your dress?
Chesney by Maggie Sottero
| | |
| --- | --- |
| | |
What made you fall in love with it?
When I began my search for 'The Dress,' I had three simple rules: I had to be able to try it on in person, it had to be financially practical, and it had to make my butt look GOOD!!! I searched what seemed like all over Northern California and had tried on, no joke, at the least 100+ dresses. I use the term "try on" loosely, as the largest sizes available at most salons I visited were roughly six sizes smaller than what I am! I was beginning to get frustrated after visiting many bridal salons and seeing a very limited selection of dresses available to try on for us curvy girls! When I was about to give up hope of finding that 'perfect in every way' dress, my soon-to-be sister-in-law suggested I visit the bridal salon where she found her dress. I went with low expectations since I hadn't had the best of luck, but upon arriving I was pleasantly surprised by the salon's selection. The consultant (who also happened to find my sister-in-law's dress several years before) pulled the Maggie Sottero dress for me, and the minute I put it on I had a complete Cinderella moment! It was the glass slipper of dresses!
How did you meet your partner?
James and I actually met at a gun range, believe it or not! It is always fun to tell the story since it is not the typical place one would think to meet their future husband! I had been having a rather rough day and a friend had invited me to meet up with him and his friends at the gun range in an effort to blow off some steam. Even though I had zero experience around guns and have never been to a gun range before it oddly sounded appealing and I accepted the invite.
As soon as I got there I noticed James with his cool black Ray Bans and Cheshire-cat smile. Being the friendly guy he was, he walked right up to me to ask if I would like to give it a go. While he was explaining all the basics to me, my eyes glazed over while I just kept repeating in my head, "Oh please don't let me accidentally hurt anyone in front of this really hot guy!!!!"
Surprisingly my childhood years of playing 'Duck Hunt' on Nintendo provided absolutely no assistance, and I was terrifyingly terrible. I think this is how we hit it off as I was the worst shot anyone has ever seen. James and I spent the rest of the night talking (probably in an effort to get me away from holding any more guns) and have been together ever since.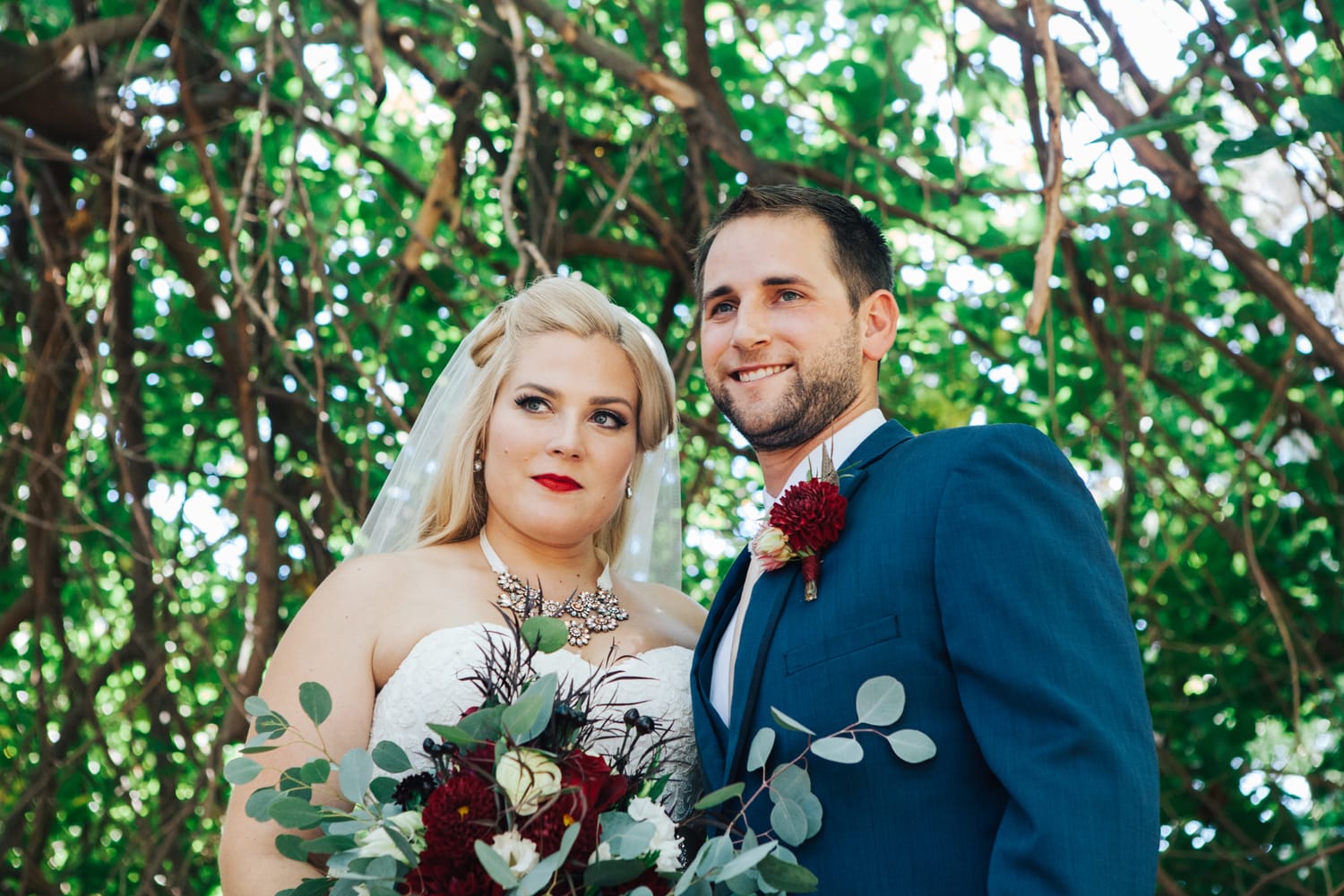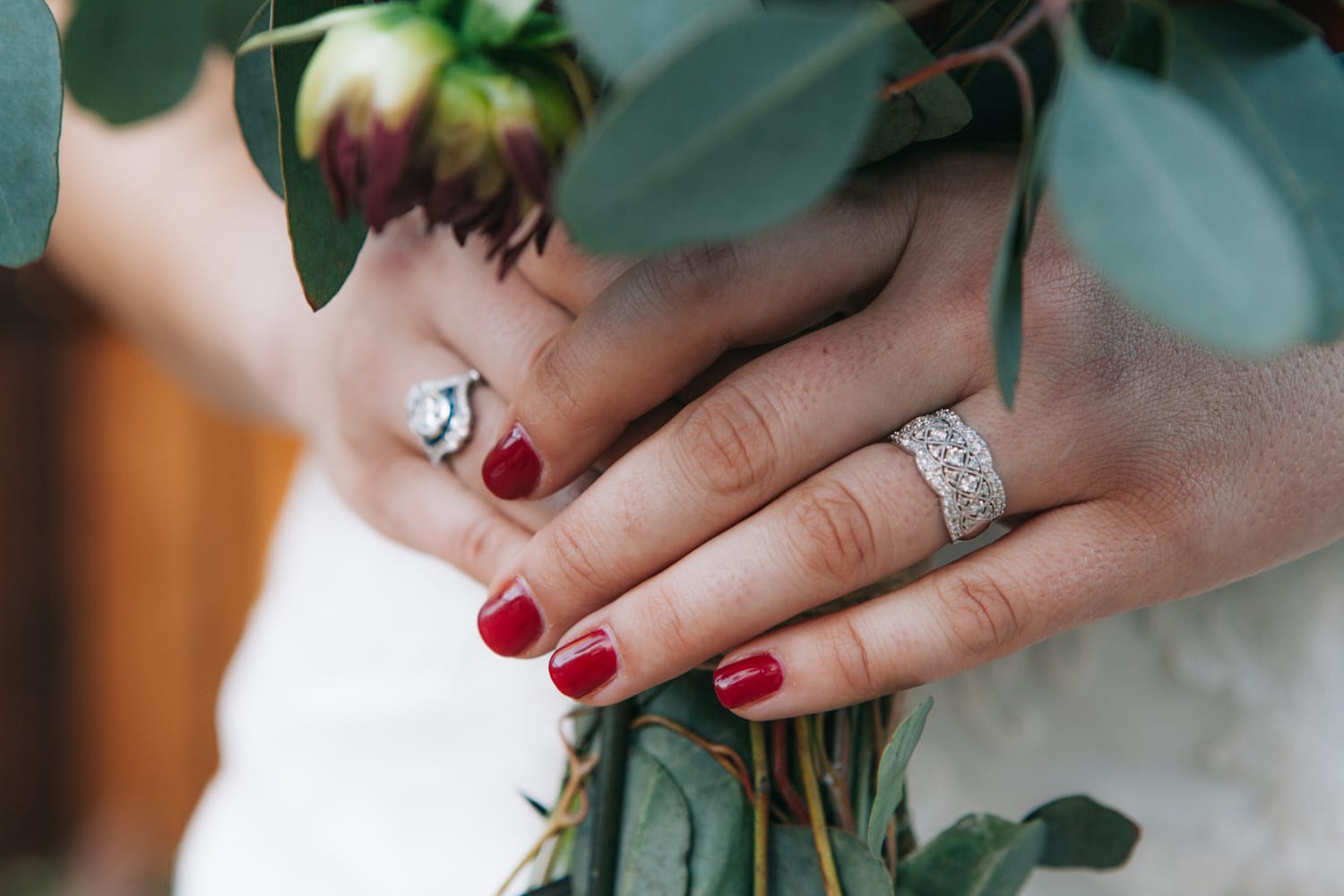 How did he propose?
Around Christmas time about a year after we met, James took me up to the foothills to a real Christmas tree farm. The farm, to be clear, was more like a side of a mountain strewn with wild trees. James' plan was to have me search for the perfect tree and once I found it he would propose. He also thought this would take me quite a while and would put us on the other side of the farm, giving him ample time to not only work up the courage but also the privacy to propose. Being the over-eager achiever that I am, I picked out the perfect tree 15 feet from the starting point about 10 minutes into our arrival. Not exactly ready to pop the question, James encouraged me to keep looking. So naturally I sat there and argued with him how the tree was perfect in every way. Off to a great start! (sarcasm)
Eventually he convinced me there could be other trees out there that were even better and really wanted me to look at each and every tree before I made my final decision. One hour and 195 trees later just as it was beginning to rain I begged him to just pick a tree. Literally any tree. He found the closest tree to him, got down on one knee, and proposed. I was so shocked and laughing hysterically once I realized his plan all along, that my cries of joy carried over the mountain and the farm hands came down to make sure everything was ok. Once they found out what happened, it was hot chocolate for everyone! Needless to say I have never loved a tree more than that one in my entire life. Taking it down after the holidays was really tough.
Favorite wedding-day moment?
Our vows. James and I wrote our own vows and didn't let the other know what we were going to say until we were up there. James and I are very much in love, but we don't often talk about it, if that makes sense. Surrounded by our closest family and friends and declaring our love for one another was an extremely powerful experience. I don't think there was a dry eye in the house. I am tearing up about it now just thinking about it.
Describe your wedding in one word.
Magical.
Tell us what advice you have for future brides.
Focus on each other and what makes you both truly happy and everything else will fall into place.