Real Weddings
|
January 2, 2018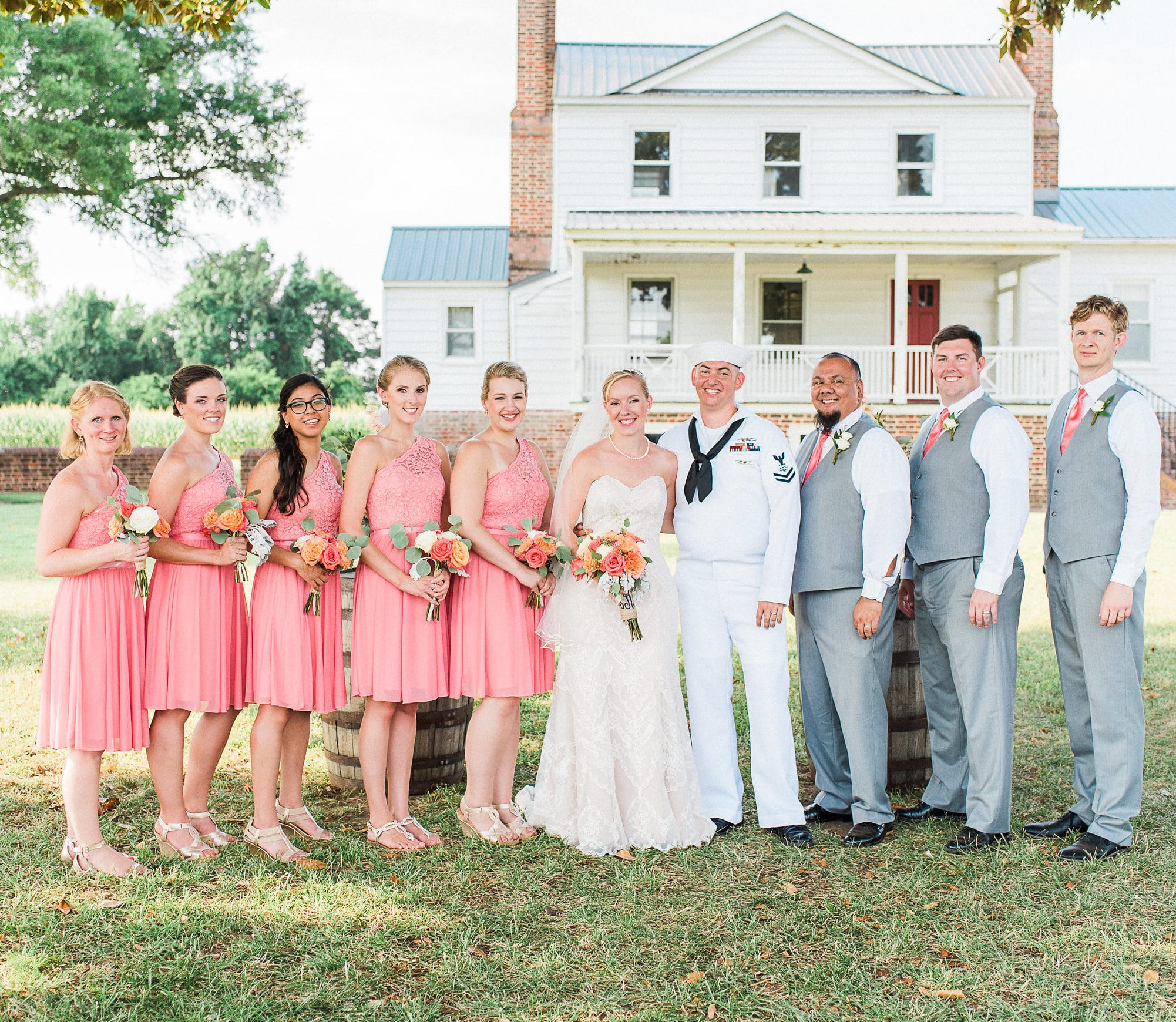 Maggie bride Mallory paired her blush wedding gown with the prettiest shade of coral in her bridesmaids' dresses. We love the simple and flirty touches in this outdoor occasion—keep scrolling for the couple's love story!
This soft fit-and-flare, Kirstie, is part of our Priority Gown Program, meaning it has a short delivery date. Head to an Authorized Retailer to try on this romantic lace gown today.
This lovely occasion was shot by Melissa Durham Photography.
Which Maggie Sottero gown did you wear?
Kirstie by Maggie Sottero.
How did you know when you found "the dress"?
When I put on the dress, I felt completely comfortable. I felt classy and beautiful, and the dress was formfitting in all the areas that I wanted. The dress was completely my style—when I saw myself in the mirror I began to tear up realizing that I was having that "bridal moment." I could see myself walking down the aisle in this dress to my now husband.
What was your favorite part of the dress?
I loved all the detailed lace and the buttons lining the back. The full lace, medium train length, and the sweetheart neck line were all features that I was looking for in a dress.
How did you and your partner meet?
My husband and I met in Norfolk, Virginia, at a party thrown by a mutual friend.
How did he propose?
My husband proposed to me at my family's Christmas gathering that was held in January of 2016. My siblings were with their significant others during the actual Christmas holiday so we all gathered together after New Year's. Once all the gifts were opened my husband announced that there was still one last gift to open, but he said it was in the tree. He asked me to look in the tree for the gift, but the gift was actually in his pocket. I heard a small "thud" behind me and when I turned around there he was on one knee asking me to be his wife!
Where did you get married?
We got married at Cousiac Manor in Lanexa, Virginia, on July 15th, 2017.
]
Did your wedding have a theme?
Our wedding theme was classy, simple, and rustic.
How did you decide what you wanted your wedding to look like?
I always knew I wanted to have a riverfront wedding with rustic accents throughout the venue since I was raised in small river-tower town. I knew the owners of the wedding venue since childhood and kept my eye on the venue as it grew into a specular and breathtaking venue. From the venue, you can see my hometown and that was something that was very special to me. My husband is currently serving in the United States Navy and life on the water is something that is near and dear to his heart.
What was your favorite wedding day moment?
My favorite wedding day moment, if I had to choose, would be seeing all of our friends and family surrounding us with love, laughter, and making wonderful memories together.
Describe your wedding in one word.
Elegant!
What advice do you have for future brides?
Take time to be in the moment with your spouse on your wedding day and get time away from all the hustle and bustle. It's truly the only time you will get alone that day. Step back and take everything in because the day goes by way too fast.