Real Weddings
|
September 1, 2017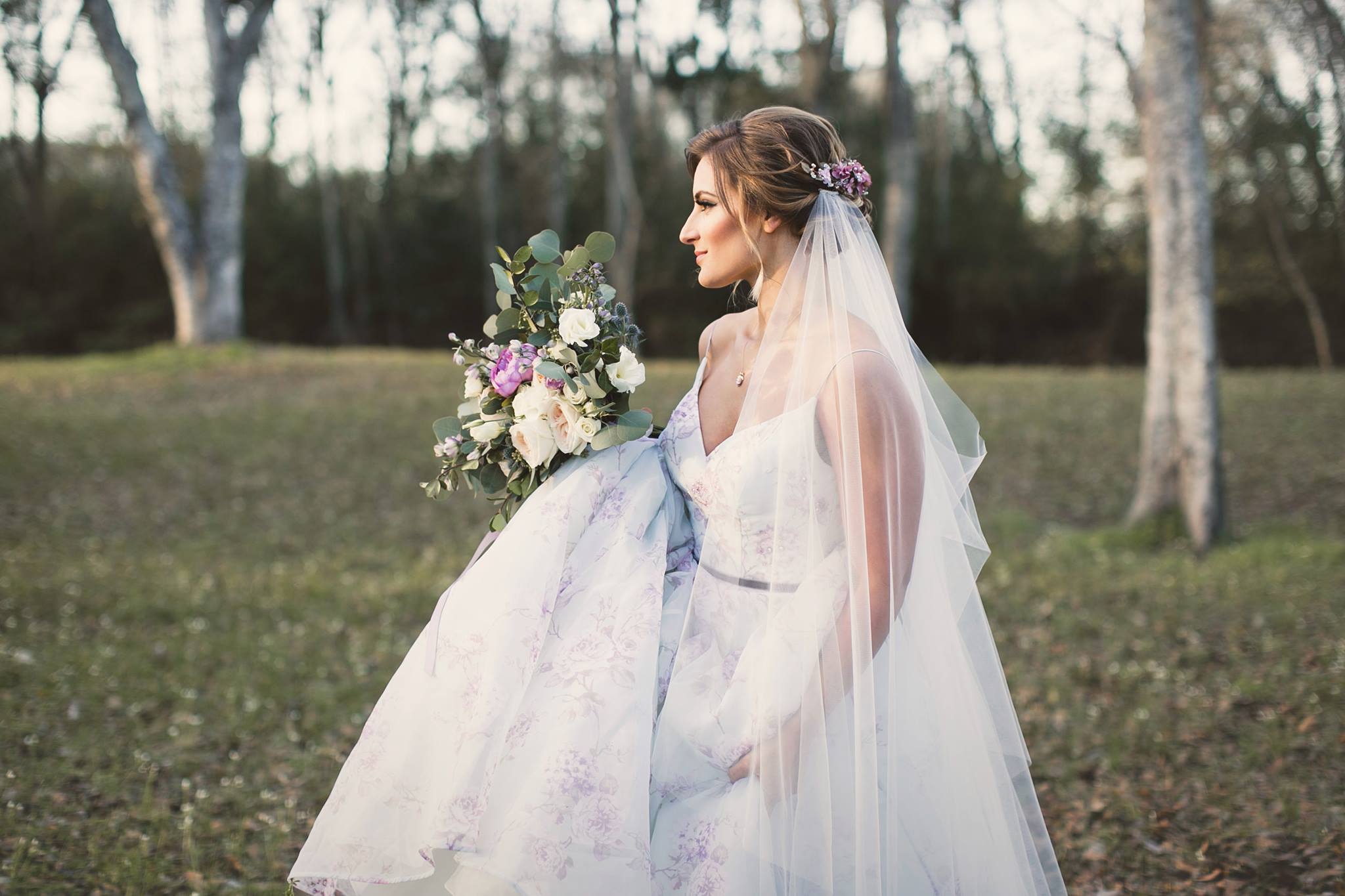 Love the idea of a blue wedding dress? We're guessing you have a serious romantic streak. Get inspired by Midgley bride Carmen's chic and ladylike bridal session featuring unique wedding gown Kira in all its azure-and-lavender glory, then head to an Authorized Retailer to create your own Provencal-esque ensemble.

(Since this dress is discontinued, we recommend you check out Juno or Isolde as lovely alternatives.)

These portraits were shot beautifully by Kimbrali Photography of Louisiana.
Which Maggie Sottero gown did you wear?
Kira by Sottero and Midgley.
(This dress is discontinued; please see silvery blue Juno, or simple wedding dress Isolde as an alternative!)
How did you know when you found "the dress"?
I knew the minute I saw the dress on your website! I called every retailer in Louisiana and half of Texas looking for a store that carried the gown. However, Kira had just came out and no store even had a sample yet, and wouldn't for months! So I went to a nearby Sottero and Midgley retailer, and tried on a few other styles I liked, but just couldn't get Kira out of my head. I decided to just have them take my measurements, "Trust the dress" and ordered it all from an ad photo! Everyone thought I was insane…. my mom, mother-in-law, friends and even the dress attendants. But when you know, you know! Just like when I met my husband.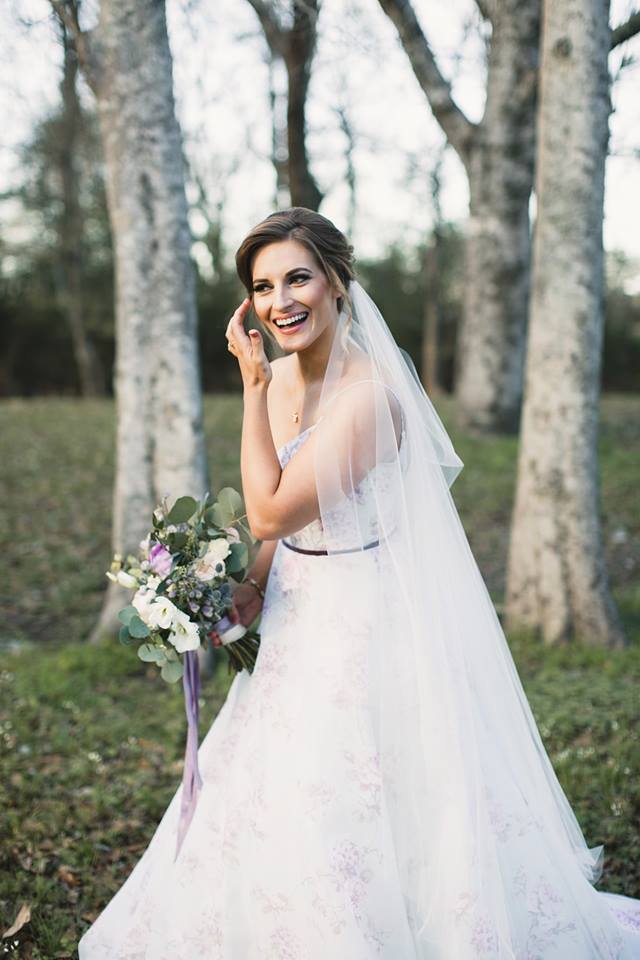 What was your favorite part of the dress?
I loved how it was non-traditional yet I still looked and felt like a bride! The pale azure blue and dusty lavender colors, the chiffon fabric and the floral pattern were so romantic and elegant (Oh and the velvet ribbon belt!). And of course I LOVED the touch of classy sexiness with a low back (and so did my husband). I just felt like it was made for me. It's my exact taste, the cut flatters my build the best and the aesthetic matched my wedding feel and colors perfectly.  It didn't even need a single stitch of alterations, not even a hem! It fit and hit absolutely perfect in every spot.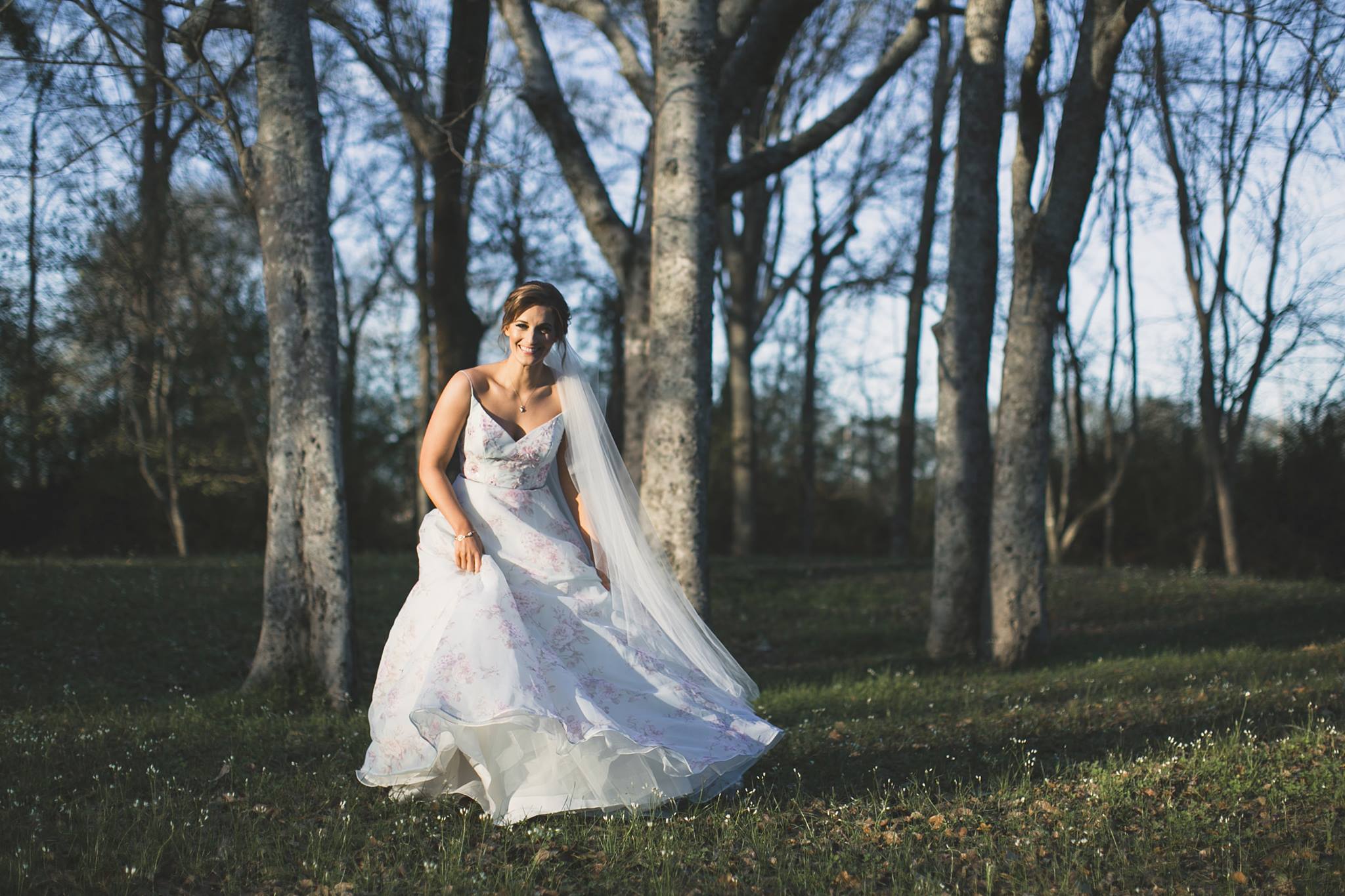 How did you and your partner meet?
He lived in Lafayette, LA and I lived in Lake Charles, LA, about 65 miles apart. I went to college in Lafayette, so many of my friends still live there. One of my good friends, Amy Bernhard, consistently used to go to the gym my husband used to work at and over time, got to know him. She got the hunch that for some reason, we would be perfect for each other, and boy was she right! She felt us both out and gave him my phone number. Five minutes later, I received a text. We talked for a week via text, phone and FaceTime and then he asked me out! He came to Lake Charles that very weekend, where we technically went on a blind date!
| | |
| --- | --- |
| | |
How did he propose?
He re-created that first blind date! At the time we began talking, I had just purchased a fixer-up home that I was right in the middle of renovating myself. We had talked that first week and made plans for us to go fishing at his favorite spot in Lafayette, LA. Well as the weekend approached, my parents decided to come in town last minute to help out on some of the home renovations. I couldn't really tell my parents "Sorry, I'm unavailable this weekend"  when they were offering to drive two hours to come help me do manual labor, so I sadly had to tell my new crush that I wouldn't be able to make our date, trying hard to make it clear that I wasn't trying to cancel and get out of the date on purpose! So in response, he offered to come into town that evening after we were all done working and cook a meal (Homemade chicken pasta, Mmmm) while I relax, prop my feet up, listen to music and have a glass of wine. I mean, every girl's dream, right? It was seriously the best date I had ever had! The day he proposed, he re-created this exact evening but this time, in the finished, gorgeous house I was renovating at the time we met! He had secretly taken off of work that day, June 9th, 2016, and had driven into town. I came home from work that Thursday with his truck in my driveway as he was wearing the exact outfit from our first date, cooking the exact meal, playing the exact songs and pouring the exact wine. As I was telling him about my day, with my fur baby on my lap, he pulled a ring box out of one of the pots on the stove and got down on one knee! It was such an intimate, special, real moment! No cameras, no elaborate set-up, just us being us!
| | |
| --- | --- |
| | |
Where did you get married?
We were married in Lafayette, LA at a non-profit, re-created Cajun village called LARC's Acadian Village. The village was created to help preserve our Cajun heritage here in Louisiana but more importantly, all revenue generated from tourism, venue rentals, and fundraising events held at Acadian Village benefit LARC, which provide residential, vocational and community support to those persons with intellectual and developmental disabilities. The property has eleven authentic nineteenth century Acadian homes donated by families whose ancestors once occupied them. The village holds a sweet, Cajun chapel where our ceremony was held. After our ceremony, we traveled to our reception in downtown Lafayette to one of the best restaurant in town called The French Press. The French Press serves inventive versions of Cajun and American cuisine by the James Beard nominated Chef Justin Girouard.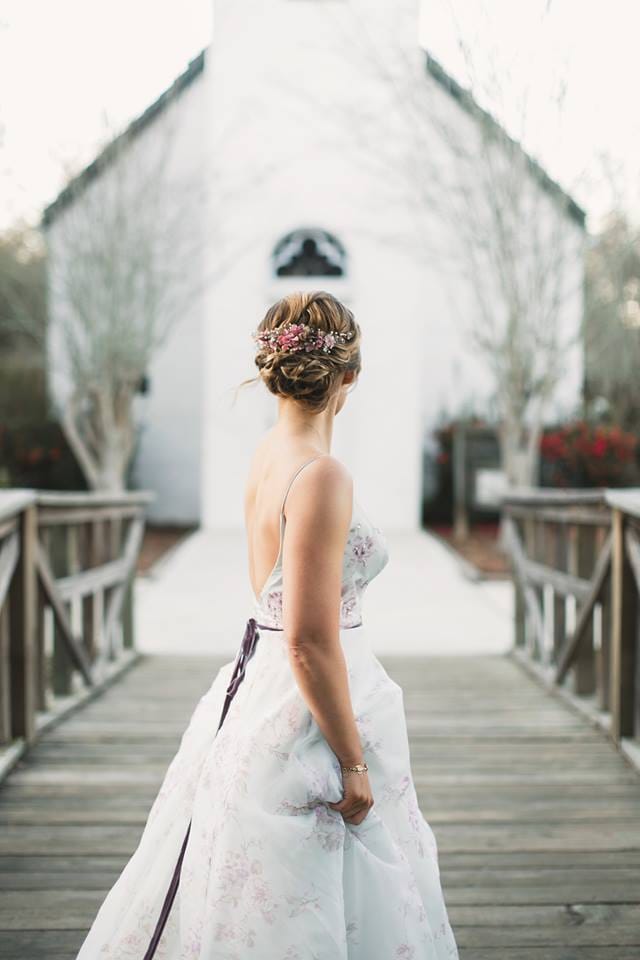 Did your wedding have a theme?
I never thought to call it a "theme" but we had a very French Provencal, or French Countryside, feel. Louisiana heritage has very strong French roots (hence Cajun French) and I have always felt I had "un petit coeur Francais" as I studied the French language from elementary school continuing through college as my minor and even completing a semester abroad in Paris, France. My husband and I also have a very laid back, country yet still very classy style. He and all of the men even wore jeans on our wedding day! And with the ceremony atmosphere resembling a 19th century Cajun French village and our reception feeling like a French countryside château, everything just fell into place. We never planned having that theme, our tastes just showed through!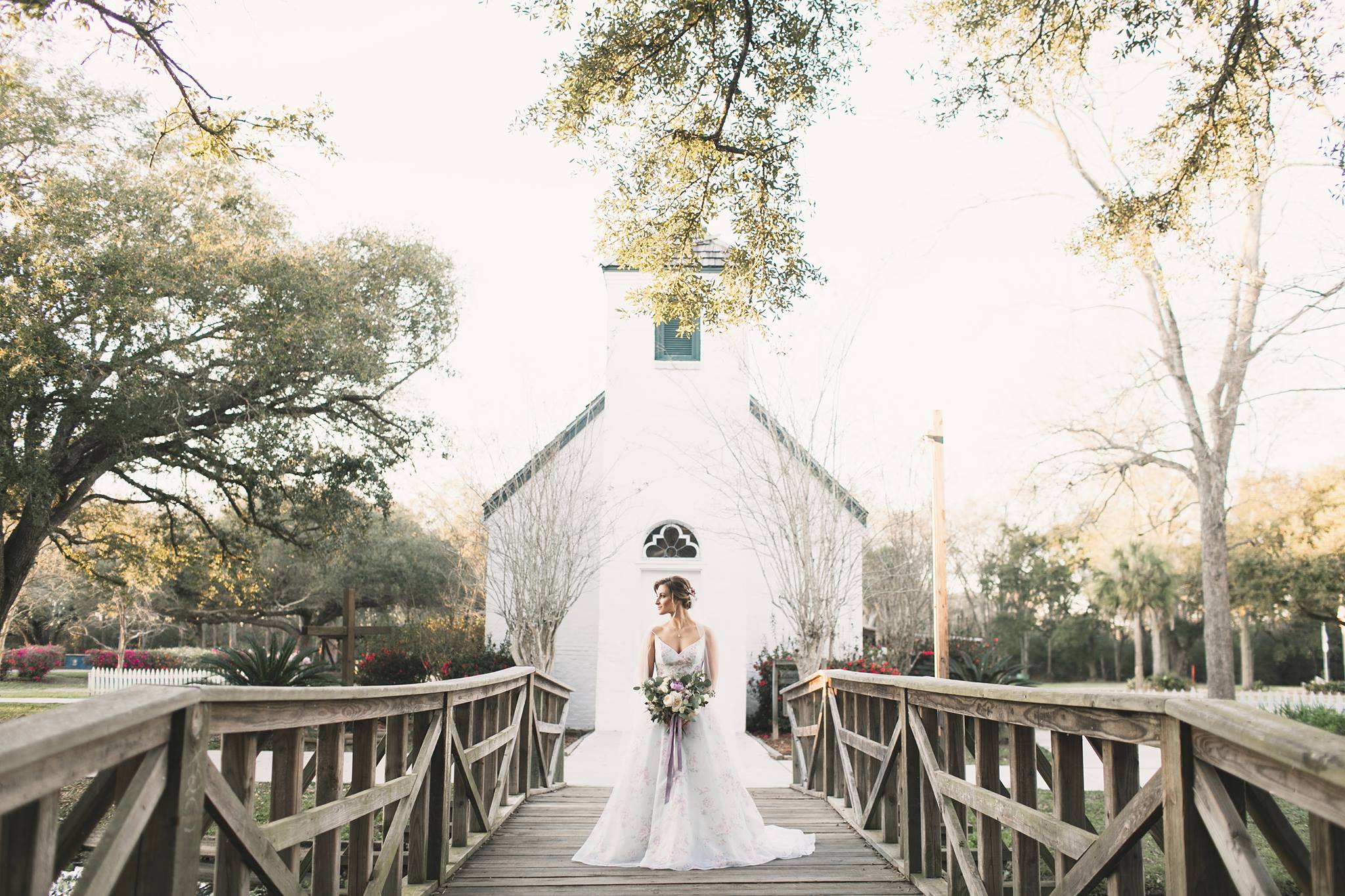 How did you decide what you wanted your wedding to look like?
Well, I know this may not sound human but I'm not a huge Pinterest gal (I know, I know!) so if it weren't for my sweet, talented and creative family members, this wedding would've have been quite, how should I say, "simple." Ha!  Almost every single wedding  idea, design, vision, etc., and having them all work together and tie into one another, can all be credited to my beautiful mother, Andra Cortez! Then there's my aunt, Annette Fontenot, the flower goddess. She transformed any floral desires we had for the wedding above and beyond into an enchanted wonderland! My aunt, Jeanne Tower, she's the do-er, helping make and put all of their ideas into place hanging and hauling and taking down. So, who needs Pinterest when you have a team of amazing women are way more crafty and talented than I am? I'm forever grateful for them and for making our wedding more than James and I ever could've imagined.
| | |
| --- | --- |
| | |
What was your favorite wedding day moment?
Oh goodness, this is a tough one. I would have to say the moment my dad walked me down the aisle. So cliché I know, but seriously! I'll never forget the way that moment felt. It seemed as if that moment were minutes and that I were floating in slow motion towards James. I never once unlocked my eyes with his and I couldn't even tell you who else was in that church besides him and I. My heart (and eyes) was overflowing with pure joy and genuine thankfulness. And goodness, just seeing him up there for the first time that day smiling from ear-to-ear and looking so dang handsome, gave me all the giddy butterflies! I'm also the only girl in my family and a daddy's girl at that, and with us almost losing (actually, "lost" but brought back to life) him five years ago in a heart attack/vehicle accident, I'll never take that moment for granted. All glory goes to God for him still being here with us today.
Describe your wedding in one word.
Perfect.
What advice do you have for future brides?
Let things go! If any of you are a perfectionist like I am, just know you will drive yourself crazy trying to perfect every little detail in a wedding. No one is going to remember what the font of your RSVP card looks like. Constantly remind yourself what that day is truly about. It's not about the food, or who cries, or what color vest the groomsman wear under their coat; it's about making a covenant under God with the person he specifically created just for you! How awesome is that!