Real Weddings
|
May 10, 2019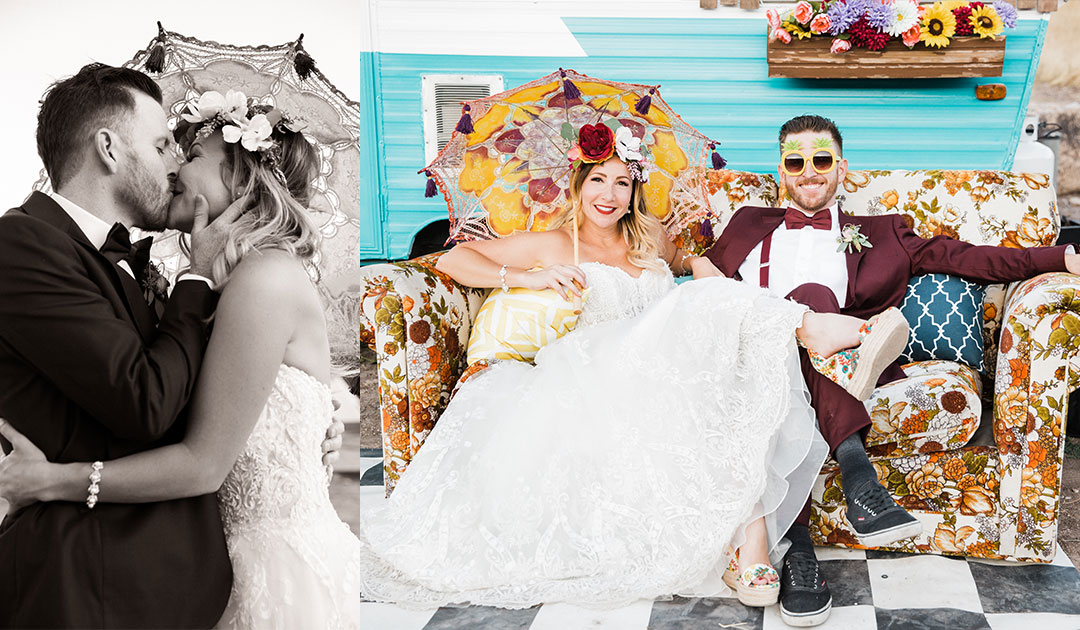 Planning a bohemian wedding? Well, you're in luck because that theme is probably one of the most fun to plan, and one that has no set rules! You have free range to get as creative as you want—to think outside the box. And one where you can create a magical setting even on a tight budget!
Our #RealBride Brooke did just that. She and her husband, Sean, truly captivated their love on their wedding day with the help of their loved ones, and by sticking to what makes them happy. By doing this, they were able to save money, but most importantly, they were able to have the wedding of their dreams.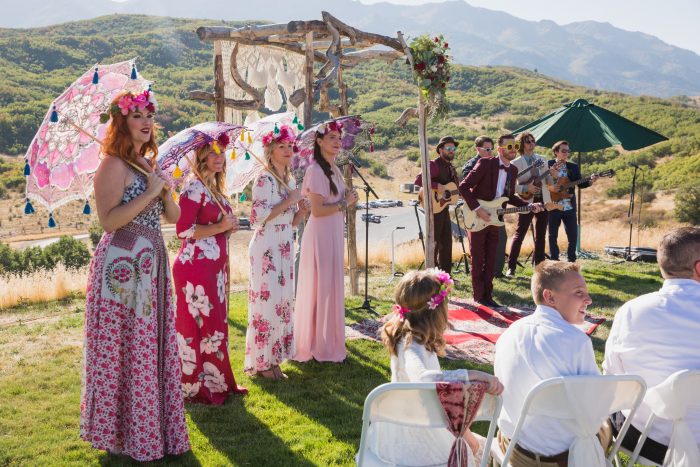 Brooke, tell us your inspiration for your wedding day?
My husband, Sean, and I did NOT want a big wedding. It really all developed after I found my dress, WATSON by Sottero and Midgley. The dress was so stunning that I all I could imagine was walking down the aisle and dancing the night away under bistro lighting. After the dress, it all sort of just fell into place and ended up being a fun "festival" with everything we could have ever wanted.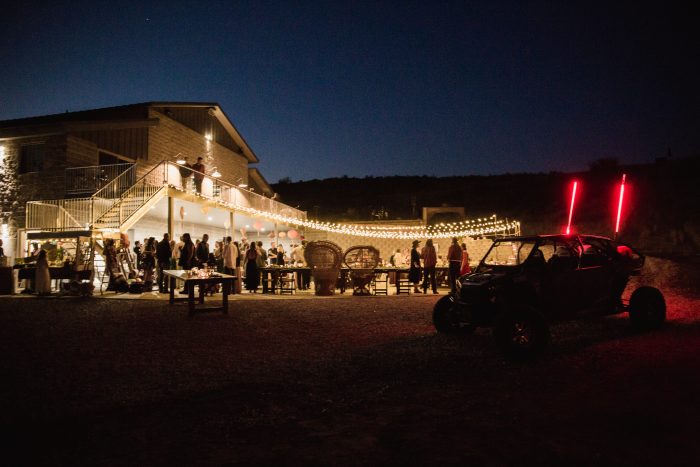 How did you decide on the location of your unique bohemian wedding?
We were lucky enough to have our close friends, Heidi and Brian, generously offer to host our wedding at their beautiful property in Morgan, UT. They had just moved in the previous year and had a lot of work to do, but they said they were happy to do it because it gave them motivation to get it done.

When we took a tour of their property, nine months before the wedding, we were both sold and hooked on the idea of a fun, outdoor wedding. We saved so much money on decor because with the scenic mountains in the background, why bother with much more? We both came home and said to each other, "Welp honey, it looks like we are having a wedding." So, with the dress and the location locked, we set a date. September was perfect for an outdoor Utah wedding.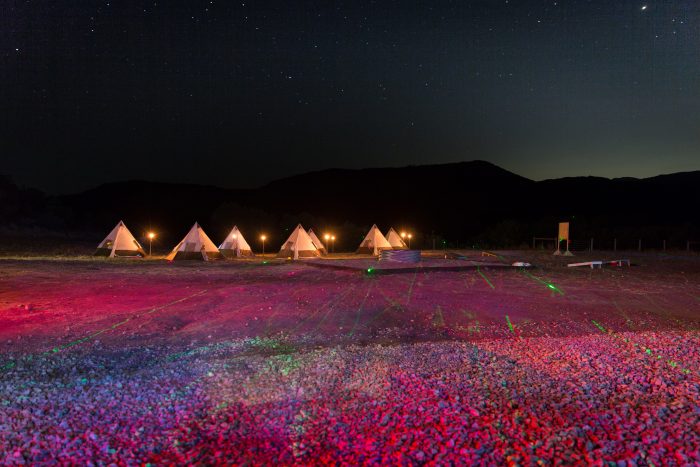 What inspired the look and feel of your wedding day?
My priority was to have no stress over our wedding. So, we kept it casual and low key. After getting way too addicted to Pinterest, I started discovering which wedding themes I liked and disliked. I love outdoor music festivals. I looked up "Glamping Weddings," "Festival Weddings," "bohemian weddings," and "Mountain Weddings." Pinterest really was a huge help. It was during this research process that I started getting ideas and inspiration.

I learned how to macramé my own bohemian wedding backdrop from Youtube. I thought parasols would be more unique for the bridesmaids than flowers (which would have ended up in the garbage anyway), so I researched how to dye the white cotton parasols because I wanted more color. We even made it our bridesmaids' bonding night activity. We all dyed our own parasol and had pizza while laughing and sharing stories. I hand-made 120 tassels for the parasol fringe while binge watching wedding shows on Netflix.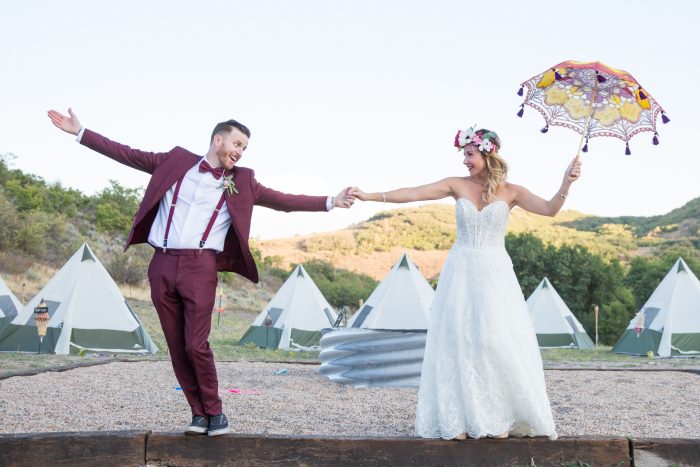 We also reached out to people we knew could help. Everyone was very willing. Sean's mother is a freelance baker on the side, so she was able to make the cake (@BFCbakery). My friend Todd Collins is a fantastic photographer, and my brother-in-law, Layne, builds wood furniture, so he made and donated the beautiful wedding arch. I also worked with my friend Annie to arrange the flowers and my brother Travis was honored to act as our officiant. A close friend, Linzie, was amazing at keeping an eye on the overall project. My best friend, Amber, was my coordinator. She is a freelance event manager and makeup artist. So again, we were very lucky to have so many people help and contribute.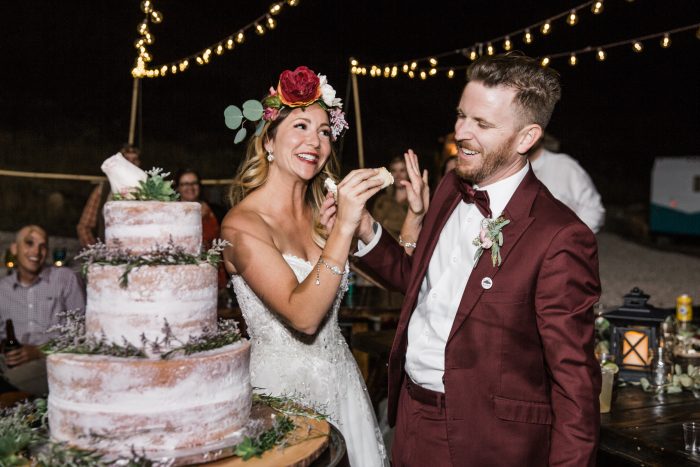 How did you create an intimate wedding ceremony?
The ceremony was very elegant with a fun entrance announcement for the groomsmen. Our good friend, Neal, has a fantastic voice, so we prerecorded a humorous introduction for each groomsman and for Sean, as they danced down the aisle. Sean and his groomsmen are all artists, so they played the old 60's song, "Sleep walk," as I walked down the aisle with my dad. The song reminds me of my mother, who sadly has passed away and couldn't be there with me. It was a beautiful tribute and a way to tie her memory into the wedding. Most people were in tears.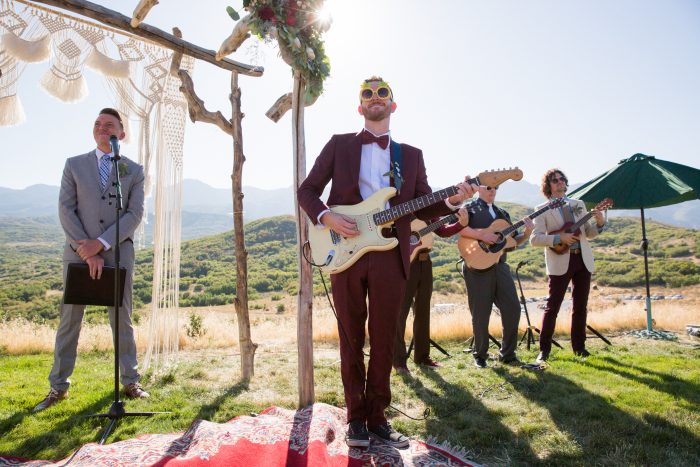 Tell us how you created your outdoor festival themed wedding reception?
The reception was a festival party!

Sean and I are both in the entertainment industry. He is a professional musician and I sing and dance with different theaters and bands around town. So, a music festival was the perfect, natural setting for our reception.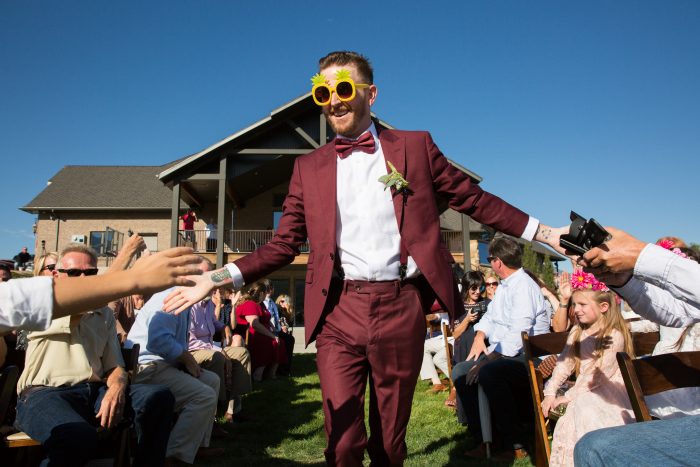 We had many friend musicians who were also guests and volunteered their skills for our entertainment. Sean's close friends, Walker and Lindsay Gibson, were the band leaders throughout the night. My brother is a fantastic DJ, so he spun the tunes for the second half of the night. I even have friends who are professional Fire Breathers, and Luau performers who have recently moved here from Hawaii that also performed at our wedding. Sean's dad is a retired Disney Imagineer and had many ideas for the night. He made us an amazing wedding video presentation that blew everyone's mind! This was no ordinary wedding slide show. It was a belly-laughing, tear-jerking tribute to our love. We just kept pinching ourselves and saying, "We were meant to have this wedding."
Did you say glamping? Tell us how you accommodated your guests!?!
I ordered teepee tents from Walmart to create a "Teepee Village" for anyone who wanted to stay the night. I made them "glamping style" with air mattresses, afghan blankets, and battery lanterns hanging inside for comfort. Each tent had reserved guest names on a chalk plaque, a welcome mat, and a tiki torch.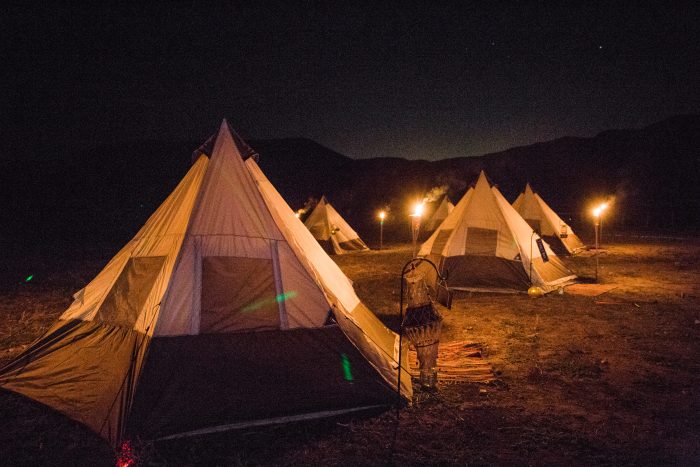 We also had a "photo-op zone" in front of a vintage trailer I bought six years ago. I bought an old 70s floral couch from the Good Will store and placed it in front of the trailer. I also own a vintage VW Beetle with my brother, so that was added to the scene.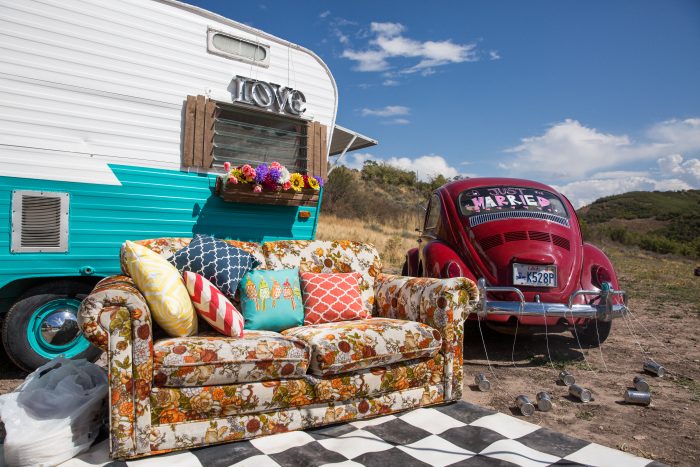 Sean and I also didn't want to pose for pictures all night long on our big day, so he said, "Wouldn't it be cool if we could just double ourselves on the night of our wedding?" And that's where the idea for life-sized cardboard cutouts of us came into action. Those were a big hit, and now we will take pictures with our very own cutouts on our wedding anniversary, every year to come.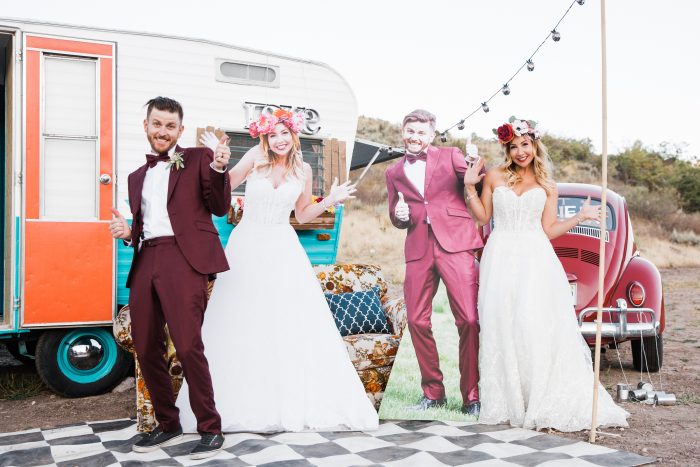 Sean also came up with the idea of VIP laminate stage passes for all of the guests as a party favor. How brilliant! It made everyone feel welcome and part of the festival.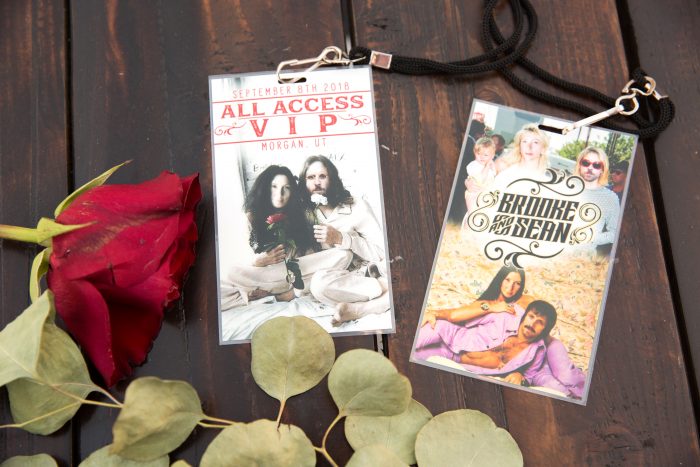 Our guests stayed as long as they liked. Having the event on private property eased the stress because we had no pressure to end the party at a specific time. So, we did karaoke and ate hot dogs cooked over a bon fire at 1:00 am. We were in heaven. Everyone we loved was with us and celebrating our love. We changed into sweat pants and flannel shirts and sat by the fire for the rest of the night.
It truly was the happiest day of our lives. We had an amazing team of loved ones who contributed their love and labor. We will never forget our wedding day!

Brooke and Sean exemplify how you should feel throughout your wedding day—happy! Your wedding day should be about celebrating your love and the things that make you happy—the things that make you, you.

Brooke and Sean also teach us to reach out to our loved ones for help. More often than not, loved ones want to be involved. And based on their own talents, they can contribute something fun and unique to your wedding, making it even more special and memorable.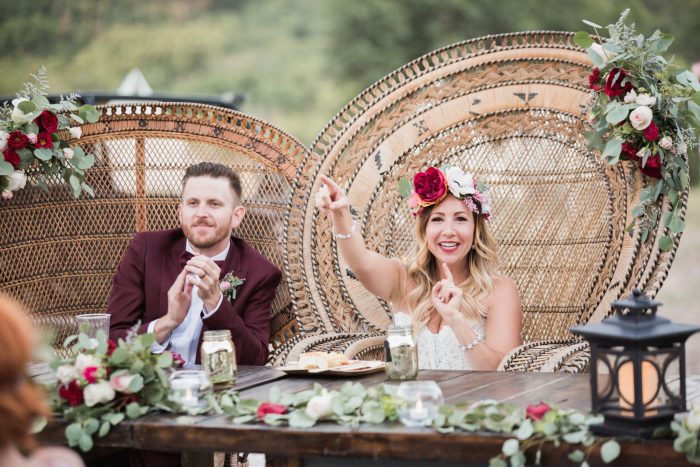 If you're still feeling a little lost on where to begin, we suggest you start by thinking about the things you both love that brought you together in the first place. Remember, it's your wedding. There are no rules that you are supposed to follow when it comes to planning your wedding, or the theme, especially for a bohemian wedding. The possibilities are endless. Have fun with it! Take it from our #RealBride Brooke, you don't have to find the venue first. Why not start with your wedding dress and let the rest fall into place!
Click here for more bohemian wedding dresses!
PC: Todd Collins Wedding Photography