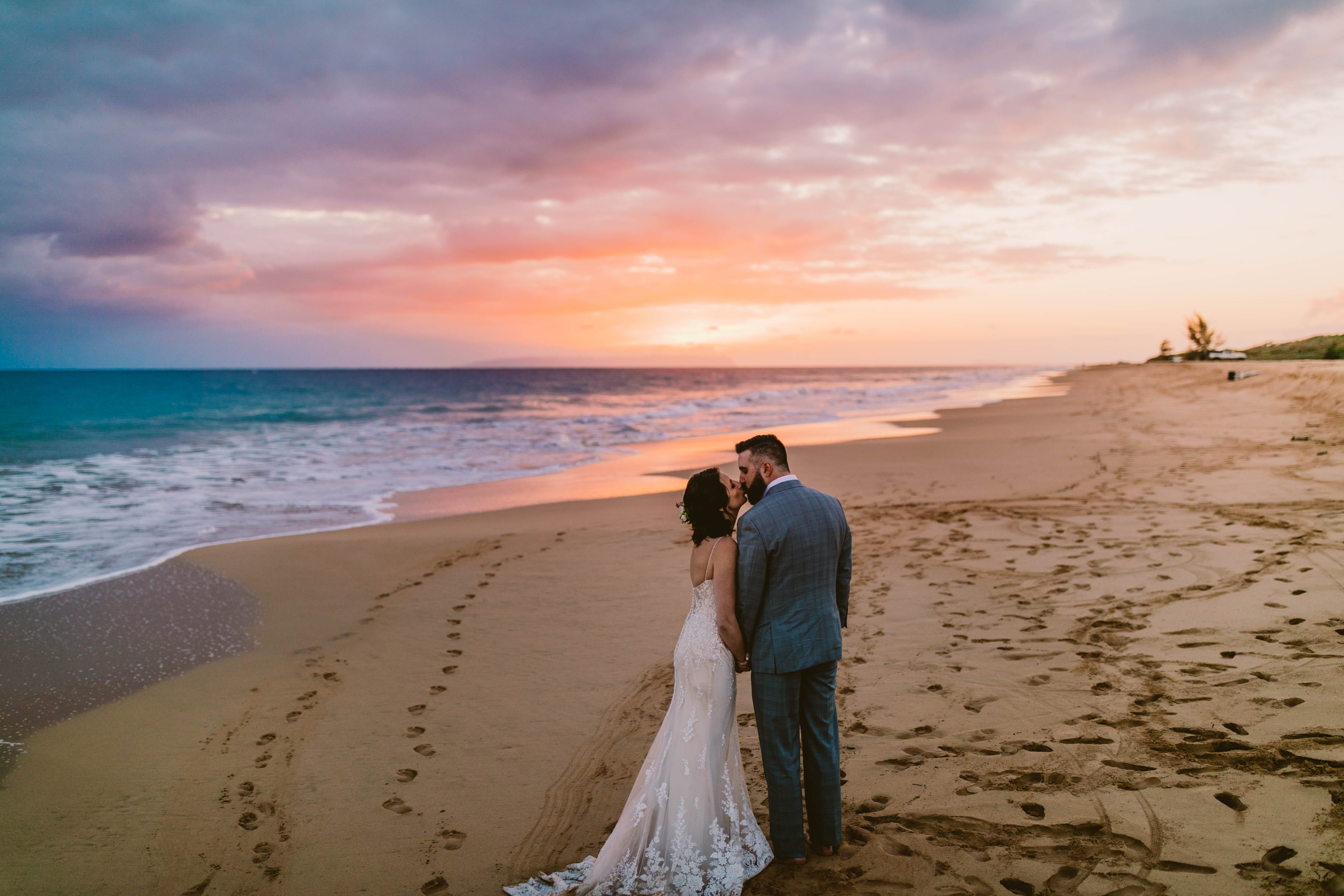 You might be considering the traditional route for your venue or location, but today's seriously stunning destination wedding will inspire you to elope in Hawaii instead. Keep scrolling for beachy magic and green vistas courtesy of Meg Bradyhouse of Bradyhouse Photographers!
This bride chose Nola by Maggie Sottero for her big day, purchased at Ella Park Bridal. This dress has a short delivery date (perfect for destination elopements!), and can be found at an Authorized Retailer near you.
Tell us a little about you and your sweetheart. How did you two meet?
Shance and I met through a mutual friend. I was searching for my friend's email on her company's website and I saw Shance's photo. He was obviously handsome, but he seemed to be an interesting guy as well. I not-so-subtly asked my friend about Shance the next time I saw her. She introduced us a few months later and we hit it off instantly.
What was the moment you knew you had fallen in love?
We had an instant connection. I knew I had fallen in love during our first road trip to Chicago, and I knew it was a forever love when Shance moved 2 hours away and we were able to make a long-distance
How did he propose?
Shance proposed during a hike.
What was the first thing you checked off your wedding-planning list?
We knew we wanted to elope, so our first decision was to pick a location. We initially considered Colorado and Wyoming, but we thought a tropical location would be better for our honeymoon. A friend recommended we check out Kauai because it has both mountains and beaches. It was a pretty easy decision once we started googling pictures of Kauai.
After we chose the location, we focused on finding a photographer. We found Meg Bradyhouse's blog and checked out her photos on Instagram. All of her photos are amazing! We loved that she focuses on elopements and gorgeous scenery. She also had great reviews. We knew she would be the perfect photographer to capture our day.
When you started shopping for wedding dresses, what did you have in mind?
I was initially looking for a practical dress—a light weight dress, that would travel well, and survive short hikes. I did not have a set style in mind but was interested in A-line dresses or flowy dresses initially. The dress I chose wasn't exactly what I had in mind but was the most flattering style after trying on different styles.
I didn't want to go overboard on price because I knew the bottom of the dress would end up covered in dirt and sand, and I also felt weird spending a lot of money on a dress when we weren't having a traditional wedding. Although I remained price-conscious when shopping for dresses, Shance made sure I didn't settle on a dress based on price alone and reminded me that our day was no less important simply because we were eloping.
Who did you invite to help you shop for gowns?
I made a last-minute appointment at Ella Park Bridal and brought one of my good friends.
Which Maggie Sottero Designs gown did you choose?
Nola by Maggie Sottero
How did you create the "look and feel" of your wedding?
The scenery was really all that we needed. I browsed Instagram and blogs for ideas regarding bridal bouquets, hair/makeup, and photographers. I asked the florist to incorporate local flowers and greenery. I chose Waimea Canyon for photos based on blogs and Instagram.
What was the funniest part of your wedding day?
Shance always makes me laugh, especially when posing for pictures.
What was the most magical part of your wedding day?
The ceremony followed by the sunset. We wrote letters to each other to read during the ceremony. This made our ceremony really special.
What advice do you have for brides overall?
Focus on the promises you are making and plan a day that fits your personalities. If you choose to elope, make sure you hire a photographer so you can share your day with your friends and families, and don't pass up your dream dress just because you are eloping.
Vendors: Meg Bradyhouse of Bradyhouse Photographers / Bridal Bouquet and Hair Comb by Kealoha Flowers / Hair and Makeup by The Beauty Call Kauai / Frieda Gayle Officiant / Ella Park Bridal / Groom's Suit by Andrew Davis Clothiers