Real Weddings
|
June 25, 2018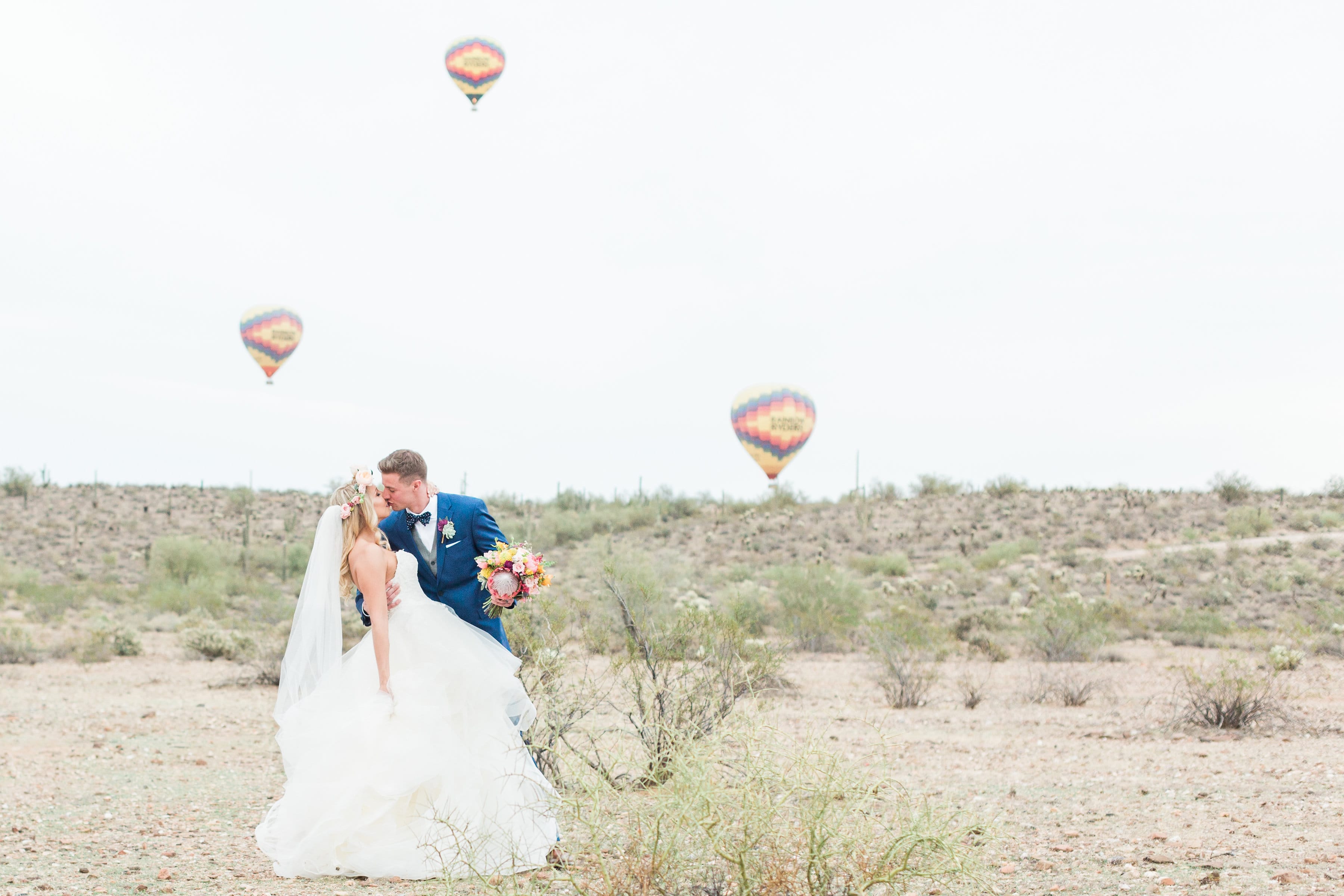 There are a lot of cool ways to plan your nuptials in 2018. Like, if you're in the mood to be overwhelmed by cute-crazy-fabulous-ultra-romantic wedding themes, just head over to our Pinterest page. That being said, we're over the moon for this hot air balloon destination wedding idea from Maggie bride Sarah and her sweetheart, John. This couple's desert adventure is the perfect blend of whimsy, romance, and personalization—a unique spin on tradition and the perfect way to create a one-of-a-kind wedding album. Keep scrolling!
This occasion was shot beautifully by Jen Jinkens Photography. The bride purchased her Keisha gown at Romashka Bridal in Everett, WA. Head to an Authorized Retailer to find your style!
Tell us a little about you and your sweetheart. How did you two meet?
John and I first met in high school, where we both played basketball. Timing never seemed to be right for us, as I headed off to college and John joined the Navy. We kept in touch through the years and reconnected just as he was finishing up his orders in Japan.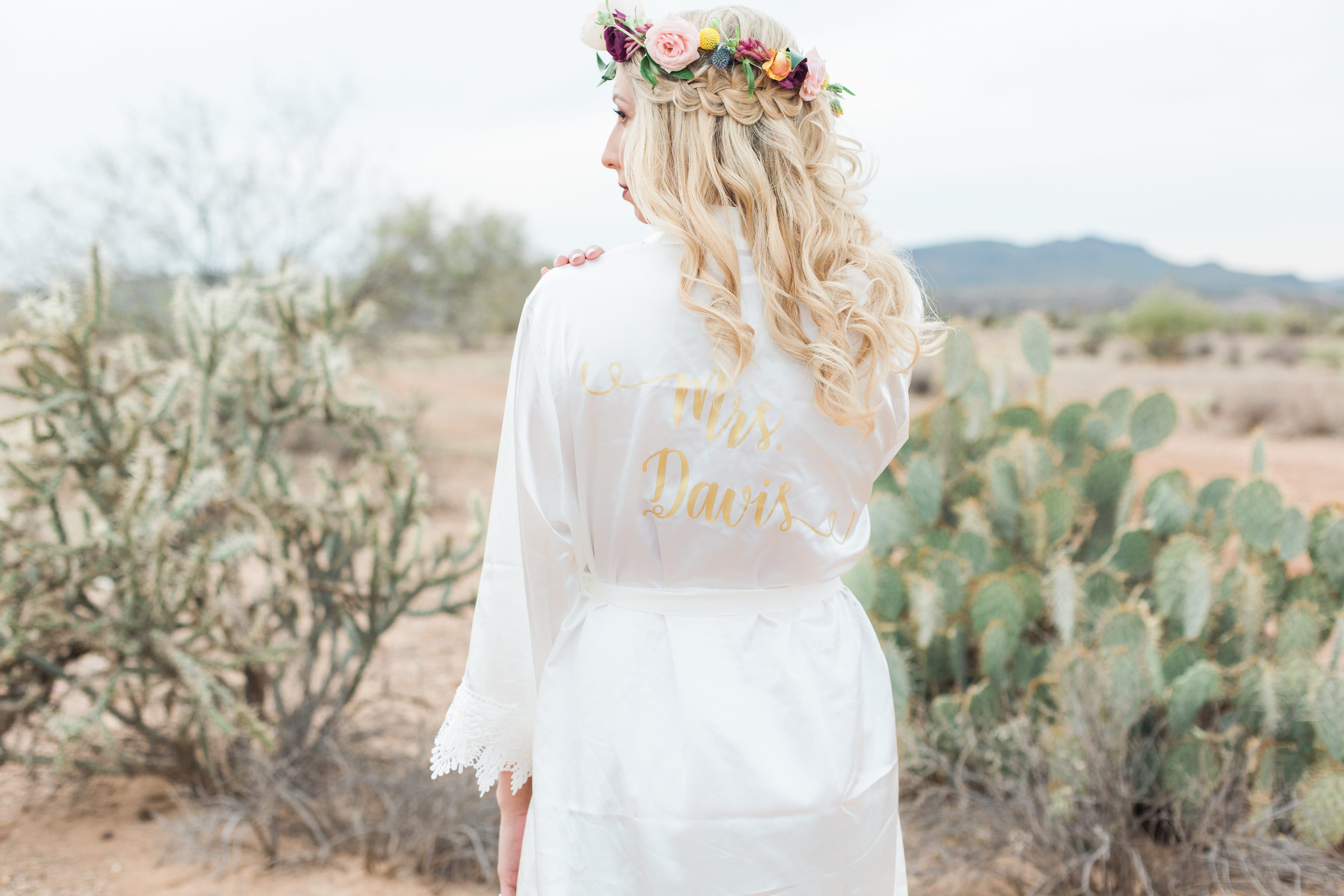 What was the moment you knew you had fallen in love?
Funnily enough, at a Rockets basketball game! We made it onto the kiss cam and John pulled a stunt that had the entire arena laughing. We still have the camera footage and love watching it together. I just kept thinking to myself that I couldn't believe how much fun he was to be around and how perfectly we just fit into each other.
How did he propose?
He proposed in front of the Whatcom Falls in Bellingham. We both love hiking and exploring new places, so it was perfect. He even called both of my older brothers to ask for their blessing, as both of my parents had passed away. Needless to say, I cried a river!
What was the first thing you checked off your wedding-planning list?
Finding a photographer who had experience with hot air balloon weddings. When we found Jen on Instagram, I knew I had to get her the capture our wedding, even if it meant planning our wedding around her schedule. It was hands down one of the best decisions we made.
When you started shopping for wedding dresses, what did you have in mind?
I had in mind something that wasn't strapless and wouldn't be too big as we were going up in a hot air balloon. I ended up getting the exact opposite! Once I tried on the Maggie Sottero dress, we both knew it was the one! I even tried to talk myself out of it, but I just felt like such a princess that there was no way any other dress would even compare to it. If they would have let me leave the store wearing the dress, I probably would have!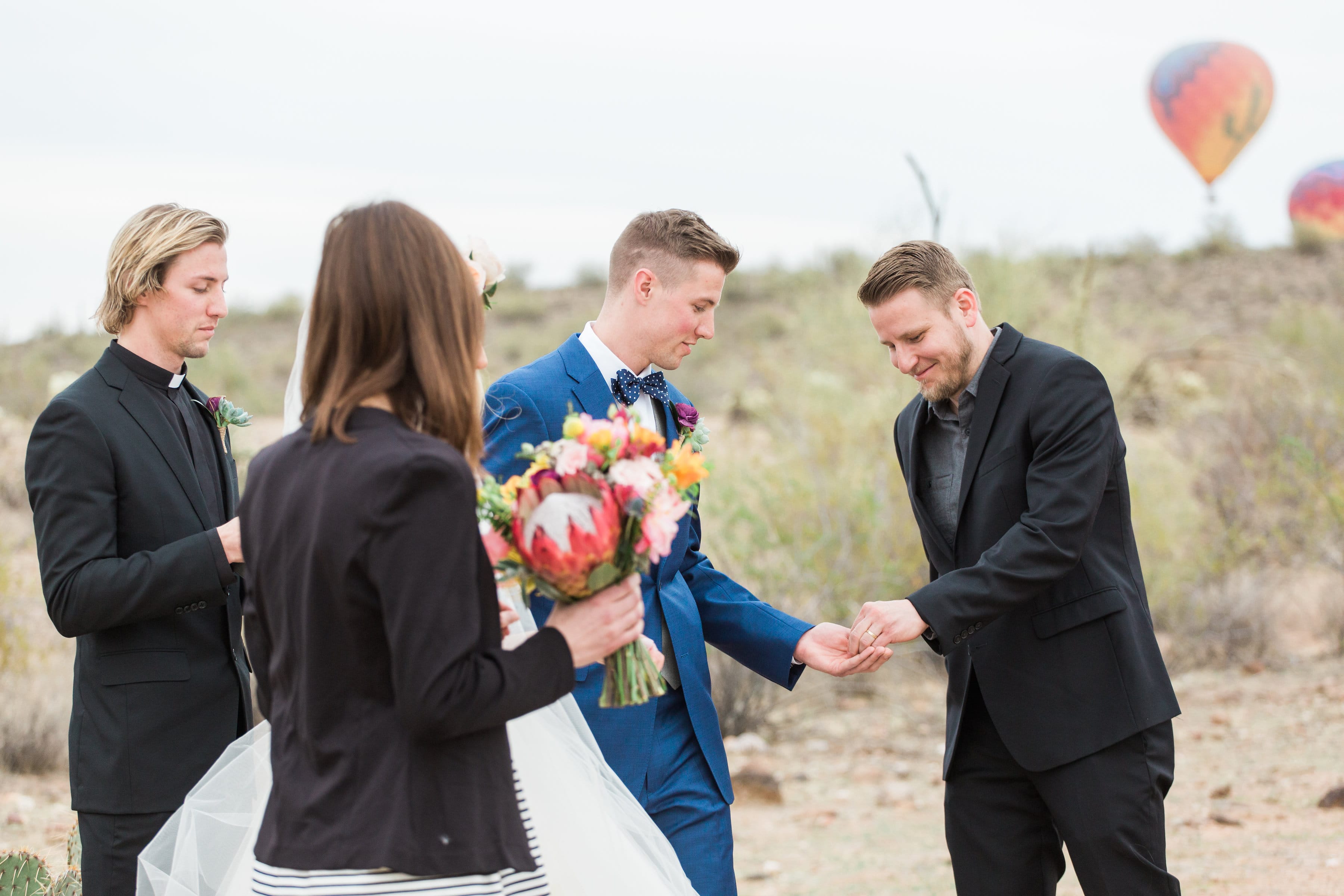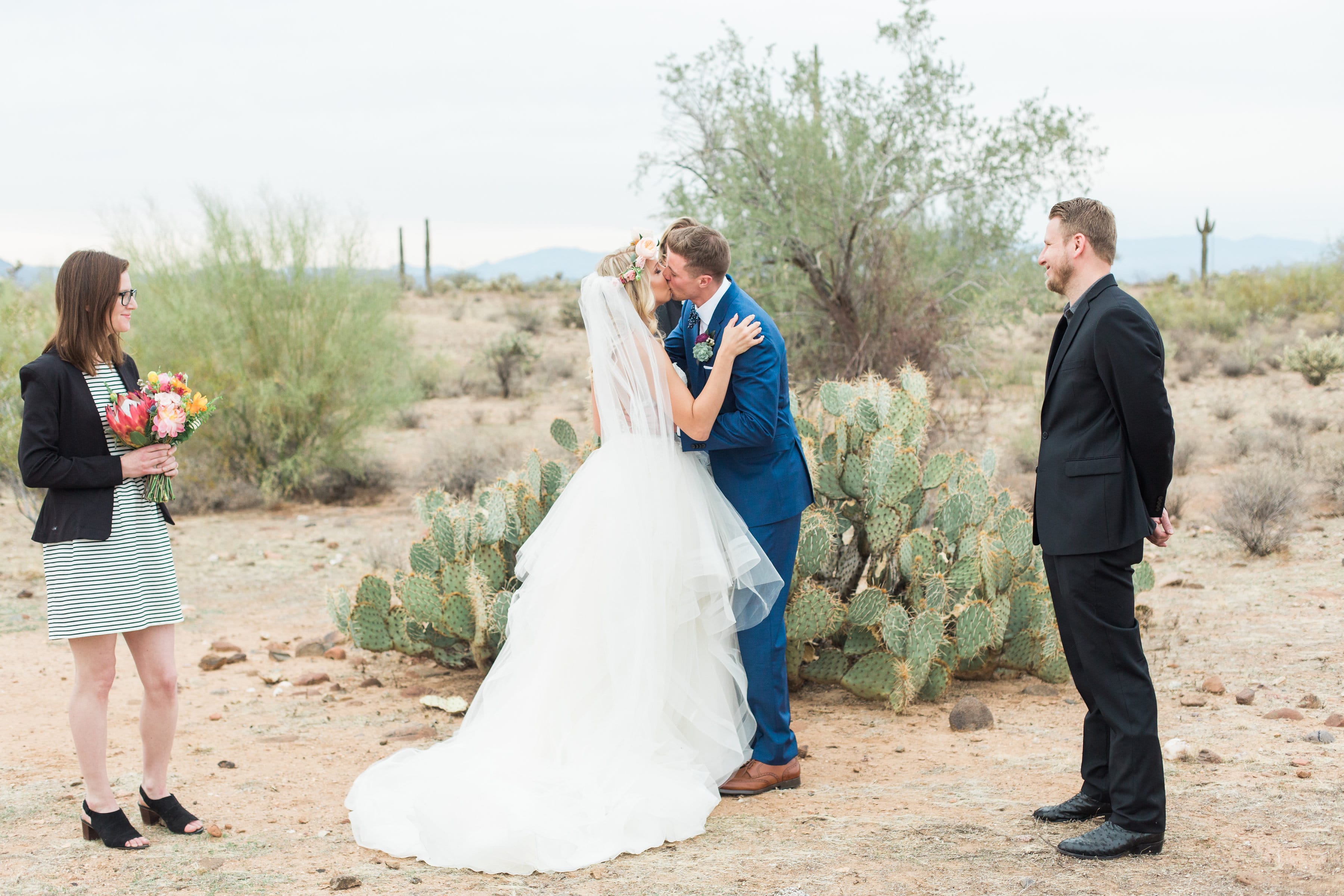 Who did you invite to help you shop for gowns?
John and I had just moved to Washington State from Texas, so he went with me to pick out my dress. We know you aren't supposed to see the dress before the big day, but since all we had was each other in Washington, we figured we could make an exception. It worked out perfectly. Who better to help you pick out your wedding dress than your absolute best friend?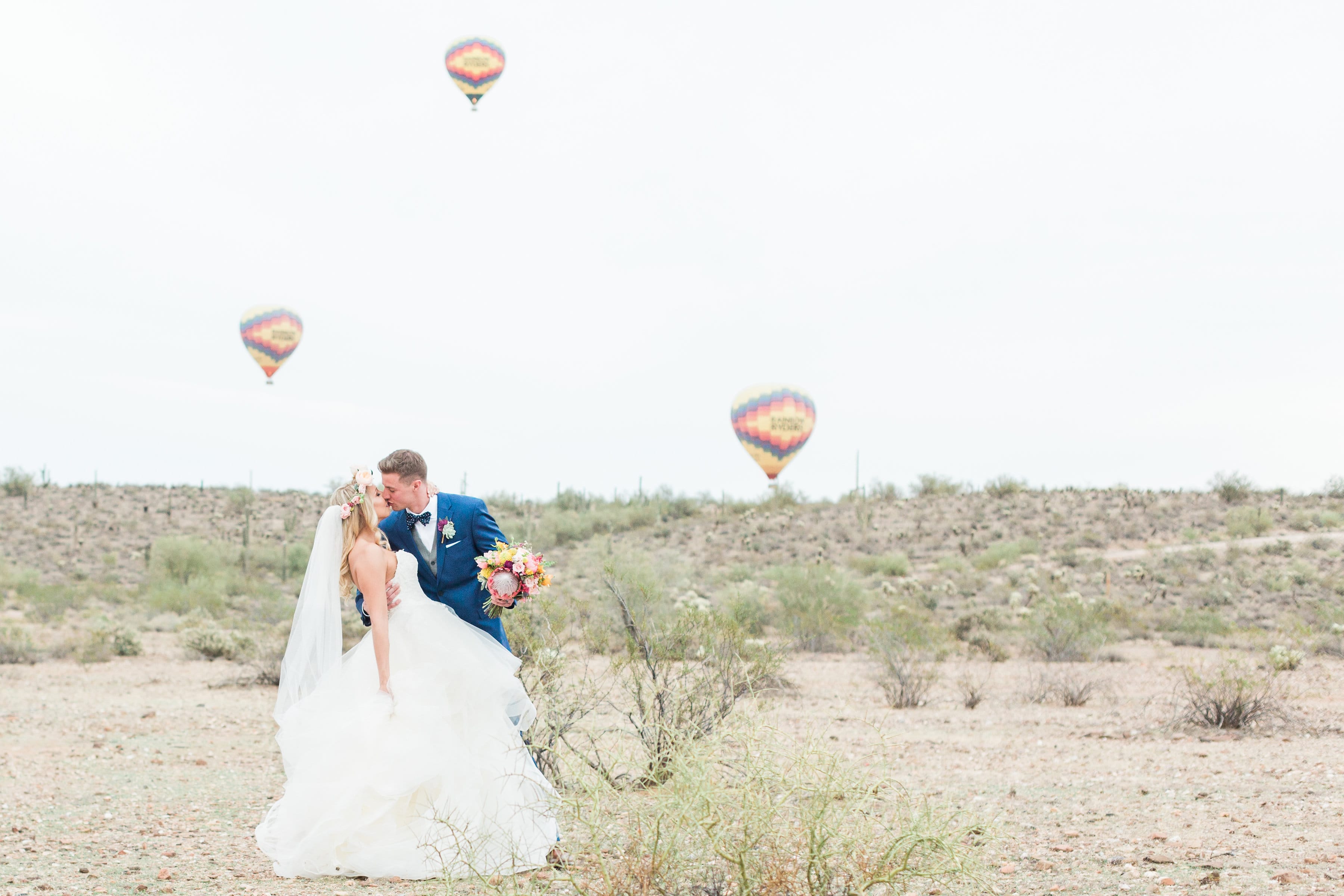 Which Maggie Sottero Designs gown did you choose?
Keisha by Maggie Sottero.
Speaking of pretty dresses, tell us about any gown you've worn or admired in your life… a prom dress? A family member's wedding dress? A style from a movie?
Cinderella's dress! She has always been my favorite Disney princess, and I loved the look of having the tight waist with the big, flowy bottom. Once I tried on the dress, I couldn't help but feel like an actual princess.
How did you create the "look and feel" of your wedding?
With a lot of help from Pinterest and Etsy! We made a board with desert themed flowers and I customized just about anything you could think of on Etsy.
What was the funniest part of your wedding day?
The funniest part of our wedding day was our crash landing with the hot air balloon. We hit a few bumps, used a big bush to stop, and the entire basket tipped right over! It was an adrenaline rush and made for a pretty funny picture that we will always cherish!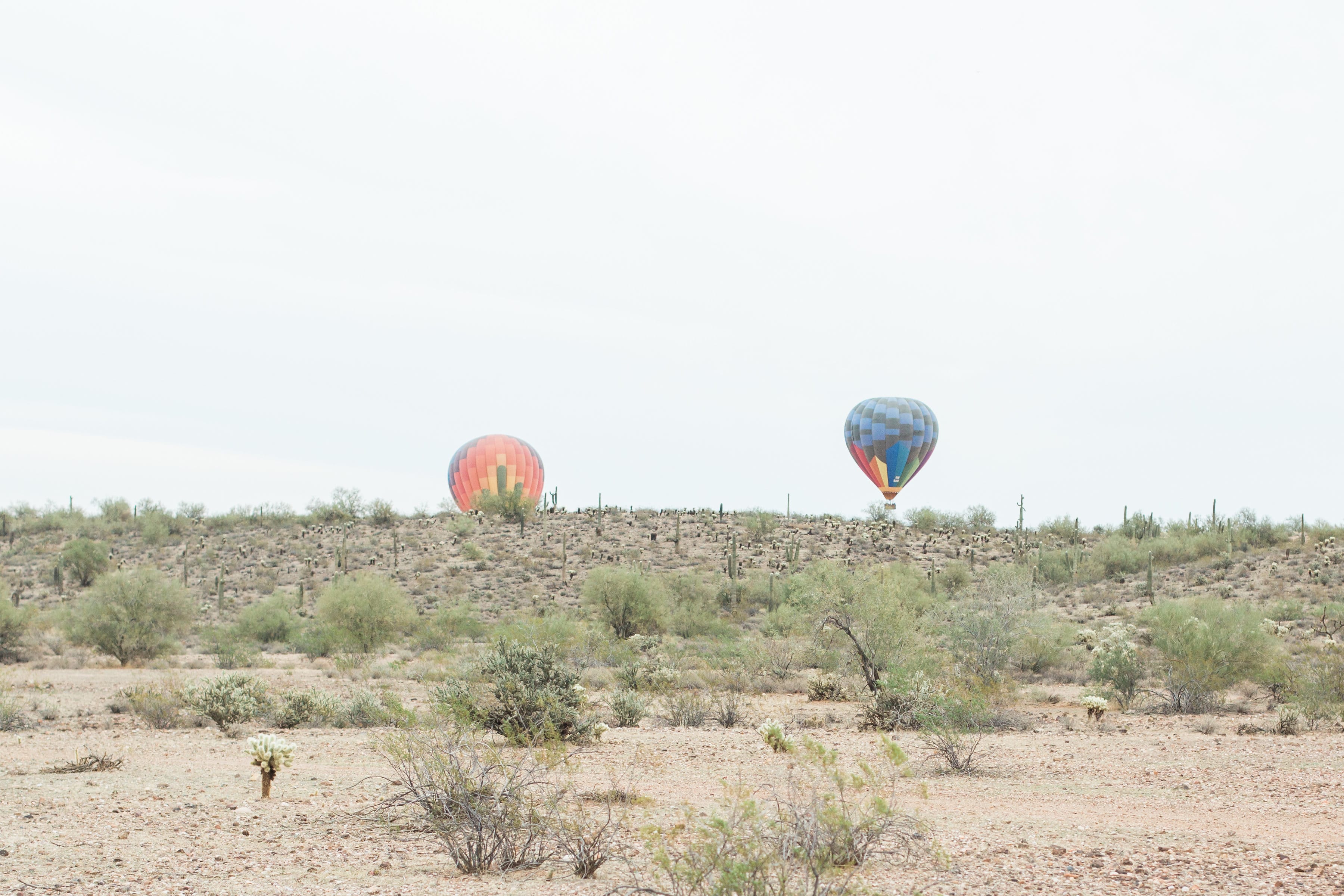 What was the most magical part of your wedding day?
Walking down the aisle with my amazing dad and being greeted by the love of my life while the room was filled with our loved ones. I mean what's better than that!
What do you think your guests loved most about your wedding day?
Honestly, probably the drinking, dancing and doughnuts.
What advice do you have for brides tackling their wedding budget?
Most definitely prioritize what is important for you and your fiancé… Don't try and compete with weddings you've been to or things you've seen on television.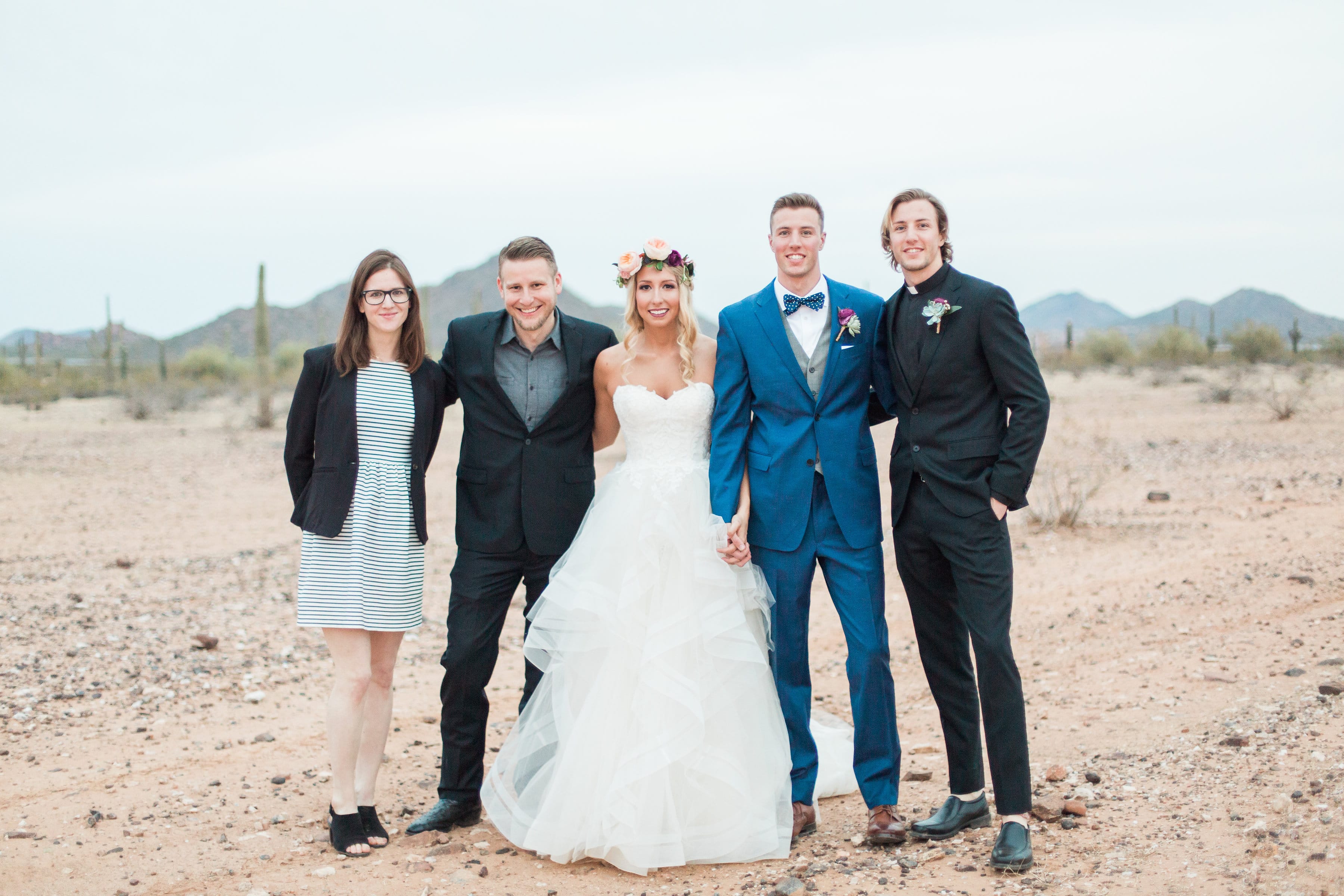 What was the most surprising part of your wedding day?
How smooth everything went. I'm sure part of it has to do with how relaxed John and I are as people in general, but everything seemed to just work out.
What was the most magical part of your wedding day?
The most magical part was the scenery. Getting to see the Sonoran Desert from 6,000+ ft in the air with just each other was amazing. When we landed, the desert sky looked like it caught on fire and we saw some of the most beautiful colors either of us had ever seen. Getting to enjoy that with just each other and a few other people around, made it feel so intimate and that the sky was lit up just for us.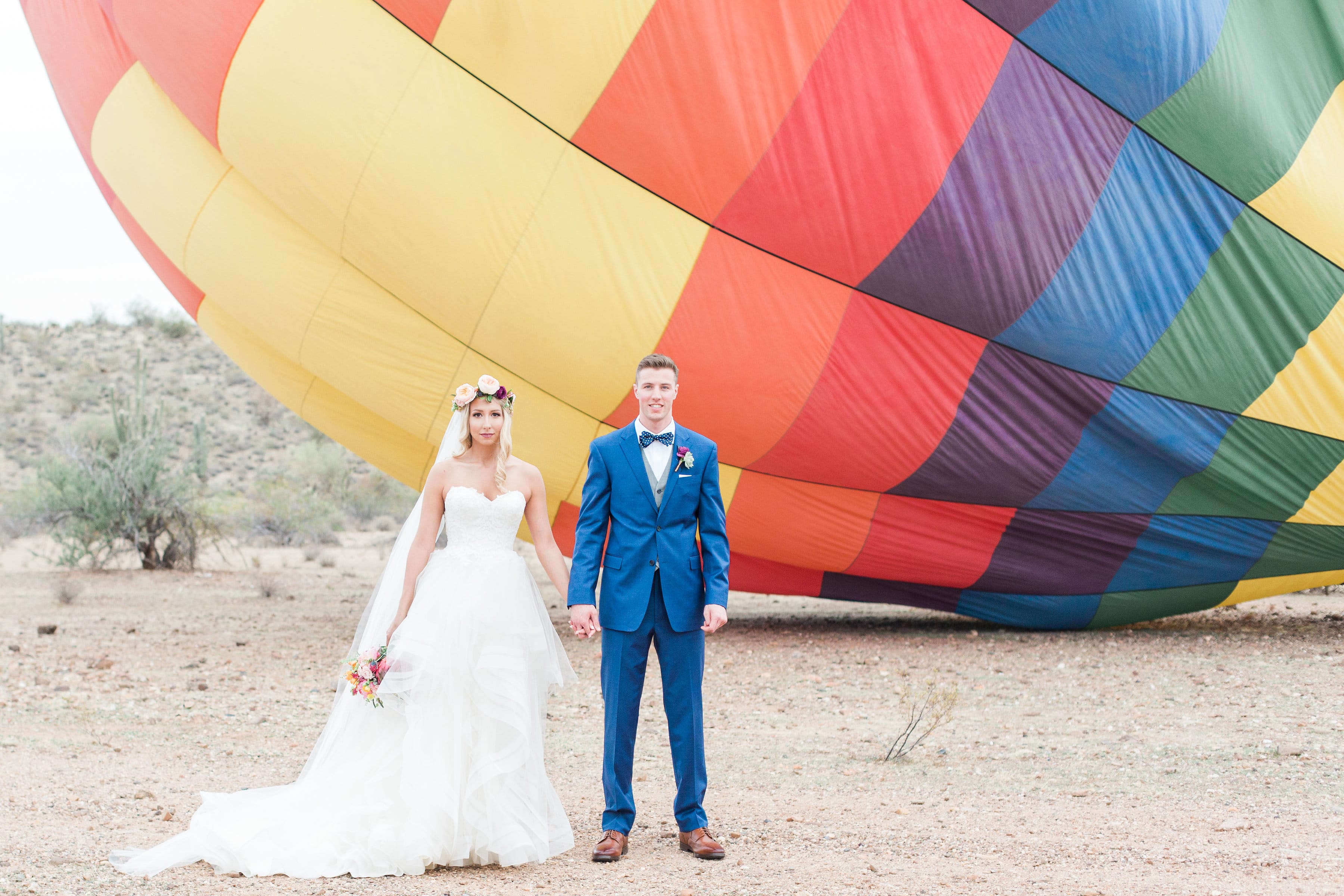 What advice do you have for brides tackling their wedding budget?

Spend money on the big things and forget about the small ones. At the end of the day, no one really cares about party favors and what your sign in book looks like. They are there to celebrate and support you.
What advice do you have for brides choosing their wedding party?
Eloping takes all the stress away from having to choose your wedding party! Haha
What advice do you have for brides overall?

Don't get too caught up in stressing about all the details. Remember that the most important part of the entire wedding is being able to stand next to the one you love and profess your love for one another. Everything else should come second. We both caught ourselves stressing out at different times and had to remind each other that the important part was that we were marrying each other.
Vendors:Sift Bakehouse / Rainbow Ryders / White Poppy Floral