Real Weddings
|
October 10, 2016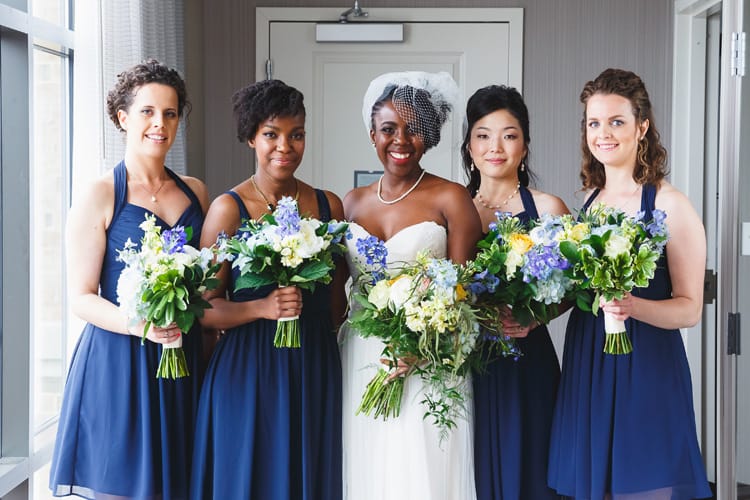 As we ease our way into fall and winter wedding seasons, it's important to take time for jewel-toned hydrangeas and sweet delphiniums. Captured beautifully by Don Mears Photography, Maggie Bride Euridice's industrial chic wedding lets us hold on to those summer nights a little longer…
Searching for lace wedding dresses and vintage inspiration? Tap the links for more!
Which Maggie Sottero gown did you wear?
Patience.
How did you know when you found "the dress"?
It sounds cliché, but as soon as I put it on I felt bridal, and I just knew it was the one. It was classic and fun at the same time.
What was your favorite part of the dress?
The lace on the body and tulle. I went in thinking I wanted a very fitted style and fell in love with the vintage romantic style of Patience.
How did you and your partner meet? I joined a Brazilian martial arts group (Capoeira Resistencia in Richmond, VA) that he was a member of. We both love traveling, we speak several languages, and his laughter is infectious.
How did he propose? It was Easter Sunday; we were walking back from buying some wine to take to the family meal and we passed our favorite park near our house and he stopped by the tree that we have had lunch several times and proposed.
Where did you get married? The Boathouse at Rocketts Landing in Richmond, VA.
Did your wedding have a theme? City chic.
How did you decide what you wanted your wedding to look like? The venue inspired me, being by the water with a view of downtown Richmond. I just knew that I wanted something classic.
What was your favorite wedding day moment? Walking down to the ceremony with my father and seeing my now husband there waiting for me.
Describe your wedding in one word. Fun!
What advice do you have for future brides? Just relax, even if it's not the perfect weather and something doesn't go according to plan, you have the people you love around you. A wedding is one day; a marriage is your whole lives together.