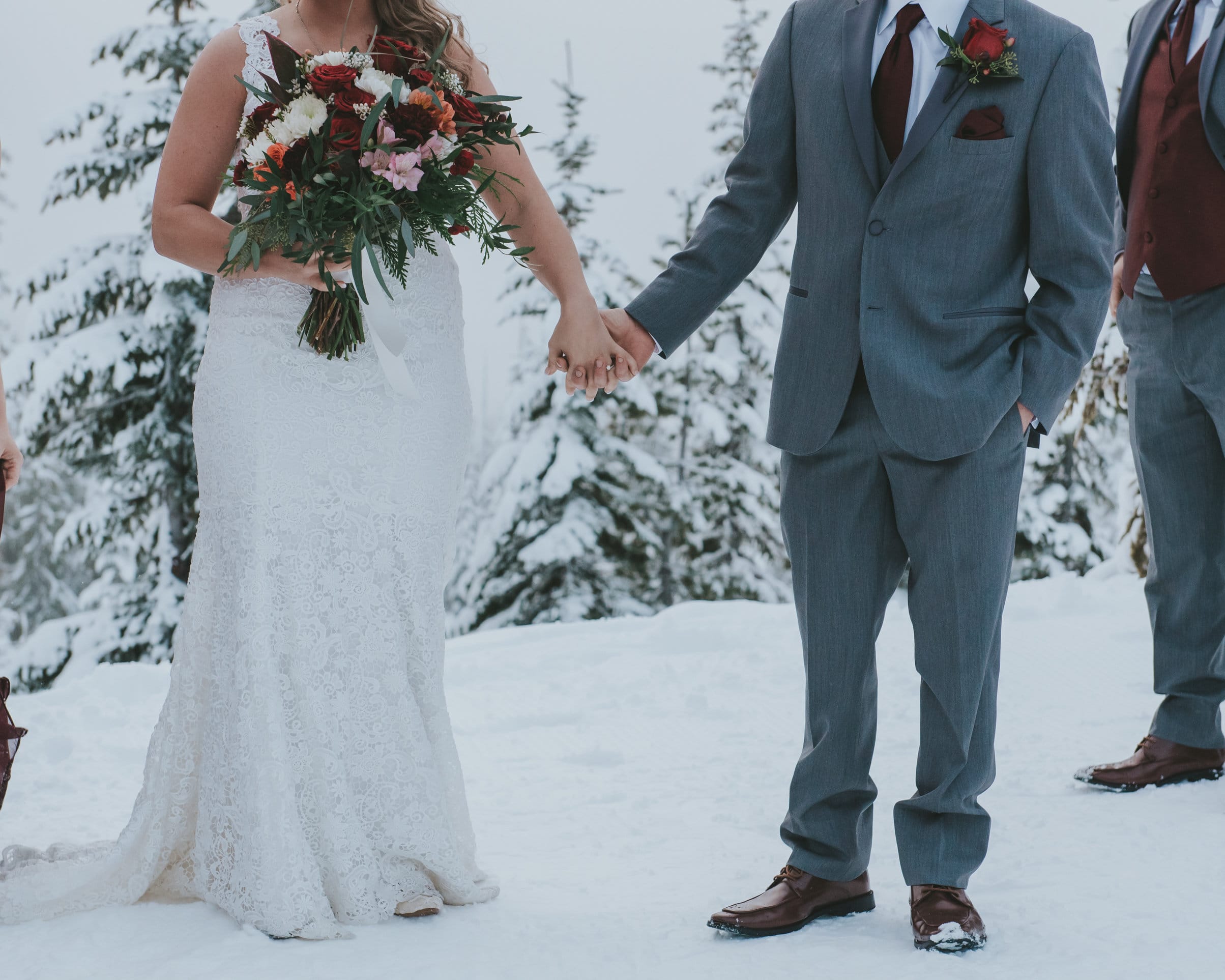 We're all about the cozy when it comes to off-season celebrations… This winter wedding features burgundy bridesmaid dresses and a vintage-inspired lace wedding gown (all the fixings of a classic holiday occasion), but the real heartwarmer is the proposal story—keep scrolling for more!
This bride wore Hopefor her wedding day, one of our classics from the Rebecca Ingram line. Head to an Authorized Retailer to experience this budget-friendly gown today!
Thanks to 📷Innocent Thunder Photography for the gorgeous gallery.
Tell us a little about you and your sweetheart. How did you two meet?
We knew each other from high school. When we finally started dating, I was 17 and Kurtis was 19. He stole my heart at the tender age of 17 and we've been inseparable ever since.
What was the moment you knew you had fallen in love?
I knew I had fallen in love when we decided to start a family together. We have lived together, traveled together, and worked together—our love survived it all so I knew there was no one else I'd rather have a family with. Then I really knew I was in love when I saw how great of a father he is to our children.
How did he propose?
It was Christmas morning, and we had finished opening gifts already so I had no idea what he had in store. Kurtis walked out with our two boys, Carter and Sawyer, in hand and they had "Mommy will you marry Daddy?" written on their shirts. Then he pulled the most gorgeous ring out of Carter's shirt pocket and asked me to marry him!
What was the first thing you checked off your wedding-planning list?
Researching and choosing all of our vendors.
When you started shopping for wedding dresses, what did you have in mind?
I didn't have a specific dress in mind at first. All I knew was I wanted something that was simple but also a statement, and I wanted to feel elegant in a dress that complemented my curves in all the right ways!
Who did you invite to help you shop for gowns?
My mom and all of my bridesmaids.
Which Maggie Sottero Designs gown did you choose?
Hope by Rebecca Ingram, purchased at Bliss Gowns and Events in Nanaimo, BC.
How did you create the "look and feel" of your wedding?
I based the whole look and feel of our wedding around complementing our winter theme. The color burgundy was perfect, and we used cedar greenery, wood rounds lace and burlap to add to the winter feel of being on the mountain. And of course, getting married outside in the snow with blankets and hot drinks for the guests was a perfect touch.
What was the most surprising part of your wedding day?
The interactions we had with the whisky jacks (grey jay birds) were very symbolic. I have some amazing pictures with them before the ceremony, during my first look with my dad there was a whisky jack sitting on the balcony, then during the ceremony they were flying all around us.
What was the most magical part of your wedding day?
Meeting Kurtis at a private location on the mountain before the ceremony to exchange our vows privately. I will cherish that moment forever.
What do you think your guests loved most about your wedding day?
The fact that we got married outside on a mountain in the snow, with whisky jacks flying around. I was told by many guests it looked like a fairy tale!
What advice do you have for brides tackling their wedding budget?
Make a list and prioritize what means the most to you. For me having memories to look back on were the most important so I put most of our money towards a photographer and videographer to ensure we had all of our special moments captured. I made all of my decorations to keep the budget down as well.
What advice do you have for future brides?
Make time for yourself and your groom the day of the wedding. It goes by so fast. Don't forget to pull each other aside during the reception and embrace your special day together.