Tips and Trends
Wedding Inspo
|
November 4, 2023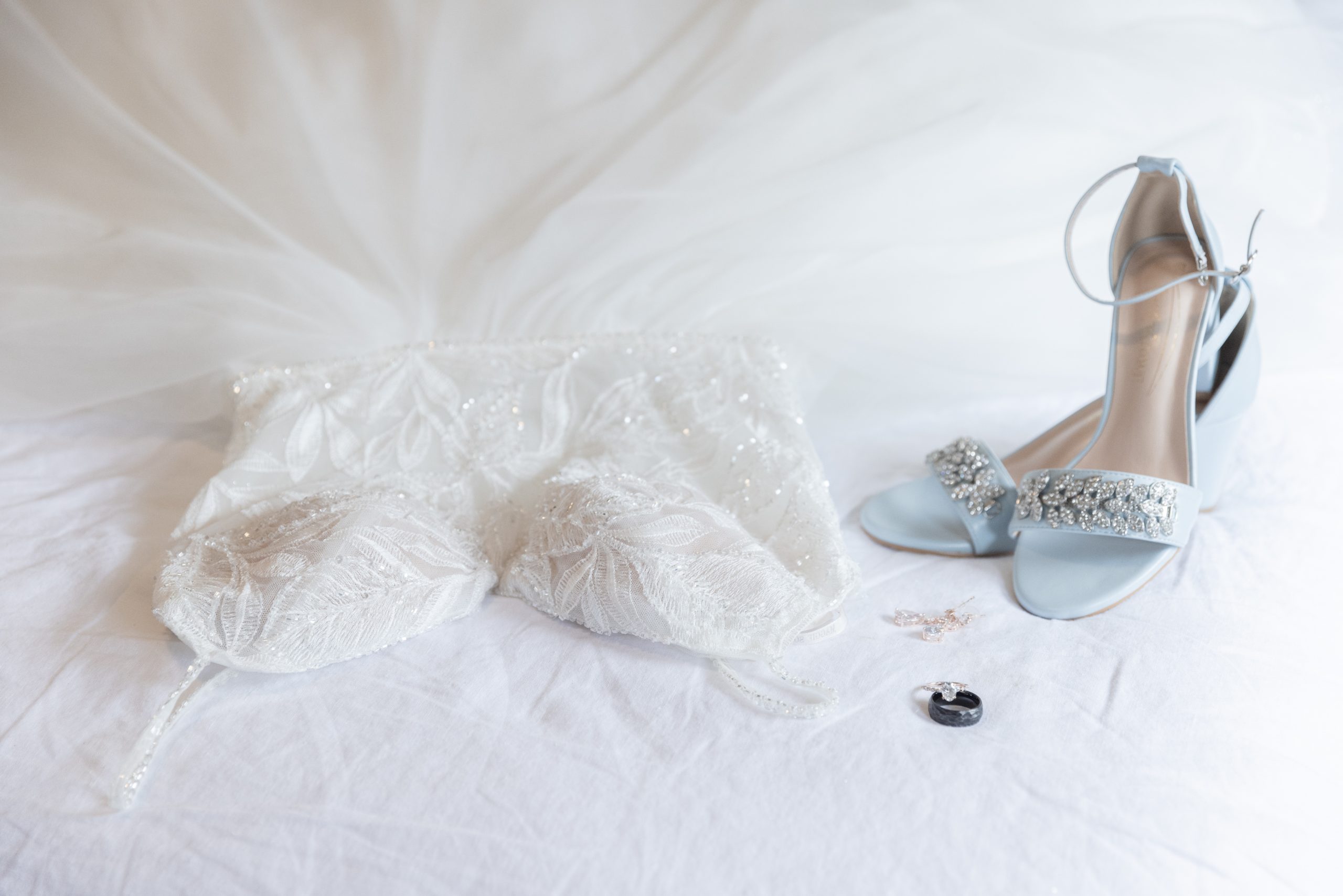 Wedding shoes: the surprising (and fabulous) hero of wedding-day looks everywhere — adding dazzle to bridal portraits, elevating your theme, and (most importantly) staying comfy from vows to cocktail hour. Some are classic. Others are down to party. Some are sexy, cool, ultra-fashionable, and totally made for the occasion. Keep scrolling for our latest picks!
How Do I Choose the Perfect Wedding Shoes?
First up, a few tips for shopping! The perfect shoes should reflect your style, provide comfort, and enhance your overall bridal look, so don't rush the decision. Take your time to find a pair that makes you feel confident about a gorgeous aisle walk…
Prioritize comfort while honoring your style
Consider the venue's floor types, outdoor access, and stairways
Complement your dress style with a matching vibe or unique contrast
Choose your heel height wisely
Test the fit by walking around to ensure you don't get blisters, pinching, and rubbing
Break in your shoes before the big day
Consider adding a pop of color or shimmer
Personalize your pair with a monogram, accessories, or inscription
Don't break your budget
Bring a backup pair for dancing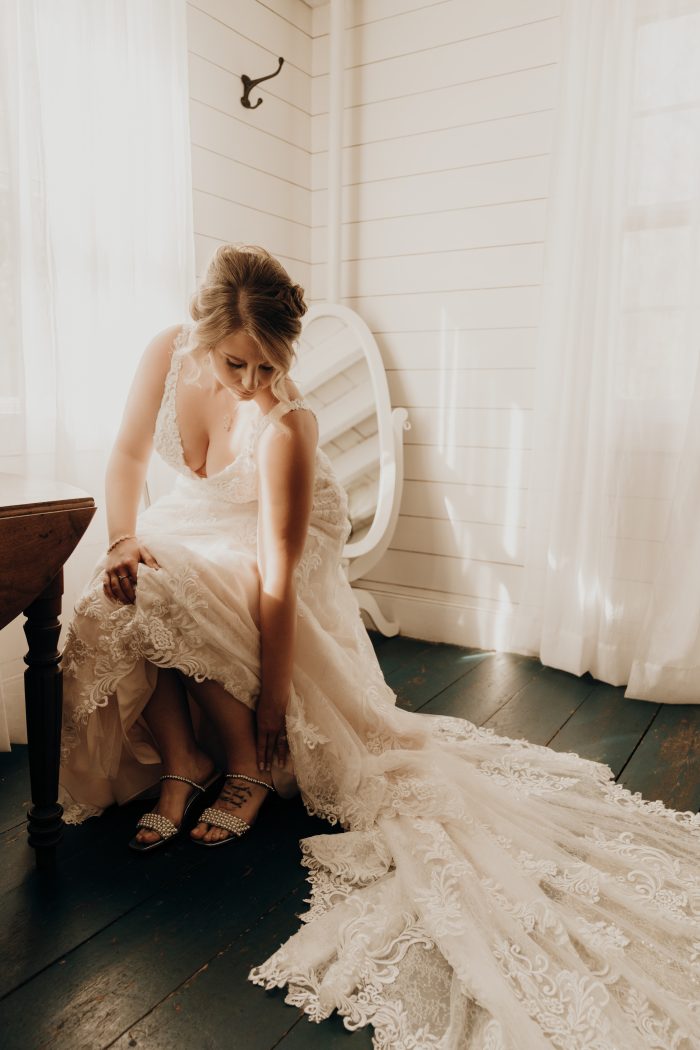 PC: Sydney Doherty Photo
What Are the Most Comfortable Wedding Shoes for Bride?
The most comfortable shoes are those that provide support and cushioning, fit well, and suit your specific preferences. Here are some options:
Block heels
Low heels
Wedges
Kitten heels
Flats
Espadrilles
Custom-made shoes
Shoes with gel or memory foam inserts
Sandals
Sneakers
T-straps, ankle straps, and adjustable straps
And of course, it's always a good idea to bring a pair of backup shoes for dancing, walking, and greeting guests during the reception!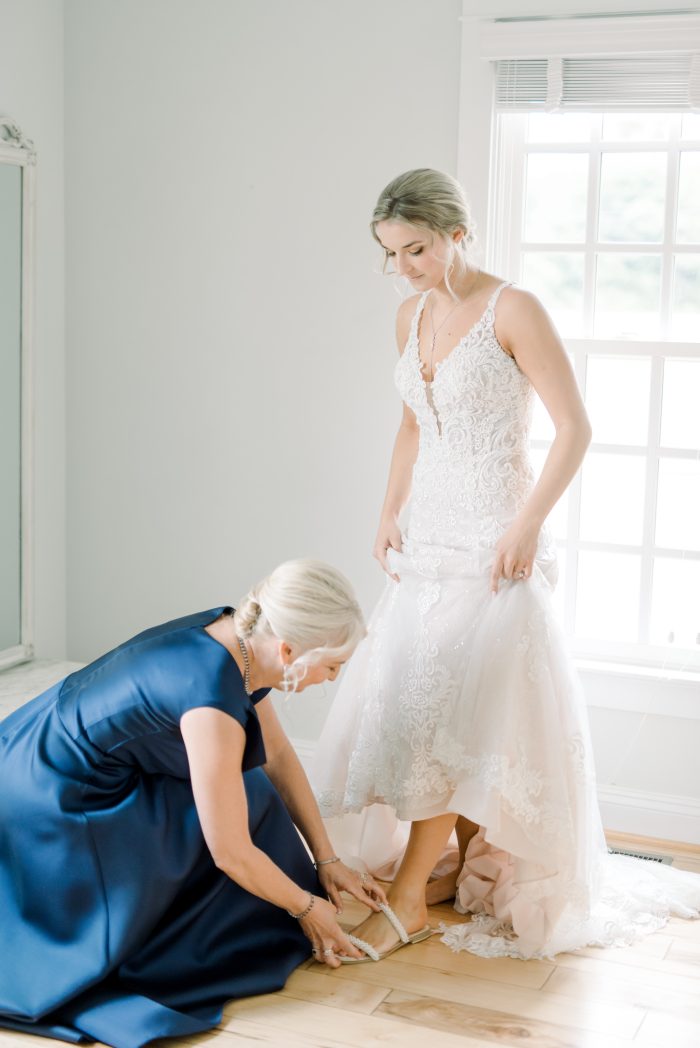 PC: Audrey Rose Photography
How Do I Match Wedding Shoes with My Dress?
To create a cohesive and stylish wedding look, choose shoes that harmonize dress style, comfort, and personalized details. We recommend that you:
Consider the length, silhouette, and overall design of your dress
Match your color palette (and perhaps incorporate into your wedding party's attire)
Consider dress length
Get inspired by the embellishments and flourishes in your dress
When in doubt, go for neutrals
Test out the combo with photos and feedback from your wedding party
And while there's no perfect formula for matching shoe types and dresses, here are a few pointers for shopping and styling based on your gown silhouette:
Ball gowns look beautiful with classic styles, statement pumps, bedazzled sneakers, Cinderella heels, and rustic boots.
Sheath silhouettes look gorgeous with delicate strappy styles, flats, stilettos, and barefoot sandals.
A mermaid or fit-and-flare pairs with glamorous red-carpet shoes.
A-lines are the most versatile and look beautiful with almost any shoe style.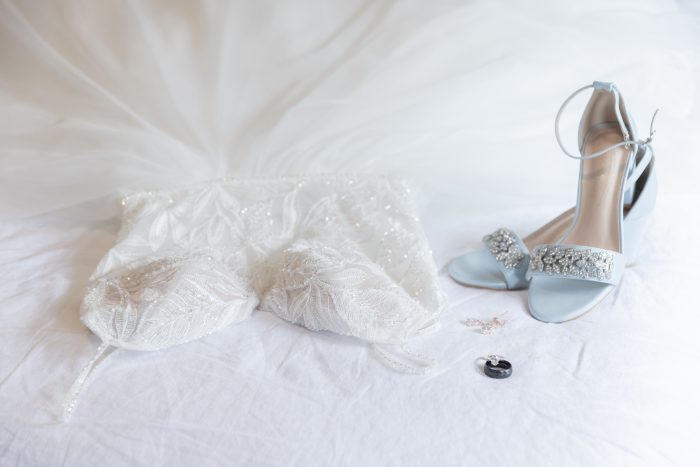 PC: Nick Franco Photography
Are Heels the Only Option for Wedding Shoes?
Absolutely not! There are a variety of classic, romantic, and unique bridal shoe options that don't require heel height. A few of our favorites are booties, sneakers, and sandals with romantic bridal vibes… Think sparkles, florals, and soft flourishes to match your theme.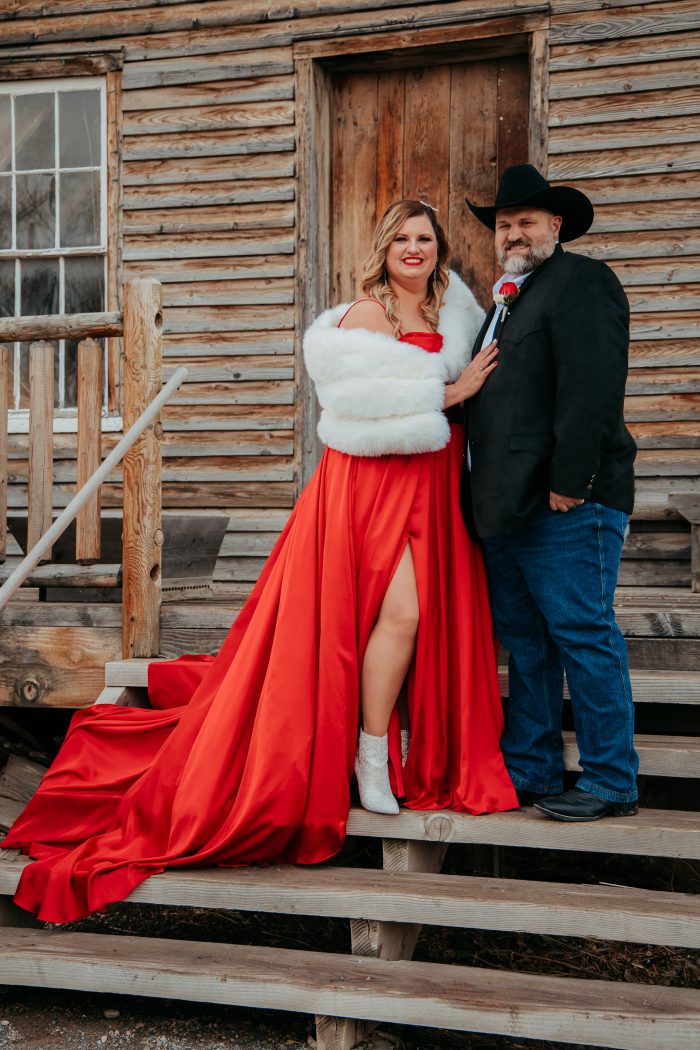 PC: Autumn Lane Photography
When Should I Buy My Wedding Shoes?
Good timing is key to ensuring your bridal shoes look and feel great on your big day. Here's a timeline to help you decide when to purchase your shoes:
6-9 Months Before the Wedding:
Start researching and browsing for wedding shoe styles and trends well in advance.
Begin considering factors like heel height, comfort, and style.
4-6 Months Before the Wedding:
By this point, you should have your wedding dress selected or at least have a clear idea of the style and color.
Start shopping for your shoes. Give yourself ample time to try on different options and make a decision, especially if you're shopping online, waiting for delivery, and returning multiple pairs.
Purchase your shoes once you find the perfect pair that complements your dress and suits your comfort preferences.
3 Months Before the Wedding:
Once you have your shoes, wear them around the house to start breaking them in. This will help prevent discomfort on your wedding day.
Shop around for a backup pair.
2 Months Before the Wedding:
If you're planning to have any alterations made to your dress (hemming, adjustments, etc.), take your wedding shoes to your dress fittings to ensure the proper dress length. Your bridal stylist will be very happy with you!
1 Month Before the Wedding:
Continue wearing your shoes to ensure they're comfortable and that you won't experience blisters or pain on your big day.
On the Wedding Day:
Ensure your shoes are clean, polished, and ready to be worn.
Pack your backup pair.
Wear them for your party, and don't forget to get some photos!
What About Budget-Friendly Wedding Shoes for Bride?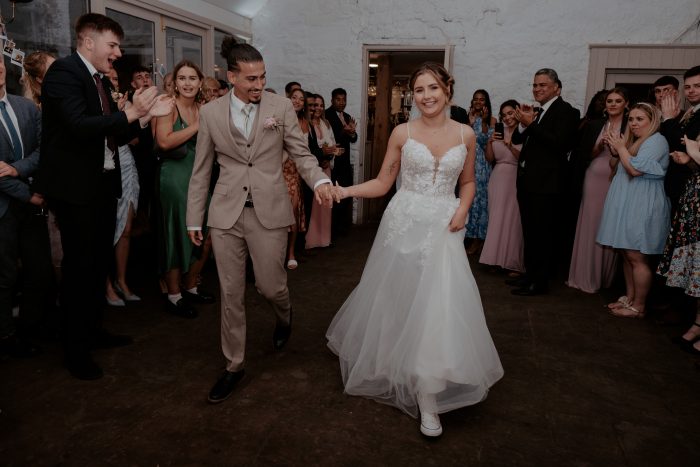 PC: Emily Robinson Photography
There are plenty of options available that are stylish, comfortable, and won't break the bank. Here are some ideas for finding affordable wedding shoes:
Shop for off-the-rack styles
Browse popular retailers like ASOS and DSW
Shop discount sites and online marketplaces
Shop for bridesmaid shoes instead of bridal shoes
Choose elegant white or nude heels, which are easy to find year-round on a budget
Find shoes you can re-wear for other occasions
Opt for simple flats or sandals
Shop off-season
Rent your shoes, especially if you have your eyes on a designer pair
Shop vintage or secondhand
Tips for Styling Your Wedding Shoes
As you shop and plan your wedding-day outfit, here are a few ways to make everything picture-perfect in the shoe department.
Choosing Shoe Colors
After shoe type, color is perhaps the most important aspect of your bridal shoes, as it can complement or clash with the design of your wedding dress. And you have a TON of options! Choose gorgeous white and off-white for a classic, formal vibe; explore soft and luminous pinks, golds, and silvers for a luxe feel; blue for a whimsical "something blue"; or bold, bedazzled styles for a themed wedding or statement bridal look.
Get inspired with different wedding dress colors in our trends gallery.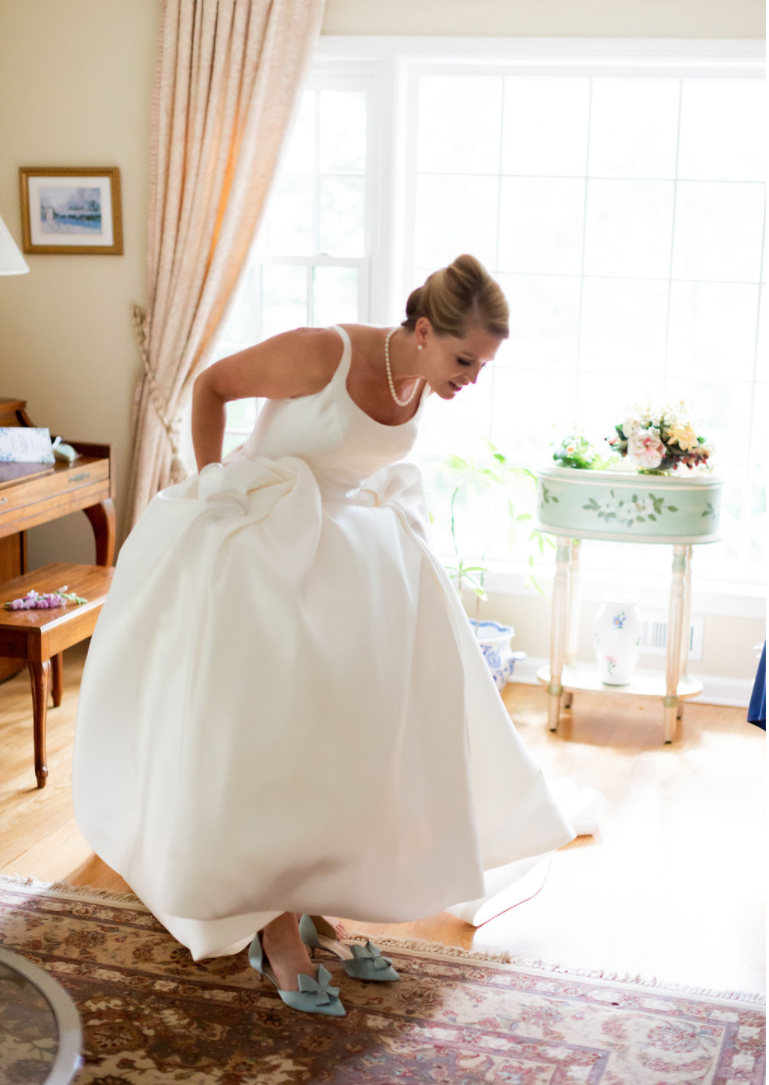 PC: Chris Jorda Photography
Personalization and Embellishments
Brides have tons of beautiful ways to personalize their bridal shoes. Here are a few sweet ideas we're loving from this season's weddings:
Monogram with you and your sweetheart's initials
Add an inscription on the bottom of your shoes, such as a poem, quote, or love letter
Paint symbols or references to your love story
Add charms and lockets with photos of your family, your dog, or your favorite memories
Comfort and Practicality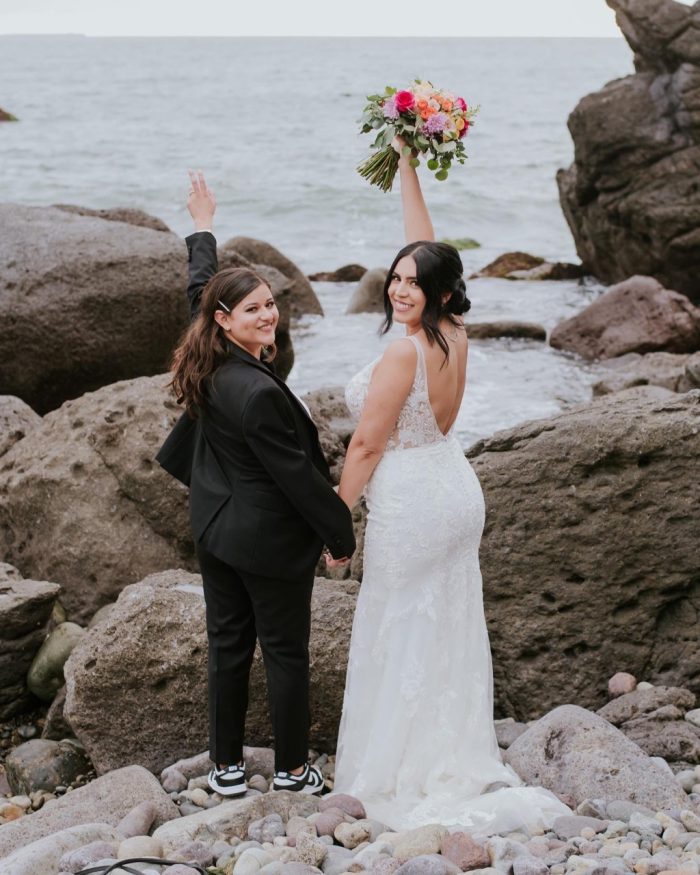 PC: Dania Zaragoza Photo
Whatever pair of shoes you fall for, stay comfy! Here are a few ways to make sure you're feeling great while wearing your shoes:
Break in the shoes before your wedding, i.e., wear them around the house to mold them and reduce pressure points.
Add gel insoles.
Tape your third and fourth toe; this helps reduce pain.
Bring a backup pair for your reception (and dancing!).
Set up softer surfaces for standing to offset any stone, concrete, and hardwood floors in your venue.
Inspiration for Wedding Shoes
Ready to pin and shop designs? We've gathered shoe pics from real weddings to help you plan your bridal vibe below.
Classic Elegance: Bridal Heels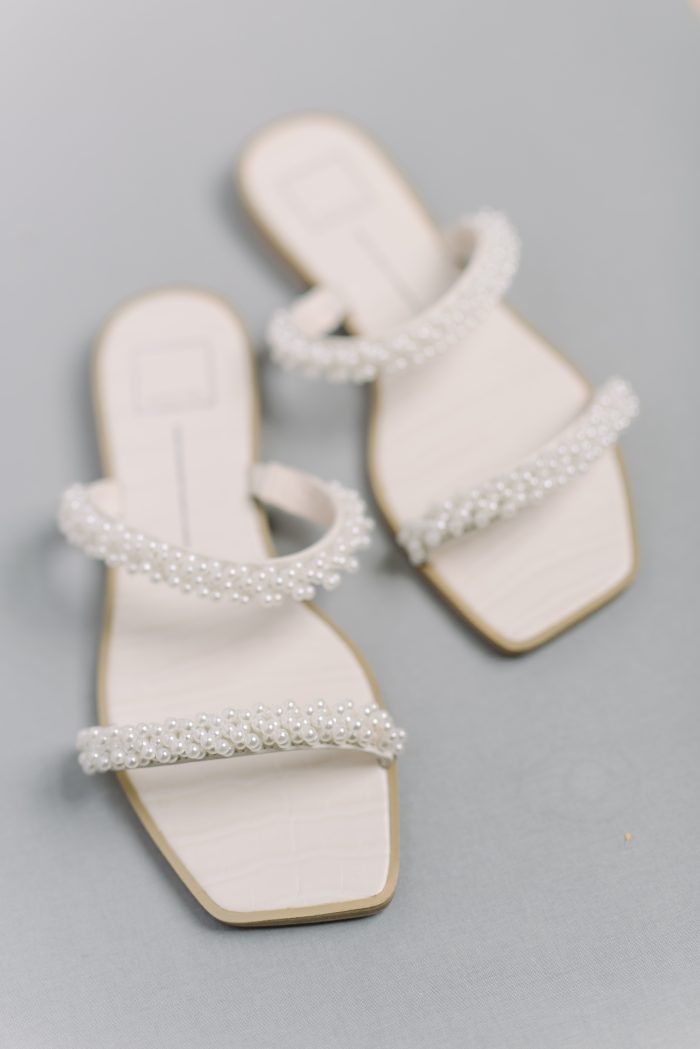 PC: Audrey Rose Photography
We'll start with a timeless classic: heels! If you love a sleek, romantic look that doesn't stray too far from convention, there are oodles of bridal heels to choose from! As we mentioned earlier, it's also a good idea to shop for "bridesmaid heels," as these are often less expensive (but just as stylish) when marketed online.
Dancing All Night: Comfortable Flats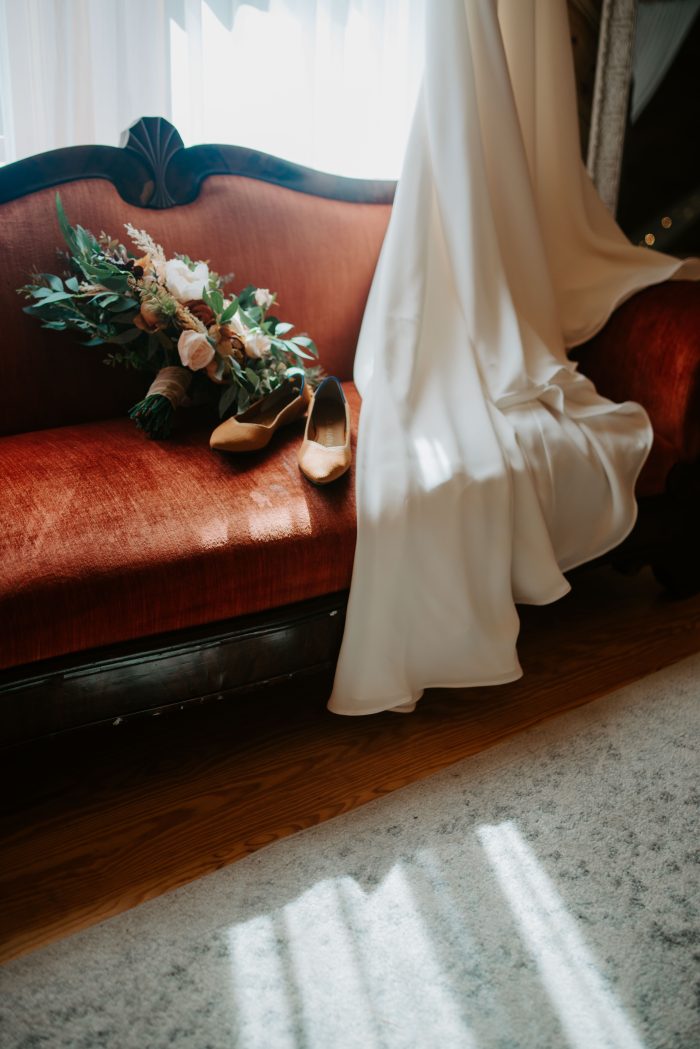 PC: Jenn Mosley Photography
If comfort is top of your list, why mess with fate? Choose an effortless pair of comfy flats for walking, dancing, and partying all night with your favorite people! (Bonus! Flats are also a great addition to your regular shoe wardrobe.)
Boho Chic: Wedding Boots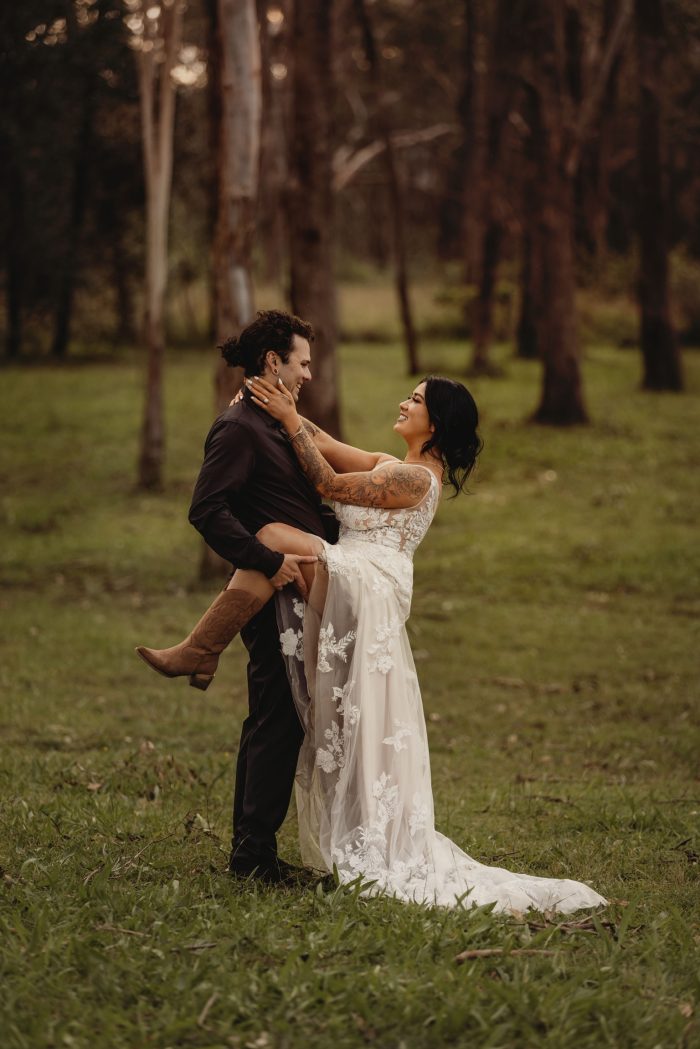 PC: La Bella Vita Photography
Rustic, woodsy wedding themes call for something a little more durable, á la a pair of leather booties or knee-length riding boots. This trend is especially chic for fall and winter weddings and outdoor venues… just in case you need to ride a horse or hang out in the mud for a while 😉
Beachy Vibes: Barefoot Sandals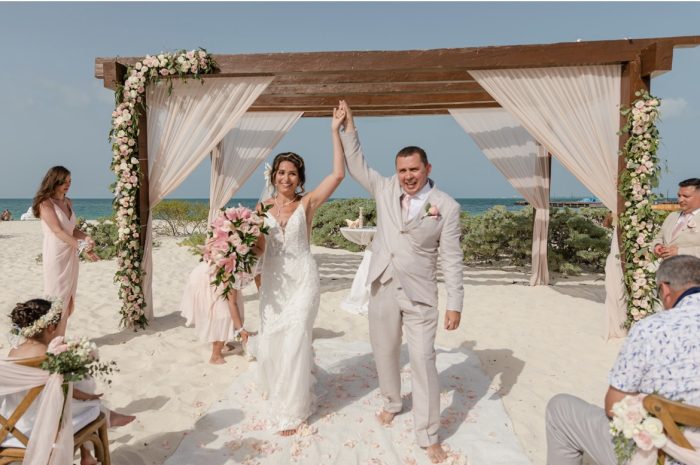 PC: Daniel Perez Photo
Planning a destination elopement, nature party, or beachy celebration? Barefoot sandals are the perfect option for sandy ceremonies and soft grassy meadows. You'll love matching the effortless vibe of your beachy wedding dress.
Playful Update: Bridal Sneakers
The ideal fusion of style and comfort? Bridal sneakers! If you're the playful and trendy type, you (and your wedding party!) will love this alternative to regular heels. You'll also love getting to wear your personalized pair for future occasions as part of your sneaker collection.
There you have it — everything you need to know about shopping for wedding shoes and choosing the perfect pair! We're so excited to see what gorgeous ensembles you create.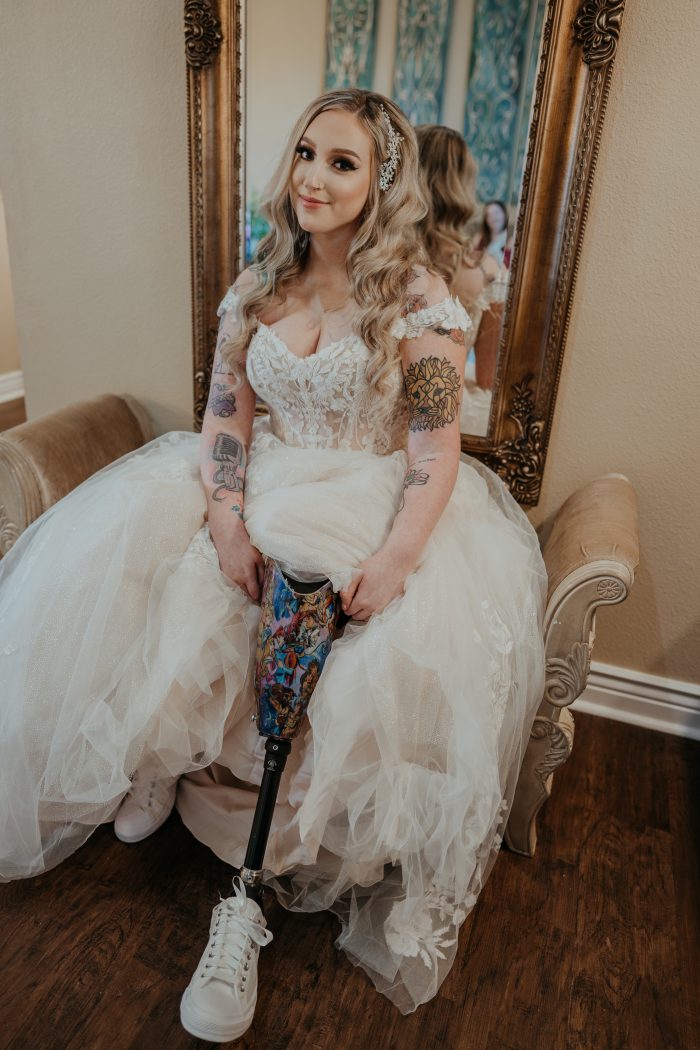 PC: Birds on a Wire Photography
For more wedding inspo, make sure to sign up for our exclusive #Maggie text messages below and explore more of our Fall wedding blogs!
More blogs like this:
Recycled Materials & Resource Consumption: Our Sustainability Initiatives
Expert Tips for Writing Romantic Wedding Vows for Your Wedding Day
How to Pick the Perfect Bridal Veil for Your Wedding Dress
Happy shopping and best wishes!