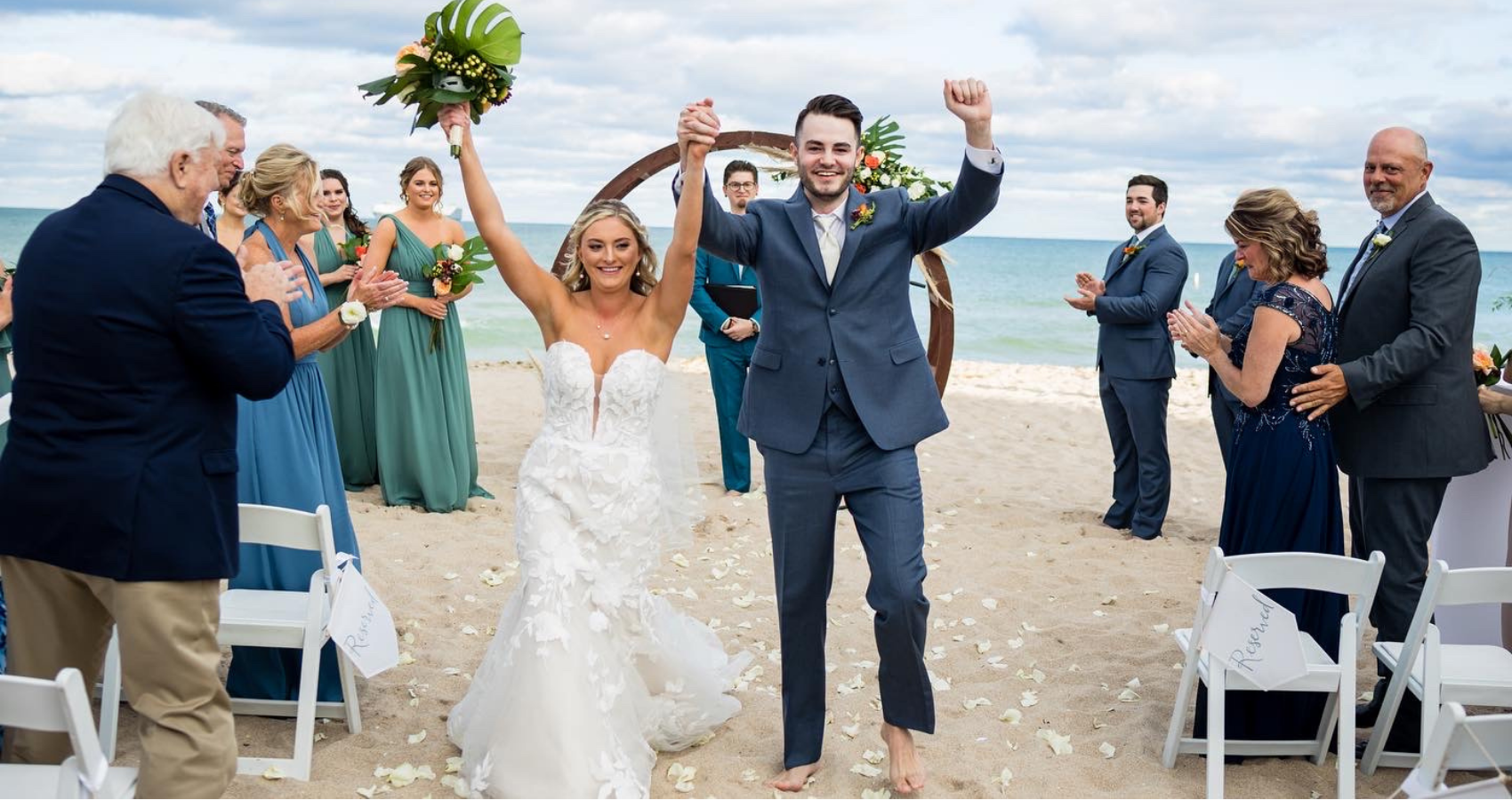 Oh, Miami! The weather, food, party scene, and culture are only the beginning of what this amazing city offers. Want to know our favorite part? The beaches (and the gorgeous gowns to match, of course)! Whether you're a fan of simple wedding dresses, A-line wedding dresses, or wedding dresses with lace, we have compiled a list of our favorite wedding dresses, Miami for your viewing delight.
Before you get scrolling though, don't forget to take our Style Quiz and Find An Authorized Retailer near you to get the Miami-inspired gown of your dreams!
Miami Bridal Shops
First things first, where do you find wedding dresses in Miami? Luckily for you, we have some 5-star Miami bridal shops that are more than happy to help you find your ideal bridal gown.
First on the list? Coral Gables Bridals!
Coral Gables Bridals has been making dreams come true since 1982 and this Real Brides review explains it best:
"I just got married in my beautiful Maggie Sotero gown! I had the most wonderful experience at this bridal salon! They are the best Miami has by far! Thank you for everything"
"The Magic City" also boasts incredible Miami bridal shops like Brides of Florida (one of our Diamond Retailers!) and Happy Bride!
All of these incredible Authorized Retailers offer stunning Maggie Sottero gowns from our Maggie Sottero, Rebecca Ingram, and Sottero and Midgley collections. Make sure to make an appointment with them today by clicking the links below!:
PC: Jen Brum
With a two-mile-long white sand beach and turquoise waters, Sunny Isles Beach is the perfect Miami beach to walk down the aisle in Katell by Maggie Sottero!
Imagine: You're strutting down the aisle in your gorgeous, sparkly strapless mermaid wedding dress. The sun is glittering off the subtle sequins throughout your gown and the floral lace is drawing all the eyes of your guests in. Sounds like a dream right? Well, that can be made a reality in Katell.
P.S. You can personalize this gown for your love story by changing out the sparkle tulle in the skirt to texture tulle, adding buttons down the back, having a fully lined bodice, and adding detachable sleeves or a jacket! Get shopping, bride!
Looking to feel like a real-life mermaid at your beach wedding? Well, pair Simone by Sottero and Midgley + beautiful Bal Harbour beach, and your dream wedding look will come true!
Simone perfectly matches the Bal Harbour beach vibe due to its impeccable and contemporary style. The exquisite, royal-inspired lace perfectly matches the high-end energy that this beach exudes while its mermaid shape is all Old-Hollywood class.
P.S. You can personalize this dress for your love story by changing the texture of the tulle in the gown to plain tulle and Chantilly lace to Chic organza and adding buttons down the back for a vintage vibe!
PC: Alex and Dali
What's not to love about Surfside Beach, and what's not to love about Fiona by Maggie Sottero?! This long expanse of beach is the picture-perfect destination to wear this elegant fit-and-flare gown at.
Much like beach-goers are drawn to Surfside Beach's gorgeous sunsets and clear waters, brides flock to Fiona because of its romantic pearls, perfect fit, and chic lace. (Its personalization options of tulle changes, detachable lace off-the-shoulder long sleeves, and buttons aren't a bad reason either.)
We imagine this Quick Ship gown at an elegant ceremony full of tropical flowers, dreamy gauze drapery, and pops of rose gold.
Love a vintage-inspired lace wedding dress? Read our blog to learn which one fits the wedding of your dreams!
PC: Dana Lynn Photography
While Miami Beach might be one of the most popular beach destinations in Florida, Hattie by Rebecca Ingram is one of the most popular wedding dresses for our beach-loving brides. So why not pair them together?
This beautiful mermaid gown is impeccably designed with an impeccable fit (can you say curves?!), deep V-neckline, and a beautiful oversized flora lace. This gown is the perfect choice for a beach-loving bride, but don't just take it from us!
Our Real Bride, Kayley T., gave Hattie a 5-Star review saying: "I felt so confident and beautiful in my dress! I wish I could wear my dress every day just so I could feel and look that good! I wanted something detailed and elegant that still had that "wow" factor and this dress delivered 100%."
P.S. Not only can you personalize this look for your love story through a matching veil and tulle change, but it's also one of eight Sister Styles, and it's also a Quick Ship gown for our brides with a quicker-than-normal engagement!
Frederique by Maggie Sottero is soft, subtle, and elegant just like Miami's Virginia Key Beach. Filled with natural beauty and ambiance, Frederique is a beautiful reflection of one of Miami's most special beaches.
We chose beautiful Frederique for this beach because of its elegant fit, garden-inspired lace, and dramatic sweetheart neckline. And as if this gown couldn't get better, you can personalize this look for your love story by changing the tulle fabric to your preference, adding detachable off-the-shoulder lace cap sleeves, and a dramatic train extension!
We picture this sweet and sexy dress in an intimate elopement ceremony. We see candles, fairy lights, rose petals, and just you and your partner taking in the beach sunset view.
PC: Simply Captivating
Just like Crandon Park Beach, Josie by Rebecca Ingram is sweet and simple. No need for unnecessary embellishments when you can have a simple white sand beach (or a simple Mikado wedding dress)!
Josie is head-to-toe old-school elegance. It's obvious from its beautiful off-the-shoulder cap sleeves, beautiful sweetheart neckline, and vintage-inspired buttons. We aren't the only ones who are reminded of classy elegance from this gown though!
Take it from our Real Bride Nikoletta E. who gave this dress a 5-Star review and said, "This dress is magic, you have to try it on to understand and feel the beauty of the dress! I love how fit this dress is and the covered buttons trailing down the train are such a dream. This dress allows your body to be the big star it deserves to be on your wedding day."
PC: Megan Rachel Photography
Hobie Beach is a wind surfer's paradise just like Tuscany Royale by Maggie Sottero's is a bride's!
This sparkly lace sheath gown is reminiscent of waves on the shore while the deep V-neckline and dainty straps are all casual elegance. As if this beach wedding dress couldn't get better, the sexy cutouts throughout the gown make it an easy-breezy wedding gown for a hot day on the beach.
If you're not a bride who vibes with the cutouts though no worries! This Quick Ship Gown has a ton of personalization options to add more coverage, and it also has six other Sister Styles!
Get your Spring wedding dress magic on by trying on this gown at an Authorized Retailer, and exploring our Blog featuring other Spring Wedding Dresses!
Cut from the same cloth, Matheson Hammock Park and Shasta by Sottero and Midgley are both stunning, unique creations that emulate beauty.
Let's be honest, it's hard not to be immediately head over heels when you look at Shasta by Sottero and Midgley. This fairytale-inspired ballgown boasts a beautiful beaded tulle OVER glitter tule to make you feel like a living, breathing star on your wedding day.
Additionally, this stunning ball gown wedding dress has a unique illusion bodice to show off your curves, as well as intricate floral lace motifs to call back to nature in your gorgeous wedding gown. By the way, this is another one of our Quick Ship gowns with a ton of personalization options like adding buttons down the back and adding more coverage via a fully lined bodice with an inner corset!
PC: Zaina Mahmoud Photography
Picture: Sultry Alistaire Lynette by Maggie Sottero on a beach next to a vintage lighthouse. Can you imagine anything more classy?! We can't. That's why we think this plus-size gown is the perfect dress to pair with Bill Bags Cape Florida State Park.
This beach is considered a classic for a reason: Clear waters, pristine beaches, beautiful palm trees, and a picturesque lighthouse. Alistaire Lynette is just as classic! We are absolutely obsessed with this fit-and-flare wedding dress not only because of its beautiful full skirt but also because of its floral-inspired lace and beaded sweetheart neckline.
Don't just take it from us though! Our Real Bride, Jezra W. gave this gown a 5-Star review and said, "I love the way the dress hugged my body. I honestly feel the dress was made special for me."
Last, but certainly not least, Stevie by Maggie Sottero is the ideal beach wedding dress to wear at North Shore Open Space Park in Miami. This light and airy beach perfectly complement the soft waves that come to shore, lofty palm trees, and picturesque park along the beach.
We are absolutely obsessed with this dreamy fairytale-inspired gown. Not only is it a Quick Ship gown (woohoo!), but it's also encrusted with beautiful subtle beading and sports some detachable off-the-shoulder sleeves to add a little bit of whimsy to the dress.
We imagine this gown in a bohemian, beach ceremony with colorful thrifted rugs, mismatched furniture, a live band, and a polaroid guest book.
Shop this gown and other fairytale-inspired gowns in our Blog!
While all of these beautiful Miami beaches are little slices of heaven, our gowns are the dresses to wear at them! Make sure to find one of these wedding dresses, Miami at a boutique near you, and share your wedding with us to inspire brides for later! Good luck, bride!
Explore more beautiful wedding gowns in our Blogs below:
5 Stunning Simple Wedding Dresses for Our Chic Real Brides
A Sneak Peek Of Our Fall 2022 Runway Wedding Dresses From Maggie Sottero
6 Black Wedding Dresses To Feel Beautiful & Bold In On Your Wedding Day