Dresses
Tips and Trends
Wedding Inspo
|
December 16, 2021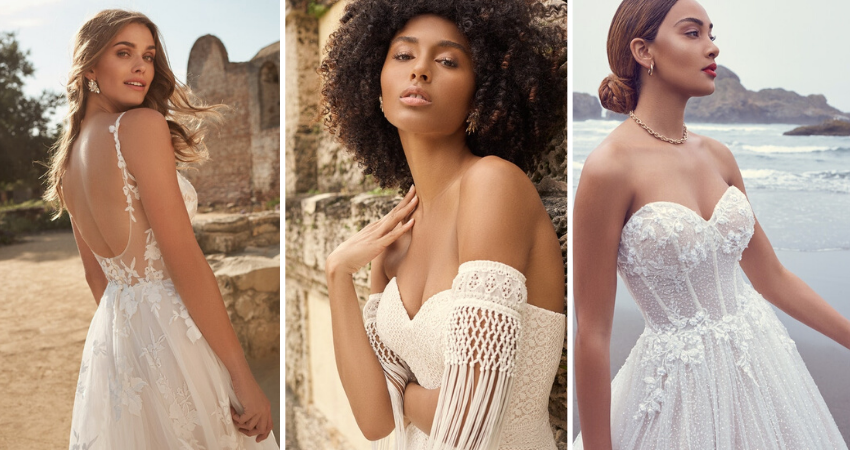 Getting married in 2022? We have wedding dress trends for every celebration you could imagine! Simple styles for micro ceremonies and city hall soirees, romantic fairy gowns for backyard parties and nature backdrops, glam silhouettes for black tie and ballroom bashes. Whatever you're envisioning, we have the chic trend update for you! Keep scrolling for highlights and trend forecasts from our latest collections!
Wedding Dress Trends: Corset Wedding Gowns
Boudoir trends have become a new classic from lingerie details to slip silhouettes! This season is all about modern corsetry: exposed boning in the bodice and neckline. This trend is sexy yet subtle — a sophisticated and ultra-feminine flourish that everyone in your bridal party will approve of. Above all, the structure and overlay are also exceptionally flattering on a variety of body types. Plus, it's easy to wear and style for different seasons!
Love this corset trend? You'll feel all glam in Aerona by Sottero and Midgley. This figure-hugging gown is designed to show off your curves and flatter your bust. For a ball gown take on the style, check out Shasta by Sottero and Midgley. This design features extra layers and unique lace variations. The fairytale effect is nothing short of enchanting.
Current Wedding Dress Trends: Backless
Backless wedding dresses are another repeat favorite! There's nothing quite like a low back, statement illusion treatment, or shimmery flourish to show off your posterior angles. In addition, the trend is extremely flattering. Sleeves, straps, or a higher neckline are ESSENTIAL for backless dresses for extra support. However, illusion effects with a plunging back and floating buttons over tulle is an excellent, romantic alternative.
Winter by Maggie Sottero features an elegant way to show off some skin. It's classy and romantic, a figure-flattering silhouette with a chic bodice and effortless neckline. Wear on its own for a lightweight vibe or add sleeves for demure coverage! The scoop back is the perfect gown detail for the illusion floral bodice.
For a backless style with extra flair, check out Gabriella by Rebecca Ingram. This keyhole-back design features a statement bow in chiffon — the perfect zhush for your wedding portraits is a simple yet striking detail. This beaded bodice is also divine! The plunging neckline is flattering and sexy, and the lace flourishes add a dose of bohemian charm. (If you're nervous about trying out the "naked" bodice trend, this soft nude underlay is a perfect introduction.)
When accessorizing a backless wedding gown, be sure to pair it with simple fabrics that don't cover or detract from the effect. We love a classic tulle veil with trim, a delicate flower crown, or even a shimmery necklace that drops down your back.
Current Wedding Dress Trends: Modern Square Necklines
The square neckline trend is still dominating the bridal runway! This 90s throwback is a little sweet, a little sexy, and 100% sophisticated. It's especially gorgeous on a minimalist silhouette. The clean yet striking fabrication makes an irresistible statement. (Trust us; you'll feel so cool and stylish when you put it on.)
One of our top takes on the trend is Sondra by Maggie Sottero. This A-line wedding dress is ultra-timeless. It's undeniably couture. It's perfect for accessories. The square neckline makes a perfect flourish. Its true elegance in a silhouette you'll love for decades to come.
For a square neckline trend with an extra flourish, opt for Albany by Maggie Sottero. This nature-inspired wedding dress features over-the-top florals and divine details. We especially love the delicate lace trim along the neckline and train. You can also choose from a variety of unique colorways that bring out the gorgeous contrast of lace, illusion, and nude underlay. (Not to mention that fabulous overskirt accessory. Very regal.)
Wedding Dress Trends: Unique Sleeves
Whatever your decade aesthetic, sleeves are always a trend-worthy bridal statement. Check it out.
For a fringe-sleeved boho flair, get inspired with Dover by Maggie Sottero. This groovy lace design features a slimming fit-and-flare silhouette and all-over eyelet lace. (Think 60s flower child or cottagecore goddess.) Turn up the festival-inspired charm with a matching bridal veil or armbands. These fringe accessories make a chic and artistic flourish.
Another example of a gorgeous sleeve trend is this satin statement, Zulima by Sottero and Midgley. This show-stopping ball gown wedding dress features a glitzy bodice, billowing skirt, and an eye-catching sleeve treatment. We think of it as a love letter to all things glam, feminine, and over-the-top.
Additionally, cold-shoulder sleeves are another hot trend this season. Romantic Stevie by Maggie Sottero showcases the flourish in lace and illusion. A spaghetti-strap gown is the perfect foundation; bell sleeve cuffs give this dreamy look a vintage, Renaissance-y vibe. (This ensemble is super versatile. You can add or remove for different looks between ceremony, reception, and photos.)
Search more gorgeous detachable sleeve options on our accessory page.
Detachable Accessories
Speaking of Second Looks, these trending wedding dresses are all about accessories, embellishments, and easy changeups. For example, get inspired with the exquisite sleeves on Bracken by Sottero and Midgley. The ruffles are playful and flirty, and the illusion is perfectly matched to the wedding gowns bodice and neckline.
Or explore the train options on Tuscany Royale by Maggie Sottero. (The Tuscany style is one of our favorites, with several variations to fit your style, body type, and vision.) Find the perfect personalization for your love story in the links.
Current Wedding Dress Trends: Chic High Neck
Looking for a fresh yet timeless bridal update? Fall in love with the high bateau neckline on Aston by Sottero and Midgley. This deceptively simple style is all about the slimming silhouette and dazzling embellishments. The neckline adds that perfect dose of regal sophistication.
Modesty is looking trés chic in Sahar by Maggie Sottero, a high-neck crepe and soft tulle design with exquisite pearl embellishments. This look is timeless, polished, and sophisticated. The full coverage is fully divine and sneakily sexy!
Sexy Cutouts
First in line for trending wedding dresses with cutouts is Marlow by Sottero and Midgley. This soft yet luscious silhouette is all about the floral lace and cloud-like construction, featuring a subtle cutout in the low back. This charming detail gives a fresh spin to the fairytale wedding gown mainstay!
Similarly, another one of our most popular wedding gowns for 2022 is Keeva by Maggie Sottero. This flattering lace silhouette features a subtle cutout motif in the neckline. It's sexy and feminine, and the loveliest complement to the off-the-shoulder sleeves and illusion V-back.
Pair these cutout wedding dresses with simple jewelry and classic bridal veils. The trends can definitely shine on their own!
Wedding Dress Trends: Romantic, Prominent Blooms
Statement blooms are a bridalwear staple, and this season is no exception! Making the latest rounds: ultra-luxe Zander by Sottero and Midgley, a couture statement in black or ivory. Check out the 5-star reviews on this dress's details page. Brides love Zander's elegance and romance; it's even soft and comfortable enough to wear all evening.
Inspired by wildflowers and watercolors, Mirra by Maggie Sottero is one of our top picks for brides in 2022. It's simple yet luxurious, feminine and fierce, and totally on-trend for the new year. (And the 3D floral bridal veil is a perfect topper.)
Mirra is from our Rebecca Ingram line: classic wedding dresses at exceptional price points. Head to an Authorized Retailer to shop these collections.
Bridal Gown Trends: New Bohemian
Lastly, new boho styles have made another stunning return to the runways this season. Keating by Rebecca Ingram leads the pack with a simple, modern silhouette and stunning lace treatment. Pair with a flower crown for a sweet and summery feel, whatever your season.
Boho makes a major statement in Roxanne by Sottero and Midgley, a striking silhouette in shimmer, lace, and illusion. It's a little A-line and a little bit ball gown—easy to wear yet dramatic enough for statement photos. We love the balance of formal and artistic in this lace motif. It's polished and regal, yet dreamy and organic. This "new bohemian" is nothing short of divine.
Hattie by Rebecca Ingram is a chic statement for boho brides. This fit-and-flare silhouette is flattering, effortless, and ultra-romantic. The neckline is sexy yet sophisticated. The oversized florals are playful and sweet. In conclusion, it works equally well for a relaxed beach wedding as it does for a snazzy city celebration or ballroom dance party. Plus, the strapless neckline and svelte silhouette make it perfect for bridal veils, capes, and overskirts. Bring on the accessories!
If you're loving this trend gallery, head to our latest collections from Fall 2021 for more motif, silhouette, and fabric inspo. With all the personalization and accessory options from Maggie Sottero Designs, you can create something "truly yours" for your best day ever. And if you're looking for modern looks for grooms' wear, head to our post on suits, accessories, and sharp footwear for men's looks. These classic and dapper designs ensure you're not the only trendsetter at the reception.
Head to an Authorized Retailer to browse and personalize wedding dress trends for the seasons to come. Happy shopping!