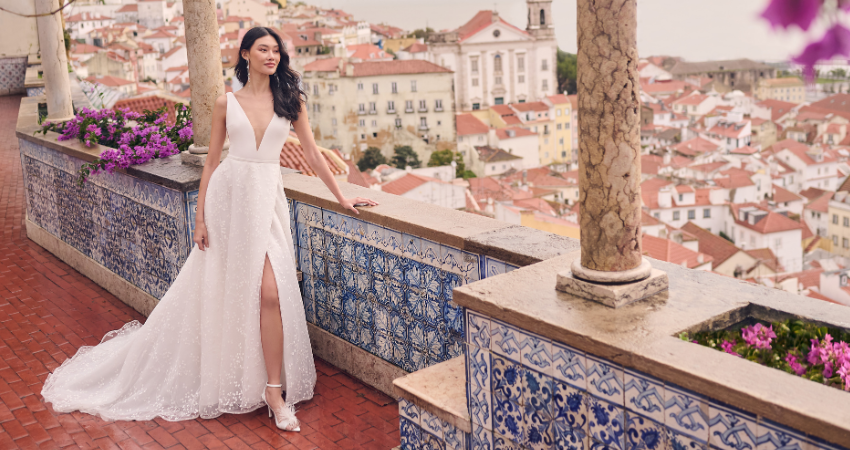 Searching for gorgeous wedding dresses for a cool and modern celebration? "Timeless" gets a fabulous upgrade in our latest collections! Keep scrolling for our top wedding dress trends and the gown to match them for Fall 2023, and make sure to take our Style Quiz below to get a head start on finding your dream style!
Now keep scrolling to fall in love with these beautiful wedding dress trends!
What are the inspirations behind the wedding dress trends in the Spring 2023 Collection?
Our brand new collections are all about the romance of travel and adventure. From rustic details in Rebecca Ingram to timeless style of Maggie Sottero — and the bold, ever-blooming inspiration in Sottero and Midgley — these styles call to the "perfect love" of your happily-ever-after. 
3D Flowers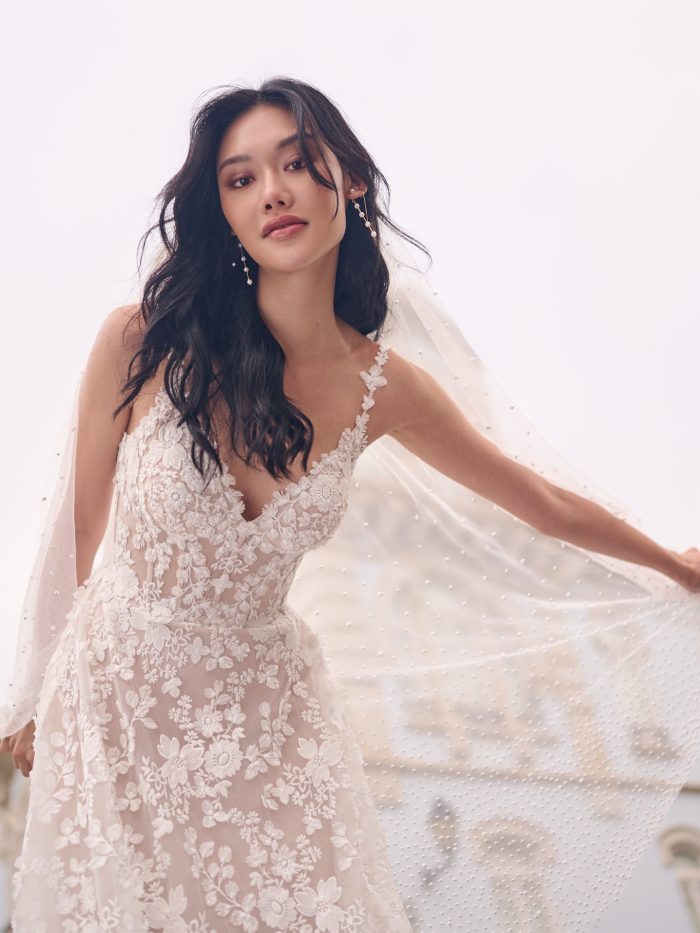 3D floral appliques have been a popular trend in wedding dresses for several years now, and they continue to be a prominent feature in our collections for 2023. These three-dimensional flowers add a romantic and whimsical touch to wedding dresses, creating a unique and eye-catching look that is both modern and timeless.
Why have 3D floral wedding dress trends remained so popular? We think it's because of their versatility. These embellishments can be incorporated into a variety of different styles, from classic ball gowns to modern sheaths. They can also be made with a variety of materials, such as lace, tulle, or chiffon. And from oversized statements to dainty accents with soft shimmer, different sizes can be arranged in a variety of patterns to create a totally one-of-a-kind look.
Another reason for the popularity of 3D floral wedding dresses is that they add texture and depth to the overall design. The use of flowers that stand out from the surface of the dress creates a sense of dimension and movement, giving the dress a unique and dynamic aesthetic.
3D floral wedding dresses are a beautiful and romantic trend that adds a touch of whimsy and uniqueness to wedding dress designs. Here are a few new favorites!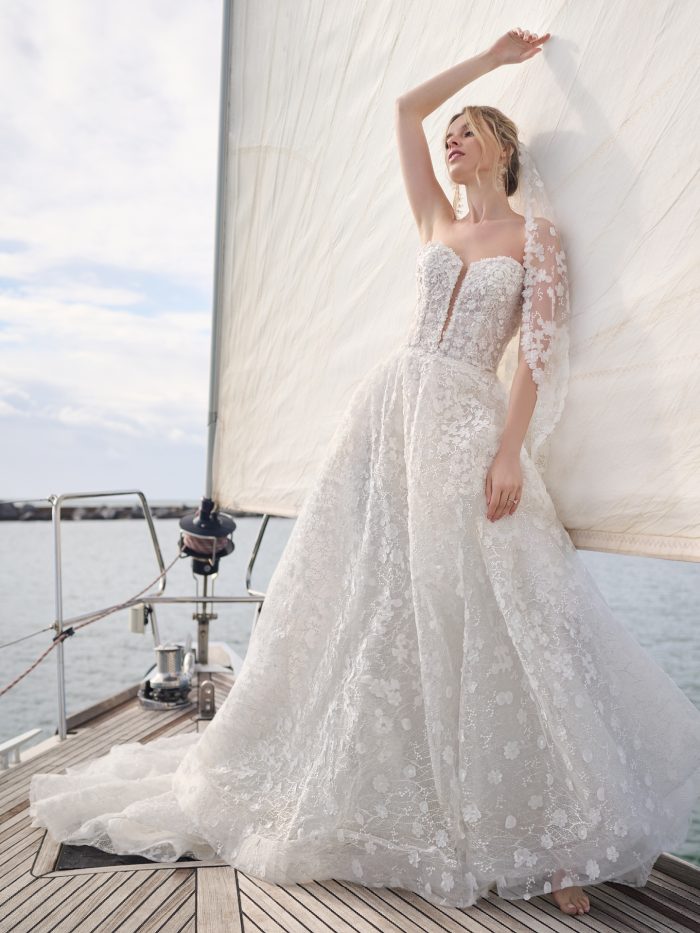 Ladonna by Maggie Sottero: a sweet, chic, and garden-inspired A-line with the perfect silhouette and illusion details. This unique yet versatile wedding dress is destined for a summer wedding, but would also add a bold and vibrant touch for a stylish fall or winter celebration. Our favorite details? The florals (of course), the exposed boning, and the relaxed yet figure-enhancing silhouette. 
Natasha by Rebecca Ingram: Lush yet exquisite lace florals make an irresistible statement in this boho-chic ball gown. Florals and beading dance over the bodice, cascading beautifully into the lush tulle skirt. It's a little ballerina, a little regal, and perfectly on trend for your happily-ever-after. 
Afton by Sottero and Midgley: bold lace and a lush silhouette combine for the dreamiest floral statement. 
Unique Sleeves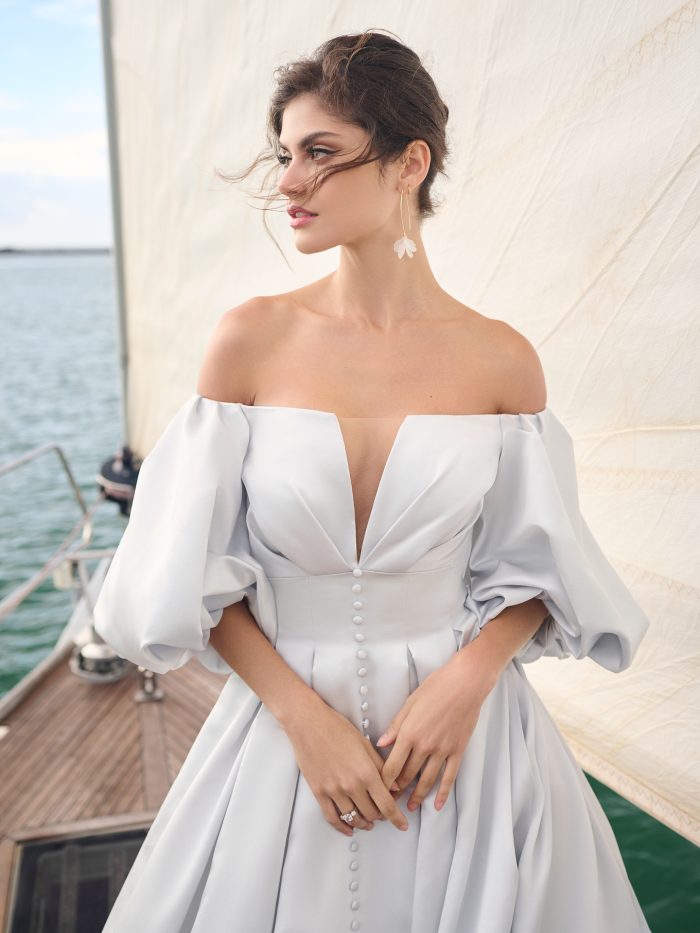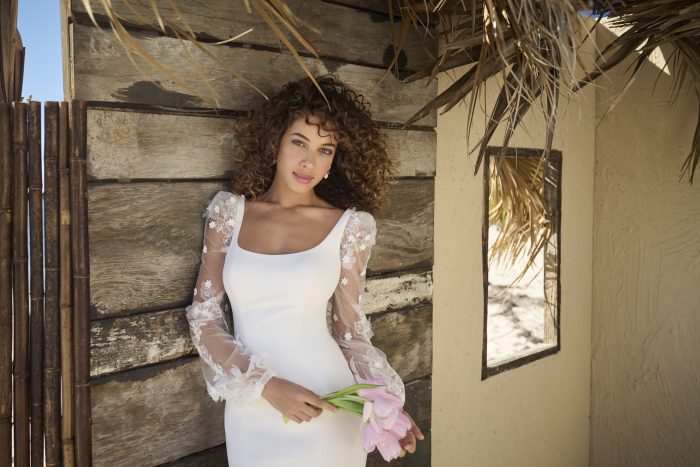 Unique sleeve trends are hot on the bridal runways this season! From puffy and voluminous to sleek and modern, we promise a sleeve trend to suit every style and taste. Here are a few of the top wedding dress trends in our newest collections:
Puffy sleeves
Sheer sleeves
Off-the-shoulder sleeves
One-shoulder sleeves
Flutter sleeves
Shimmery spaghetti straps
And more!
A few of our trending wedding dresses that have unique sleeves are:
Intricate Beading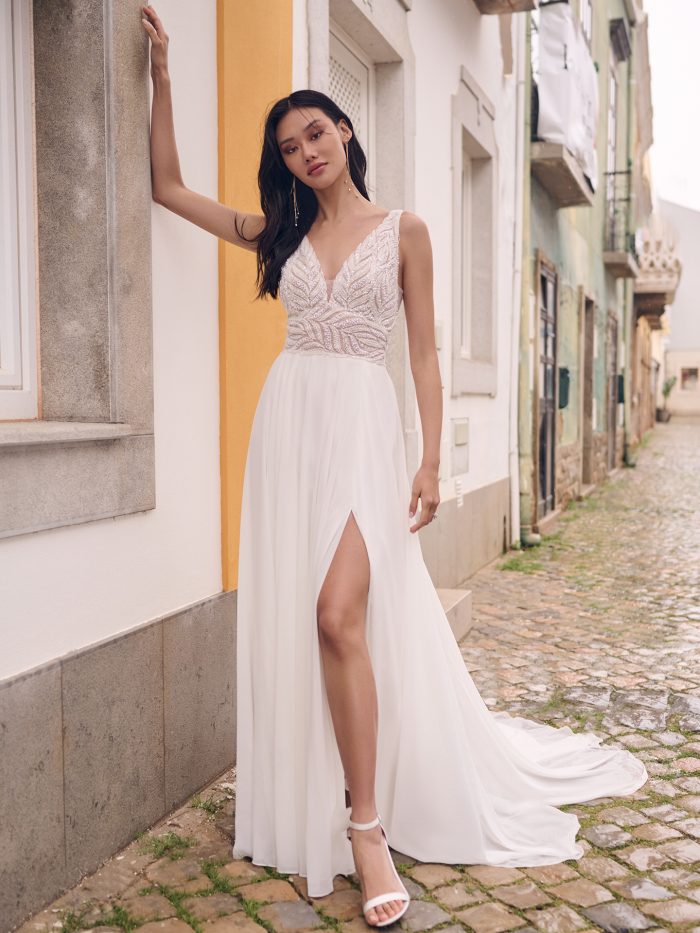 Once again, beading reigns supreme! These details can range from delicate and subtle to bold and dramatic, with many dresses featuring intricate beadwork from hollow to hem. How to find your favorite variation? Start with your favorite feature in a gown. Beading can be used to highlight certain features of your look, such as the bodice, sleeves, or hemline. Make that razzle-dazzle highlight all the magic!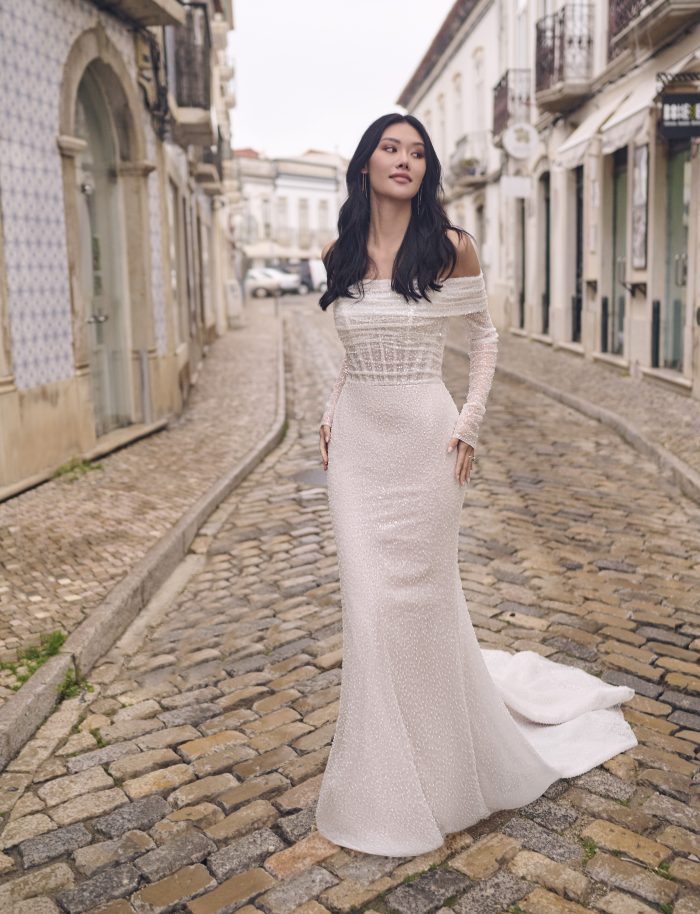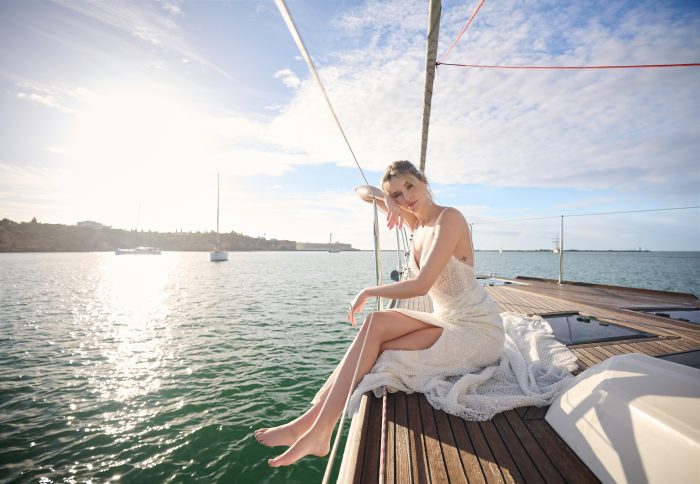 Maurelle by Maggie Sottero: This simple yet stylish A-line boasts a beaded bodice and luxe chiffon skirt. We love the thigh-high slit — the perfect dose of sexy glamor. 
Drew by Maggie Sottero: Ready to turn heads? Don this red-carpet-inspired fit-and-flare with unique textured tulle and gorgeous beading. You can personalize as a strapless silhouette or add the lovely wrap with off-the-shoulder sleeves. Stunning!
Topaz by Sottero and Midgley: Another gorgeous vintage Hollywood style with allover beading, a low neckline, and a sexy asymmetrical skirt.
Chic Simplicity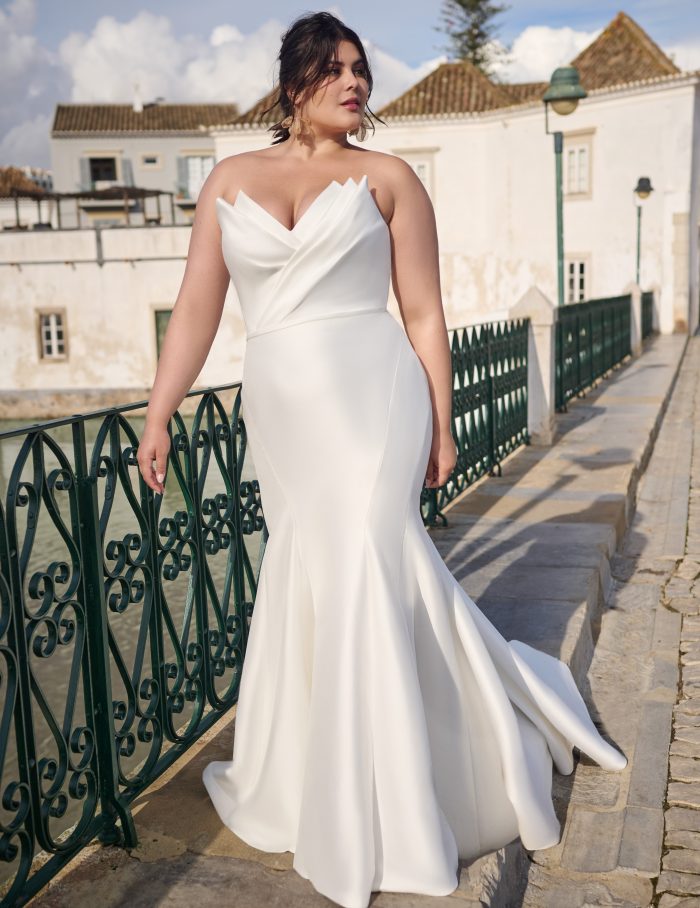 Chic and simple wedding dresses will never go out of style, but they've certainly made a comeback in recent seasons. Brides are increasingly looking for comfortable and versatile dresses — the trend towards more streamlined designs reflects this desire for a more practical and sustainable approach to bridal fashion.
Many brides are also opting for smaller, more intimate wedding ceremonies that call for a more understated design. Chic and simple gowns are perfect for these types of weddings, as they are elegant and timeless without being overly formal or elaborate.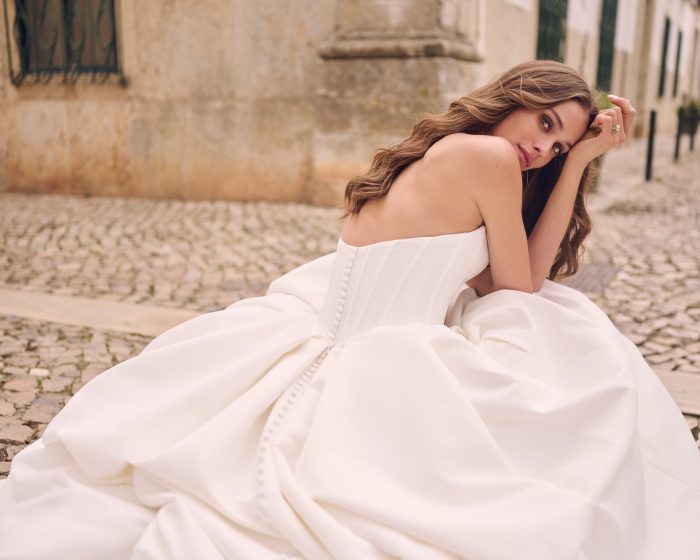 Simple can also be styled as high couture… Many of our most trendy wedding dresses this season are made with simple fabrics, clean silhouettes, and minimal embellishments.
A few of our top picks for the new season:
Francine by Rebecca Ingram: a lovely crepe silhouette that looks both elegant and luxurious. And it's SO versatile — this comfortable fit-and-flare would look equally stunning in a ballroom as it would on a beach. 
Marilyn by Sottero and Midgley: a graceful and sophisticated wedding dress with gorgeous tailoring, this fit-and-flare makes an exceptionally stylish statement. 
Derrick by Maggie Sottero: simplicity meets regal drama in this romantic ball gown. It's sexy, lush, and perfectly on trend. Explore more simple wedding dresses like these in our curated gallery. 
Thigh High Slits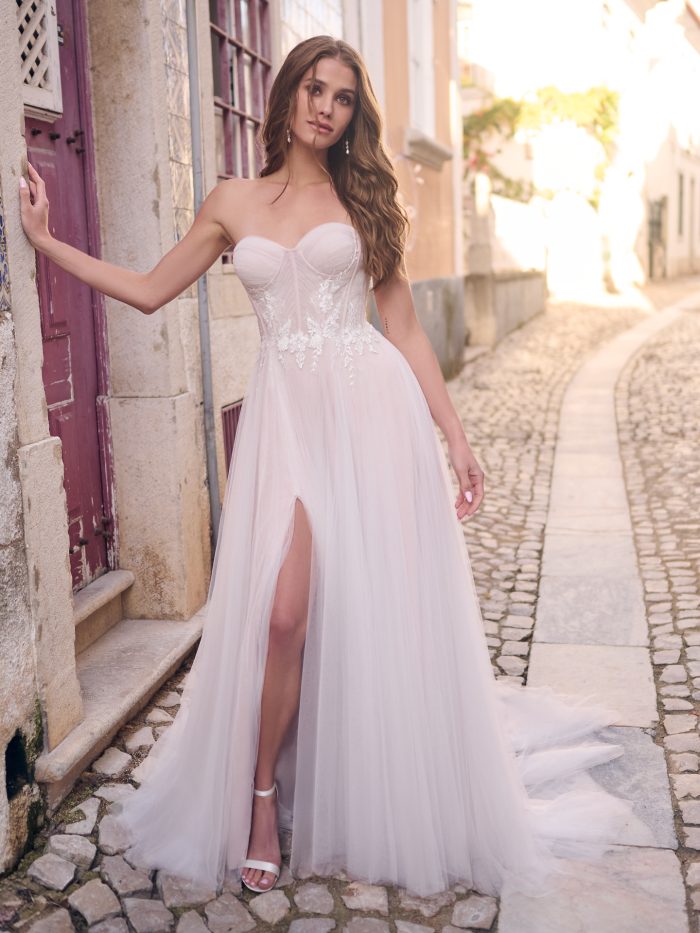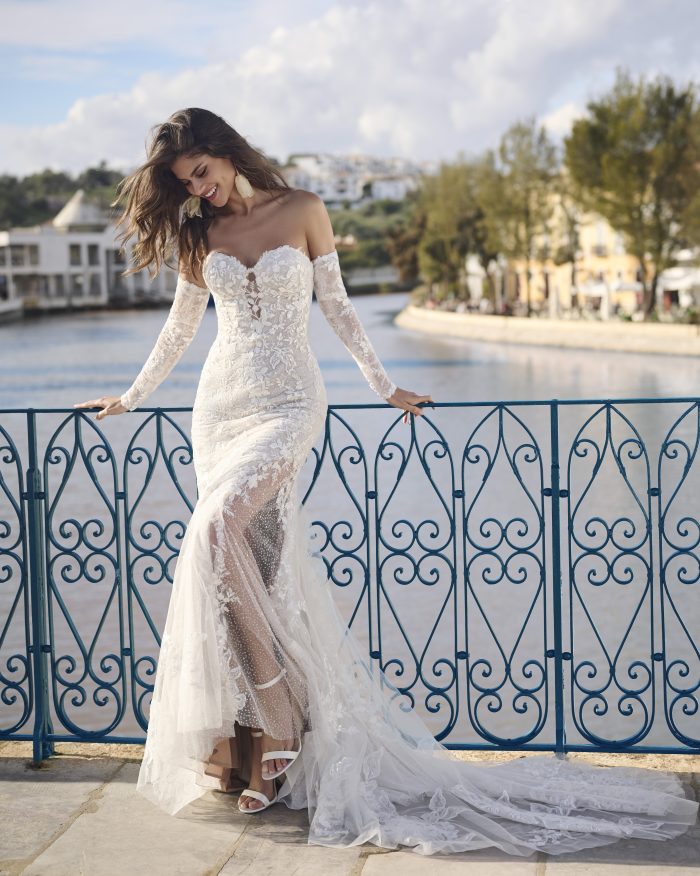 Summery venues, a beachy backdrop, a chic and sensual aesthetic — there are plenty of reasons to want to show off your legs on your wedding day! We're smitten with the selection of trendy wedding dresses with thigh high slits coming up this year. If you love the look too, here's some inspiration:
Gwen by Maggie Sottero: a romantic, boho-chic A-line with soft lace and tulle. The exposed boning makes a sexy boudoir-esque statement, and satin lining makes for an ultra-comfortable fit. 
Maeve by Rebecca Ingram: crepe is a stunning choice for a thigh high slit in the skirt. It's comfortable, breezy, and so fabulous for photos. Picture this style on the beach, in a garden, a destination abroad, or a gorgeous manor… The venue options are endless!
Kensington by Sottero and Midgley: this style features a unique illusion effect in the skirt. It's all about texture, layers, and a hint of sexy elegance. It's the perfect blend of classic meets new.
Sexy Cutouts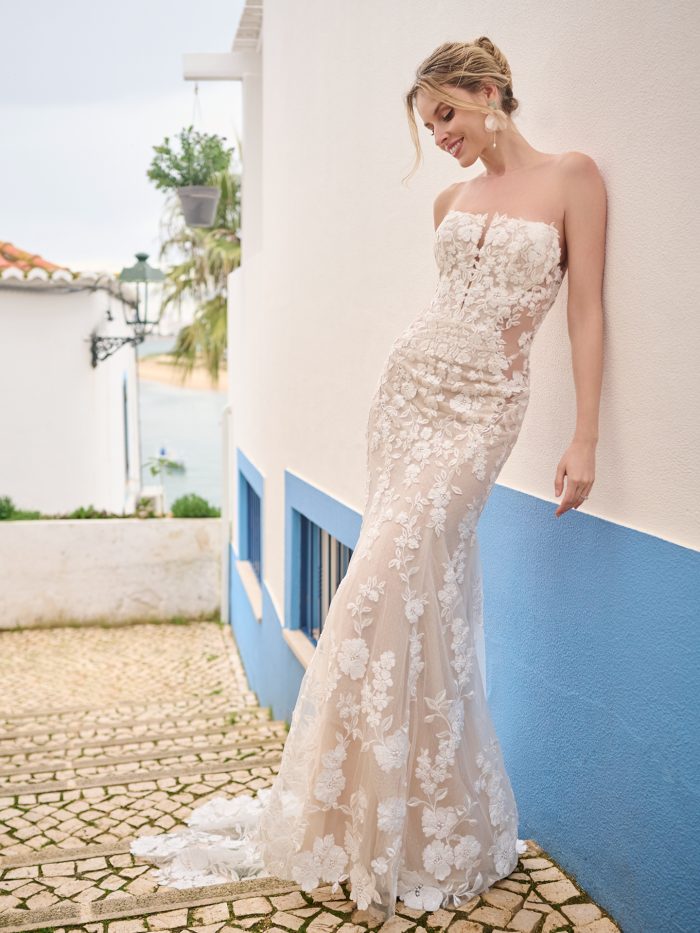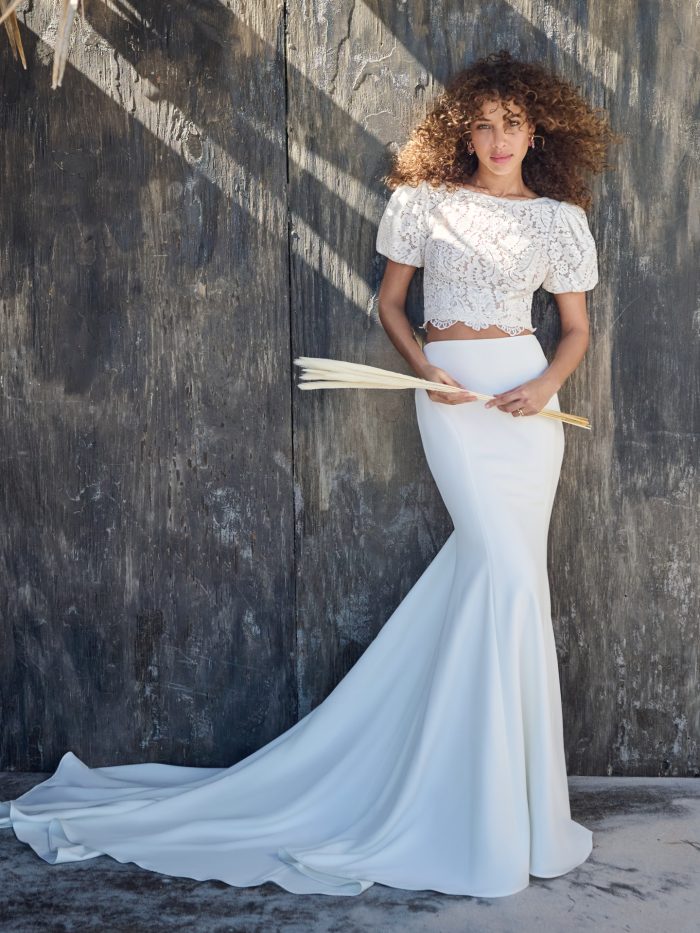 Adelaide by Sottero and Midgley: for the chic and confident bride, Adelaide features daring illusion details along the bodice and waistline. Talk about fabulous!
Betsy by Maggie Sottero: delicate pearls create a starry night pattern in this dreamy and ethereal wedding dress. The illusion back creates a unique cutout pattern along the bodice waistline. So divine!
Pilar by Rebecca Ingram: this playful style embraces the cutout trend with a crop two-piece silhouette. This style would be so chic for an elopement or minimony!
Strapless Elegance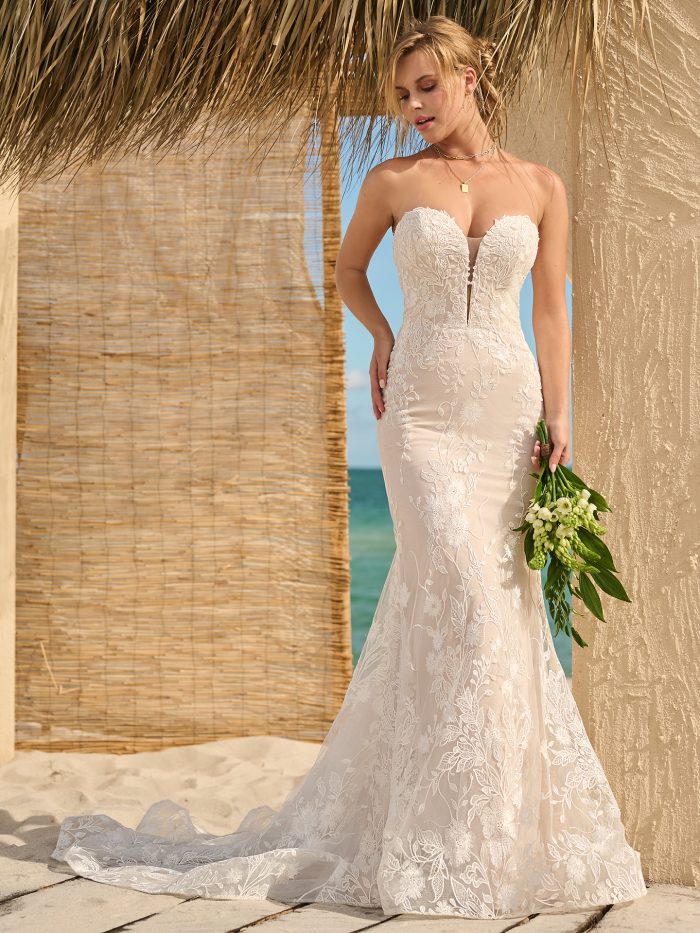 Planning a summer celebration? Strapless makes for standout wedding dress trends in 2023! From slinky fit-and-flares to regal ball gowns and romantic A-lines, these beautiful gowns are all about the drama.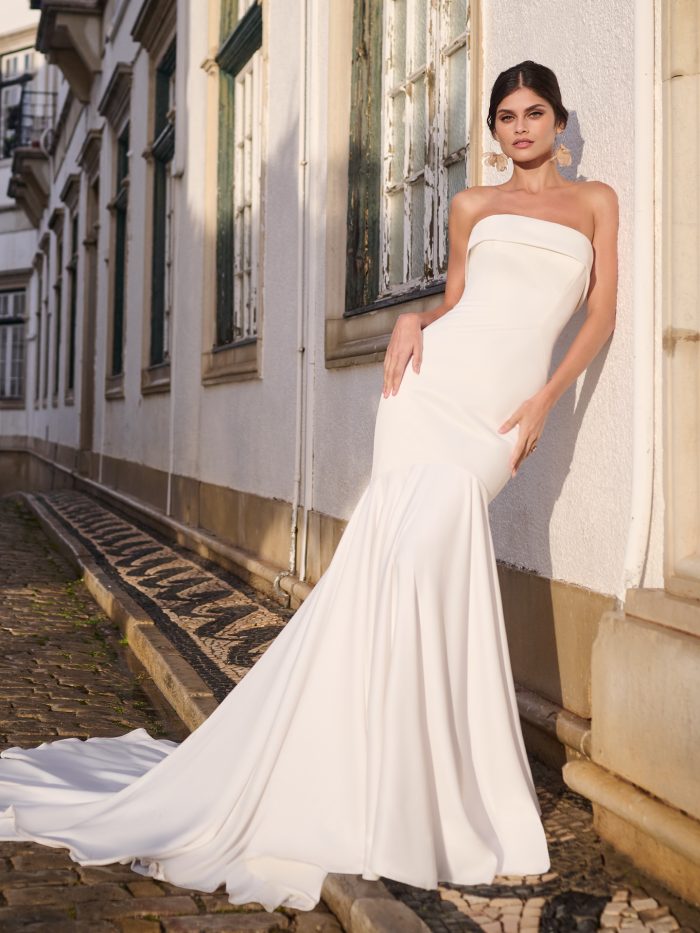 Here are a few trending wedding dresses:
Nelly by Rebecca Ingram: this dreamy fit-and-flare is all about the delicate lace, comfy silhouette, and (of course) the strapless neckline. We picture this gown in all sorts of dreamy outdoor venues.
Hailey by Maggie Sottero: play up your gorgeous curves in this strapless fit-and-flare with a sexy plunging bodice. You'll feel like absolute magic from head to toe.
Damiana by Sottero and Midgley: beautiful, graceful, and SO classic, this strapless gown is all about the minimalist fabric and exceptional silhouette. The strapless neckline is divine!
Pops of Color
Ok, yes, white and ivory are still the most traditional colors for wedding dresses, but many brides this season are looking for ways to incorporate color into their bridal look. There are oodles of benefits to incorporating color into trendy wedding dresses… whatever your vision and personality.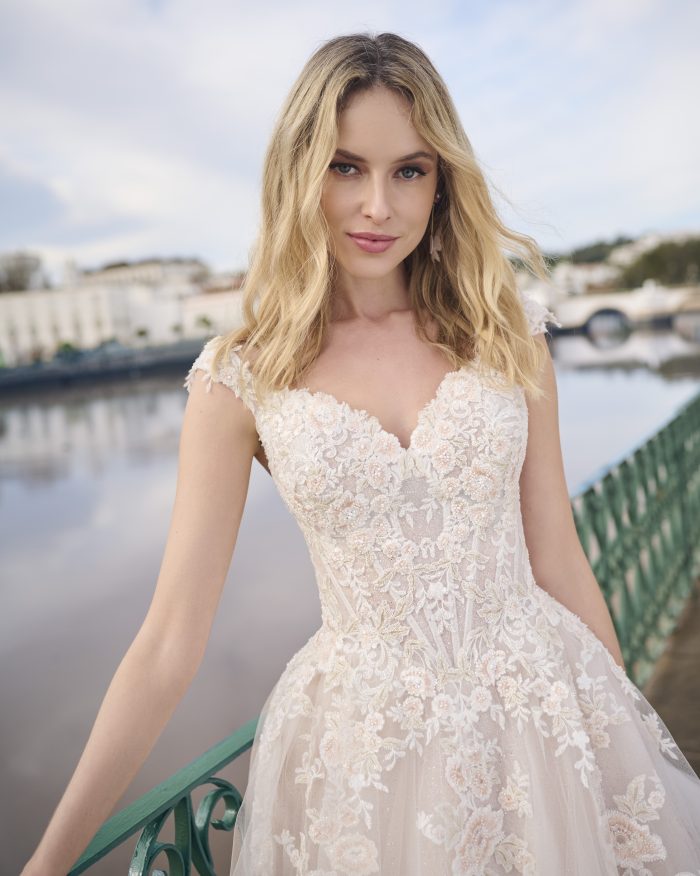 Color can add a unique and personalized touch to the dress, allowing brides to express their individuality and personality. It can be used to complement the wedding theme or decor and create a cohesive and stylish look with your bridal party.
These colorful wedding dresses have stolen our hearts:
Daring Backless Wedding Dresses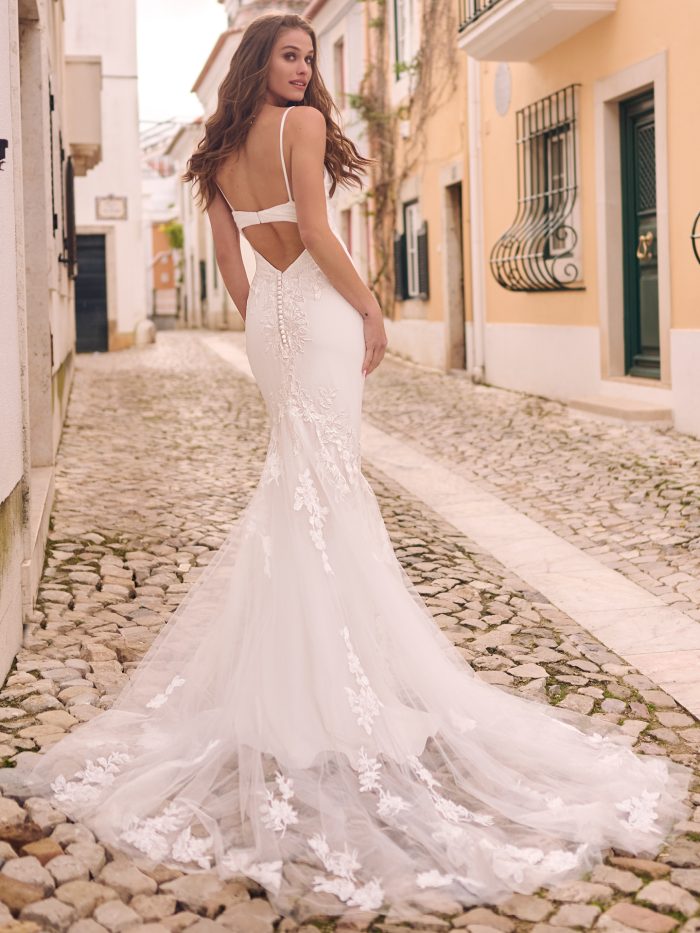 Backless wedding dresses are a top trend for brides looking to add a touch of "alluring glamor" to their ensemble. They're also stunning for wedding photos, especially during the ceremony. If you're looking to make a sexy back statement, here are three gowns to show off your favorite feature: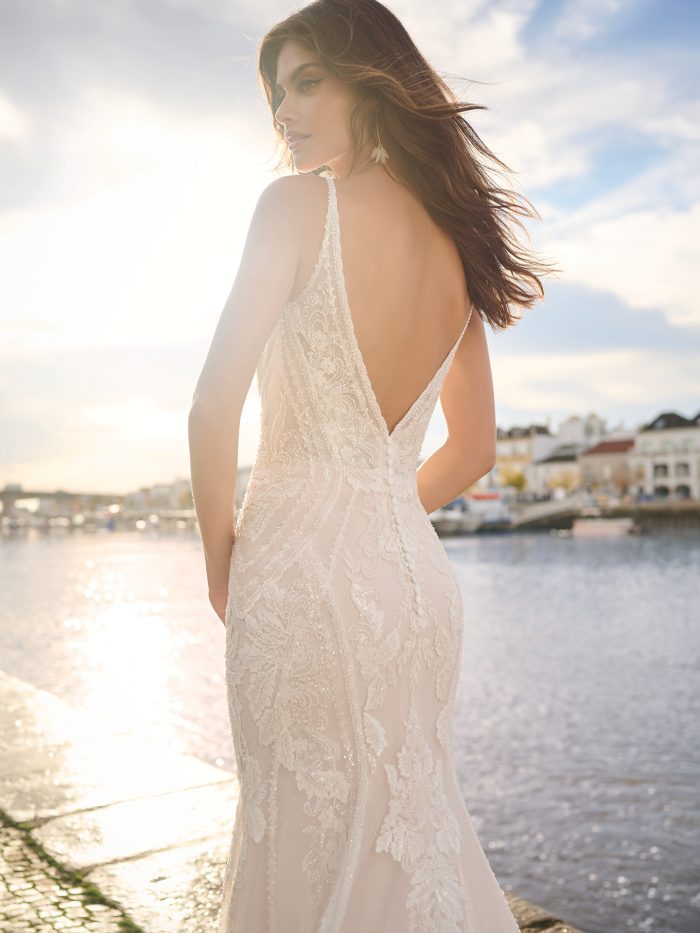 Darcy by Maggie Sottero: a formfitting crepe and illusion fit-and-flare with a keyhole back feature. It highlights your bodice, shows off your back, and makes a gorgeous sweep in the train. Perfection!
Lizzy by Rebecca Ingram: romance and whimsy combine in this nature-inspired ball gown. It's dreamy, chic, playful, and perfectly styled for a range of body types and wedding visions. Plus, it's a budget-friendly option from our Rebecca Ingram line!
Franklynn by Sottero and Midgley: an exquisite fit-and-flare with vintage-inspired beading. This silhouette is truly inspiring IRL! Try on this and more open back wedding dresses at a boutique near you.    
Comfortable Stretch Fabrics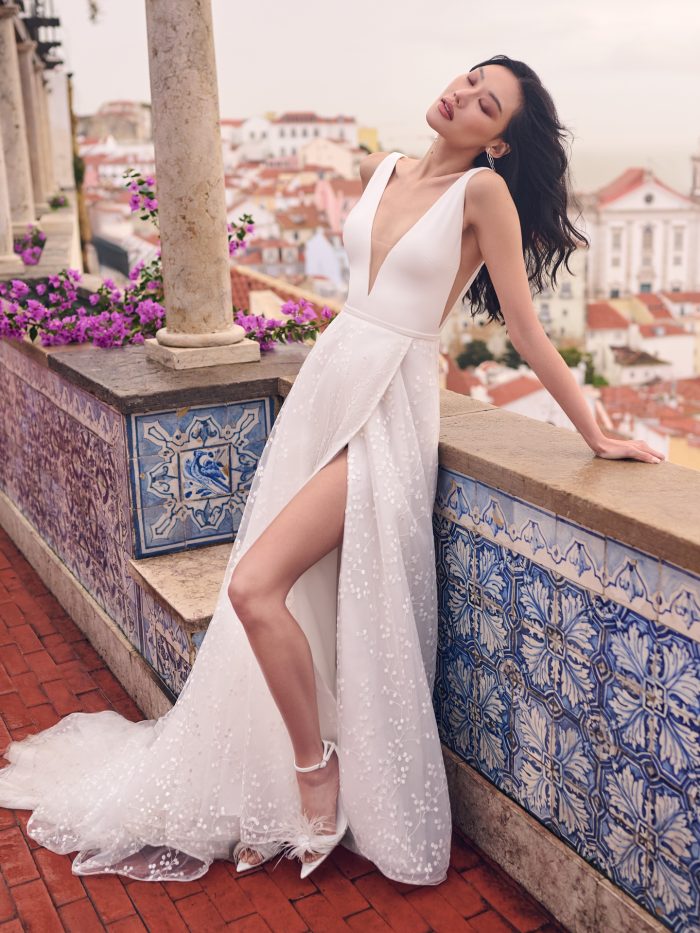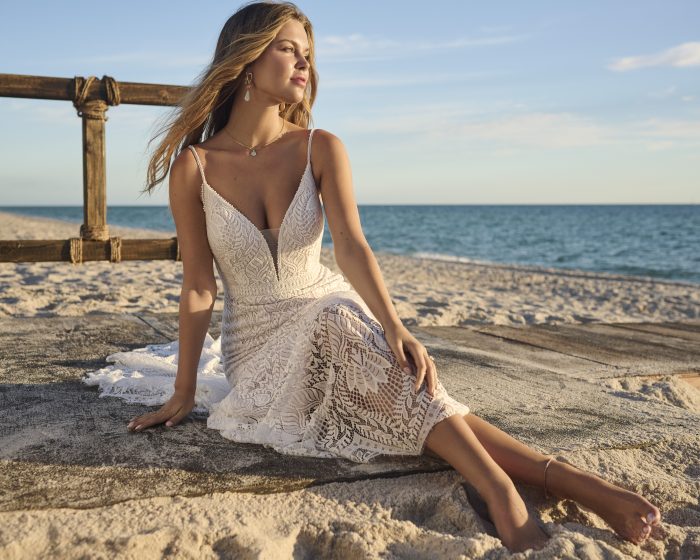 The name says it all, right? We don't need to explain much when it comes to comfy gown features like stretch crepe and jersey lining. These romantic styles and wedding dress trends are leading the pack:
Ready to shop trending wedding dresses IRL? Click the link to find an Authorized Retailer:
More blogs for more gorgeous inspiration and wedding dress trends:
Happy shopping and best wishes!