Tips and Trends
|
October 21, 2022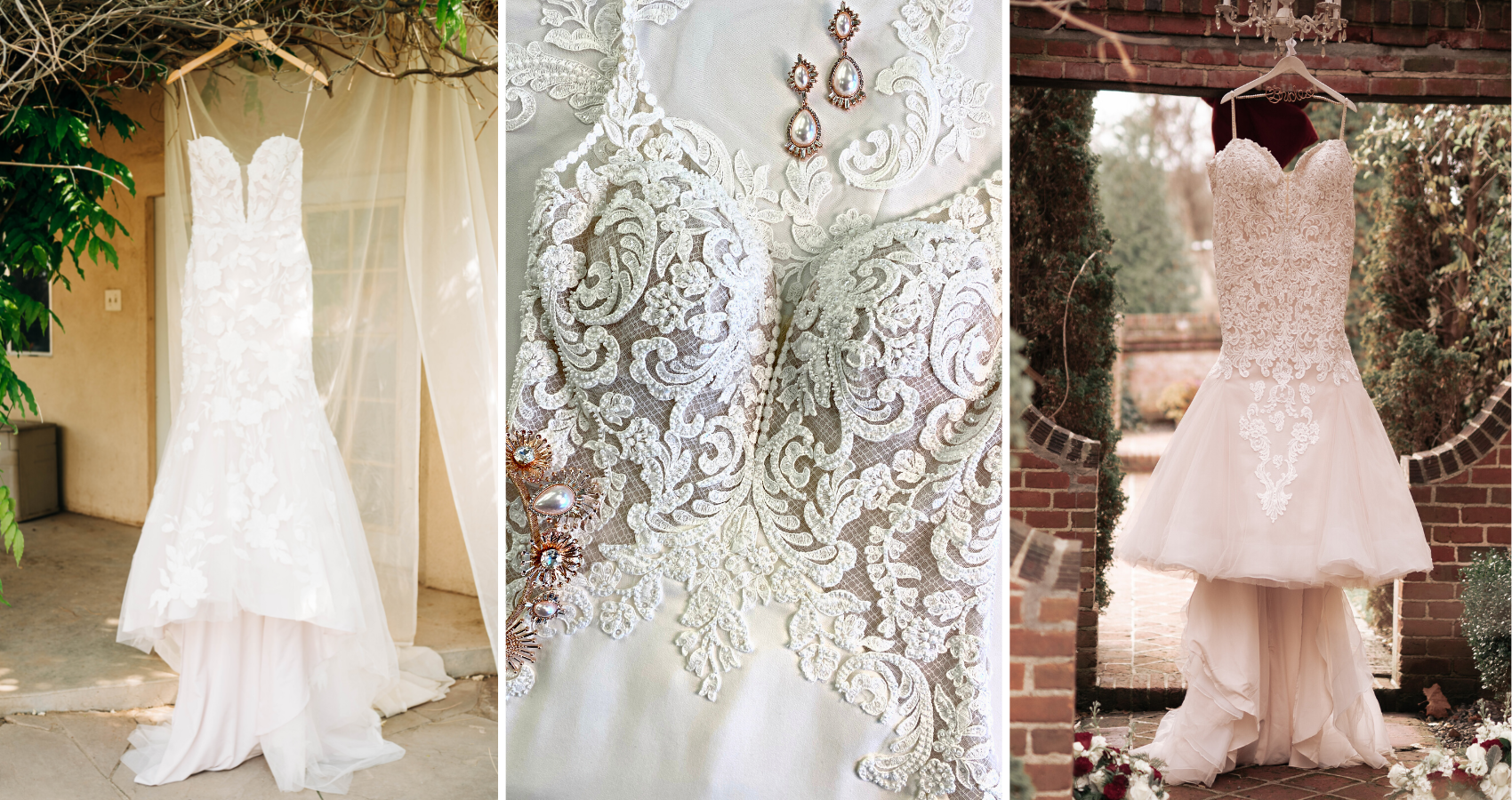 Congrats on being a newlywed, bride! There are a ton of things on your post-wedding checklist, but we want to make sure to highlight one thing you might not have thought about: wedding dress preservation.
There are plenty of unique, meaningful, and personalized things to do with your wedding dress after your wedding. Some brides choose to resell, donate, or upcycle their gown; however, most choose to go through the process of wedding dress preservation to make it a keepsake and heirloom for future generations.!
To make sure your most expensive clothing purchase is kept in its best possible condition, here's our big-picture guide to wedding dress preservation, cleaning, and storage. Whatever questions you have about the process, we have answers. Keep scrolling!
For more must-have bridal tips, make sure to sign up for our exclusive #MaggieInspiration Newsletter below!
What is wedding dress preservation?
PC: Amanda Owen Photography
Wedding dress preservation is a specialized cleaning and treatment plan to ensure your gown looks as pristine as possible for years to come. Bridal gowns are delicate and intricate garments, and over time, they're prone to yellowing, oxidation, and other forms of damage—especially if not treated and stored properly right after the wedding. Wedding dress preservation helps to prevent that damage and preserve your keepsake for future generations. As an added bonus, it's a great way for your future kids to ogle and ogle over your wedding gown without damaging it before their own special day!
Why should I preserve my wedding dress?
Whether or not you're the sentimental type, there are plenty of reasons to preserve your wedding dress. A pristine gown makes a beautiful heirloom, upcycles easily into other gowns or accessories, and is better for resale or donation down the line. Besides, you spent a lot of time and money on your wedding dress—you might as well get a full lifetime of enjoyment out of it!
Curious about the process? Make sure to watch Gown Preservation's video on taking care of your wedding dress post-wedding day!
By the way… they are one of our exciting partners for our 25 Days of Giveaways! Make sure to follow us on TikTok to learn more about this exciting prize!
Is wedding dress preservation necessary?
Professional wedding dress preservation is necessary if you care about stains, aging, and the long-term condition of your gown. At the very least, it's crucial that you get your dress dry-cleaned, wrapped as properly as you can in acid-free paper, and store it in a climate-controlled area of your home.
How do you store your wedding dress after the wedding?
In our expert opinion, the best way to clean and store your wedding dress is to have it preserved by a wedding-dress professional and kept in an acid-free archive box. From there, keeping your wedding dress at home comes down to a few storage basics:
Store your wedding gown box in a cool, dark place away from humidity; your closet or under your bed are great options.
If you haven't had your gown treated for preservation but want to keep it safe at home, do not store your gown in a plastic bag; this can lead to further damage from moisture, bugs, and oxidation long-term.
Don't store your wedding dress or preservation box in your attic or cellar; these areas are prone to temperature fluctuation, air and water leaks, and vermin damage.
Keep your wedding dress out of contact with other clothing items to avoid acid transfer, friction, and staining.
Now that you've got the storage basics, keep reading for everything you need to know about professionally preserving your wedding dress.
What is wedding dress cleaning vs. preservation?
Wedding dress cleaning typically involves a general stain removal, but an extra preservation treatment is needed to make sure it stores that way for years to come. Most brides choose to professionally clean their wedding gowns after the big day, but not all choose to preserve them. A cleaner can give you a general treatment, but a professional wedding gown preservationist will help you:
Create a museum-quality preservation plan for stains based on your fabric and embellishments.
Use appropriate solvents for your specific wedding dress.
Clean and preserve your wedding dress in a timely manner—before the stains set in for good
Place your wedding dress in a special preservation box and explain how to store and care for it long-term.
How long can you wait to preserve your wedding dress?
Technically, you can wait for months or even years to preserve your wedding dress. However, it's important to professionally clean and preserve your wedding dress as soon as possible, if not immediately, after your wedding day. Even if your wedding gown seems to be in good condition, there may be invisible stains that will set in, oxidize, and darken in the months to come—not to mention the added exposure to heat, humidity, or acid. With this, things can get much worse, much faster. Long story short, get your wedding dress cleaned and sent to a preservation specialist within the next few weeks after your wedding; you'll be doing yourself a huge favor down the line. If months or even years have passed since your wedding day, don't worry! It's never too late to preserve your wedding dress!
Can a yellowed wedding dress be whitened?
As a general rule, yes, yellowed wedding dresses can be whitened again by professionals. There are some options for wedding dress cleaning and restoring older styles, but as always, prevention is the best prescription. It only takes six months for your pristine white wedding dress to start dulling in color. It's best to act as fast as possible to avoid cleaning and preservation headaches in the years to come.
If you are dealing with a discolored wedding dress, old or new, research wedding dress preservationists who have proven, reliable experience with yellowing. Look for testimonials with before-and-after photos on a company's website; it's the best way to ensure you're getting the best service for your specific needs.
What causes a wedding dress to yellow, you may ask?
Wedding dress yellowing is most often due to chemical breakdowns of fabric, such as:
Fiber degradation due to light radiation, high humidity, or excessive heat.
Transfer of contaminants from plastic, cardboard, and inadequate packing materials.
Decomposition of chemicals added during the manufacturing process.
Contact with pollutants and contaminants in the air.
Stains and contaminants from your wedding day, such as spills, sweat, grass stains, and perfume.
Can you also preserve wedding dress accessories with your wedding gown?
PC: Ashley Duran
Definitely! The most common accessories to be preserved with a wedding gown are your shoes and bridal veil. These can be sent to your preservation specialist to make a gorgeous heirloom box—almost like a museum piece to display in your very own home.
Some wedding gown preservationists will have limits on what they'll preserve in their kits, so be sure to look at their website or contracts for more information about what can be included. If you want to preserve every bit of your bridal ensemble—dress, bouquet, shoes, veil, corset, and garter included—you'll definitely want to find the right specialist for the job.
How much does it cost to clean and preserve a wedding dress?
Professional wedding dress cleaning and preservation costs anywhere from $250 to $800. However, this depends on the material, embellishment, and soil level of your gown. Preservation is an investment, but if you love your wedding gown, its long-term beauty and condition are certainly worth it.  
How long does wedding dress preservation take?
Depending on the time of year and your location, wedding dress preservation process takes anywhere from 4 to 10 weeks. Once you've chosen your specialist, the steps and timeline generally go something like this:
Order your kit online or in person. Your initial packaging is typically mailed to you in a few days.
Next, you pack your wedding gown at home to be delivered to the facility.
Once your dress arrives to the facility for preservation, it will be professionally cleaned and treated for stains. Your preservationist may also offer repair services for stitching and beading.
After your wedding gown is cleaned and treated, it's placed in its specialized packaging to be shipped back to you.
Once you receive it, store your preserved wedding gown according to the company's instruction. Typically, this means away from sunlight in a climate-controlled area.
How long will a wedding dress stay cleaned and preserved?
Wedding dress preservation is intended to keep your wedding gown in excellent condition for decades. Most wedding dress preservation companies offer a lifetime guarantee of up to a 75- or 100-year guarantee for their services.
The important thing to understand about a "guarantee" is that it does not necessarily ensure against stains or damage. It is simply the length of time that a company will allow for a retreatment. This generally means that if you notice new stains or yellowing appear on your preserved wedding gown during the guaranteed time, you can send it in for a new service, free of charge.
Of course, these particulars aren't consistent for every wedding dress preservation company! Be sure to read the fine print on your agreement. It's important you know exactly what to expect and what steps to take to make the most of your big investment.
Can you wear a wedding dress after having it preserved?
Your wedding dress isn't going to instantly evaporate the moment you take it out of its specialized packaging! However, taking it out of the packaging may null the preservation guarantee. Before you unpack your wedding dress, be sure to clarify your preservationist's terms to understand what is expected long-term. 
Many wedding dress preservation companies choose not to seal their specialized boxes. This because it may risk trapping moisture and contaminants in with the fabric. In this case, you can typically open the box and handle the dress very carefully.
Psst… Wash your hands or put on cotton gloves to keep it as unblemished as possible.
If you opt for a preservation company that seals your gown in a box, this typically means you can't unseal it without breaking the guarantee along with it. In this scenario, if your daughter or someone close to you decides to wear or upcycle your dress for their wedding, they'll need to repeat the process to preserve and guarantee it again.
How often should I check on my preserved wedding dress?
PC: Alyssa Cates
Once you've preserved your wedding dress and found a safe, climate-controlled area to store it in, plan to check on it every year or so. If you've kept it out of sunlight and away from bugs, moisture, and contaminants a quick look will work!
How do I find a wedding dress preservation service?
Whether you're looking for a sealed treatment, display box, or archival preservation that you can open, you can find an array of options to meet your budget and expectations for wedding dress preservation. We recommend you start your search at TheKnot.com and WeddingWire.com. These two resources have plenty of reliable reviews and reputable recommendations, both local and online.
For a quick and reliable service that we can't recommend enough, look into Gown Preservation and watch the video below on how to send in your preservation kit!
Now that you're an expert in wedding dress preservation, make sure to follow our TikTok below! We will be gifting amazing wedding-themed prizes that you won't want to miss out on. Good luck, brides!
More Wedding Dress Education Blogs:
10 Wedding Dress Trends In Maggie Sottero's Spring 23 Collection
Anatomy of a Wedding Dress: Understanding the Parts of a Wedding Dress
Wedding Dress Size Chart: How To Measure For Your Wedding Dress