Tips and Trends
|
August 3, 2022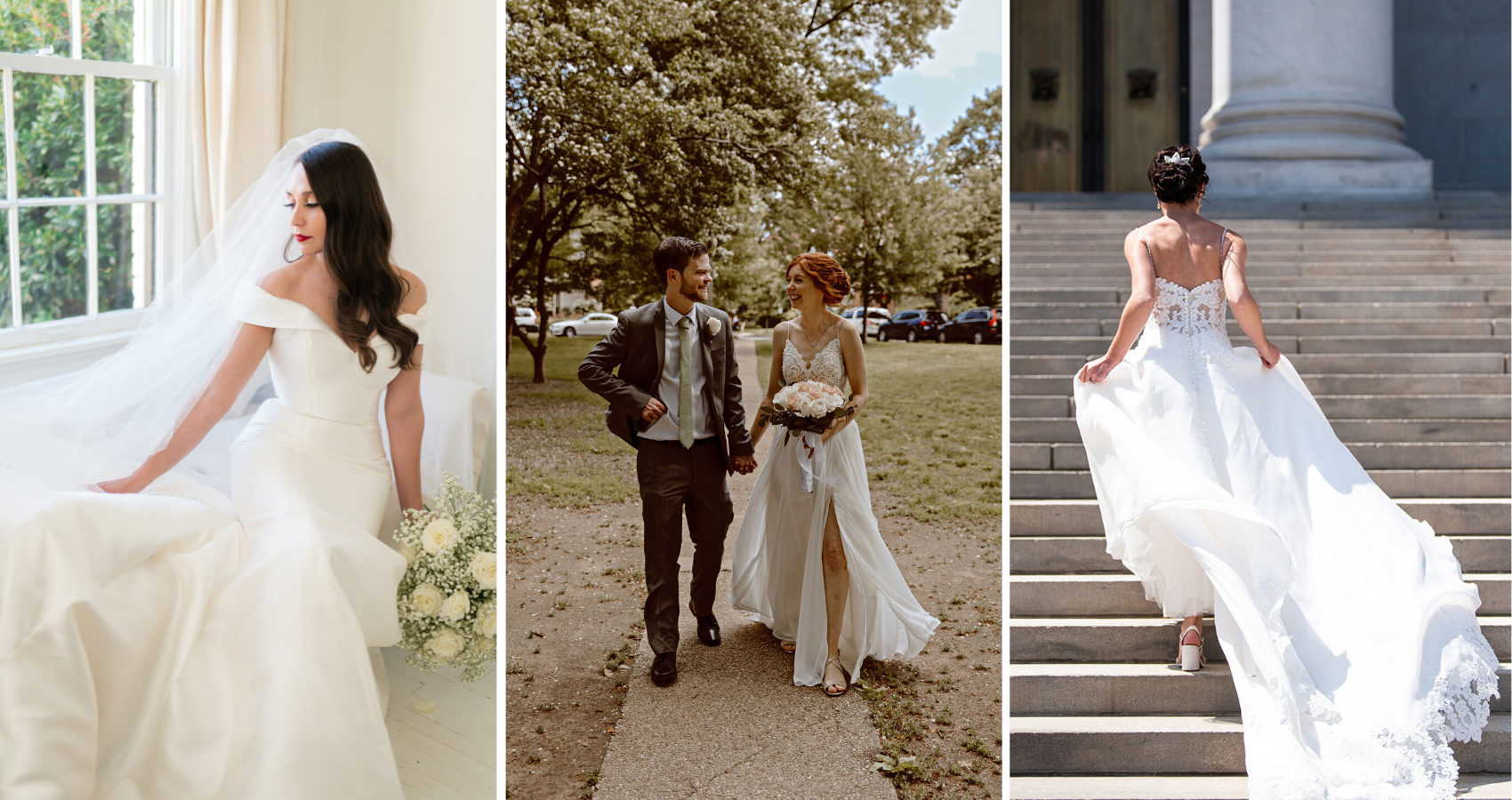 Hi, bride! Congratulations on your engagement—we are SO excited for you as you begin this incredible journey! We hear you're looking for some guidance involving the fabric of wedding dresses… and we've got just the right thing for you! There are so many fabrics to choose from, so let's take a look at six different wedding dress fabric options and find your perfect fit.
Before we begin, use our Boutique Locator to find your nearest Authorized Retailer, so you can reserve your bridal appointment after browsing. And, if you want more tips and tricks, wedding education and #MaggieInspiration for your big day, make sure to sign up for some exclusive text messages below!
Now, let's talk fabrics!
Soft and Effortless Chiffon Wedding Dress Fabric
One of the most tried-and-true bridal fabrics is chiffon! It's a sheer, simple weave fabric that was originally made of silk. This delicate, lightweight fabric is perfect for outdoor or warm weather weddings! Chiffon is usually used for the skirt of gowns for lots of movement and works for every style of dress, making it an amazing fabric for dancing all night long.
If you're looking for the soft and effortless look that chiffon provides, consider Chantal by Maggie Sottero. This off-the-shoulder style is classic, romantic, and perfectly lightweight! Personalize this gown by adding buttons down the back, selecting the strapless lined bodice, opting for the detachable lace and sequin cap sleeves, or choosing its gorgeous Sister Style Chantal Lynette.
Nerida by Sottero and Midgley is another fabulous chiffon option! This chic, colorful chiffon wedding gown is magical. Personalize Nerida for your love story by adding buttons down the back or removing the train for a more casual look through special requests.
PC: Hiba PlumPhotography
Tying the knot in a warmer climate? Lorraine by Rebecca Ingram is a beaded chiffon sheath wedding dress that is so soft and dreamy! This gown is truly made for any type of weather but is sure to keep you cool in warm weather! Add buttons down the back to elevate Lorraine's beautiful style.
Modern Crepe Fabric
No bride could ever go wrong by choosing crepe fabric for their wedding! A crepe wedding dress is a sleek, often minimalist-style gown made from a smooth, slightly stretch draping. Crepe is distinguished for its flowy-yet-striking appearance. Traditionally, crepe gowns are made from silk, but they can now be made with almost any fiber! Brides love this fabric of wedding dresses for its ideal thickness, comfortable elasticity, and versatility for embellishments.
Hayes by Maggie Sottero is an illusion back crepe bridal gown, with a sleek, classic-yet-modern look. Personalize Hayes for your love story by opting for its beaded illusion cap sleeves or its detachable embroidery train extension!
Another gorgeous crepe wedding dress option is the statement beach crepe wedding dress Tanner by Sottero and Midgley. This breathtaking style is the icon of effortless romance.
If you're looking for more of a boho crepe look, consider Theodora by Rebecca Ingram. This stunning, simple V-neck wedding dress features luxe crepe and a red-carpet-ready bodice.
For a more in-depth look into crepe fabric wedding dresses, read our blog!
Vintage-Inspired Bridal Lace Fabric
With bridal lace, your options are endless. From Alencon, eyelet, Chantilly and embroidered, to guipure, soft-knit, and point d'esprit, each type of lace has unique characteristics that will bring a different look to your wedding dress.
If you love the look of garden-inspired bridal lace, Samantha by Maggie Sottero is the way to go. This boho gown features gorgeous florals and a sexy, deep scoop back, which make a perfect combination. Personalize this gown by changing the sparkle tulle to chic organza, adding buttons down the back, opting for the lined side bodice with illusion detail on the back, or adding its matching cathedral veil.
Sequin lace motifs look fabulous on Bailey by Sottero and Midgley. This sexy v-back lace bridal gown features an elegant, dreamy tulle train, made for the statement-making bride. Personalize this gown for your love story by:
Changing glitter tulle to plain tulle
Changing glitter tulle to sparkle tulle
Removing the train for a more casual look through special request
Adding buttons down the back
Opting for a plunging illusion neckline and an illusion lace bodice
Choosing its Sister Style Bailey Lane with a soft tulle skirt
Opting for a plunge illusion neckline and unlined bodice
If an A-line silhouette is more your style, Keating by Rebecca Ingram is the lace bridal dress for you! This unique, boho, lace wedding dress features a scalloped skirt and a sleek, fitted bodice. Personalize this gown to be as unique as you are by adding buttons down the back!
Chic Organza Wedding Dress Fabric
Looking for a fabric like tulle that's even more lightweight? Organza is a sheer fabric of wedding dresses that is not as stiff as tulle and is traditionally made from woven silk to create a soft, airy material that moves with you. An easy way to create volume and drama without too much weight is by adding more layers of organza—a feat that is difficult to do with tulle!
PC: Skye Water Photography & Film
Savannah by Maggie Sottero is a beautiful organza style made for brides who love the bright, floral A-line look. Personalize this gown for your love story by choosing Savannah with a lined front bodice.
If you're more of a statement-making, drama-loving bride, you'll love Ripley by Sottero and Midgley. This organza mermaid bridal gown features gorgeous shimmer, unique texture, and a fabulous train accompanying its incredibly flattering silhouette. Make this gown your own through personalization by extending, shortening, or removing the train, opting for a lace-up corset closure with a raised back neckline, or adding the matching cathedral wedding veil adorned in sequined lace motifs.
For our brides who love the soft, simple organza look, Lacey by Rebecca Ingram is the perfect dress! With its romantic lace and v-back, this breathtaking gown will have you feeling like a princess all night long. Extend or shorten the train or add a beaded belt at the waist to personalize this look for your wedding day.
Classic And Clean Satin Bridal Fabric
Luxury is never out of the question when choosing a wedding dress, especially with bridal fabrics like satin and Mikado. Satin is a delicate, luxurious textile with a slight sheen and can be very supportive, lending itself to constructed designs like ruched or ballgown styles, while Mikado is a more heavyweight wedding dress fabric that is perfect for creating clean lines and supporting shapes.
A stunning style made of Mago satin is Paxton by Maggie Sottero. This simple, scoop-back wedding dress features a classic v-neckline, incredible beaded lace motifs decorating the bodice, and pockets! This style is sure to dazzle all who witness its beauty. Personalize Paxton for your love story by extending or removing the train or opting for the unembellished bodice with a deep v-back.
Elton Lane by Sottero and Midgley is made for brides looking for elevated sophistication in the form of a gorgeous satin skirt and a beaded illusion bodice. This style is simply spectacular. Personalize this gown for your love story by removing the train through special requests, opting for the skirt without pleats, or choosing its Sister Style, Elton, which features a glitter tulle skirt!
PC: Simsational Memories
Mikado has never been more exquisite than Josie by Rebecca Ingram. This off-the-shoulder, fit-and-flare gown, constructed with Huron Mikado wedding dress fabric, features a sweetheart neckline and delicate covered buttons trailing down the train. Josie provides the timeless, vintage glamour desired by brides around the world. Josie is also a quick ship gown, so brides with shorter timelines have the flexibility to get the gown of their dreams without the stress! Take a look at this stunning Real Bride in Josie.
Playful Tulle Wedding Dress Fabric
Tulle is a classic fabric used in many Maggie Sottero Designs fabrications! This wedding dress fabric is a stiff, transparent netting, made of either nylon, silk, polyester, or a blend of fibers. Layers of tulle create a voluminous look and add a ton of romance to your big day. Tulle skirts are often paired with lace, sequins, beading, or horsehair trim, and can even be worn underneath the dress to add fullness.
Michelle by Maggie Sottero is a garden-inspired, A-line tulle wedding dress with a deep-scoop back. With lace motifs over tulle, beaded spaghetti straps, and a romantic, boho v-neckline, this gown will look amazing no matter the venue or season. Personalize this gown for your love story by:
Changing the 2nd layer of plain tulle to sparkle tulle
Extending the train for added drama
Shortening the train
Adding buttons down the back
Opting for a fully lined bodice
For our fairytale-seeking, ballgown-adoring brides, Seneca by Sottero and Midgley is the one! This style combines textured tulle, romantic motifs, and an ultra-chic neckline to create a truly elegant, unique look. There are a few ways to personalize this gown! Change the 2nd layer of plain tulle to glitter tulle, remove the train, or add buttons down the back.
If you're looking for a modest tulle style, look no further than Rosemary Leigh by Rebecca Ingram! This long-sleeved ballgown wedding dress features a tulle skirt and a modest scoop neckline and back. AKA, it's the perfect construction for brides who desire a demure look for their special day. Personalize this gown for your love story by adding either a fingertip-length or cathedral-length veil. You can also opt for its Sister Style Rosemary, which is a sleeveless fabrication with a low scoop back.
There you have it! A comprehensive list of the wedding dress fabric options available to brides around the world. For more wedding tips, tricks, and guides like this one, be sure to sign up for our newsletter! In the meantime, check out additional blog posts. These provide more helpful information to get you started on your wedding dress shopping journey!
More Wedding Inspo:
Seven Types of Lace to Know While Shopping for a Wedding Gown
Customized Wedding Dresses & Personalizations With Maggie Sottero
15 Trendy Wedding Dresses From Maggie Sottero's Fall 2022 Collection