Events and Boutiques
Tips and Trends
Wedding Inspo
|
April 17, 2020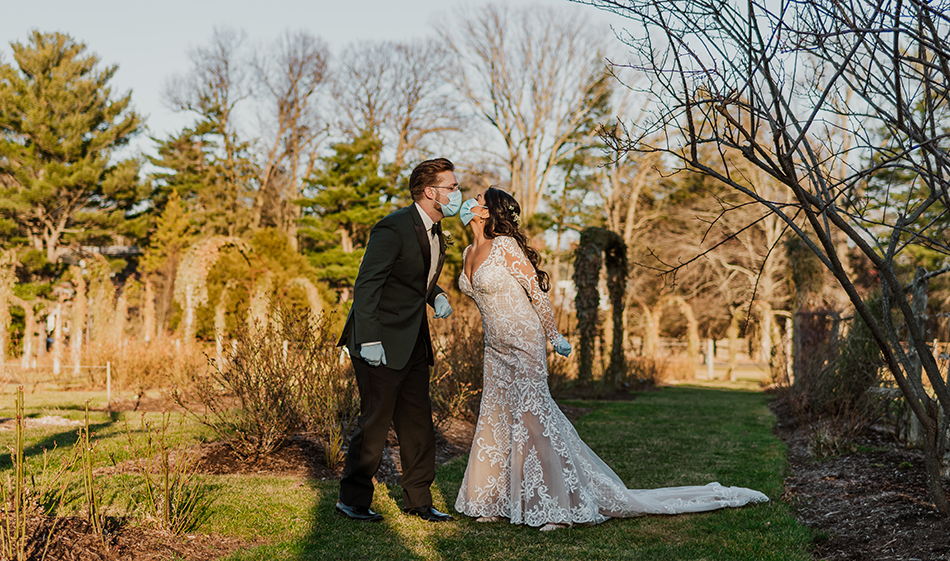 Over the last few decades in the wedding industry, we've seen a lot of love, creativity, and plenty of stuff we never would have predicted. And though 2020 has proved to be a WHOLE other ballgame, we are truly humbled and inspired to see that not even a pandemic can disprove what our global family of partners and brides have shown to us time and time again: that strength, resilience, and true love prevail against all odds and uncertainty, and that in the darkness of tragedy we can find sweetness, celebrate our universal spirit, and connect with those we love. Want proof? Keep scrolling for a few of these moments we have collected from our real brides' virtual weddings while social distancing—a truly unique time to tell our love stories!
Have you and your sweetheart had to cancel, postpone, or rethink your wedding plans due to COVID-19? Our hearts go out to you during this difficult time. If you are hoping to move forward with a more limited celebration, we hope you will find some comfort in seeing how many couples have found creative ways to celebrate their love and union. Here are a few tips to help you plan your virtual weddings during coronavirus:
Consider Ways to Shop for Wedding Dresses While Social Distancing
We recently published a post on Wedding Dress Shopping While Social Distancing for brides looking to purchase their gown safely and responsibly during COVID-19. Check it out for tips and information on how to shop at local boutiques, book virtual appointments, have your dress delivered to your home, and more!
Stay Updated on Your Local News and Be Flexible with Changing Circumstances
Depending on your area, you may be under "Shelter in Place" or full lockdown orders, or you may have some flexibility with mobility, access, curfew, and socializing. Whatever your variables, be sure to restrict your new "guestlist" to those you have already interacted within your immediate household and use digital methods to connect with those beyond.
Some areas may allow couples to get married in a courthouse, outdoors, or in an empty venue. If this is a safe and manageable option in your area, be sure to check with local authorities and government agencies for more information.
Decide How You Will Stream Your Ceremony
You can use video conference platforms like Zoom to create an intimate digital ceremony with select guests. Or you can use Facebook and Instagram Live to reach more friends and family (and possibly a handful of curious onlookers!). If you're feeling extra ambitious, you might record the occasion privately and create a beautifully edited video for a more formal and polished debut on your wedding website or social media. (Psst—some of us professional videographers or aspiring filmmakers have plenty of time to help you edit your wedding video!)
PC: Kel C Photography
After you have your digital platform picked out, let family and friends know how to tune in. Send out a cute digital invite, ask everyone to dress up, set a time, and plan for at least a half hour of buffer to get everyone synced up with your live stream. Then enjoy the ceremony!
Talk to Your Vendors to Make Necessary Adjustments
PC: Jordan and Scott Photography
There's no reason you can't still eat your wedding cake on your special day! Some vendors have cancelled appointments and services for upcoming weddings, but many local businesses are still offering goods and discounts for these kinds of nontraditional occasions. If you need new food vendors, check with caterers and bakers in your area about special ordering a private feast for you and your sweetheart, especially if they offer delivery or curbside pickup.
Ahead of time, you'll want to consider delivery options for sending food, drinks, and party favors to your guests while social distancing. For example, a coordinated champagne or cookie delivery is a great way to help your guests feel connected to the occasion—wherever they are around the world!
PC: Wildly in Love Weddings
Perhaps the most important vendor to communicate with will be your photographer since documenting your private celebration feels super precious during this unique and uncertain time. If your regular photographer has cancelled or is not available due to social distancing, start researching your options for those who are willing to safely attend your ceremony and work with new limitations. In the end, the extra technology efforts will be on your side for capturing your different but special day!
Be Sure to Coordinate with Your Officiant
If your originally scheduled officiant is willing to perform your wedding, ask them if they will conduct the ceremony online or in-person. (Since marriage is a legally binding contract, you will likely need to conduct at least part of the ceremony in the presence of a licensed officiant and/or witnesses—but some areas may differ.) For in-person ceremonies, be sure to adhere to social distancing, and don't forget to coordinate the submission of your signed marriage license.
PC: Jane and Simon Photography
If your chosen officiant is not available for an in-person meeting, you might have luck choosing someone nearby (such as a roommate or family member) to get ordained online and perform the legal portion of your ceremony. Your chosen officiant can then join you digitally to fill in the more "poetic" and purely ceremonial parts of your vows. Most importantly, make sure to follow all city guidelines to ensure your ceremony is legal and safe.
From Our Maggie Brides: Examples of Virtual Weddings During Social Distancing
As one of the most intimate virtual weddings during social distancing, this #Maggiebride and her groom created a beautiful and romantic ceremony in their candlelit living room, streaming their vows on Facebook Live.
This #Rebeccabride was able to get courthouse married before and as a special exception to social distancing orders. We were so sad to hear this was due to her mother's illness but were happy to hear the family was able to celebrate before all courthouse weddings were banned in their area.
This #Midgleybride and her groom were able to put together a gorgeous garden ceremony. They plan to host their reception at a later date. Cheers to the happy couple!
This bride and groom had a backyard elopement to celebrate their love amidst COVID-19. Due to social distancing restrictions in the area, their friends and family members had to watch remotely. However, their neighbors celebrated them from their windows, taking pictures, cheering, and throwing confetti as they walked down the aisle. How sweet!
This couple is also moving their reception to a later date but were able to get courthouse married with their parents and siblings present. Other guests joined digitally to celebrate!
Friends and family of this couple camped outside their nearly-empty wedding venue so they could cheer on the newlyweds from a distance after they tied the knot.
For more virtual weddings and inspiration from love stories during coronavirus, head over to Brides.com's gallery. If you and your sweetheart are planning a virtual wedding while social distancing, please share with us @maggiesotterodesigns, and with the hashtags #Maggiebride, #Midgleybride, and #Rebeccabride to be featured in our social media or blog! We'd love to see your simple, intimate, and ultra-romantic celebration!