Dresses
|
February 26, 2023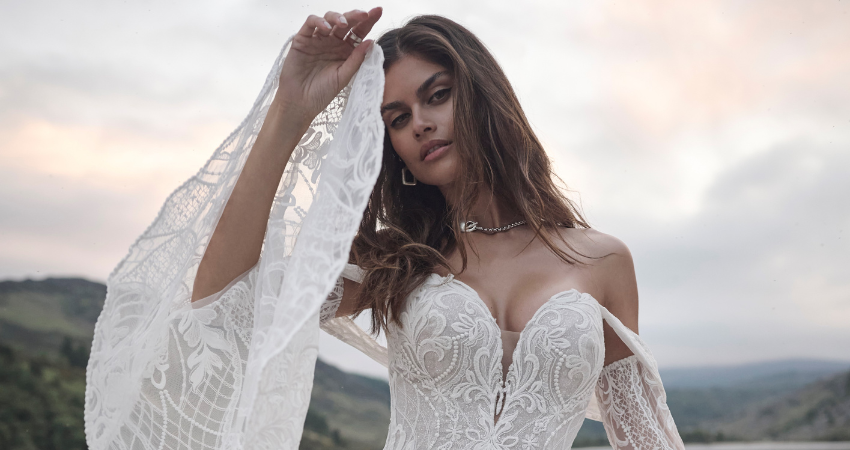 "Boho" can mean many things (think cottagecore, fairytale, festival-inspired, woodsy-chic, rustic, whimsical, twee, and vintage, to name just a few), but one thing is certain: It's an enchanting bridal trend with a FEAST of options for the chic, effortless, and zero-fuss bride-to-be. In honor of this soft and feminine trend, we've curated 12 boho wedding dresses with covetable details and irresistible personalizations for a magical and unforgettable celebration.
Ready to find your perfect style? Keep scrolling for our gallery of boho wedding dresses across four trend categories: Cottagecore, Affordable, Goddess, and Dark Fairytale and find a gown at one of our Authorized Retailers.
Cottagecore Wedding Dresses
What are cottagecore wedding dresses?
"Cottagecore" refers to the cozy internet aesthetic of "romanticized rustic." Think trends inspired by, well, cottages — English gardens, afternoon tea, holiday decor, picnic accessories, natural wine, homespun crafts, wildflower bouquets, and (of course) long, flowy dresses.
Cottagecore may be a new term, but the vibes have been honed for decades. The details are a mixture of vintage, homemade, eclectic, and trendy… You know it when you see it, but purveyors can make it completely their own.
In the bridalsphere, the "cottagecore" moniker refers to a range of trends: boho fabrics, delicate lace details, organic embellishments, and an overall free-spirited je ne sais quoi. Above all, cottagecore is feminine, nature-inspired, and a little whimsical.
One of our go-to cottagecore styles is Nerida by Maggie Sottero, a bold, colorful wedding dress that still manages to feel timeless and graceful. This gorgeous style is sure to make a statement worthy of your boho-inspired celebration.
Another lush design is Louisa by Maggie Sottero, featuring several ways to personalize:
Change the sparkle tulle to illusion tulle upon request.
Add the detachable illusion puff sleeves, sold separately.
Add covered buttons down the back.
Add the unique matching bridal veil.
Choose your colorway: ivory, ivory over nude, or ivory with jade accents for color.
PC: Gabby Hendry
Another cottagecore favorite is Ivy by Maggie Sottero. This one serves up effortlessly glam vibes, featuring a soft fit-and-flare silhouette and gorgeous lace motifs. This style is perfect for brides with a little edge in their boho aesthetic.
Affordable Wedding Dresses
What are affordable wedding dresses?
In our world, "affordable" is all about our Rebecca Ingram line — gorgeous, classic wedding gowns at budget-friendly prices. (Think $1200-$1500 USD.) These gowns are all about easy prices without sacrificing quality or style… Think elegant silhouettes, fuss-free fabrics, gorgeous accessories, and easy ways to personalize.
Budget-friendly bridal dresses help you reduce your overall wedding spend (obviously), but they're also perfectly styled for boho wedding celebrations. They're typically easy, effortless, lightweight, feminine, and perfectly on trend for a casual celebration.
PC: Nastasya Franc | PC: Jenna Dailey
Affordable wedding dresses are also a great choice for destination elopements (easy to pack); Second Looks for your reception (dance floor ready!); and minimonies (small, low-key, and ultra-romantic celebrations.)
We've compiled a few of the line's top boho styles to inspire:
Matilda by Rebecca Ingram is all about lace and illusion and layers, featuring a soft A-line silhouette and easy-breezy embellishments. This silhouette is SO versatile and easy to style for your body type, aesthetic, venue, and season. We especially love how the bodice lace dances naturally into the tulle skirt.
Love a bodice with lace and illusion? Have your eye on halter necklines? Our next budget-friendly pick is Tasha by Rebecca Ingram. This chic, boho-inspired wedding dress is soft, flowy, feminine, and perfectly on trend for a nature-inspired celebration.
Hattie Lane Lynette by Rebecca Ingram is a lovely silhouette with several sister-style personalizations. This strapless A-line features lovely layers and oversized lace motifs for a chic and romantic vibe. If you love this look but want to explore your options, dive into all the Hattie variations to find your perfect combination of silhouette, embellishment, and accessories.
Love these aesthetics and details? These affordable wedding dresses can be found at an Authorized Retailer near you.
Beach Boho Wedding Dresses
What are beach boho wedding dresses?
PC: Jonathon Stockton | PC: Jill Sahner Photography
"Boho" might be all about fairy forests and enchanted gardens, but what about the magical and effortlessly fabulous seaside? Think destination elopement or magical minimony surrounded by dramatic cliffs and sunsets… We're realizing the ocean definitely doesn't get enough credit in the boho-sphere.
Beachy and bohemian wedding dresses are all about lightweight fabrics, shimmery embellishments, and summery silhouettes.
To inspire your easy-breezy-boho-beachy vibes, here are some of our latest trends:
The lightweight fabric and lovely lace details on Hillary by Maggie Sottero. This dress is one part cottagecore, one part beachy, and 100% boho glam.
The sexy, barely-there embellishments on Carmen by Rebecca Ingram. This boho wedding dress is perfect for beach venues, outdoor dance floors, and sunset ceremonies with elemental exposure. (You can also personalize by adding the detachable tulle skirt with beaded lace, or the long sleeves with beaded lace appliques, sold separately.)
The long, lush sleeves on Drita by Rebecca Ingram. While beachy gowns tend to be strapless or sleeveless, this style stands out with illusion details and chic coverage. These styles of long sleeve boho wedding dresses are sure to make a unique statement.
Goddess Bohemian Style Wedding Dresses
What are goddess bohemian style wedding dresses?
Hello, goddess vibes. This subset of boho wedding dresses and nature-inspired trends is all about the fabric: flowy draping, soft ruching, lush layers, and asymmetrical bodices — to name a few standout trends.
Goddess bohemian style wedding dresses are also a clear callback to Grecian-inspired trends. These styles are inspired by Roman and Greek gods and goddesses, which emphasize long, graceful lines, ease, comfort, lushness, and references to organic forms in nature. Think classical (yet romantic) styles that reference the four elements — earth, wind, fire, and water — and archetypal figures representing sky, ocean, forest, hearth, heaven, and (of course) the underworld.
Start with the unique layers and add-ons with Jennings by Rebecca Ingram. This Aphrodite-esque wedding dress is the perfect combination of soft and striking. And here's how to make this (and other unique, unexpectedly long sleeve boho wedding dresses) your own:
Add the long, butterfly-inspired cap sleeves for extra drama. These make for an unforgettable ceremony entrance.
Add the simple and chic off-the-shoulder strap sleeves. These are a lovely choice for the "busy" part of your reception. (AKA you don't want everyone trampling over your layers and add-ons.)
Add a gorgeous bridal veil or cape to accentuate the goddess effect.
Bronson by Sottero and Midgley is another of our long sleeve boho wedding dresses with exceptional drama, featuring long bell sleeve accessories and a sexy, shimmery silhouette. Goddess vibes? Most definitely.
Our last pick for Grecian-inspired wedding dresses is Liam by Sottero and Midgley, a divine lace style with a covetable accessory treatment. Wear this wedding gown on its own for a sleek and chic silhouette or add the fabulous cape accessory (sold separately) for unforgettable wedding photos.
Dark Fairytale Boho Styled Gowns
What is dark fairytale boho?
"Dark" is certainly having a stylish moment — dark fairytale, dark feminine, dark academia… the list goes on. The term typically refers to some variation of moody, gothic, mysterious, or vampy with an ultra-romantic core, e.g., a fantastical or over-the-top aesthetic with a gothic edge.
A few media trends inspiring the aesthetic:
A Court of Thorns and Roses book series.
Lord of the Rings everything.
The Game of Thrones universe.
The resurgence of goth and emo trends in social media.
If you love this intriguing trend, here are a few dark fairytale wedding dresses for your consideration:
Alexandria by Rebecca Ingram, featuring a stunning black colorway and Victorian-inspired silhouette. This wedding gown is all about the bold gothic aesthetic — but if you're not totally sold on the colorway, there are plenty of traditional white and off-white options as well.
Atherton by Sottero and Midgley, a sexy and exquisitely detailed wedding gown with regal, Renaissance-inspired embellishments. We're getting princess. We're getting warrior. We're getting couture runway and vintage-chic goddess and everything in between.
Zander by Sottero and Midgley, one of our most popular and dramatic wedding gowns for the nontraditional bride. This ballgown features an edgy, regal aesthetic and gorgeous options to customize. You'll be SMITTEN with this sleeved wedding gown as soon as you try it on.
PC: Sufia Huq Portraits
Ready to shop these boho wedding dresses IRL? Find an Authorized Retailer near you to book and appointment and browse all the magic. Your stylist will be the one to help you try on gowns, understand customizations, order your perfect (personalized) wedding gown, and complete all your fittings and alterations.
In the meantime, here are a few more blogs like this:
15 Quick Delivery Wedding Dresses for the Soon-To-Be Bride
10 Romantic Wedding Dresses for the New Year
10 Celestial Wedding Dresses and How to Plan Your Wedding Around Them
And whatever "meant to be" style you choose from our boho wedding dresses, be sure to submit your wedding photos to be featured on our website and social media after the big day.
Happy shopping and best wishes!