Real Weddings
Wedding Inspo
|
October 29, 2016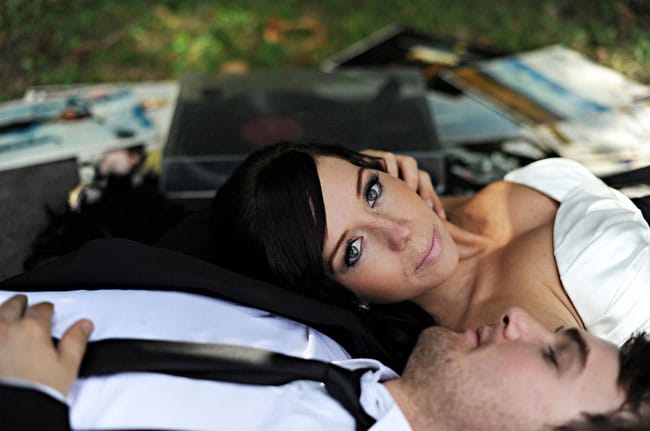 Neutral palettes are surefire classics, but fall weddings call for luxe colors and impeccable makeup. Join the ranks of Brigitte Bardot and Lana del Rey with bold cat eyes and plush lips; you'll look incredible in every kind of light and have bombshell photos for years to come. Find your ideal cat eye (and how to make it last!) below:

Soft and Simple
Take it from Alexa Chung; you don't need a paint roller to make a sweet statement in cat eyes. Channel easy French glamour with a subtle flick, soft shimmer, and coral pink lips.


📷: Clara Cooper Photography

Smoky Cat Eye
Go for drama but bypass the defined lines with a smudged or smoky cat eye. A look like Maggie bride Brittanie's keeps the traditionalists happy but ups the intrigue tenfold.

📷: Ewan Phelan


Rockabilly Territory
Perfect for the offbeat, vintage-inspired bride, a bold-yet-precise flick makes for bigger eyes and flawless photos. In other words, positively hypnotic.

Red Carpet a La Mode
Layer a defined cat eye with bronzy shimmer for high-octane glamour. Pair this look with a glitzy venue and star-quality dress, and don't neglect the brows!

📷: Claire Pacelli Photography

📷: Olivia Johnston

Here's How to Keep Everything Put
Treat yourself to facials a few weeks in advance with an enzyme peel.
Start with a clean and moisturized face, but use an oil-free moisturizer on your lids.
Apply an eye primer (see below); this does NOT mean a concealer.
Apply waterproof mascara and eyeliner, really.
Use a gel eyeliner instead of pencil.
Set your overall look with pressed powder.
Absorb excess oils with blotting paper to avoid smudging color.
Our Favorite Tools
Pineapple Pumpkin Enzyme Skin Peel by Perfect Image
Daily Facial Moisturizer by Cetaphil
MAC Zoom Waterfast Lash
NARS Long-Wear Eyeliner
Urban Decay Magic Potion Primer