Tips and Trends
Wedding Inspo
|
June 26, 2020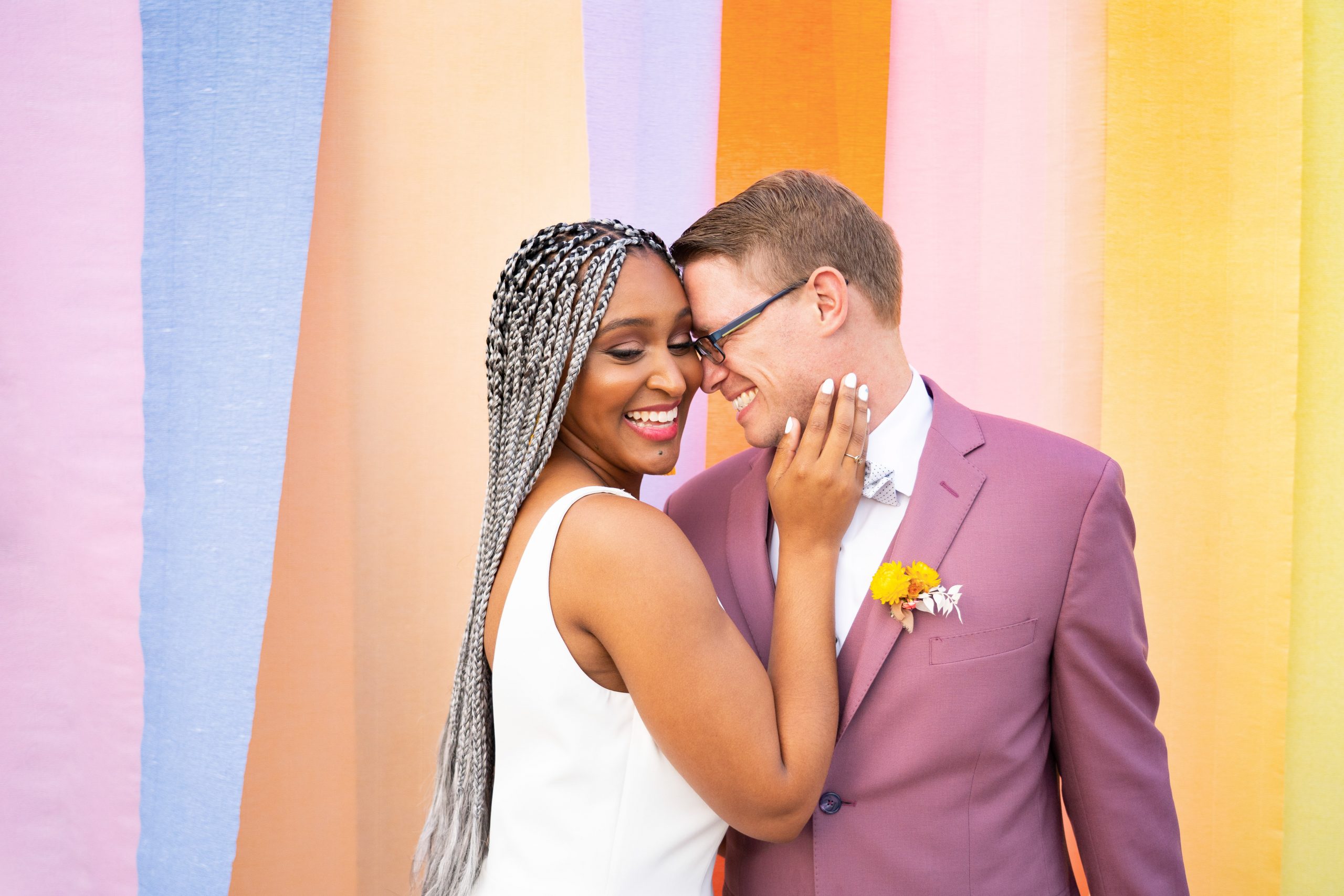 You're engaged and about to dive into full-scale wedding planning. And you're looking for a unique way to utilize color for a chic and splashy party aesthetic. Cue the magic of color-blocking in this fresh, whimsical, and trendy photo shoot for the modern and non-traditional couple! As we dive into this styled shoot featuring a citrus wedding (courtesy of Peterson Design and Photography; full vendors below) you'll see comments from the planner, Naomi Bennett, to inspire your boldest and most creative sensibilities. Scroll on!
Bright Watercolor Wedding Invitations
Wedding Invites: Margo & Bees
If you're planning a bold wedding aesthetic, use your invitations as a "first taste" of the sensational palette and party flourishes to come. These color block invites with citrus accents are sure to delight your guests when they receive them in the mail.
If you happen to time your wedding invite delivery during dreary winter months, it can help build anticipation for the chic and summery occasion ahead!
"For this shoot, we decided to fuse the modern take with citrus and color . . . It was such a fun theme!" – Naomi Bennett
Citrus Wedding Details: Shoes, Accessories, and Hair
Hair & Makeup: Makeup by Yesenia T; Shoes: Nine West; Rings: Brilliant Earth
As you map out your citrus wedding theme, incorporate bright pops of color into your hair, beauty, and accessory game. For example, these charming marigold heels and trendy tassel earrings complement the bride's all-white wedding dress. Not to mention the orange jewel on her wedding ring!
We especially love the white-contrast braids in this bride's hairstyle and how they distinguish her look as both stylish and modern. So chic!
"Color is truly beautiful and there are so many fantastic ways to play with it. I know oftentimes brides are fearful of introducing color into their wedding themes because it feels scary, too over the top, too distracting, etc. So I wanted to focus on introducing color to be beautiful, whimsical, and fun." – Naomi Bennett
Minimalist Sheath Wedding Dress Claudia Dawn by Maggie Sottero
Wedding Dress: Maggie Sottero; Bridal Boutique: Bridal Elegance Studio
A citrus wedding can be adapted to various bridal personalities, from romantic and vintage-inspired to chic and modern. For this particular shoot, our Claudia Dawn wedding dress from Maggie Sottero makes a fresh and feminine statement with graceful lines, a clean crepe fabrication, and a simple yet flattering neckline.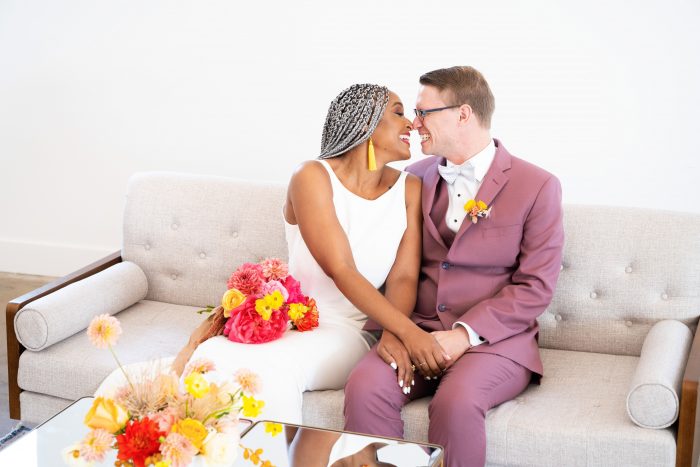 This minimalist wedding dress pairs beautifully with bold accessories and is totally wearable for a warm-season venue!
Unique Groom Attire for a Citrus Wedding
Groom's Attire: Stitch & Tie by Friar Tux
Grooms' looks typically lean toward the blue and black spectrums for their classic versatility, but that doesn't mean you should treat them as your only option!
This inspirational color block shoot features a light mauve suit alongside its bright palettes. It's a stylish and striking complement to the bride's simple gown and bright accessories.
Color Block Backdrop for Citrus-Themed Ceremony
Florist: Urban Marigold; Bouquet Ribbon: Tono & Co; DIY Paper Streamers: Papermart
Floral archways are a gorgeous addition to romantic, whimsical and rustic aesthetics. But they're not the easiest (or cheapest!) to assemble for what should be a fun and breezy citrus theme. This backdrop makes for high-impact ceremony photos, doubles as a chic reception addition, and takes minimal effort to DIY. Magic!
"The DIY ceremony backdrop was created from specialty streamers that overlapped each other. It made the ceremony photos truly stunning. What a fun statement piece!" – Naomi Bennett
Love this ceremony setup? Check out options in your area for industrial venues and acrylic chair rentals. We are loving the "transparency" trend in recent seasons. Chic and undeniably classy, it can be incorporated across your party theme with acrylic place settings, signage, centerpieces, and even shoes and jewelry.
Minimalist Venue for Color Creativity
Venue: Forme; Coffee Table and Linens: Vini's Party Rentals
"This shoot was intended to be a modern take on celebration and love, which is specifically why I loved our venue, Forme. Its empty, clean white walls really acted as the 'blank canvas' that we needed to create anything!" – Naomi Bennett
Reception Details for a Citrus Wedding
Tabletop Rentals: Cherished Rentals; Invitations: Margo & Bees; Menus, Place Cards, & Table Numbers: Lortz Lettering
Once you've got your bridal look, sweetheart's attire, and ceremony details in place, it's time to turn up the charm with an industrially-chic venue, citrus-themed reception details, and fabulous party favors.
To make an industrial-chic venue shine, bring in bright florals and ribbon accents. Then color-block your table settings and round off your social spaces with luxe bohemian furniture and gilded centerpieces!
"We incorporated color blocking in the table design. The table had individually colored napkins, and every single place setting was different colors of the rainbow. Each plate also had a citrus slice under the acrylic name piece. It was such a fun design piece and really played into the theme." – Naomi Bennett
Colorful Food and Dessert Ideas
Catering: Jay's Catering; Dessert: Ellie's Table; Cake: Half Baked Co.
It goes without saying that a citrus-themed bar and banquet should first and foremost be a feast for the eye. Take a cue from this styled shoot's array of yummy canapes and artful displays. It incorporates everything from edible flowers and sugar dusting to geometric placement and color-blocking.
French macarons offer delectable pops of shape and color, while a bright, abstract-inspired cake is sure to be the highlight of the dessert table!
"Because citrus and color were the two driving forces of this shoot, we incorporated citrus with the food, drinks and desserts. The macarons were fruity, the appetizers had citrus and mango paired with it, and the desserts were bright and tangy like the lemon tarts. The cake designed by Half Baked Co. was also a color swatch cake and used pastel colors." – Naomi Bennett
Creating a Cheerful Wedding Atmosphere
With all the details, palettes, and displays set, you've got the perfect backdrop for a snazzy, fabulous, and vibrant citrus-y celebration! Throw in some confetti, entertainment, and summery guest activities, and your guests will be raving about your impeccable party planning for years to come.
We hope you've fallen in love with these color block palettes and citrus wedding details! Get inspired with more wedding dresses, style ideas, and general party fabulousness in our Pinterest gallery of real weddings. And dive into color, season, and venue inspiration with our post on What Your Wedding Colors Say About You! Cheers!
And after you've tied the knot, send us a photo gallery to share your bridal style and wedding details with our brides-to-be. Happy wedding planning!
Vendor Credits
Photographer: Peterson Design & Photography, Planning & Design: Bowties & Bouquets, Venue, Lounge Furniture & Ghost Chairs: Forme Los Angeles, Florist: Urban Marigold, Bouquet Ribbon: Tono & Co, Coffee Table & Linens: Vini's Party Rentals, DIY Specialty Paper Streamers Backdrop: Papermart, Tabletop Rentals: Cherished Rentals, Invitations: Margo & Bees, Menus, Place Cards, Table Numbers: Lortz Lettering, Catering: Jay's Catering, Dessert: Ellie's Table, Cake: Half Baked Co., Hair & Makeup: Makeup by Yesenia T, Bridal Boutique: Bridal Elegance Studio, Groom's Attire: Stitch & Tie by Friar Tux, Rings: Brilliant Earth, Ring Box: The Mrs. Box, Shoes: Nine West, Styling Surfaces: Chasing Stone, Models: Maleka & Jason and The Siren and Co.
More styled shoot wedspo:
Modern Italian Wedding Shoot Featuring Tuscan Details
Rustic Bohemian Wedding Shoot Featuring a Cute Donkey and Colorful Florals