Tips and Trends
Wedding Inspo
|
September 23, 2021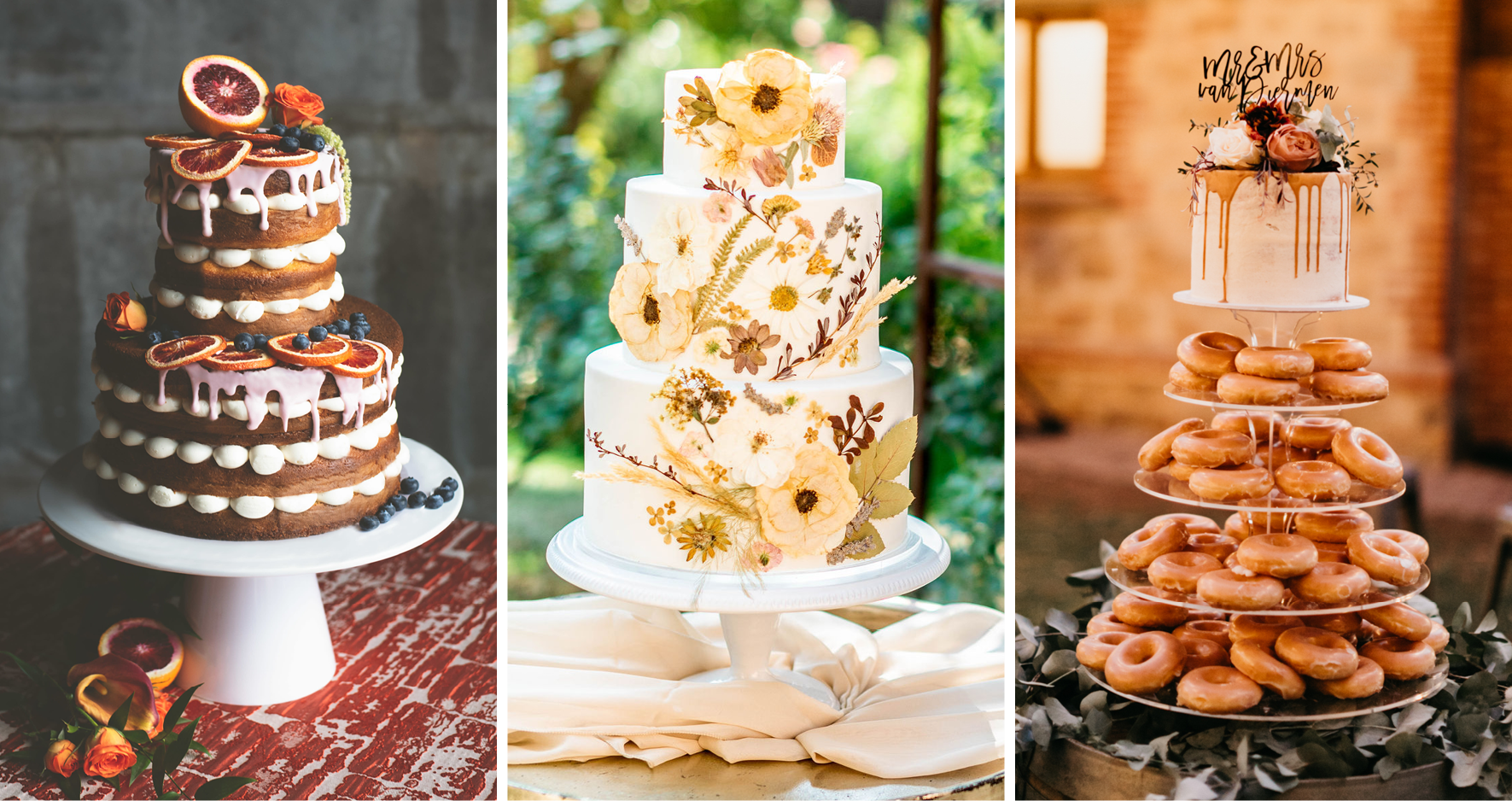 Falling in love with the idea of a fall wedding? We are here for it! In the last several years, the fall season has become one of the most popular times for weddings. And we can see why! With colorful foliage, cooler weather, and festive food options, the autumn season has so much to offer. And for the nature-loving couple, fall is the perfect time to host an outdoor wedding because rain is far less likely. So, without further ado, we present these stylish fall wedding cakes and desserts that are perfect for an autumn-inspired celebration. From fresh foliage to metallic accents, these tasty concoctions below are sure to make your mouth water and book a wedding baker pronto. Scroll on!
Floral Fall Wedding Cake Perfect for Outdoor Celebration
PC: HannahMacPhotography
This gorgeous three-tier floral wedding cake has us dreaming about a fall wedding. How about you? We are loving the simplicity of the cake with the intricate details. Between the air-dried foliage, beautifully pressed flowers, and the rich hues, this cake is a perfect fit for your outdoor fall-themed wedding.
Naked Fall Wedding Cake with Citrus Accents
PC: Amanda Macchia Photography
Featuring citrus accents with berries, this fall naked wedding cake with buttercream frosting encapsulates all the autumn vibes. We're loving the pink drip glaze and vanilla cake layers. This cake surely not only tastes amazing but also goes well with rustic, vintage, and citrus wedding themes.
Black and Purple Geode Wedding Cake for Gothic Wedding
PC: Francesca Hill Photography
Gothic themed weddings are intriguing and allow your personality to shine! Don't be afraid to stray from traditional for your fall celebration by hosting a gothic wedding. October is the perfect month for a hauntingly-beautiful celebration with Halloween wedding themes. And what's better for a gothic-inspired celebration than this unique four-tiered geode wedding cake featuring deep black and purple hues? It's almost too pretty to eat!
Petite Drip Wedding Cake with Donuts
PC: Kristina Wild Photography
If you're not much a cake person, go with donuts for your fall wedding reception! As one of the best alternatives for wedding cakes, donuts provide opportunity for flavor variety, double as great treats for guests, and are usually much cheaper than your average wedding cake. Sounds like a win-win! If you still want to add a traditional feel to your dessert table, consider putting a petite cake on top. We're loving the aesthetic this small drip wedding cake adds to the tiers of donuts. So chic!
Berry Tone Fall Wedding Cake for Rustic Celebration
PC: Kellianne Korthof Photography
This unique and modern fall wedding cake oozes romance with a berry tone palette and deep green foliage. We especially love the dark red paint brush accents and cream touches. Gorgeous!
Naked Buttercream Boho Wedding Cake with Greenery
PC: Erika Diaz Photography
This naked buttercream fall wedding cake wrapped in dried flowers, delicate greenery, and textured grasses proves that bohemian brides can pull off that rustic chic aesthetic in a romantic way. We're especially digging the trendy and unique cake topper!
Halloween Wedding Cake for Spooky Celebration
PC: Sarah Louise Photography
This two-tiered metallic wedding cake "takes the cake" with its minimalist and unique design. Accented in dried fall foliage and topped with a cute spider, this fall wedding cake is perfect for a moody or Halloween-themed celebration. Consider adding pumpkins and other festive décor to spice up your dessert table in the spirit of spooky season.
Autumn Wedding Cake with Gold Accents
PC: Malissa Q Photography
This four-tiered white wedding cake in gold leafy accents and fresh flowers features some of our favorite fall-inspired flavors! A cute sign depicts the different filling in each tier, including strawberry filling, peanut butter, and salted caramel filling. We're not sure which to choose!
Textured Gold and White Fall Wedding Cake with Florals
PC: Over the Top Events
Did anyone say metallic wedding cake? Yes, please! The white fondant brushed with gold on this wedding cake gives a rustic-chic vibe, while the textured layers contrast beautifully with the fresh, white florals. Try this fall wedding cake for an outdoor or country-themed celebration!
Alternative Wedding Cake: Stack of Pancakes
PC: Christine Photography
If you're obsessed with breakfast foods (for which we really can't blame you!), consider a gourmet stack of pancakes to replace your fall wedding cake. Pancakes are a great alternative to the traditional wedding cake, especially if you're hosting a casual celebration. Hello brunch reception with mimosas! We also promise your guests will love them, and they'll be a lot lighter on your wedding budget!
Red Velvet Whoopie Pies for Vintage Wedding
PC: Brittany Martorella Photography
Now, on to one of our favorite parts of planning an autumnal celebration—fall wedding desserts! To start things off, we present these delicious red velvet whoopie pies. Perfect for a vintage wedding theme, think of these whoopie pies as handheld, individual portions of red velvet cake. With this in mind, you can choose to forgo a wedding cake altogether. Or you can have a mini cake for you and your new spouse, while providing your guests with these tasty cookie treats. These particular pies are filled with cream cheese frosting and sprinkled with delicate powdered sugar. Yum!
Donut Wall for Rustic Wedding
PC: Malissa Q Photography
Having a donut wall at your wedding reception will be so rustic and oh-so chic (and the perfect photo-op!). This cute and trendy reception dessert idea is great for casual receptions, open houses, and outdoor soirees. Add a sign with your last name or wedding hashtag, rustic barrels, and mismatched succulents, and you'll be sure to charm your guests!
Gingersnap Cookies Sprinkled with Sugar
PC: Jaimee Morse Photography
Did someone say gingersnap cookies? Um, yes! These fall dessert gingersnap cookies sprinkled with sugar give us seasonal vibes, while adding a cute and cozy aesthetic to any dessert table. Just make sure you provide napkins nearby to clean up that sticky, yet delicious sugar coating!
Mini Gourmet Chocolate Cake Shooters
PC: Erika Diaz Photography
To give your dessert table something "extra," consider featuring fall desserts in shot glasses. These could include anything from pudding shots, to cheesecake shooters, to fruity trifle bites. We especially love the look of these mini gourmet chocolate cake shooters with vanilla and caramel filling. So chic!
We hope you've enjoyed these festive fall wedding cakes and desserts for your autumn-inspired celebration! For more wedding cake inspo, browse our Themed Wedding Cakes to Match Your Bridal Style. Or, to see more fall wedding color palettes and ideas, visit our blog post, Nine Fall Wedding Color Palettes for a Seasonal Celebration. Cheers!