Tips and Trends
|
January 19, 2019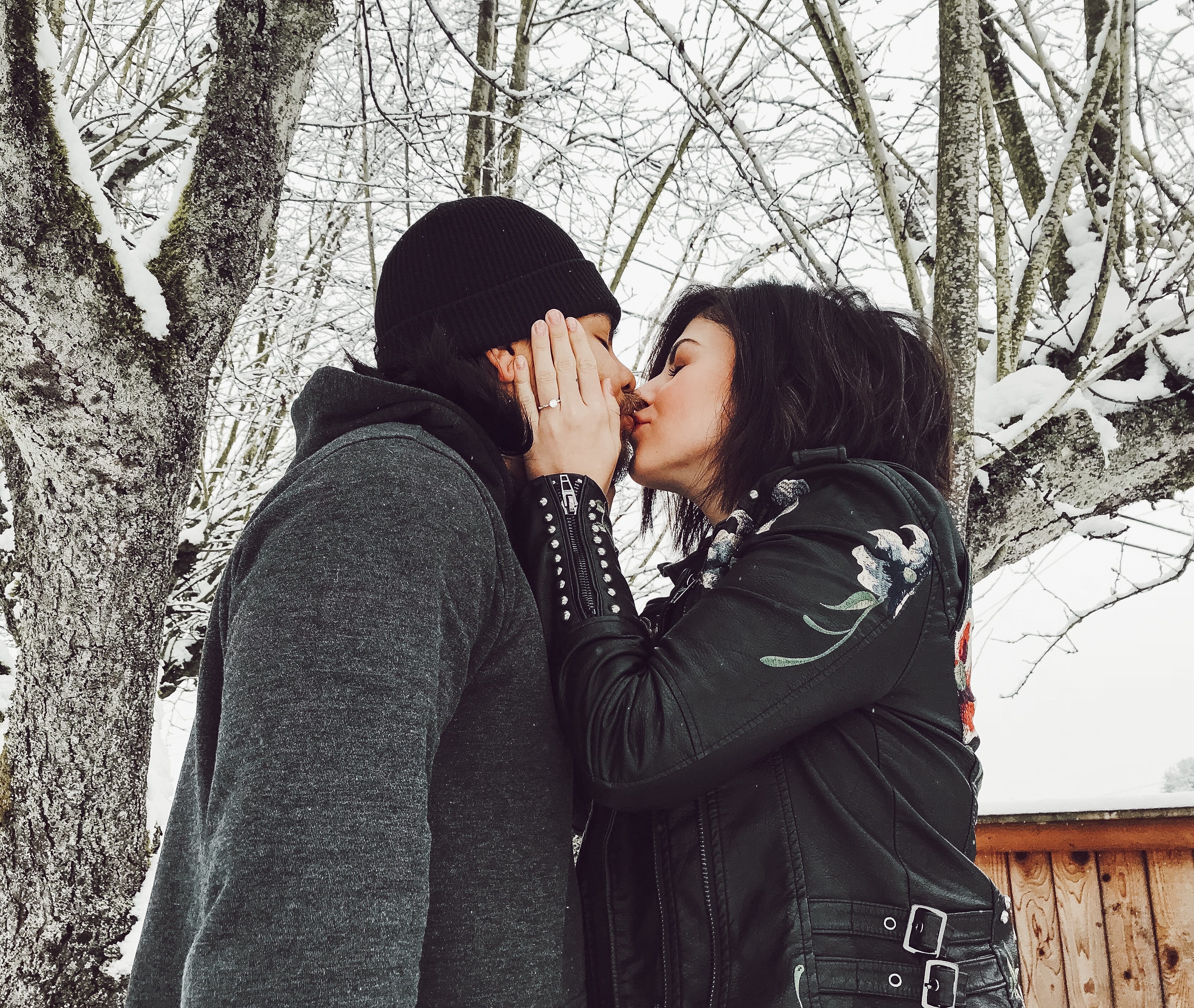 Hey there! I'm Kel and I am a 27-year-old future #Maggiebride that has experienced a lot in the area of health and fitness. I've mostly struggled with body dysmorphia and food addictions ever since I can remember, and that is why my main mission now is to help women see the value in self-love, self-worth, and appreciation. I believe there is a direct correlation between how we treat our bodies physically and mentally. Keep scrolling to see my top wedding fitness and wellness tips!
View this post on Instagram
Getting married is supposed to be one of the HAPPIEST days of your life, right? One thing that could hinder that happiness is being uncomfortable in your own skin, or simply not feeling well. I hope to give you a few helpful wedding fitness and wellness tips so you can feel your absolute best on the big day!
👰🏻:Kel found her Maggie Sottero dress at I Do Bridal in Seattle, WA | 💁‍♀️👗: She fell in love with many styles like Dorinda (but you will have to wait until 2020 to see her wedding day look)😘
Here are my top wedding fitness and wellness tips for the lovely bride to be:
Don't Forget About You
Let's start with self-care and self-care routines. Taking care of ourselves is our main purpose in life but we often forget to check in and see how we're doing. Daily or weekly check-ins to stop and think about how we are feeling, how our bodies are feeling, and most importantly to reflect on what we can do better, is very important.
I enjoy making lists in my journal to check off throughout the week.
Some of those include:
taking a bubble bath
going for a walk with my thoughts
just cleaning the house for the sake of a mindless task
These are a few things that make me feel good. Think about some of those less extravagant things that could really help you put the brakes on life. Slow down a little and look at yourself. It could also be reading a book, or even taking yourself on a coffee date to look at your wedding planner with no distractions and some cozy vibes.
With wedding planning, we get so caught up in the day of, that we fast forward through everything leading up to it. Focus on yourself. Focus on your partner. Focus on being able to laugh while you plan. Look at how amazing it is to be navigating through this season of life for the first time, or fifth time. You are INCREDIBLE for doing so, whether this is your first or fifth wedding, it is still different from the everyday and it's a very special time. Make sure to let yourself feel that. This celebration is about you and your partner, don't forget that!
2. Drink Water
This could seem like a silly thing to list but you would be surprised at how many of us could go through a whole day on 48 ounces of coffee, but no water. Ok, maybe that is an exaggeration but, you get it. It takes time to build the habit of drinking water regularly but once you do, everything in your body will praise you for it.
Water not only regulates your body to release toxins, but it also supports your immune system, increases your brain function, and improves your complexion. So, hello to better looking skin, more energy, and a smaller chance of being sick on your wedding day! Water can also lead to weight loss in a way you might not realize. We are made up of 50-60% water so if we're not drinking water, we are literally dehydrating ourselves. Being dehydrated can be mistaken for hunger, meaning that often times we think we are hungry when we are really just thirsty.
A good way to calculate how much water you should be drinking is to go by your weight. Drink half your body weight in ounces. If you weigh 150 pounds, then your daily water intake should be 75 ounces.
A few other tips for drinking enough water could be to download a cute app called Plant Nanny, or even setting alarms on your phone to drink water. You can also infuse your water with fruit to make it less boring and you can find a cute water bottle to entice you a little more. Anything helps! Cheers for clearer skin and not waking up sick on the special day.
View this post on Instagram
3. Get Sweaty
In my opinion, getting sweaty throughout the week is one of the best things you can do for yourself. Personally, I like to sweat or get my heart rate up five to six times during the week. Reason being, I like to feel those endorphins and release that extra energy.
This is something I talk to my clients about quite often. Here's the sitch, we are made up of energy—among other things but hear me out—and that energy builds inside of us daily. Some days it builds faster and other days it could feel very stagnant. Example being, you get in a disagreement with someone and it turns south. All of a sudden you have all of this pent-up frustration, so you do something irrational or keep it in. If you keep it in, it eventually has to come out.
Another example is stress. Wedding planning is beautiful, but it can be an extremely stressful time. With all of the planning and spending, it can be overwhelming. What has helped me so much is getting my activity in. Having that daily time to myself (sometimes it is my only outlet) gives me the space I need away from all the chores at home, my wedding to-do list, even my partner and family. It helps to work on your body, turn up the music and JUST LET GO!
Now, exercise does not mean it should only be used for people that have anger issues. It can be such a great release to help regulate your entire body, in addition to the mind. I am naturally an anxious person and typically feel a lot of feels. Getting my body moving every day helps me neutralize all of those extra vibes so I can really get down to the core of my day, feelings, or routine. Physically speaking, 30 minutes of daily exercise will statistically give you a longer and healthier life. You will have a quicker metabolism on average, and you might even notice yourself or your partner checking out your booty from time to time. Who doesn't love that?
My favorite types of exercises are:
High Intensity Interval Training (HIIT) cardio
Weightlifting
Yoga
HIIT cardio will help you burn fat quick, as well as weightlifting. Weightlifting will not make you bulky. Think about it like this; muscle burns fat, right? So, the more muscle you have, the more fat you are burning at rest (while you are doing other things), and who doesn't love a body that works while you aren't even thinking about it.
Also, I love yoga! I will be the first to admit that I don't do it nearly as often as I should. Flexibility, mobility and stretching are so very important for your everyday life. Especially if you lift weights or do any type of training. When you train, you are wearing down your muscles and an important way to counteract that is to release the lactic acid in there by lengthening and recovering, which is what stretching and foam rolling help you do.
When building a routine to work out, I suggest finding things that are fun for you, fit into your life schedule, and make you feel good. If you only have 30 minutes a day, check out 30-minute workouts. If you like to dance, find a dance studio. It takes a little bit of research (my favorite sources are Pinterest and Instagram) but once you find your thing, you and your body are going to be so happy that you did.
View this post on Instagram
4. Eat Your Veggies
Yeah, I said it. Eat your veggies or shoot, drink your veggies! That is what everyone on Instagram is doing. Celery juice, right? I am going to be honest, I don't love the veggies. I would much rather eat another serving of carbs, but you know what? Carbs aren't loaded with fiber (unless it is a loaf of bread made with fiber, ew) and veggies are.
What helped me eat my veggies was understanding why I needed to eat them. How I choose to see veggies, is yes, a great source of nutrients and all that jazz, but they're also my source to stay regular, if you know what I mean. (Am I allowed to talk about poop on this blog? We will find out shortly.) Regularity is crucial not only for your mental sanity, but also for your tummy. Your digestive system is a machine and you are supposed to be regular on a daily basis.
There will be tons of festivities going on during your wedding planning and we all know how the cake tasting turns into eating cake for breakfast the next day. Then you want to celebrate that you found the cake and before you know it, you feel like cake and can't remember the last time you drank anything besides champagne or had a piece of broccoli!
I strongly encourage you to eat the cake. YES. Eat it! But also give yourself guidelines. For me, a piece of cake (or two, hehe) serves its purpose. I loved it, I ate it, and I know what it tastes like. After consuming too many sweets, carbs, or alcohol my body loathes me. It doesn't perform as well, and only wants to produce zits instead of that dewy glow… and I'm constipated. Not fun.
I suggest that when you are celebrating, you load up on your veggies first. Fill your plate with colors and then fill in the other spots with that cake, or those great little finger sandwiches. Hold a glass of water in one hand and a glass of champagne in the other. I believe that everything can mostly be enjoyed in moderation and that we should honor our digestive system with respect, more often than not. Yep, sometimes it will get disrespected, but if you choose to consciously love on it and treat it well most of the week/year, it will do the same for you.
5. Sleep
I know this one is over looked but I promise you, nobody likes you when you are grumpy. Even your body doesn't like you when you are grumpy. I am sure you know this, but we need eight hours of sleep a night! Not four hours of sleep, and not even 16, 20-minute power naps. We need eight hours of sleep. This means, turning off Netflix before you want to, and cracking down on prioritizing sleep in your evenings.
I know all about tough schedules from working late shifts to working early shifts. It is even harder when your fiancé doesn't have a schedule that is ideal for you. When that happens, we typically sacrifice sleep, especially early on in our relationships. You know, staying up all night, talking on the phone, and then having to be in the office by 7am the next day. Wow. Good thing we love them, right? But let's get serious. Our body repairs itself when we sleep. Our immune system gets stronger, our fatigue lowers and not just within our muscles but within our stamina, as well. Everything just works better when we sleep.
What helps me sleep is routine. Setting up a nice, nightly routine to help you get ready for bed really helps. Maybe your routine includes your skin care regimen, putting your phone in the other room, or curling up with a book and removing that blue light (from our phones and computers) from your eyes.
This could seem far-fetched and unreasonable, but that is why you have to make it work for you. You can totally find something that works for your life. Maybe eight hours are not going to work. But if you currently get four hours of sleep and start working toward getting six, you are making progress. A big factor in why I make sure to sleep often is that I know that when my body is stressed or fatigued, I don't see the results I want within my workouts and my life. I miss certain things. My brain moves slower and I often times end up with a nasty common cold.
So, motivation for me is to be on my A game and to stay healthy. I don't want to look super tired in my wedding photos and I sure as heck don't want my body to reflect the exhaustion. Let's perk up. Caffeine can't save you from this one.
6. Final thoughts
At the end of the day, this celebration should bring you excitement and some jitters, but it shouldn't make you feel like you suddenly need to change who you are based on what internet trends say or what a celebrity bride looks like.
This is a joining of two—you and your partner. Yes, be healthy and feel your best on your wedding day. The rest are things that won't matter 20 years from now. No one will notice if you didn't lose those last five pounds, but they will notice if you don't want to take pictures because of your insecurities.
During your wedding planning, also plan on how you want to live out the rest of your life with the love of your life. Do you want a long and healthy life? It starts with you.
Occasionally, I will have a client mention that their partner is not healthy and that is why it is so hard for them to get healthy. That's valid. When sharing a living space with someone we tend to mirror each other's habits. I realized that when I started to get healthier and feel better about myself, and my partner wanted to jump on board. It may have taken a few months, but he was right there with me once he saw how happy it was making me. This can be another fun thing that you two can do together.
View this post on Instagram
I think one major thing we need to understand about wedding fitness and wellness tips is that health and fitness is not the same journey for everyone. Not everyone is going to like the same things and that is totally okay. You have to find what works for you! This is your movie playing out and you have control. Life happens, you get tied up and busy but if you needed a reminder to slow down, this is it.
In synopsis, remember these things: move daily, drink your water, rest up, veggies first, and slow down.
I really hope these tips of mine have helped simplify a few things for you, and as always if you have any specific questions or concerns you can find me on Instagram @kelmariewellness.
Kelxx