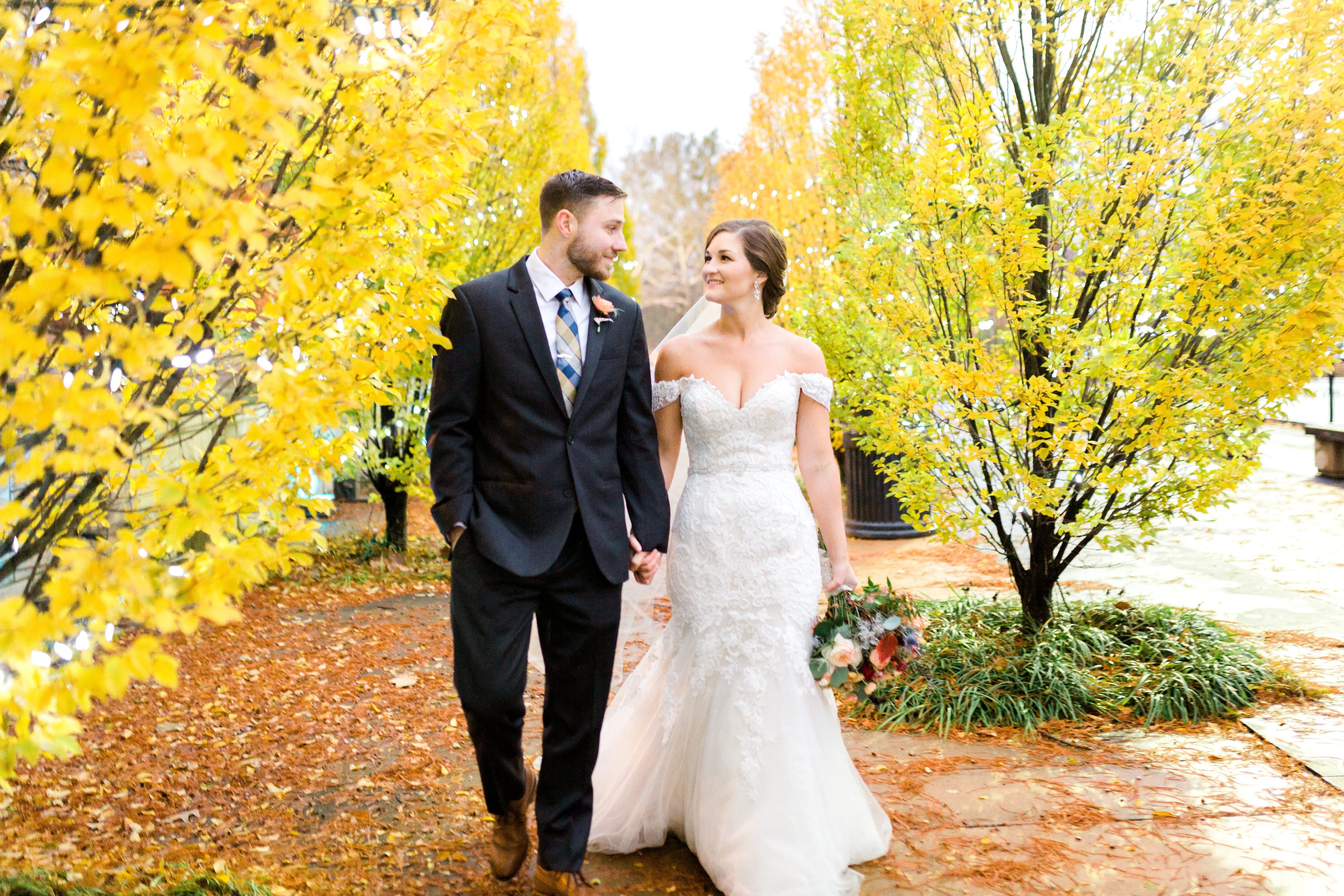 This couple wanted their fall wedding to feel like their relationship — cozy, romantic, fun, and laid back. When it comes to planning an autumn celebration, intimacy and atmosphere are key! Keep scrolling for all the pretty details, from watercolor-hued bouquets to booze, dancing, and doughnuts.
This classic bride wore off-the-shoulder wedding gown Afton for her big day. Head to an Authorized Retailer to try on this style this weekend!
Gorgeous gallery courtesy of 📷 Zoe Life Photography.
Tell us a little about you and your sweetheart. How did you two meet?
I moved to a cute little house in St. Louis City for grad school and Adam lived just a few doors down from me with his brother. We had been eyeing each other from afar but randomly ran into each other while we were out separately with our friends. We hit it off but separated ways that evening without exchanging information. The next day I baked cookies and put them on his porch with a little note. A few days went by and Adam left a note in my mailbox with his phone number and asking to take me to dinner.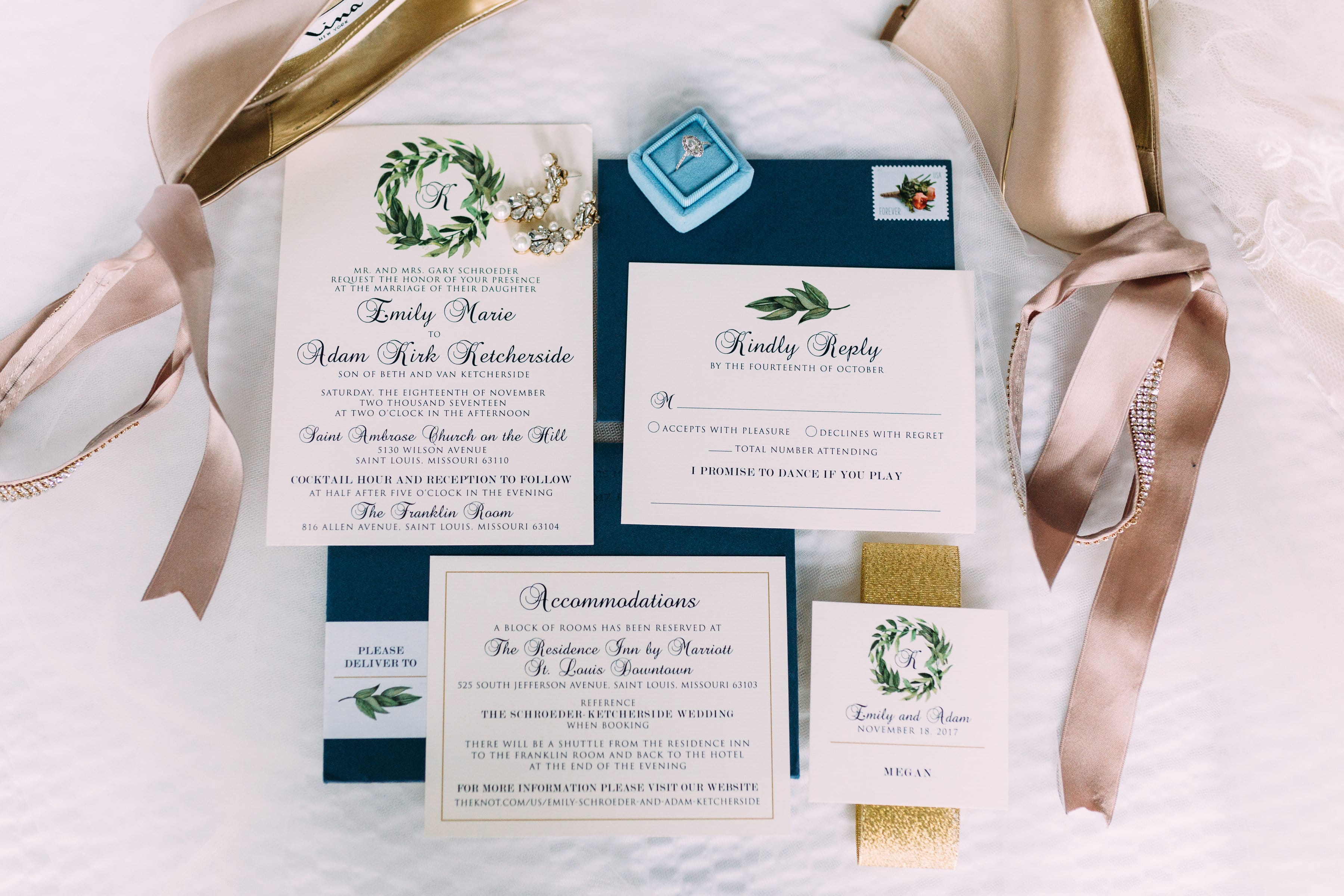 | | |
| --- | --- |
| | |
What was the moment you knew you had fallen in love?
I wish I had some amazing answer for this. I really don't know! I think I tried to tell myself I wasn't quite yet in love even though deep down I knew I was for a little while. I'm sure it was one of those moments when we were snuggling, watching a movie and I felt so safe and comfortable. You know how people say, you just fit with someone when it comes to snuggling… Adam and I perfectly fit together. It's still my favorite thing to do!
How did he propose?
We were on vacation in Mexico, we were certainly discussing engagements and rings but I was pretty darn sure Adam hadn't purchased a ring and even if he had I NEVER thought he would travel with it (he can be a bit anxious with traveling). We were getting ready for our dinner out and Adam put a slow song on to dance to, we started dancing and the next thing I knew he was on one knee asking me to marry him.
What was the first thing you checked off your wedding-planning list?
The venue!
When you started shopping for wedding dresses, what did you have in mind?
I had tried to keep a pretty open mind. I wanted to see what style fit my body best but I certainly wanted something romantic feeling.
Who did you invite to help you shop for gowns?
I invited all of my bridesmaids, my mom, my fiancé's mom, and my aunt on my first day trying on gowns. On my second trip back to decide between my top 2 dresses I invited my mom, aunt, and grandma.
Which Maggie Sottero Designs gown did you choose?
Afton by Maggie Sottero, purchased at Clarice's Bridal in St. Louis.
How did you create the "look and feel" of your wedding?
I didn't necessarily have a theme for our wedding. I wanted the day to reflect our relationship—cozy, romantic, fun, and laid back. The venue had so much character, our florist added such beautiful florals to add to the romantic feeling, and our DJ assisted with amber lighting to provide more coziness. We had such wonderful vendors that assisted in making our day stress free and the guests created the fun!
What was the funniest part of your wedding day?
I think I giggled from excitement the whole day. I think for me personally the funniest part was my bridesmaids helping me go to the bathroom.
What was the most surprising part of your wedding day?
Actually the most surprising part was that I never felt too surprised by anything. I had anticipated some big stressful moment but that never happened. Now that I think of it… I was surprised by the weather! We woke up to start getting beautified for the day and we had the windows open, it was a wonderful November day in Missouri. Just before leaving for the ceremony it started raining and I think the temperature dropped about 20 degrees. It was actually quite funny! Us girls running to our party bus in the freezing drizzle was probably a sight to see (don't worry our hair and make-up stayed intact!).
What was the most magical part of your wedding day?
Walking down the aisle with my amazing dad and being greeted by the love of my life while the room was filled with our loved ones. I mean what's better than that!
What do you think your guests loved most about your wedding day?
Honestly, probably the drinking, dancing and doughnuts.
What advice do you have for brides tackling their wedding budget?
Most definitely prioritize what is important for you and your fiancé… Don't try and compete with weddings you've been to or things you've seen on television.
What advice do you have for brides choosing their wedding party?
To each their own but for me it was actually very easy. I just asked myself "Which of my girls have been with me through it all and will continue to be… Who HAS to be in my wedding?" The list was easy and I just left it at that and tried not to overthink it. If someone truly loves you they will understand if they aren't in the wedding party.
What advice do you have for brides overall?
Soak it in!!!! Ugh I miss the planning and wedding day so much already! There are so few times when you have a group of people that love you in one space… all there with the same intention—celebrating you and your spouse. That is just so special.
What advice do you have for brides choosing their wedding party?
Ours wasn't too small or too large. If you're having doubts about anything, I think it's best to discuss them with your future spouse. This really made a big difference and helped us make the best decisions.
What advice do you have for future brides overall?
Enjoy this beautiful experience. Lavish in it and allow yourself to feel glamorous through the whole process. You and your spouse are committing your lives together, so celebrate it. Live in the moment and surround yourself during this important time with loving, caring, and helpful people. Having a support system really helps!
Vendors:Zoe Life Photography / Saint Abrose Church / The Franklin Room Venue / Millennium Productions DJ / Flashbulb Memory Studio Videographer / Meredith and Casey of Salon Melange / Emily Duong and Casey of Salon Melange / Flowers and Weeds Florist / The Cakery / Clarice's Bridal / White Cedar Paper Company