Tips and Trends
Wedding Inspo
|
May 18, 2016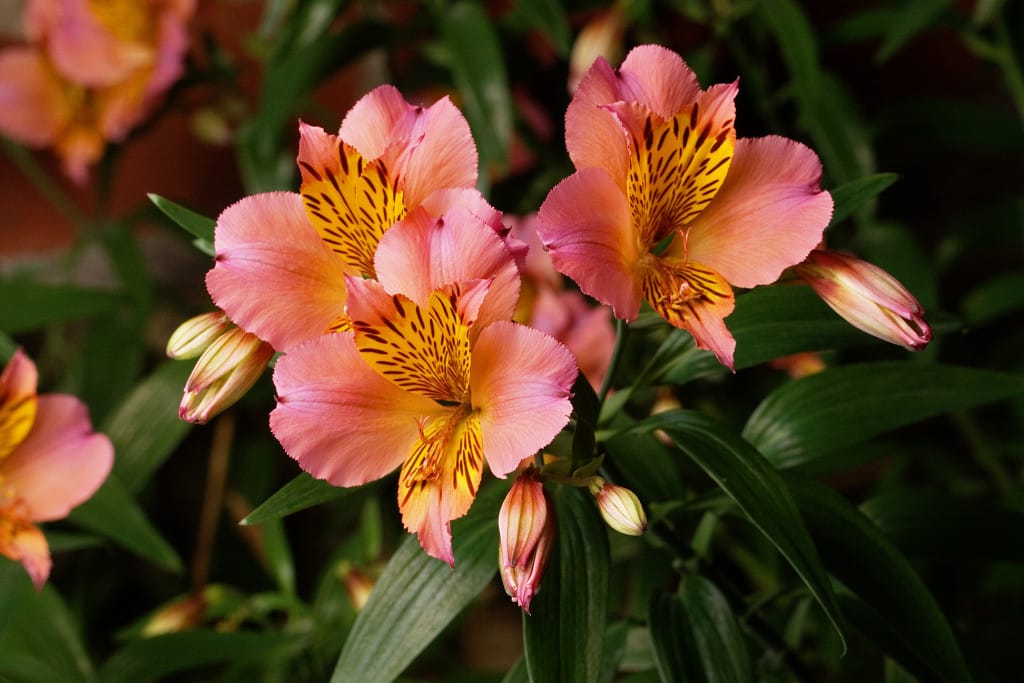 Bridal bouquets pack a serious punch when it comes to curating the mood, aesthetic, and vibe of your wedding. Humans are naturally drawn to a gathering of lush and colorful flowers; the fleetingness of the blooms evokes beauty and delicacy, yet passion and exuberance. And over time, our favorite posies take on all kinds of history and connotations. So no matter how simple or ambitious your floral visions may be, don't pass on telling your love story with the symbolism of flowers! Don't forget to take our Find Your Style quiz, and keep reading to plan your ultimate bouquet with this post on the language of flowers!
| | |
| --- | --- |
| Alstroemeria/Peruvian Lily: These orange, pink, and white trumpet flowers represent friendship and commitment. | Baby's Breath: As the name implies, these sprays of white buds symbolize delicacy and innocence—a perfect complement to your lace wedding dress! |
| | |
| --- | --- |
| Calla Lily: These lush and graceful blooms are an echo of arresting feminine beauty. | Carnation: A variety of cultivars and color schemes makes carnations a versatile and accessible addition to your floral scheme. The blooms most commonly evoke curiosity, fresh love, and bonds of affection. (But maybe pass on the yellow carnations; they represent disdain!) |
| | |
| --- | --- |
| Casablanca Lily: Similar to the Calla Lily, the stunning white Casablanca symbolizes elegance, sophistication, and beauty. | Chrysanthemum: Since it is most commonly associated with fall color and foliage, the sweet garden mum represents abundance, harvest, seasonal change, and wealth. |
| | |
| --- | --- |
| Daffodil: Do you love when cheery daffodils poke up from swaths of melting snow? These bulbs evoke new growth, the return of spring, and happy regard. | Delphinium: These opulent stalks of arresting cobalt-blue symbolize exuberance and dynamic love. Pair this jewel tone with an opulent vintage wedding dress. |
| | |
| --- | --- |
| Edelweiss: The Rogers and Hammerstein showtune owes its namesake to this ruggedly beautiful wildflower from the Swiss Alps. The sage-blue buds represent profound love and devotion. | Forget-Me-Not: In the chivalric code and mythology, a knight goes into battle wearing this flower to remember his beloved. |
Gardenia: This is no run-of-the-mill posy. Gardenias represent deep and traditional love, personal history, profound connection, purity, and joy. This bloom would look incredible with an off-the-shoulder gown.
| | |
| --- | --- |
| Gerbera Daisy: These colorful spring blooms symbolize innocence, playfulness, and cheeriness. | Hydrangea: With cultivars of clustered blooms in an array of pastel pinks and purples, hydrangeas look like sweet confectionary and stand for patience and understanding. |
| | |
| --- | --- |
| Iris: With long, elegant stalks and rich jewel tones, irises represent regality, faith, wisdom, and courage for a bright future. | Lily of the Valley: There's no other way to put it—Lily of the Valley represent bridal joy. Pair these with a sleeve wedding dress to channel Grace Kelly. |
| | |
| --- | --- |
| Marigold: A deceptively cheery bloom with occult vibes, the marigold beckons to brides who aren't afraid of a paradox. These orange and cream flowers represent passion, affection, and creativity, but also grief and jealousy. They're used in wedding garlands around the world, and in some cultures are used to divine the future. | Magnolia: Heady and fragrant, these lux, architectural blooms symbolize beauty and connection to nature. |
| | |
| --- | --- |
| Orchid: These striking and opulent blooms represent exotic beauty and vigor. An alluring bonus: the couple that exchanges orchids have a sexy and adventurous side! (Plunging necklines from our Amélie collection, anyone?) | Poppy: A bouquet of silky poppies evokes extravagance, wanderlust, and passion. |
| | |
| --- | --- |
| Peony: This popular flower has a dense, compound petal structure and striking foliage. Another paradoxical bloom, the peony represents demureness, modesty, and sweetness, but also ambition and exuberance. | Ranunculus: Aim for charm, charisma, and radiance with this on-trend posy. |
| | |
| --- | --- |
| Sunflower: A bold bloom that symbolizes devotion and spirited happiness. Keep in mind this deep loyalty can also be interpreted as a deep lack of fulfillment—Greek mythology tells the story of a water nymph who fell in love with Apollo, the sun god; Apollo ignored her, so other gods took pity on her and turned her into a sunflower. | Red Rose: This crimson classic represents love, romance, beauty, and idealism. |
| | |
| --- | --- |
| White Rose: Innocence and purity—simple as that. | Snowdrop: Similar to the understated beauty of Lily of the Valley, these sweet and glossy buds represent hope and purity. |
| | |
| --- | --- |
| Stephanotis: No ambiguities here—this traditional white flower represents matrimonial bliss. Pair with your vintage wedding dress to evoke timeless elegance! | Red Tulip: Give a sleek star-shaped bloom as a simple declaration of love. |
Violet: Sweet and rustic, a tiny violet symbolizes faithfulness, modesty, and protection from evil spirits!
There you have it, a comprehensive guide to crafting a bouquet that symbolizes your unique and inspiring love story! Remember to check out our posts on Flower Crowns and Edible Flowers to bring your wedding blooms full circle. Best wishes!