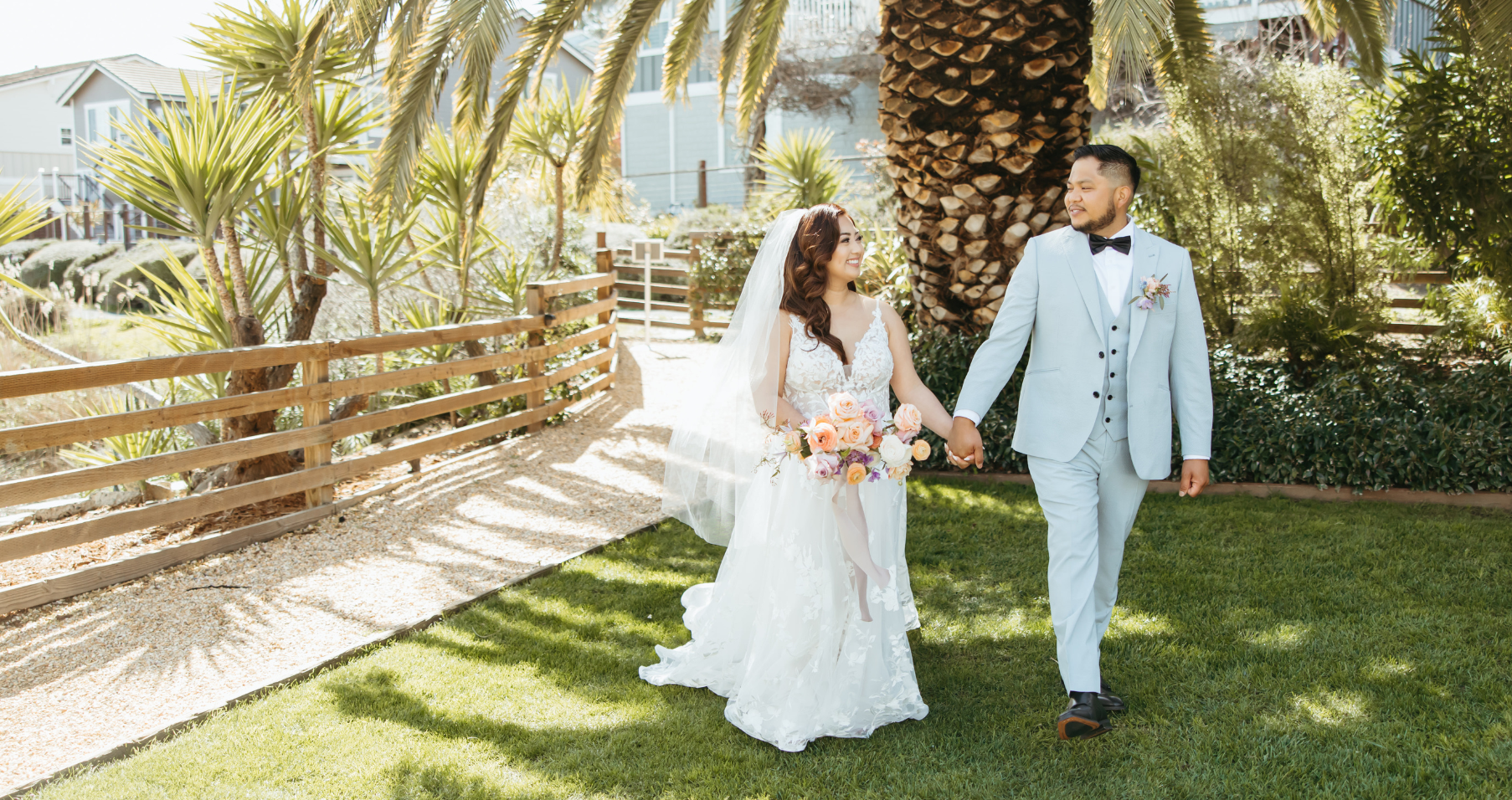 The summer sun is on its way, wedding season is (almost) in full swing, and this year's gorgeous bridal trends are the essence of the season! We've compiled our favorite trends for warm weather, outdoor venues, breezy backdrops, and sun-soaked celebrations… Keep scrolling for all the style, glamor, and inspiration.
What are some summer bridal trends?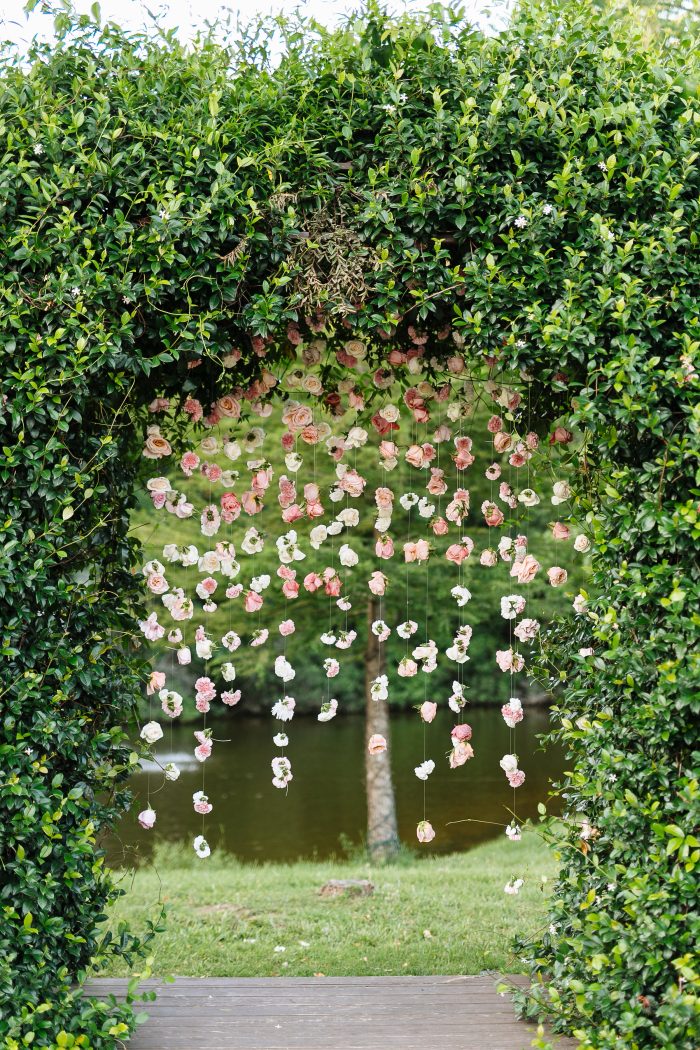 This year, brides are opting for a refreshing twist on traditional wedding styles — from earth tones and soft pops of color to rustic boho gowns and fresh citrus-inspired decor. This summer's bridal trends are all about embracing the carefree and whimsical spirit of the season.
Summer Bridal Trends:
Summer wedding dresses and accessories infused with earth tones and delicate pops of color.
Hues like soft blush, dusty blue, and warm neutrals to add a touch of personality and romance to an ensemble.
Flowy and breathable fabrics, with rustic, boho-inspired summer wedding dresses dominating the spotlight.
Simple summer wedding dresses feature ethereal silhouettes, perfect for outdoor venues and all-night dancing.
Short sleeves and sleeveless bodices are another popular choice this season, offering a modern and comfortable alternative to traditional long-sleeved gowns. Brides are embracing the warm weather in exposed shoulders and barely-there fabrics.
For those looking to add a hint of drama, thigh-high slits in the skirt lend a sense of movement and playfulness to a romantic summer silhouette.
As for this summer's embellishments, floral lace and illusion motifs reign supreme —
Delicate lace patterns inspired by blooming gardens, add a romantic and feminine touch to a summer wedding gown.
Illusion details like sheer panels and intricate embroidery showcase a bride's chic taste and effortless style.
Other Summer Elements: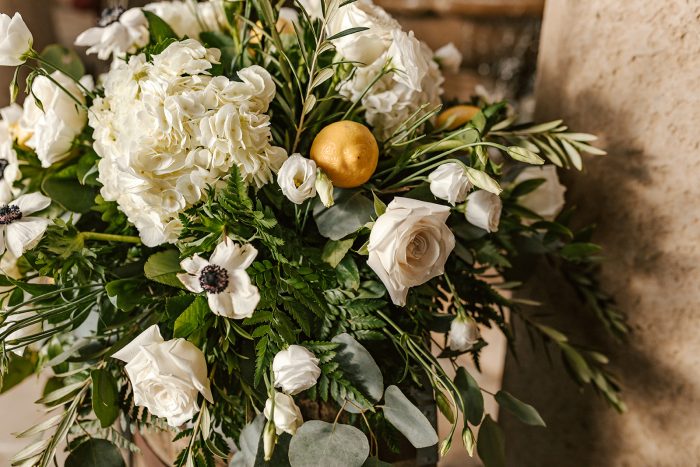 Decor-wise, couples are moving away from traditional settings and infusing their summer weddings with vibrant, personalized themes and foodie-inspired banquets. We're loving the freshness and vitality of citrus themes — lemon and lime accents, grapefruit-inspired centerpieces, picnic-inspired fare, and a range of refreshing signature cocktails. (Think fresh fruits, herbs, and zesty and invigorating flavors.) These vibrant details create a cheerful atmosphere and (of course) lend perfectly to warm weather vibes.
Another summer bridal trend we're loving? Welcome bags and guest favors holding practical items that guests can enjoy throughout the celebration, including —
Cute sunglasses
Chic hand fans
Small one-person-size sunscreen
Bug spray and aloe vera
Paper umbrellas
Flip flops for the dance floor
Take-home cocktail mixers and hangover cures (AKA hydration!)
These ensure attendees are prepared for the summer elements while adding a thoughtful and personalized touch to your reception.
Brides themselves are opting for humidity-proof hairstyles to combat the elements… Braids remain a popular choice for keeping hair off the neck while maintaining a romantic and sophisticated look. Updos adorned with delicate flowers or whimsical hair accessories also provide a chic and polished alternative. These hairstyles are designed for double-duty: withstand the summer elements while giving off an effortless and feminine charm.
And of course, summer wedding dresses! From ethereal silhouettes to vibrant embellishments and chic accessories, these styles are made for that (seasonally appropriate) fusion of style and comfort. Get ready to be swept away by summer trends, and find a boutique near you to shop IRL! 
Boho Summer Wedding Dresses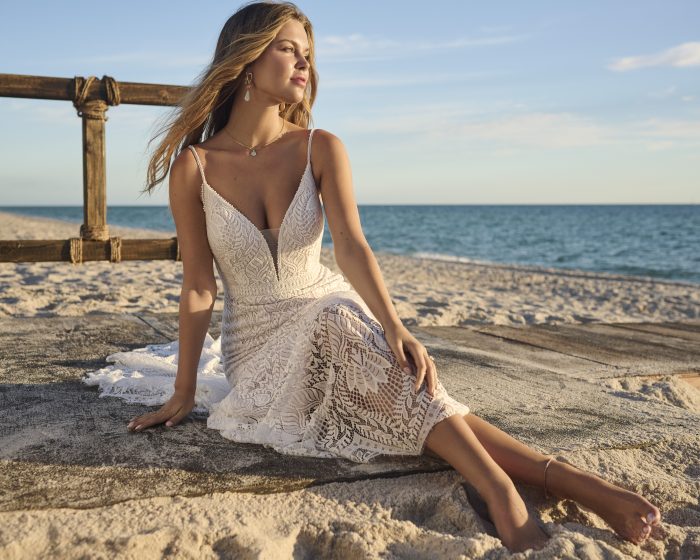 First up — allover lace in a sexy, garden-chic silhouette. This vintage-inspired summer wedding gown Janine is all about the timeless charm of knit lace combined with modern illusion details.
This dreamy lace style would be perfect for a beach backdrop, lawn tent, barn venue, forest meadow, or summery manor with outdoor settings. It would also be stunning for an international elopement. It's lightweight, chic, and perfectly on trend for a summer adventure.
Janine is also a top style from our Rebecca Ingram line — romantic wedding gowns at budget-friendly prices. Everything you could love!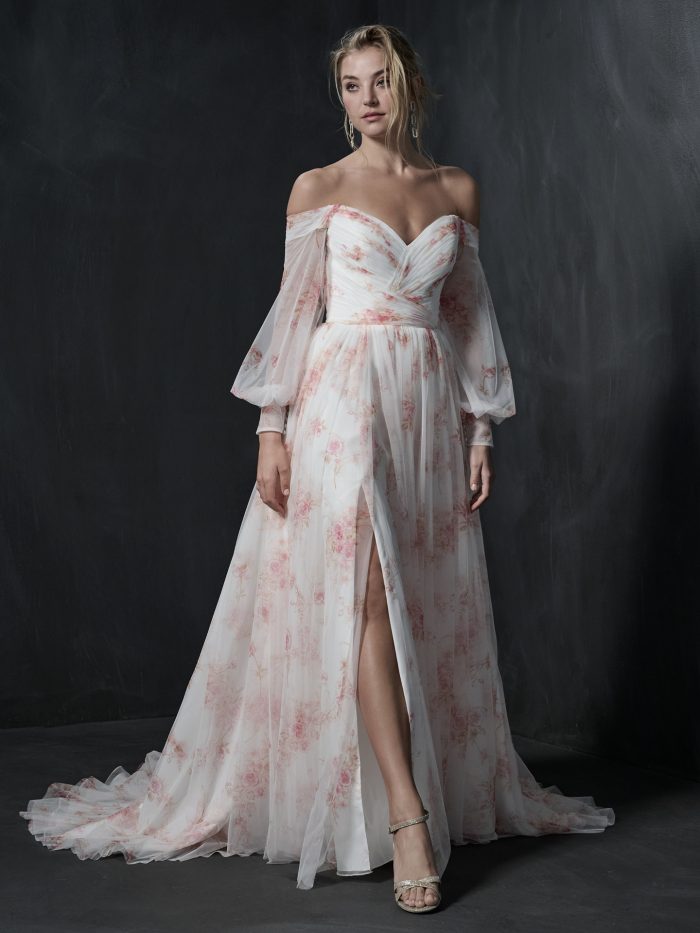 Looking for something truly exceptional? Opt for unique pops of color in a dreamy, cloud-like silhouette. Nerida is the perfect choice for an elevated wedding aesthetic!
A few features we're loving in this unique summer wedding gown:
The off-the-shoulder neckline
Long, voluminous bishop sleeves
An asymmetrically ruched bodice
A thigh-high slit in the skirt
Swishy layers of chiffon
Beautiful color options in traditional white and pink floral
This style is elegant, radiant, and uniquely sultry for your summer celebration!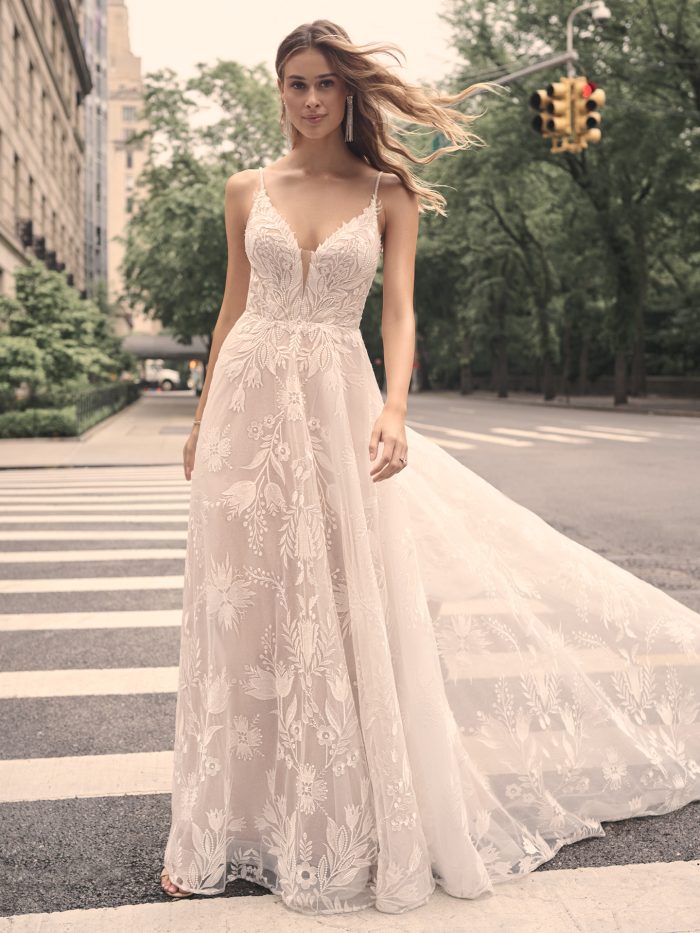 Vintage-inspired lace and beaded floral motifs make a divine statement in Keisha… This simple yet ultra-chic A-line is all about the effortless romance.
We love this style for a summer wedding. It's comfortable, breezy, and beautifully embellished from the strappy bodice to the layered skirt and train.
Here are a few ways to personalize:
Change the sparkle tulle to plain tulle
Remove the train for a more casual look, through special request
Use the extra lace motif included for minor neckline alterations
Add a simple or luxe bridal veil
Floral Summer Wedding Gowns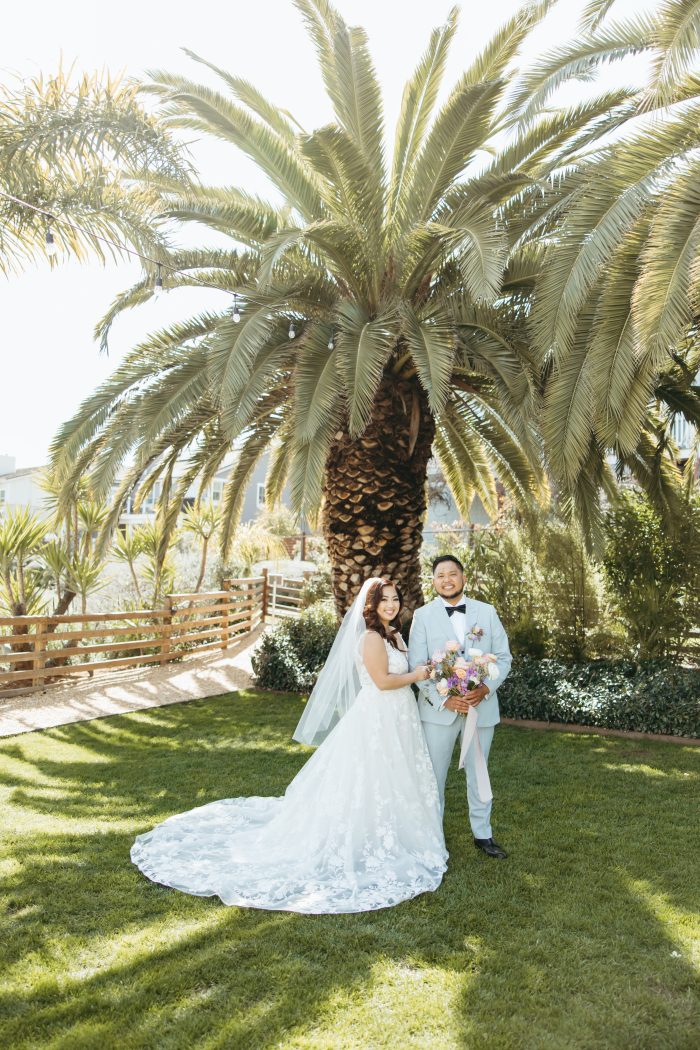 PC: Martha Hoang
Winter may be named for the snowy season, but it also makes a stunning statement for summer! We're smitten with the lace bodice, oversized lace motifs, and organza layers… It's the perfect combo for a warm-weather celebration.
Winter features several options to personalize:
Remove the train for a more casual look
Add covered buttons down the back for a vintage vibe
Also available with a lined front bodice
Detachable illusion lace long sleeves, sold separately
Extra lace motif included for minor neckline alterations
Also available as a modest sister style, Winter Leigh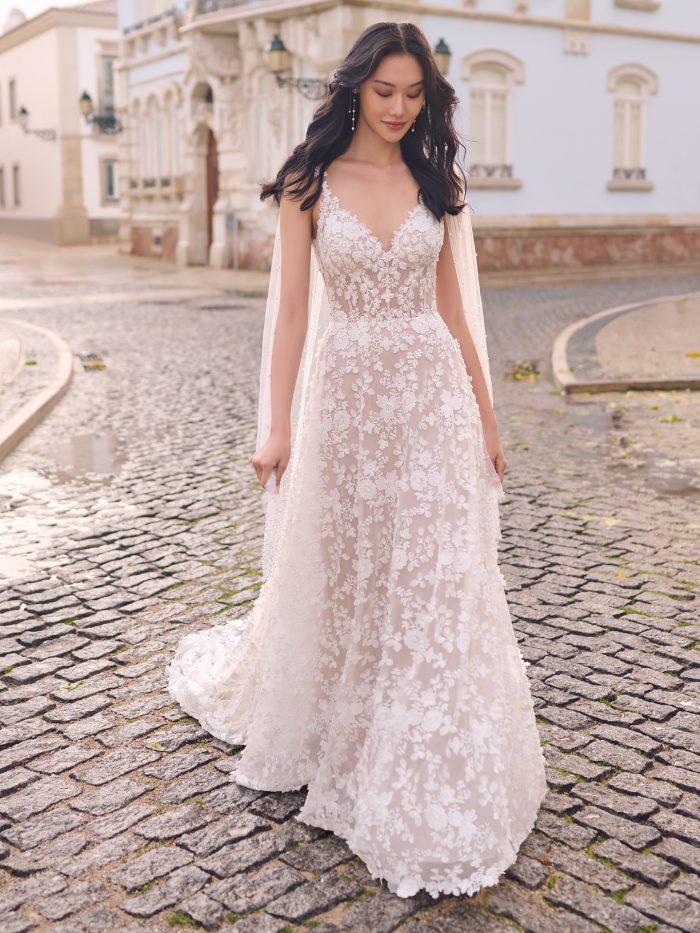 3D florals make an irresistible statement in Ladonna, a soft and romantic wedding dress with a little bit of edge. Planning a magical summer celebration? You can't get more stylish than this gorgeous A-line silhouette.
Ladonna features two veil options (sold separately):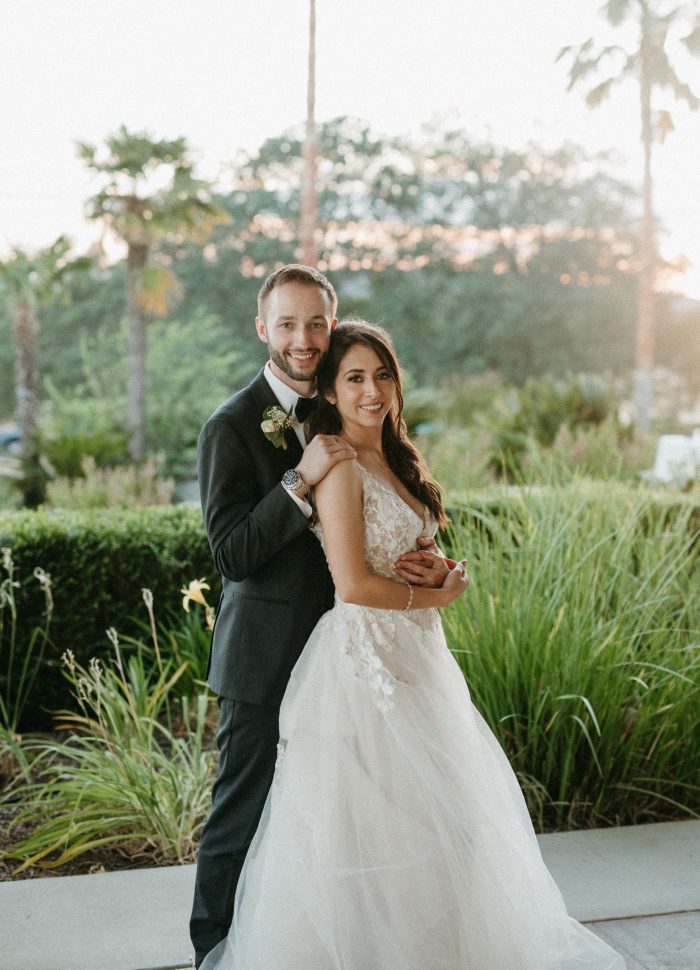 PC: Mark Tuzman
We absolutely adore this lace wedding gown for summer celebrations. Here are a few review highlights from real brides!
"I felt like a princess. I felt exactly how I always imagined feeling on my wedding day. This dress was comfortable and lightweight and made me feel beautiful." — Kelly R.
"I felt so comfortable on my wedding day. The light boning created the perfect balance of comfort and flattering structure. I altered the top to be more of a sweetheart neckline vs a V-neck which gave the perfect amount of cleavage for me." — Golzar
"The whole dress was stunning but the detail down the back and train just blew me away. Nothing like any other dress I've seen." — Amy P.
Simple Summer Wedding Dresses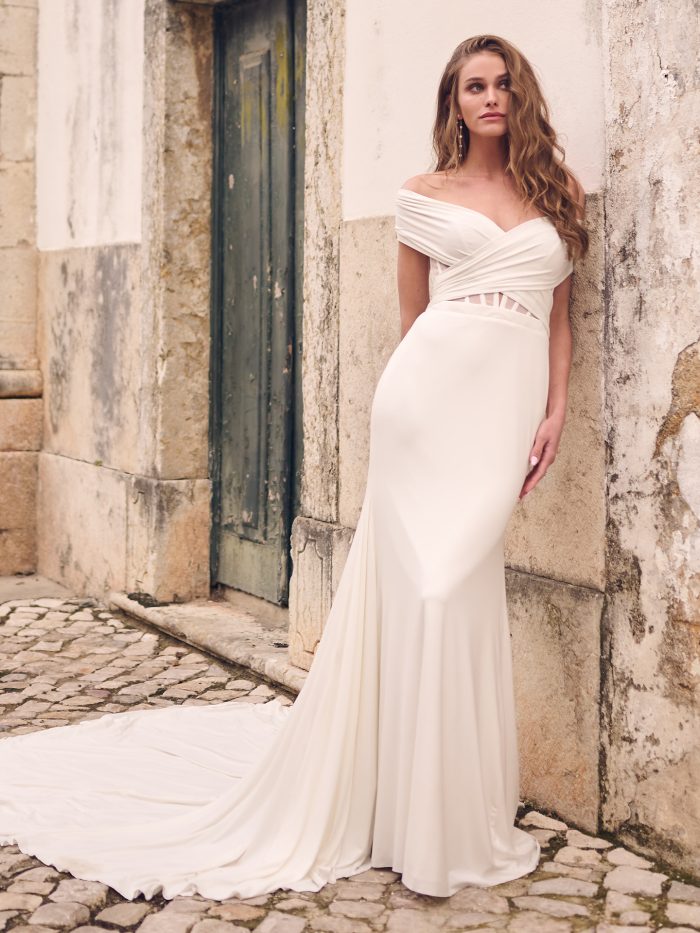 A unique wedding gown with luxe bodice details and a gorgeous wrap accessory — this goddess-inspired design is all about the spotlight. The exposed boning gives a nod to vintage glamor without being too over-the-top… It's the perfect blend of style and sophistication.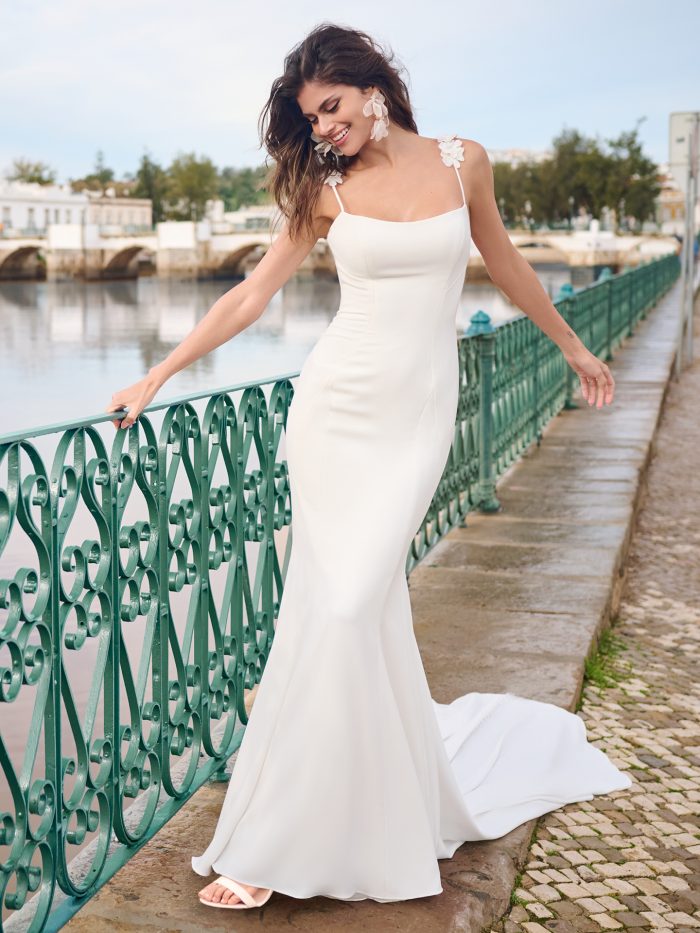 Love the minimalist trends for summer celebrations? This delicate, ultra-feminine design features an effortless silhouette and delicate floral embellishments. You'd be hard-pressed to find a chicer and more comfortable gown for your wedding.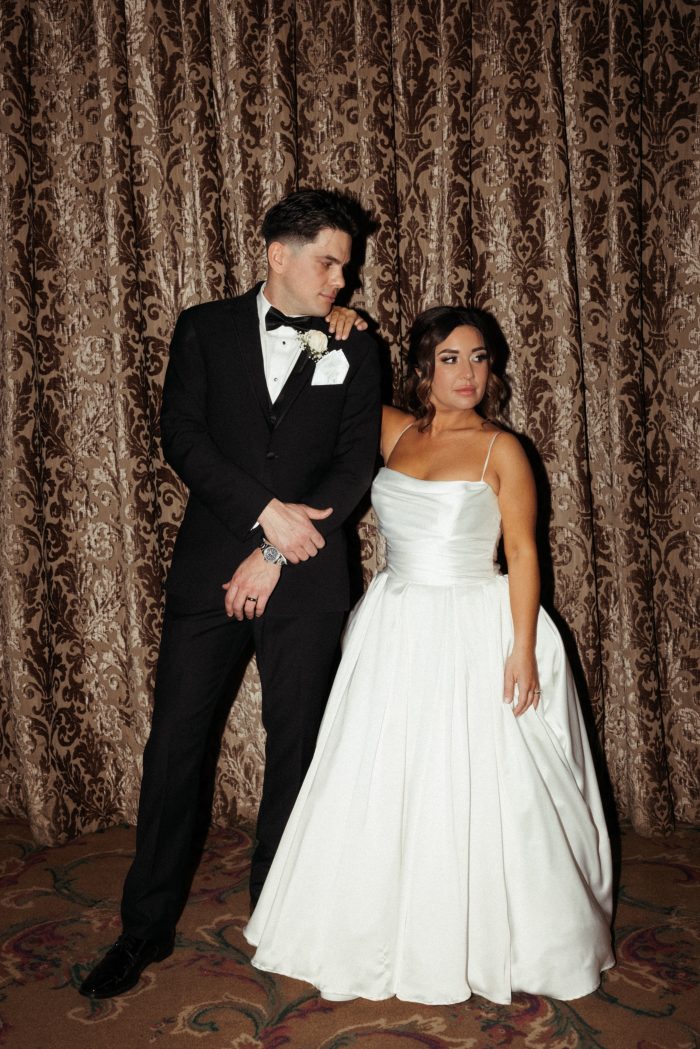 PC: Kris Orit
We promised color, so here is color! Scarlet sweeps the summer trends with luxe satin, lush layers, and the perfect shades of ivory, red, and black. (And the thigh-high slit is a perfect choice for summer. It adds a hint of sexy while making it easy to walk and dance.)
Love this fabric in a more curve-hugging silhouette? Fall in love with sister style Scarlet Lane, a sexy fit-and-flare with a beautifully draped bodice and neckline. 
Lightweight Gowns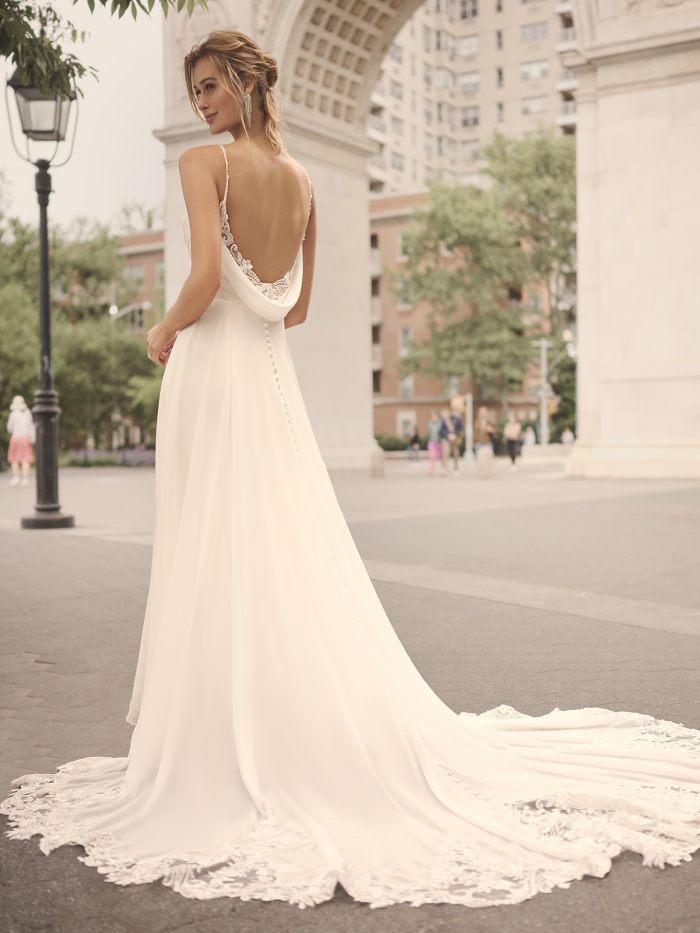 Another Grecian-inspired design, this chiffon A-line wedding dress features soft ruching, luxe layers, and delicate lace along the cowl neckline. It's a timeless yet modern take for summer, and so easy to style for a variety of elegant venues and themes.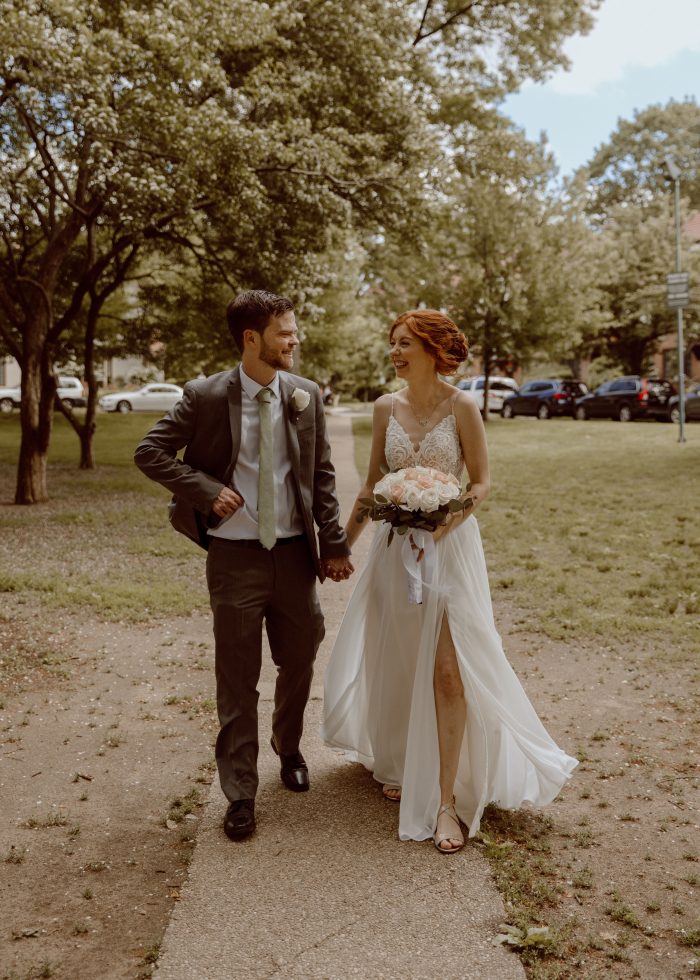 PC: Hiba Plum Photography
"I felt like a princess, such a beautiful dress. Light and elegant for a hot summer's day…" — We couldn't have put it better than our real bride Selina for her Channel Islands wedding! This soft chiffon bridal dress features a lovely lace bodice, swishy skirt with thigh-high slit, and flirty spaghetti straps. It's everything you could love for a summer soiree.
Lorraine also features several sister styles. Find your perfect combination of silhouette, bodice, and fabric with our gallery of options.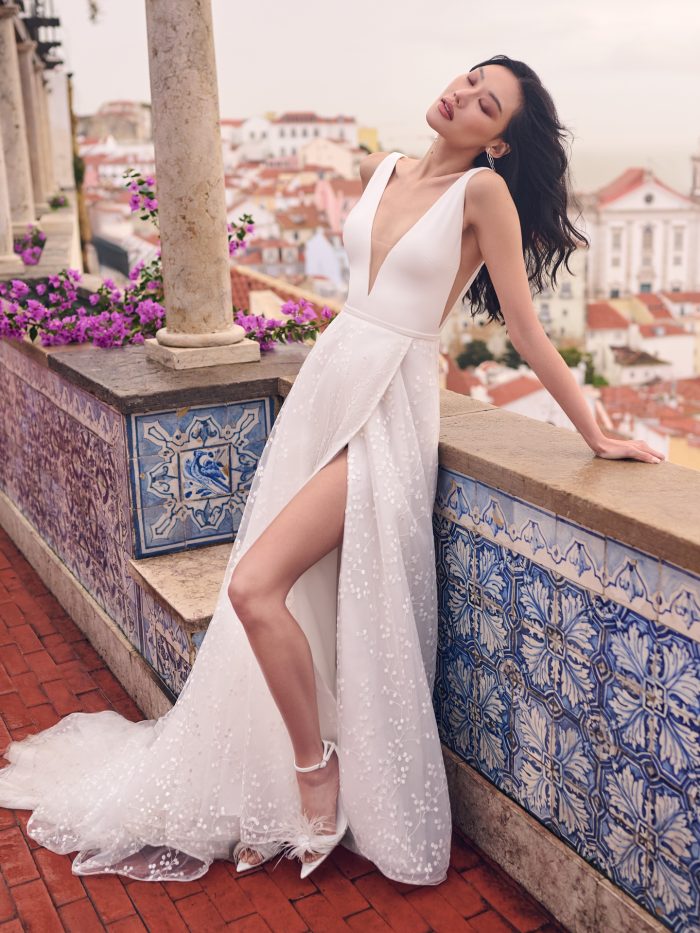 You don't have to sacrifice tailoring in summer wedding dresses… Brannagh is soft and lightweight for summer, yet perfectly embellished for a black-tie aesthetic and chic wedding vibe. We especially love the plunging bodice and asymmetrical draping in the skirt.
Summer Accessories
And finally, looking to add style without adding extra weight? Top off simple summer wedding dresses with these effortless accessories:
As always, follow us on social for all the dreamy trends for summer!
More Blogs Like This:
Vintage Wedding Dresses Inspired by Bridgerton
Wedding Dress Trends in Maggie Sottero's Latest Collection
10 Minimony and Courthouse Wedding Dresses for Easy-Going Brides
Happy shopping for your summer celebration!