Dresses
|
October 16, 2020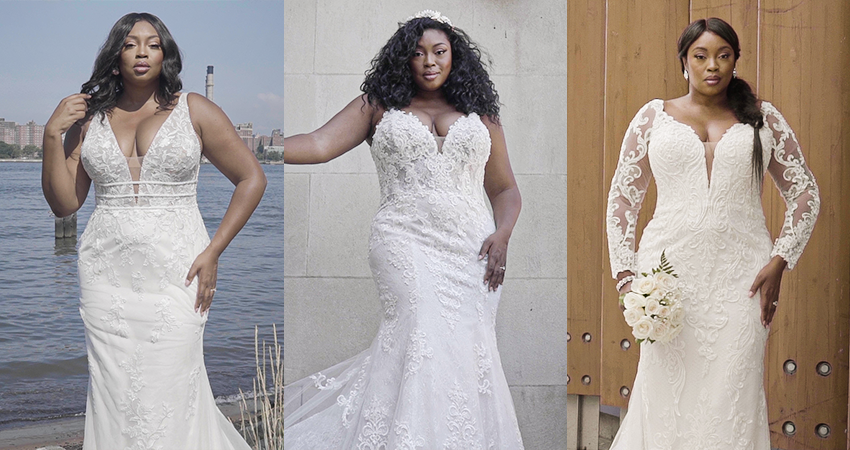 If there's one thing we love more than wedding dresses, it's new wedding dresses. We've been heart-eyeing these gorgeous gowns for some time now and now have the privilege of giving you a sneak peek of what's to come in Maggie Sottero's Spring 2021 collections. So, what are you waiting for? Keep scrolling to see our line up of new curvy wedding dresses!
We'd like to introduce you to super model Liris Crosse, the brains and beauty behind this season's curve styled shoot! We knew she would be perfect to direct this sneak preview of our newest curvy wedding dresses because of her years of experience in plus size modeling.
Maggie Sottero's plus size wedding dresses are personalized for curvy brides, featuring cuts to shape your waistline, support in the bodice to offer coverage while keeping things sexy, and flattering silhouettes to hug your curves in all the right places.
Thanks to bridal experts like Liris Crosse, Curvaceous Couture Bridal, and Weddings By Debbie, our Maggie Sottero Curve collections have grown to be some of our most popular bridal collections in the wedding industry! To give you a little taste of what went into this amazing shoot, we have asked Liris to give us a little behind-the-scenes taste of her vision. So, keep scrolling!
What was the inspiration behind this curve styled shoot?
The Maggie Sottero team told me they wanted to create a unique way to show off their Spring 2021 curvy wedding dresses from their new collection. The wedding industry has had to get creative these days due to COVID, but I was up for the challenge.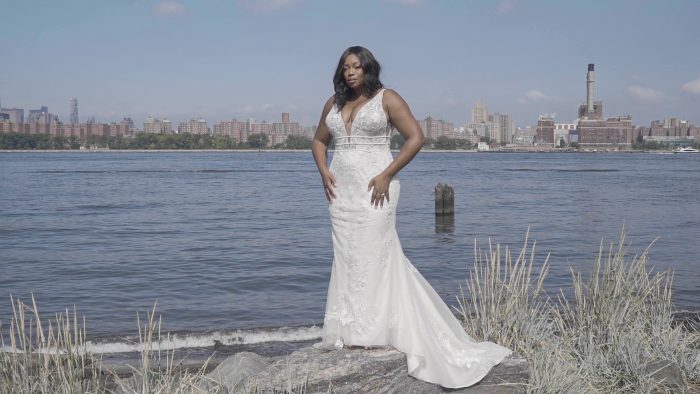 I wanted to show the personality of each wedding gown on the backdrop of Brooklyn, New York, which has so many hidden gems. My director and co-producer, Ramon Pesante of Colorful Nerds, did just that with his team! We met a few years ago on a TV commercial and have created other magic since, so I felt he'd be the perfect fit. He did a great job with the shooting and editing. Maggie has been branded so specifically over the years, so I had to find the right balance of what's been established and what's the nuance.
When did you know what you wanted your vision to be?
After I scouted the location with my assistant, Nassali, it hit me! I wanted the curve styled shoot to feel like multiple love stories in a metropolitan paradise. And I feel like we definitely pulled that off with the various locations we used in Brooklyn.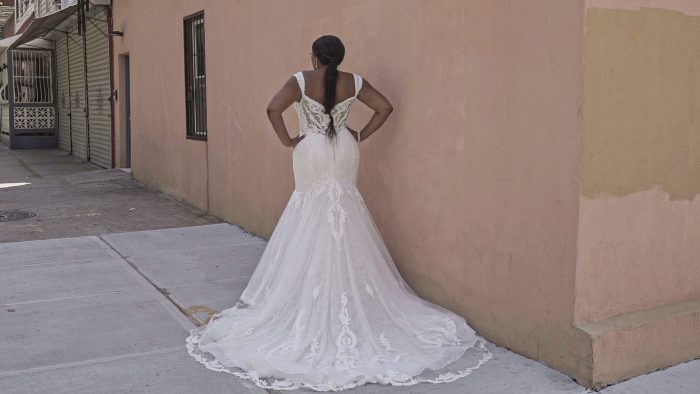 We shot on various locations including at the water's edge in a little neighbor in East Williamsburg and in the urban neighborhood of Clinton Hill.
What was your creative direction for hair and makeup?
Professional makeup artist, Fatima Butler, did my makeup with a mixture of pinks and golds. She really gave me that fresh, flirty look. And for my hair, I wanted three distinct looks that matched the personalities of the three Maggie Sottero brands.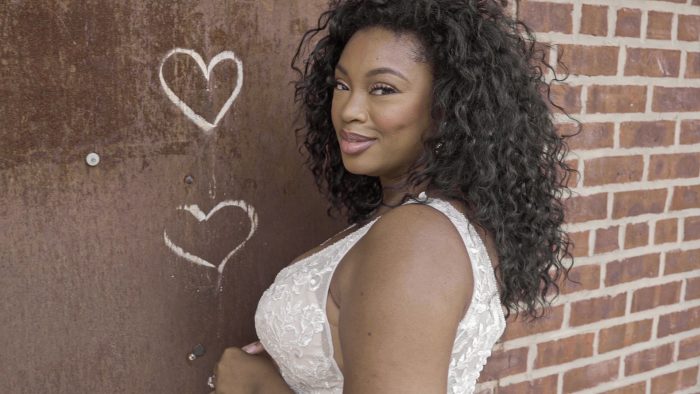 Emmy-nominated hair stylist Yancey Edwards nailed it! He styled sexy, tousled waves for romance for the Maggie Sottero gowns, loose curls for a boho feel for the Rebecca Ingram dresses, and a feathered fishtail braid for a refined statement for the Sottero and Midgley collection.
What type of bridal accessories did you use for this shoot?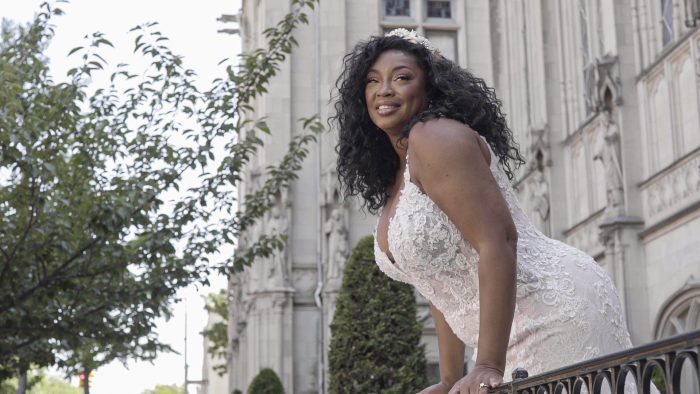 I love the bridal crowns Maggie Sottero usually pairs with their wedding dresses. They just bring an extra regal touch and a boost of confidence! And I'm all about "queening" in my day-to-day life! I didn't want the accessories to overpower the dresses, however, so my stylist, Lizzy Polden, curated a sophisticated look that went well with the jewelry.
What are some of your favorite elements from the curvy wedding dresses from this collection?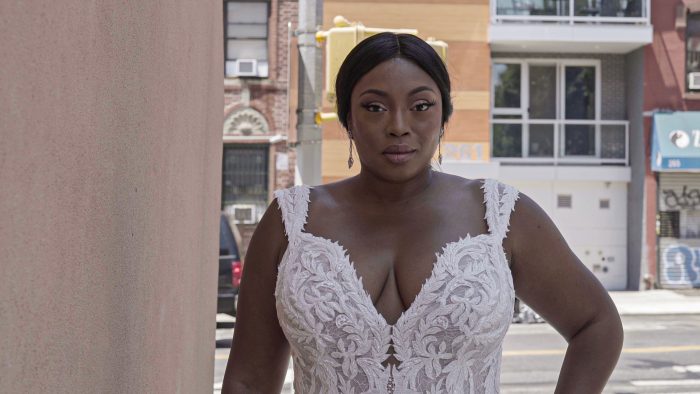 I really love the detachable and extended trains on the dresses from this season. I also adore the beautiful necklines and the versatility in the different dress styles. Maggie Sottero truly has a wedding dress for every love story!
Tell us about something funny that happened on location!
Changing out of one wedding dress and into another for a quick change in New York's streets made for some interesting stares as cars rolled by. But we did it as discreetly as we could with a sheet!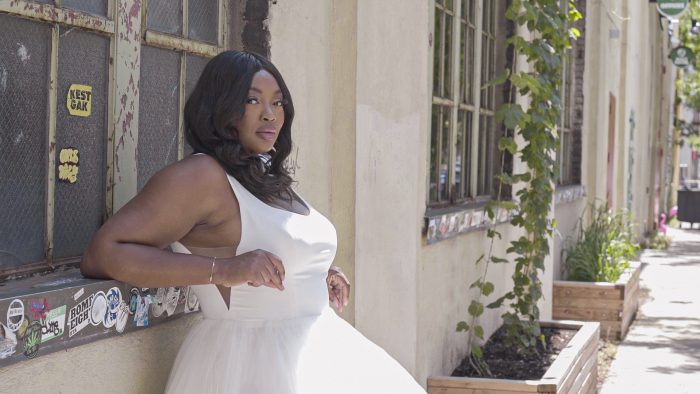 Also, there were a lot of people who shouted congratulations as they drove by, and I just thanked them graciously. I took it as early celebration energy for my real wedding that will happen someday soon!
What is your biggest advice for curvy brides while wedding dress shopping?
Find the dress that feels like you! And don't be afraid to customize it to feel more like you with added bling, different straps, inserts for modesty, etc. Find the wedding dress that plays up your body type and makes you feel like the queen you are!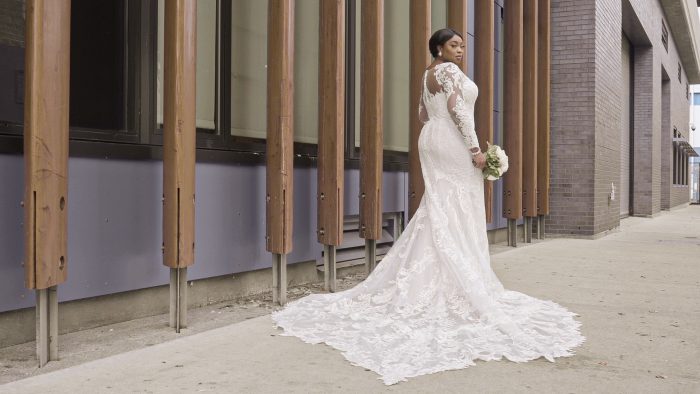 Also, make sure to look for exclusively plus-size bridal boutiques because oftentimes, they have a better selection and ambience that will enhance your dress shopping experience. If you're looking for some, here are a few that carry Maggie Sottero wedding gowns!
And lastly, don't forget to have fun and bring friends or family members who have good taste but also understand your style!
New Curvy Wedding Dresses from our Spring 2021 Collections
Now, on to the gowns! Check out this video of Liris in our top curvy wedding dresses from our Spring 2021 collection. Then, keep scrolling to see more of these gorgeous styles!
Beaded Lace Fit-and-Flare Bridal Gown Farrah by Maggie Sottero
It's all about the layers in this sexy, romantic, and almost-fit-and-flare beaded sheath bridal dress. If you're a fan of lace, there's really no need to keep searching! This sweet and sexy bridal dress is your meant-to-be!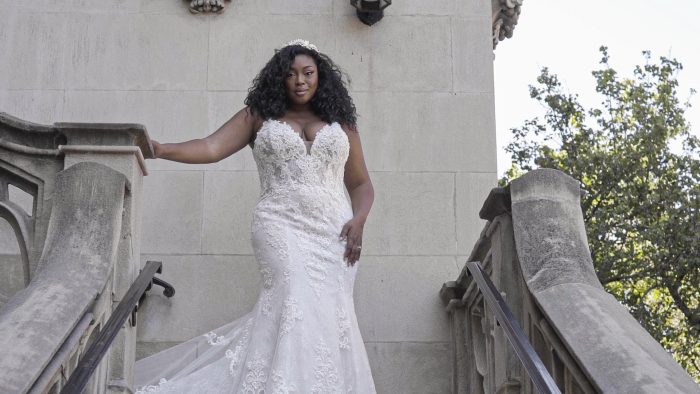 Liris said it best: "Farrah gave me fever! One of my favorite moments of the shoot was walking down the stairs in the Farrah wedding dress!"
Tiered Tulle Ball Gown Wedding Dress Rosemary by Rebecca Ingram
Seasons change, trends evolve, but our money is on this unique budget-friendly minimalist tiered tulle ball gown wedding dress.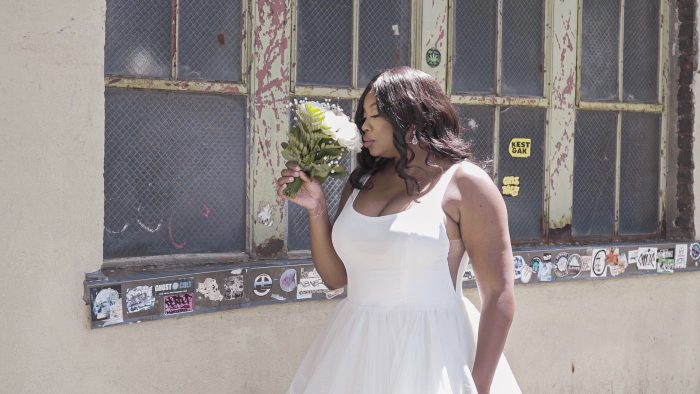 With Rosemary by Rebecca Ingram, our affordable ball gown ideal, your bridal portraits will be divine!
Elegant Plus-Size Wedding Gown Hamilton Lynette by Sottero and Midgley
Hello, soft and sophisticated elegance. You've inspired us with sleeves. Entranced us with illusion. Beguiled us in lace. And charmed us in a plus-size sheath wedding dress silhouette.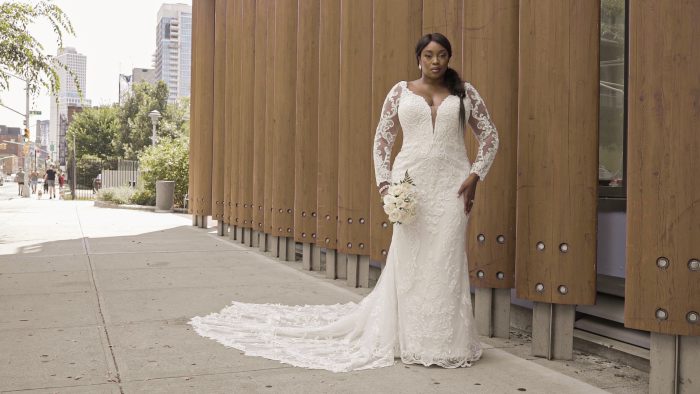 "The sleeves on this wedding gown are to-die for! They have such an elegant and sophisticated feel and really change the aesthetic of the dress." – Liris
Floral Boho A-line Bridal Dress Lorenza by Maggie Sottero
Looking for something flirty and surprising to wear for your big day? Layered lace and ballerina-inspired tulle give this floral boho A-line wedding dress a deceptively simple vibe.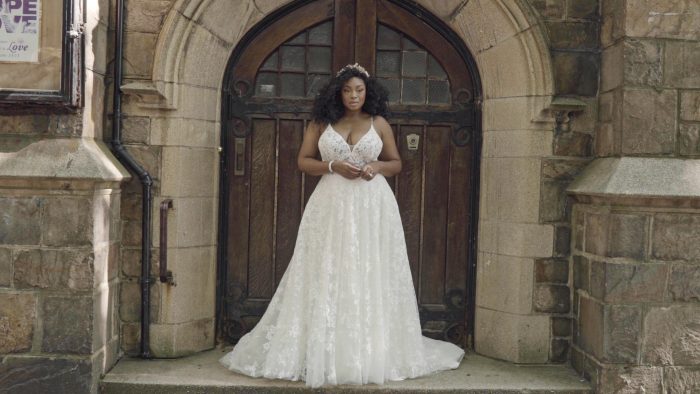 Don affordable Lorenza by Maggie Sottero, and you'll be sure to make all your guests swoon!
Curvy Cap-Sleeve Mermaid Wedding Dress Joss by Sottero and Midgley
We're getting Silver Screen vibes. We're getting red-carpet magic. And we're getting sweet-spice-everything-nice in this gorgeous cap-sleeve mermaid wedding gown in layered lace and perfect illusion.
"Joss made me feel like my best self. It had to be one of my favorite gowns from the collection. It's just so me!" – Liris
Romantic Curvy A-line Bridal Gown Leticia Lynette by Maggie Sottero
Lovely Leticia Lynette, you bring fresh and happy energy to the romantic A-line bridal gown mainstay. We picture you in non-stuffy environments, from tropical paradises to enchanted gardens.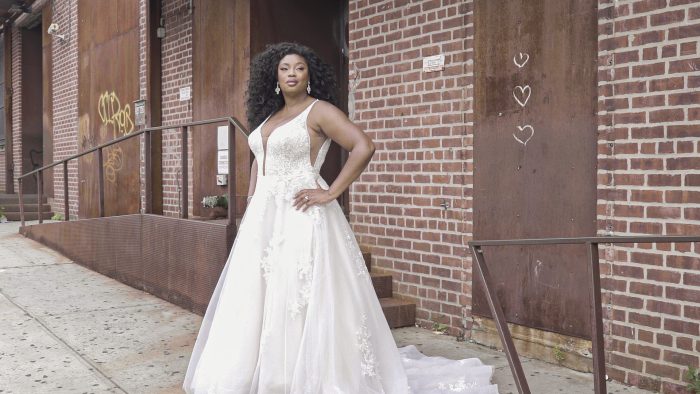 You can't go wrong with a plunging V-neckline, layered tulle, and a flattering A-line silhouette. This romantic sleeveless wedding dress takes the cake for sure!
Illusion V-back Sheath Wedding Dress Angie by Rebecca Ingram
If you're into unique texture, a sexy neckline, and curve-enhancing embellishments with a fabulous price tag, this illusion V-back sheath wedding dress is your kind of divine.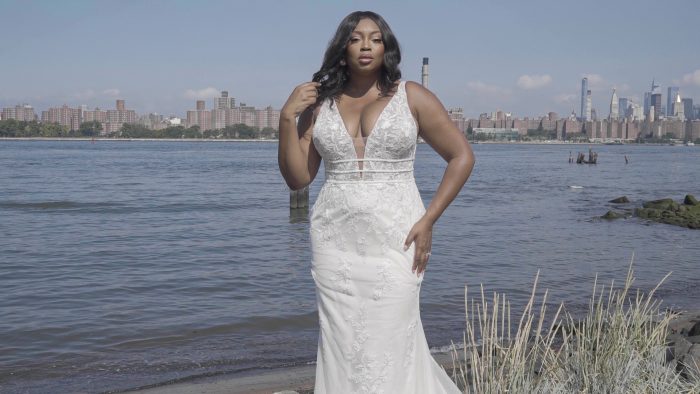 "I absolutely LOVED shooting by the water in Angie because I felt like the new Statue of Liberty!" – Liris
Plus-Size Beaded Lace Mermaid Wedding Gown Halle by Maggie Sottero
Just a casual reminder that not every beaded lace mermaid wedding gown is created equal. This particular number features a double fit-and-flare effect from cap sleeves to a trumpet train. What more could we ask for in one gown?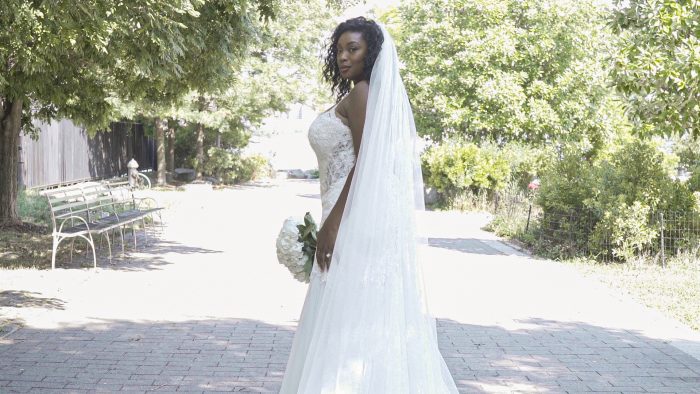 To see more curvy wedding dress inspo for your big day, check out our post featuring 15 Flattering Wedding Dresses for a Plus Size Bride and Plus Size Off-the-Shoulder Wedding Dresses for a Whimsical Celebration. And stay tuned to our Instagram and blog to see more new wedding dresses from our Spring 2021 collections!
Credits:
Director and Producer: Liris Crosse
Videographer, Co-director, and Co-producer: Ramon Pesante