Real Weddings
|
September 29, 2017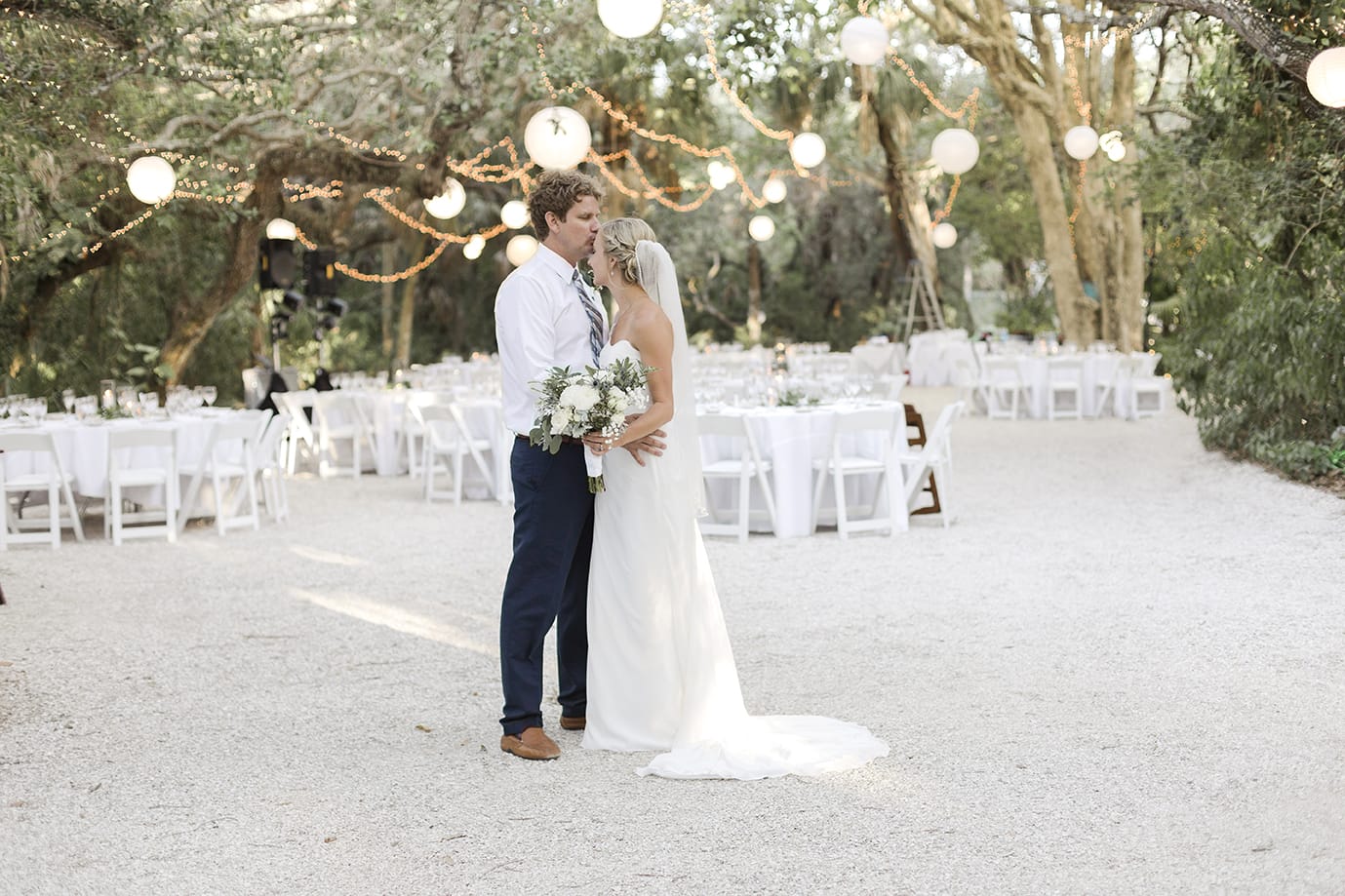 Our favorite thing about this beach wedding is that it doesn't feel restrictive. Leah combined rustic accents, clean white florals, and pretty pops of color, while staying true to the easy-breezy appeal of delivering your vows seaside. And don't forget about our #maggiebride's chic chiffon wedding dress!
If you too love the idea of a destination elopement or nautical theme, head over to Pinterest and browse our favorites! This lovely occasion was shot by Carography Studios. Glowing under that beach-sunset-sunshine is Linda by Rebecca Ingram, a simple chiffon wedding dress featuring an ultra-flattering corset closure and asymmetrical ruching. Find this budget-friendly gown at an Authorized Retailer near you!
Which Maggie Sottero gown did you wear?
Linda by Rebecca Ingram, purchased from CCs Boutique in Tampa, FL.
How did you know when you found "the dress"?
The night before I went dress shopping, I spent hours looking for dresses online for inspiration and to give direction to whomever would be helping me. I was particular about what I wanted for our venue and out of the millions of beautiful dresses on the internet and Pinterest, I "pinned" two that I liked for my wedding. Linda by Rebecca Ingram was one of the two I picked online that I liked. It was the first dress I tried on at the boutique, and nothing else compared to it.
What was your favorite part of the dress?
Its simplicity and elegance.
How did you and your partner meet?
In the classiest, most romantic, and dreamiest way imaginable… at a bar in Key West at 3 a.m. in the morning! Haha, still trying to think of a different way of wording that for the kids one day.
How did he propose?
In his hometown in Chargrin Falls, in front of the falls. He asked me if I wanted to go shopping and grab a drink yes (umm.. YES) and surprised me with a proposal.
Where did you get married?
Manasota Beach Club in Manasota Key Florida.
Did your wedding have a theme?
Not really, the venue itself is so naturally beautiful we didn't need or want to take away from it.
How did you decide what you wanted your wedding to look like?
The Manasota Beach Club was the perfect setting for our personalities and represented the things we enjoyed and appreciated—the water and nature with that old Florida vibe. We were not too concerned about decorations; we just wanted something classic and elegant.
What was your favorite wedding day moment?
The ceremony was very special to me. I felt like I was in a trance and that there was nobody else at the wedding but the two of us.
Describe your wedding in one word.
Perfect.
What advice do you have for future brides?
In the midst of all the fun and excitement, try to stop and take a moment to look around at all your favorite people together, with all the beautiful decorations, and enjoy the beauty of it all.
Love this beach-side wedding featuring clean, white florals and a chic chiffon wedding dress? Browse our beach wedding inspo on our blog!