Dresses
|
August 14, 2023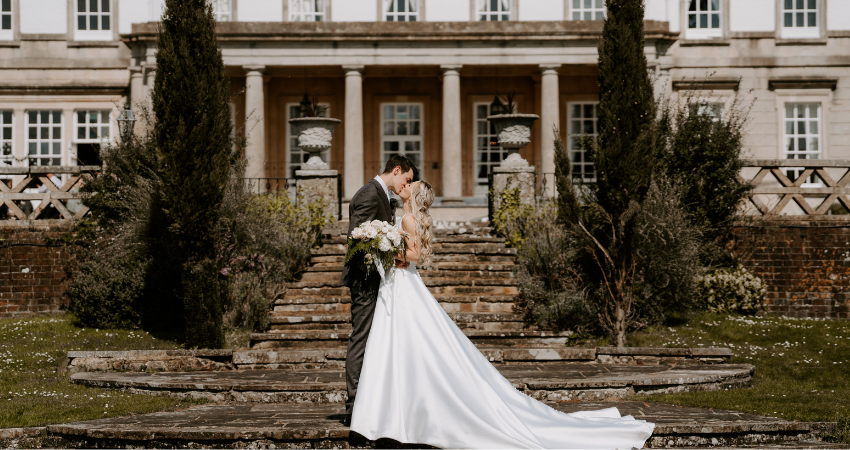 Let's get back to basics! Brides may have more variety and shopping options than ever, so it's a true testament to the timelessness that simple wedding gowns are at the height of their popularity. Think clean silhouettes, luxe fabrications, subtle shimmer, and eye-catching illusion. For 21st-century brides with elevated aesthetics, the magic of minimalism is undeniable. To celebrate this captivating bridal trend, here are fifteen simple, elegant wedding dresses from our latest collections.
Psst… If you'd love to see the captivating styles below, make sure to check out these gowns IRL at one of our Authorized Retailers by clicking the button below!
Why are Simple Elegant Wedding Dresses Popular?
Simple elegant wedding dresses have become incredibly popular in recent years and it's easy to see why! With their clean lines and minimalist designs, these dresses exude elegance and sophistication. Many brides are gravitating toward elegant minimalism on their big day, and the simplicity of these dresses perfectly complements that trend. Plus, simplicity allows the bride's natural beauty to shine through, making her the center of attention without being overwhelmed by ornate details or excessive embellishments.
Another reason for the popularity of simple wedding dresses is their versatility. Whether you're having a small and intimate ceremony or a grand celebration, a simple dress can suit any wedding style or theme. It can be easily accessorized with stunning jewelry or a statement veil, allowing brides to still make a personal fashion statement without compromising on their desired level of simplicity. Additionally, these dresses provide a blank canvas for brides to showcase their unique style and fashion sense, as they can be easily customized or tailored to individual preferences.
Lastly, simple wedding dresses offer practical benefits that many brides find appealing. With fewer layers, intricate beading, or extensive trains, these dresses are often lighter and more comfortable to wear for an entire day of celebration. This comfort factor allows brides to fully enjoy their special day without feeling restricted or confined by their dress. It's no wonder that more and more brides are opting for simplicity when it comes to their wedding day attire!
Simple Fitted Wedding Dresses
Love a fitted gown with simple elegance in every stitch? Then you'll love our simple elegant wedding gowns in the fit-and-flare and mermaid varieties!
First up? Marilyn by Sottero and Midgley! This stunning fitted wedding dress effortlessly exudes timeless grace. Crafted with modern satin and an asymmetrical neckline, it accentuates your curves in the most flattering manner. The cinched waistline flows into a dreamy, fitted skirt, giving you an old Hollywood-inspired appearance as you glide down the aisle. With its striking and elegant details, this dress is perfect for the bride looking for an edgy yet elegant look on her special day.
Psst… To make this designer gown over the top, consider pairing a matching bow!
For a more classic take on a fitted satin gown, consider saying "yes!" to Josie! In this exquisitely fitted wedding dress, you'll feel no less stunning than Audrey Hepburn herself. Expertly crafted with chic and creamy satin, Josie features an off-the-shoulder neckline, adding an element of elegance. The fitted bodice hugs your figure in all the right places and gracefully transitions into a flowing train. If you are dreaming of a classic yet romantic look, this dress is your perfect match, capturing the essence of true love and fairy-tale magic.
Love simple wedding dress looks? Read our blog to see more simple wedding dresses like this!
For brides who love simple bridal dresses with a dramatic flair, look to Holden by Sottero and Midgley. Bodice and silhouette-wise, this style is simple and clean. Embellishment-wise, it's sexy and over-the-top with its beaded body suit designed to add sleeves. Add this statement accessory for the perfect balance of both worlds!
Other personalization options include lengthening or shortening the train, adding the detachable beaded belt, or simplifying with the strapless variation accented with illusion tulle gloves–So fashion-forward, so chic! This style would also look stunning with a veil!
Love this selection of simple elegant wedding dresses? Take your inspiration to the next level with accessories and personalizations! Not only are minimalistic wedding dresses the perfect complement to shimmery statement embellishments fabulous beauty looks, but they also offer a fresh and elegant foundation for simple bridal aesthetics, effortless hair and makeup, and easy-breezy venues. You simply can't go wrong with these timeless designs.
When you're ready to try on wedding dresses IRL, you can Find An Authorized Retailer. Your bridal stylist will help you shop gowns, plan bridesmaid looks, personalize with accessories and order variations, and curate your one-of-a-kind wedding aesthetic.
For the fashion-forward bride who wants a contemporary twist, this simple fitted wedding dress is an absolute showstopper. The clean lines and sleek silhouette give off an air of sophistication, while the detachable satin train with chic 3D florals add that bit of maximalism brides love! Its minimalist design is enhanced by the matching florals attached to the off-the-shoulder straps, adding just the right amount of flair. This dress is a perfect blend of modern and chic, leaving every onlooker in awe!
For the bride who appreciates simplicity and understated beauty, this fit-and-flare simple wedding dress is a dream come true. Its clean and modern design features a banded straight neckline, asymmetrical bow, and classic Mikado fabric, exuding an air of timeless elegance. The fitted silhouette gracefully hugs your curves, culminating in a breathtakingly simple and sophisticated train. This dress proves that less can indeed be more, showcasing your natural beauty while adding a touch of sweet simplicity.
Speaking of modern banded necklines, fall in love with Francine by Rebecca Ingram – the crepe counterpart to Mitchell's simple look! Daring meetings elegance in this crepe simple wedding dress that's perfect for any venue, season, or celebration you can imagine! With artful lines and buttons from head to hem, you'll fall in love with this modern bridal gown.
Find more crepe wedding dresses like this by reading our blog!
Fernanda by Maggie Sottero is another one of our crepe simple wedding dresses that we can't help but love. With graceful lines, chic buttons, and a V-neckline and back, this is the perfect option for brides who aim to be sexy yet elegant. And if you'd love this look for a winter wedding, consider adding the detachable long sleeves!
For a wedding dress as dazzling as Bracken, we will allow a little bit of lace with our simple wedding dresses! We can't get enough of this sophisticated yet sexy fit-and-flare bridal gown! If you love this dress, look at some of the oh-so-chic personalizations:
We don't only carry simple elegant wedding dresses in to-die-for fitted gowns! Keep reading to see simple looks in A-line and ballgown silhouettes.
Simple A-Line Bridal Gowns
Nothing says simple elegance quite like Selena! This square neckline A-line simply oozes modern romance with a pleated full skirt, and chic buttons down the back! And psst… you can make this beautiful Quick Ship dress strapless!
Sometimes simple wedding dresses only extend to the fabric! With off-the-shoulder puff sleeves, a deep portrait neckline, and vintage-inspired buttons down the front of the gown, Juniper is giving Bridgerton in the best way!
Love the French Blue hue of this look and are curious about our other colorful wedding dresses? Read our blog to see more colorful gown options!
Love chiffon but want something with a little more lace? Say hello to Lorraine by Rebecca Ingram! Picture yourself standing in a lush garden, surrounded by fragrant blossoms, as the sun casts a gentle glow over your special day. This A-line wedding dress is the epitome of simplicity and elegance, with its clean lines and delicate lace details. The soft white fabric hugs your figure gently, accentuating your natural beauty and making you feel like an ethereal goddess as you walk down the aisle. Its simplicity is enchanting, and its timeless design ensures that you'll never go out of style!
This isn't our only Lorraine gown though! This wedding dress has five other sister gowns that differ in coverage, fit, and fabric! Check them out here.
Another simple Rebecca Ingram dress that we love is tulle beauty, Joanne! Radiating a touch of vintage charm, this exquisite A-line wedding dress is a dream come true for the modern romantic. Its plunging neckline and vintage tulle sleeves evoke a sense of nostalgia, reminiscent of classic love stories. The soft, flowing skirt gracefully trails behind you as you dance your way into forever. With its simplicity and vintage-inspired details, this dress is destined to be a timeless treasure, reminding you of the boundless love that brought you to this moment!
Effortless, yet undeniably sophisticated, this simple A-line wedding dress is the epitome of modern beauty. The clean lines of the minimalistic design are amplified by the architectural structure, accentuating your silhouette flawlessly. Made from luxurious pleated satin, this gown drapes beautifully across your body, exuding a sense of timeless glamour. With its simplicity and contemporary edge, this dress is a true reflection of your confident and refined style!
Last, but certainly not least, we can't forget about diva prima donna, Aspen by Sottero and Midgley. This striking satin gown features a daring cat-eye neckline, a full pleated skirt, and a daring thigh-high slit! And if it can't possibly get better, this black wedding dress is one of our coveted Quick Ship wedding dresses!
Simple Elegant Wedding Dress Accessories
You can't get married in one of our simple elegant wedding dresses without a simple accessory! Thankfully, we have a few for you to select that will match any dress you choose, simple or glam:
Looking for more inspo?
Follow our socials below for gorgeous style inspo from our runways, styled shoots, and Real Brides!
As always, you can check out any dress details pages to see if specific samples (aka the sample you try on in the shop) of these simple elegant wedding dresses can be found near your location. Happy shopping, and cheers for your best day ever!
More Blogs Like This:
Trend Alert: Barbiecore Wedding Dresses and Inspo
20 Quick Delivery Wedding Dresses For The Soon-To-Be Bride