Wedding Inspo
|
December 4, 2020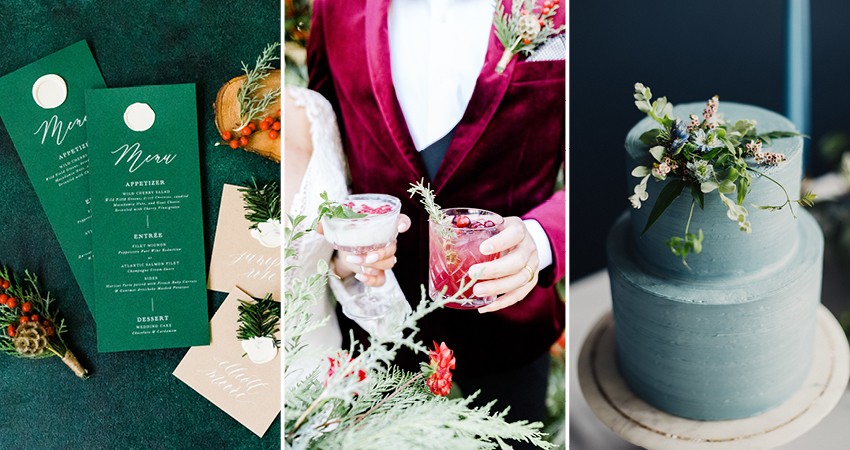 There's a special and inimitable charm to winter weddings. They're dreamy and sophisticated, intimate and relaxing, and primed for bold statements in color and embellishment. So if you're getting married during the wintery wonderland season, don't be nervous of so-called "stark" scenery and grey skies. They're exactly what you need to create a cozy party aesthetic with hue, texture, lighting, and contrast. Looking to curate your perfect cold-season celebration? Get started with our top seven winter wedding color palettes below!
The Palette: Ruby, Forest Green, and Ivory; The Mood: Holiday Eleganza
Give your guests the fête of the season with winter-themed goodies and jewel-toned palettes—the cheeriest combo for chilly temps and cozy venues. Incorporate ivory and ruby hues into your cocktails, florals, and wedding cake, then amp up the greenery for a refreshing snow-in-summer vibe.
PC: Vanessa Hicks Photography
(And of course, an ivory wedding gown like Armante by Sottero and Midgley looks UH-MAY-ZING next to a jewel-toned groom's suit. This couple's divine and winter-happy ensemble hits all our requirements.)
For brides going full-tilt on holiday themed décor and winter wedding color palettes, check out our gallery of festive wedding inspiration in the link!
The Color Palette: Deep Pine Green, Toffee, and Cream; The Mood: Sweet and Sylvan
PC: Mint Photography
When in doubt for winter wedding color palettes, head to the rustic spectrum. Toffee roses add a dose of sweet sophistication to this bride's overflowing bouquet, while soft cream accents bring out the lace and illusion detailing á la her romantic wedding gown and accessories.
Pull it all together with fresh pine green hues, and you've unlocked all your senses for a delectable wintery celebration. Love this gown? See our Winifred wedding dress here!
The Palette: Blush, Chocolate, and Berry Red; The Mood: Decadent Romance
PC: Brittany Martorella Photography
For Valentine-y winter vibes, give yourself over to the crimson and brown spectrum. This combo looks divine on a holiday banquet table, rich and sophisticated in a cascading bouquet, and sweet and girly for your bridal makeup look.
(We especially love these types of winter wedding color palettes to style an ultra-feminine and rustic wedding dress like Deirdre by Maggie Sottero. Look for texture and details like Chantilly lace to indulge your rich and opulent color palette.) This elopement wedding styled shoot looks good enough to eat!
The Wedding Palette: Blush, Oak, Eucalyptus, and Cream; The Mood: Cabin Weekend
Getting married in a winter lodge? Work with those natural wood backdrops and golden chandeliers for a cozy yet festive reception vibe. Eucalyptus is our go-to for winter greenery, while muted blush florals add a romantic glow to your bouquet and table runners. Your guests are sure to feel happy and relaxed among these elegant winter wedding colors. (Check out this full winter wedding gallery to get inspired!)
These kinds of neutral winter wedding color palettes would also look fabulous for an autumn celebration. Dive into nine harvest-themed and gothic-chic combos for fall wedding palettes in the link.
The Palette: Emerald Green, Brown, and Gold, Accented with Holly; The Mood: Shakespeare in the Forest
PC: Vanessa Hicks Photography
If William Shakespeare were a 2020 wedding planner, this saturated jewel palette would be his pen-and-ink for winter celebrations. Deep emerald adds a fantastical element to winter wedding color palettes, while bright holly creates bright and cheery contrast for deep hues and moody textures.
This invite display looks just like a Renaissance still life—complete with vintage calligraphy and wax seals. Magic!
The Palette: Sky Blue, Royal Blue, Blush, and Cream; The Mood: Early Signs of Spring
PC: Eden Strader Photography
For a chic and painterly vibe, elevate your winter wedding palette with two variations of blue: a deep Delft-like royal blue and a watercolor robin's egg. This double pairing is both soft and striking and gives your special occasion an air of regal sophistication.
From there, accents of blush and cream help to warm your blue combo, providing a subtle nod toward spring blossoms and rosy sunshine. Add in Gatsby-inspired wedding dress Ettia by Maggie Sottero, and you'll have an irresistible wintery look!
The Winter Palette: Muted Gold, Brown, and Vintage Ivory; The Mood: Glam for All Seasons
PC: Seedling Photography
For wintery neutrals, consider bride-inspired ivory as your main player, then offset with classy browns and muted gold. This bride used a faux fur wrap to cozy up her elegant ivory wedding dress, Evangelina by Maggie Sottero. She tne played up the beaded back embellishments with gold jewelry and her groom's gold watch.
It's a vintage theme with a holiday twist, perfectly adaptable to winter wedding colors and formal venues. And the simple ivory bouquet complements the bride's minimalist gown style—a timeless choice for immaculate "freshly fallen snow" vibes.
Looking for more wedding dresses to fit your winter wedding color palette? Check out some our favorite winter bridal looks in the link!
Without an abundance of summery blue skies and full-blooming garden backdrops, the season of "winter wedding colors" might seem like a bit of a paradox. But trust us, November through February is the perfect time for adding hue and contrast to a sweet and cozy wedding atmosphere.
Play with the jewel-toned spectrum for a moody and dramatic vibe—or go light and elegant with snowy neutrals and muted blushes. Deep green and gold help to anchor your winter wedding color palettes, while vivid berry tones add a dash of lush sophistication to cool-season décor. However you style it, color is the greatest gift for a chic winter celebration!