Real Weddings
|
December 22, 2017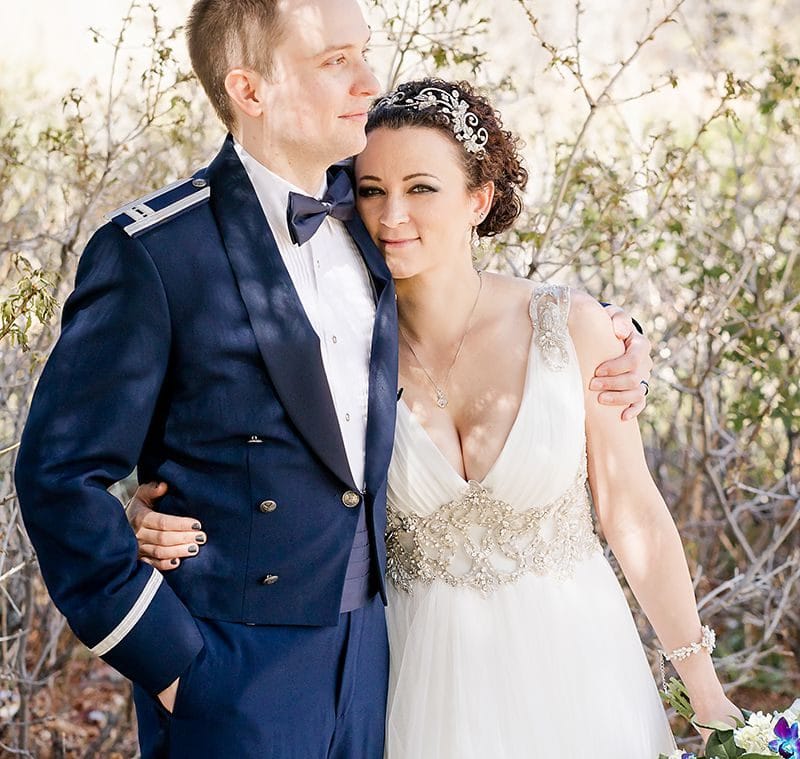 Maggie bride Meghan was inspired by the "ornate yet clean" architecture of the Art Deco era, which makes perfect sense when it came to her choice of gown—Phyllis is timelessly elegant, but features intricate details and embellishments for a totally romantic feel. Keep scrolling for the full story and gallery!
This gorgeous wedding was shot by Powell Woulfe Photography.
Which Maggie Sottero gown did you wear?
Phyllis by Maggie Sottero
How did you know when you found "the dress"?
I was so comfortable—I felt as though the dress was made for me and my personality.
What was your favorite part of the dress?
I love the back! All the gorgeous bead and lacework was a surprise for everyone looked at the dress, they never expected it and loved how it looked!
How did you and your partner meet?
We met on Eharmony but only lived two miles from one another. We got along perfectly from our first date which, with anyone else, would have been the worst first date ever, but he spent the whole time being a goofball with me, so we just clicked!
How did they propose?
He made pancakes and bacon, and asked me if I would say "yes" while taking the ring out of his pocket.
Where did you get married?
The United States Air Force Academy Cadet Chapel in Colorado Springs, CO, on May 20, 2017.
Did your wedding have a theme?
Art Deco (architecture, not Great Gatsby).
How did you decide what you wanted your wedding to look like?
We both love the ornate, yet clean architecture of the Art Deco era, and it mixed well with the academy, so it worked well.
What was your favorite wedding day moment?
On the steps outside the chapel when we took a picture with all of our friends and family members. There was a crowd of tourists watching, taking pictures as well. After the picture was taken, everyone from the wedding and the tourists visiting the academy started mingling and chatting. Everyone just came together and, for at least that moment in time with no barriers, just happiness.
Describe your wedding in one word.
Relaxed.
What advice do you have for future brides?
Don't let others take over your wedding, and take a chill pill!
Head to an Authorized Retailer to find your romantic wedding dress.