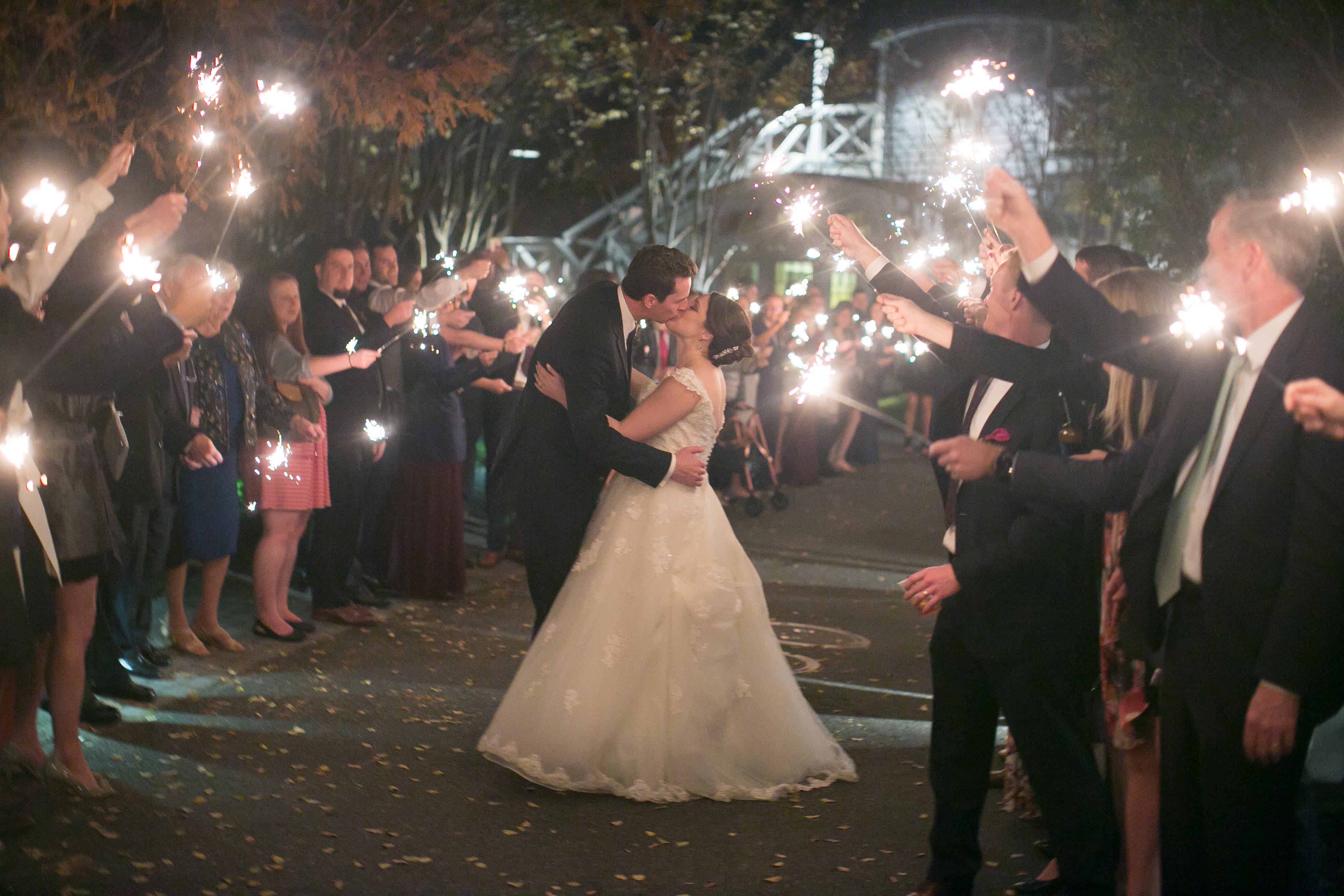 We love this Maggie Bride's online dating and college spirit-themed love story. These two met on "Bumble," and bonded over UMD activities and holiday parties, eventually leading (appropriately) to a Christmas proposal and beach club wedding with accents from their alma mater. Keep scrolling for the full gallery!
Love this bride's timeless lace ballgown? Head to an Authorized Retailer to find your fairytale-ready style today.
This gorgeous occasion was shot by We Are the Mitchells Photography of Virginia.
Which Maggie Sottero gown did you wear? Saffron, purchased at Betsy Robinson's Bridal in Maryland.
I added a lace trim to the bottom of this dress that was also used on my veil, which was custom made by our dear friend, Tracy Young, who also does wedding dress alterations and makes veils. It was very meaningful.
How did you know when you found "the dress"?
I had been looking for a classic A-line and non-strapless dress with beautiful detail throughout the gown and this one had it all. Adding the lace felt like it made it my own and completed the look I had dreamed of.
What was your favorite part of the dress?
The lace detail from the sleeves and throughout the skirt. And mostly how I felt in the dress, beautiful and bridal!.
How did you and your partner meet?
We met on Bumble, a popular dating app. After exchanging a few messages Ryan learned that I shared his affinity for Kirk Cousins and he "liked that!" A few days later we met for our first date at Slipstream in DC. The very next day was University of Maryland homecoming where Ryan crashed the Hoffman's alumni tailgate and we spent the entire day together, and ended up watching the Turnpike Troubadours concert that night at the Fillmore in Silver Spring. A few weeks, and dates, later Ryan invited me to the UMD alumni holiday gala. Over the following months we were inseparable—traveling, attending weddings, playing flag football, and falling deeply in love with each other. On December 27, 2016 Ryan surprised me with a diamond ring at the bottom of my stocking, and the rest as they say, is history.
Where did you get married?
The ceremony was at St Mary's Parish in Annapolis, and the reception was at Chesapeake Bay Beach Club in Stevensville.
How did you decide what you wanted your wedding to look like?
We wanted it to look effortlessly chic and classic by tying in unique fall specific elements like rich gold and wine (burgundy) tones with pheasant feathers and pomegranates and apples.
What was your favorite wedding day moment?
When Ryan and I said our vows to each other—that's what we were there to do, commit ourselves to one another. Sharing that with all of favorite loved ones was something that will always bring a smile to my face.
What advice do you have for future brides? Be present in every moment that leads up to the day and most of all in all of the beautiful moments that make up your wedding day. Look at the faces and notice the smiles that surround you. Remember that this is the celebration and kickoff off for the adventure ahead for you and your loved one.
Describe your wedding in one word.
Magical.