Dresses
|
December 10, 2021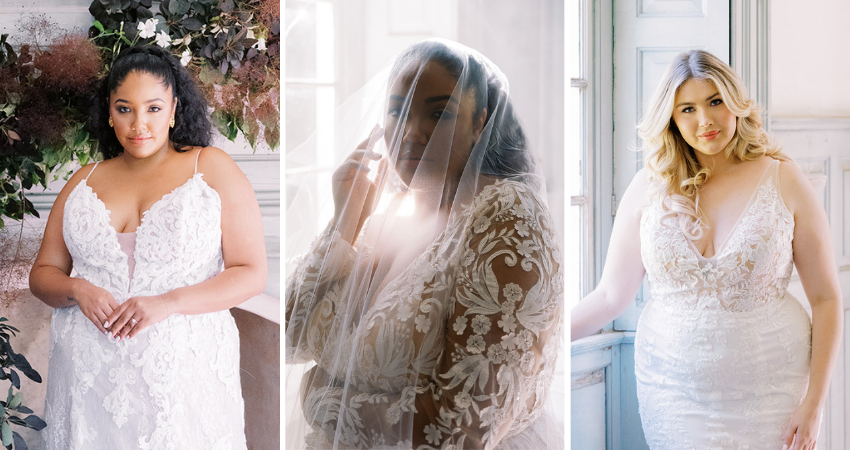 Do you often dream of running through a field of wildflowers in a flowy gown? Or having Taylor Swift's "Folklore" album be the background music to your life? Us too! Warm sunlight, elegant lace dresses, and lush botanicals have filled up the spaces in our minds. No need to imagine though! Persephone Maglaya at Media Socialites recently brought this dream to life in our plus size wedding dresses stylized photoshoot.
In this dreamy shoot, we highlighted some of our popular Maggie dresses on curvy brides. At Maggie Sottero, we take pride in our inclusive gowns for every bride, because everyone should be able to live out their favorite daydream on their wedding day. To dive headfirst into your favorite cottagecore fantasy, keep scrolling and see some of the beautiful models show off these romantic gowns!
This whimsical A-line looks like it was practically made for our stunning model. The structured bodice and plunging neckline are not only uber flattering on a curvier figure, but it's eye-catching as well. The sparkle tulle skirt and 3D lace appliques only add to the playfulness of the gown. As if this princess-chic dress could even more gorg, you can personalize this look for your love story by adding detachable bishop sleeves.
If you've fallen head over heels for this gown you're in luck! Stevie is one of our many affordable wedding dresses. To explore more whimsical options like this, explore our Affordable Dresses Trends page.
Is there anything better than comfort and fashion? Just ask our gorgeous model who rocked Roxanne by Sottero & Midgley. This breezy gown's sensual lines highlight your curves and enhance your figure, while also staying light and breathable. The dreamy boho gown also boasts all-over sequins, a deep V-neckline, and, wait for it, POCKETS. We're sold, are you?
A-line wedding dresses have always been popular plus size wedding dresses. Not only are they the comfiest of the silhouettes, but they also highlight and emphasize curvy features. Stiffer materials, like Mikado and lace, retain the shape of the A-line dress, making its flattering features perfect for curvy body shapes.
For more soulful gowns like Roxanne, head to our Bohemian Find Your Style Page!
What's that saying? A dream is a wish your heart makes… Well, Zander by Sottero and Midgley is definitely a dream. This long sleeve, plunging V-neckline gown is a romantic choice for our plus-size brides. The contrasting tulle and sheer lace bodice perfectly complement the feminine shape. Additionally, the 3D floral motifs will make your walk down the aisle as romantic as any fairytale.
Not only does this dress come in the traditional colors of ivory and champagne, but it also comes in a daring black for our adventurous brides. Zander also comes with a tulle veil accented with lace that is sold separately to truly complete your bridal look. This dress is the materialization of dreamy royalty – perfect for a bride looking for plus size wedding gowns.
Tuscany Lane by Maggie Sottero is one of our favorite plus size wedding dresses for brides looking to show off their impeccable taste. This slinky A-line perfectly amplifies your curves while the plunging illusion V-neckline tastefully shows off your bust.
The lace motifs and chantilly lace are just one highlight of this gown! The sequined lace screams classic and romantic causing you (and your partner) to fall head over heels in love with it. The build of this gown is also ideal for plus-size brides. For our curvy brides who have a bigger bust, the structured, illusion back will not only make you feel secure on your wedding day but will also keep you feeling sexy all night long.
Tuscany Lane just got better, however. Being one of our more popular gowns, you can find this dress in seven different styles that appeal to every kind of bride.
Can you say wow?! Tristyn by Sottero and Midgley is the ideal choice for our unconventional, chic brides. We could talk for days about this gown, but let's start with the obvious: the black lace motifs. This swirly gothic pattern wraps around the gown, lengthening and shaping brides who dare to wear this unique and gorgeous dress.
We love how universally flattering this sweetheart neckline is as well. And to just be a little bit more dramatic, the entire dress is made out of a starry, sequined tulle. As if this dress couldn't be more perfect, our amazing designers have also paired this gown with an eye-catching veil with lace edging that is sold separately.
At Maggie, we know that not every bride is looking to wear the traditional ivory gown. That's why we've designed several wedding gowns that come in black for brides hoping to stand out on their wedding day! If you're hoping for a little goth moment for the big day, consider Tristyn or one of our many other onyx gowns.
The phrase "business in the front, party in the back" can be applied to a lot of things, but definitely to breezy Gabriella by Rebecca Ingram. With a sweet boho lace in the front, and a sexy, open key-hole back, all eyes will be on you on your wedding day.
Remember that field of wildflowers we were talking about before? You certainly won't have an issue running in this gown! We love the soft Arlo chiffon skirt this gown is made of. Not only are you able to comfortably move in it, but the soft fabric creates stunning, organic movement that's perfect for dancing the night away. The spicy plunging illusion V-neckline is just the cherry on top of an already perfect gown.
Backless gowns are definitely a trend we've been loving here at Maggie. For more backless inspiration check out our vast collection of backless gowns!
Garden-inspired Greenley by Maggie Sottero is another of our gorgeous plus size wedding dresses. There are so many things we love about this gown, but can we talk about the shape for a second? This floral fit and flare cling to your curves while flattering your shape, making this perfect for our beach-loving curvy brides.
We also love the versatile v-neckline this gown sports. Not only is it uber flattering, but it's also easy to style with jewelry and accessories. Additionally, the "ooh la la" factor of this gown is to die for. Just because it's a romantic gown, it's still sexy and fun – especially with the illusion V-back and sequined bodice!
Love the plus size wedding dresses that you've seen so far? Maggie Sottero has dozens of options to pick and choose from so you can find your perfect gown for your big day. Make sure to find an Authorized Retailer near you to go and try on your future wedding dress in person!
Need more plus size wedding gowns inspiration? We've collected a list of the most flattering wedding dress silhouettes for curvy brides, our favorite V-neck wedding dresses for plus size brides, and the sexiest off-the-shoulder gowns we carry! Make sure to check out one of our plus size bridal shops that carry our Maggie gowns and get started on making your dream wedding day come true!