Wedding Inspo
|
November 14, 2022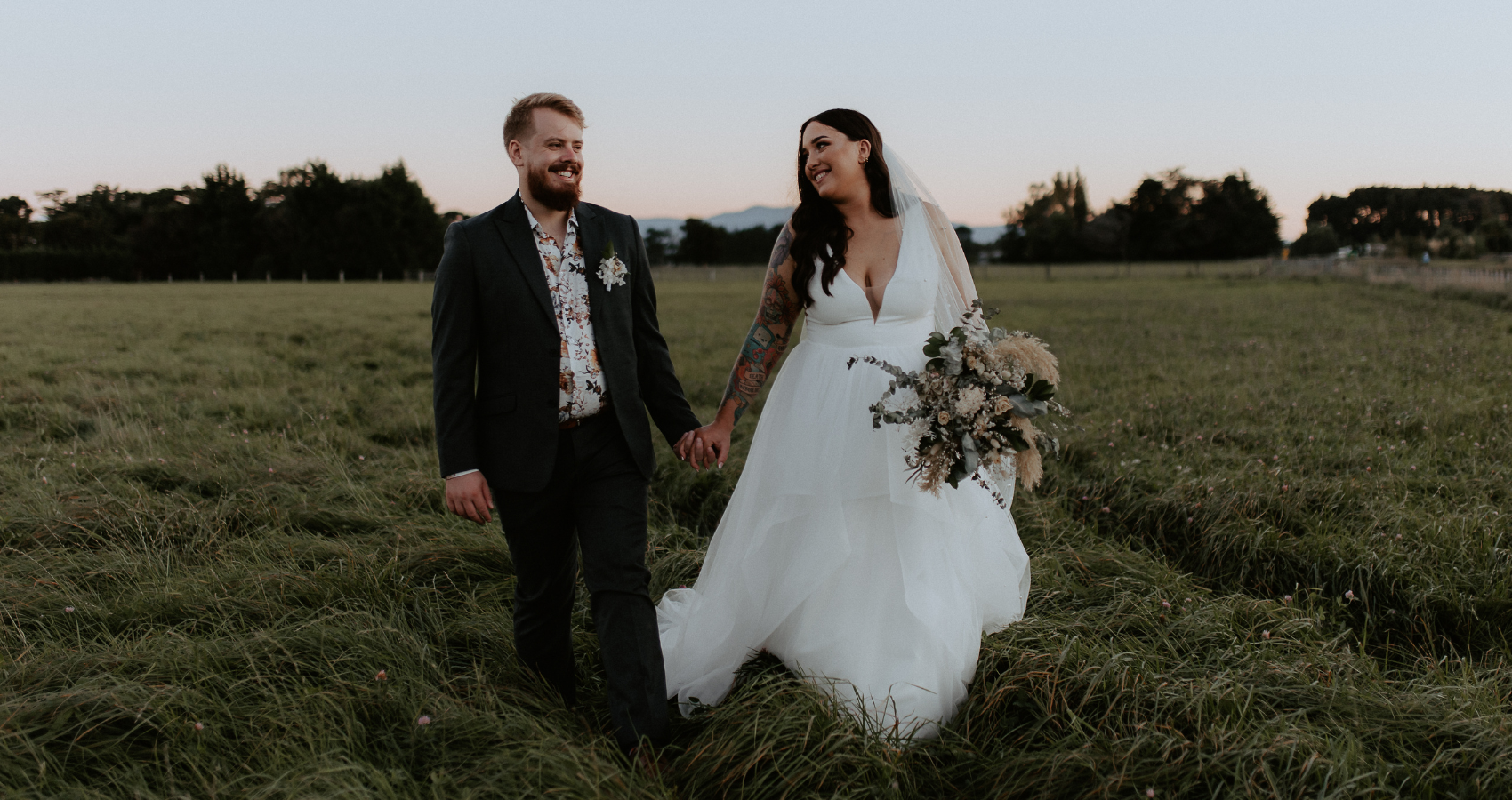 Is there anything more trendy than a micro wedding right now? We don't think so. In the past few years, smaller weddings have become a huge buzz because of how affordable, intimate, and memorable they are! If this kind of wedding sounds like the type of wedding you'd love to say "I do" at, keep reading for all of our micro wedding ideas, and sign up for our exclusive #MaggieInspiration text messages below for all the bridal inspo!
What is a Micro Wedding?
PC: Ashton Rowan Photography
First of all, what is a micro wedding? This intimate type of wedding is defined by its personal nature. Typically, there are no more than 50 guests. You usually invite your closest family and friends who make up a majority of the guest list, and the number of people usually includes the vendors you hire for the day.
Additionally, it's usually a much more budget-friendly wedding (music to our ears!). With a smaller venue, guest list, less food, and fewer vendors you are able to spend less on the big day and budget more towards your must-haves (like the wedding dress of your dreams)!
Lastly, a micro wedding is a way to take some of the stress and hassle out of a typical day and put the focus back on your partner and you. Without the crazy number of guests, crazy amount of planning, and crazy amount of money, you're able to keep your wedding day centered on the two of you instead of anything else!
How Much Does a Micro Wedding Cost?
Good news! When you plan a wedding that's intimate like this instead of the traditional, big wedding, the cost decreases – along with your stress!
While your wedding cost depends on your guest count, you can expect your budget to be cut by about half if you decide to go forward with this type of wedding! Typically, the max amount that you will spend on your micro wedding is no more than $10,000-$15,000.
Psst… Want to keep the affordable wedding trend going for your wedding day? Take a look at our affordable wedding dresses!  
Ideas To Use in Your Micro Wedding
PC: Antonioni Pro Pohotography
When planning your intimate wedding the sky is the limit in what you're able to incorporate into your special day! Keep scrolling for some micro wedding ideas from venues to wedding dresses, to reception ideas!
Tips for Creating Your Intimate Guest List
Our top tip for creating your guest list is to only invite your closest families and friends. With a micro wedding, you have the opportunity to keep your wedding small and intimate, and only have the people you really want there. Typically, this type of wedding has around 50 people or fewer.
Pro tip: If you're worried about people you haven't invited feeling left out include a Zoom link on the invitation or create a Facebook Live!
Micro Wedding Venue Ideas
PC: Dana Lynn Photography | PC: Lernia Winter Photography | PC: Dream Street Photography | PC: Jason Hicks Photography
When it comes to finding your venue, you have a lot more options than you would when planning a traditional wedding! Fewer guests mean less space needed so you have more to choose from. Here are some micro wedding venue ideas to inspire you:
You and your partner's favorite art gallery.
An intimate backyard celebration.
A traditional City Hall ceremony followed by a reception at your house or favorite restaurant.
Lake side celebration.
Rent an Airbnb for you and your guests and make a weekend out of it.
Your favorite hiking trail.
A small beach wedding.
A brewery or winery.
Your favorite park.
Greenhouse or garden.
Best Wedding Dresses for Your Micro Wedding
While "micro wedding dresses" aren't restricted to a specific type of wedding gown, we have a few favorites that we suggest. Ultimately though, it should be a wedding dress that reflects your personality and isn't too difficult to wear since micro weddings are usually a little bit more casual. To get started, take our Style Quiz to get some more inspo based on your aesthetic, budget, and must-haves!
PC: Samantha Harrell Photography
First up on our wedding dress list is lacy beauty Fiona by Maggie Sottero! This sparkly fit-and-flare wedding dress is a great choice for our micro wedding brides. Its combination of modern and traditional details is sure to make a splash! Not only does this wedding dress have a ton of personalizations like changing the tulle, adding buttons down the back, and adding detachable lace off-the-shoulder sleeves, but it's also one of our Quick Ship gowns!
Since many times micro weddings are planned in a tighter time frame, our Quick Ship wedding dresses are the perfect option for this type of wedding. Explore more of these wedding dresses on our website!
PC: Tiffany Pacheo
Next is Joanne by Rebecca Ingram! With bishop sleeves, a plunging neckline, and vintage-boho tulle we love this gown for our more casual brides who want to be comfortable AND stylish! We love how this Real Bride styled it with whimsical hair accessories and romantic waves.
Kern by Maggie Sottero is another great option for a bride looking to have a more intimate wedding! This sexy lace wedding dress features an illusion lace neckline, fit-and-flare silhouette, and a sheer open back. This is another one of our Quick Ship gowns that you are able to personalize by changing the Chantilly lace to one with sequins and extending the train.
PC: Kimberly Kinder Photography
If you're a bride looking to have a boho micro wedding, Keating by Rebecca Ingram is the gown for you! This lacy vintage-inspired wedding dress is the perfect gown to wear at your intimate wedding in the mountains or on your favorite hiking trail with your partner and guests!
Love boho wedding gowns like this? Look at our collection of boho wedding dresses for more inspo!
Another lovely, lacy wedding dress is Dove by Sottero and Midgley! If you're looking to feel a little sexier on your wedding day, consider this floral mermaid wedding dress with a scoop back and plunging neckline! We imagine this gown at a small beach wedding with your closest friends and family. This dress comes with some amazing personalizations as well! Not only are you able to change the tulle, but you can extend the train, line the bodice, and get a matching veil in fingertip or chapel length.
PC: Bud Johnson Photography
Bracken by Sottero and Midgley is another sexy wedding dress option for your micro wedding! This beautiful crepe dress is the perfect gown for an outdoor wedding with its casual fabric, lacy bodice, and plunging neckline. The best part? You can add detachable lace sleeves or shop its Sister Style, Bracken Lynette by Sottero and Midgley for more coverage.
Tierney by Rebecca Ingram is another casual gown that's perfect for brides looking to have a lowkey wedding! This chiffon wedding dress features a plunging neckline and open back. The sexy side cutouts, and a slit in the skirt are just the cherries on top.
Last but certainly not least, Cameron by Maggie Sottero is a gorgeous wedding dress option for your micro wedding. This simple and off-the-shoulder wedding dress is the perfect micro wedding dress for brides who want a romantic, but fun option! For your ceremony, don Cameron's romantic detachable train, and for the reception lose it for a simpler and sexy look.
How To Plan a Micro Wedding Ceremony
PC: Jules Conrad Photography
Micro ceremonies aren't all that different than a traditional ceremony other than the seating chart. While traditional weddings usually have the aisles, with a smaller guest list you can feng shui the chairs a little bit more to your liking! Depending on your guest count, you could have the chairs organized in a half circle around you and your partner. Other ideas are organizing the chair in a circle, or if it's only a couple of people at your wedding having your loved ones up there with you!
For your micro wedding ceremony, make sure to have some sort of central spot to say your vows. A unique arch or beautiful background are great choices to keep your ceremony as personable as the two of you.
Psst… Because this type of wedding is so personal, make sure your vows are as well! Read our blog on how to write romantic wedding vows to say to your partner on your wedding day.
How To Plan Your Reception
PC: Kyla Jeanette Photography
The wedding reception is usually the most fun part of your wedding. But, with a micro wedding that fun is kicked up a notch! You're able to not only make the reception special for your guests, but you're able to make it special for you and your partner.
Here are some of our favorite reception ideas to make your intimate wedding just a little bit more special:
Food: You have a lot of options for food! Consider hiring a food truck for the day or making reservations at a restaurant. If you want to save even more money and personal, you could make your reception a potluck!
Seating Chart: With less guests you're able to have less seats! Consider renting one long table for your and your guests to sit, eat, and chat at.
Activities: Micro weddings are all about flexibility. So, pick some more out of the box activities for your wedding! Consider doing something fun and personal to you and your partner like bowling, roller blading, karaoke, board games, etc.
Micro weddings are a fun alternative to the traditional wedding and with these tips and tricks you can have your dream intimate wedding! For more tips and tricks, make sure to follow our socials below and read our blogs!
More Blogs Like This:
The Ultimate Guide to Setting Your Wedding Budget
How to Stay Stress Free While Wedding Planning
How A Real Bride Matched Her Wedding Aesthetic To Her Bridal Look