Tips and Trends
Wedding Inspo
|
October 14, 2023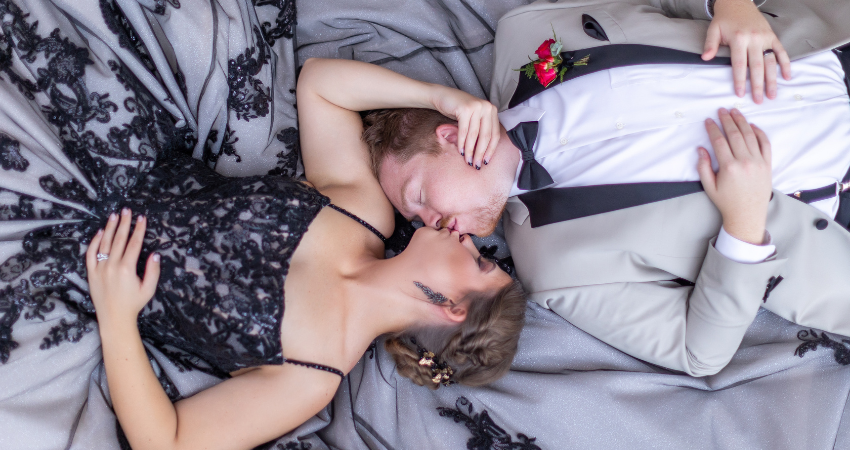 No surprise: We get a lot of wedding photography submissions here. We curate all the fabulousness, all the cool-girl inspo, all the trends, and all the timeless. We laugh and cry a little and get all giddy over the bridal portraits… Because when it comes to big-ticket splurges to make you love your day even more than you thought possible, there really is no comparison to the perfect wedding gallery! Keep scrolling for our favorite tips, insights, and inspiration to invest in wedding photography packages you'll love forever… Keep scrolling!
Wedding Photography Styles
The first thing to consider when choosing a photographer is which narrative style you'd like to create. Here we've compiled various types of wedding photography to guide your shopping and inspo browsing.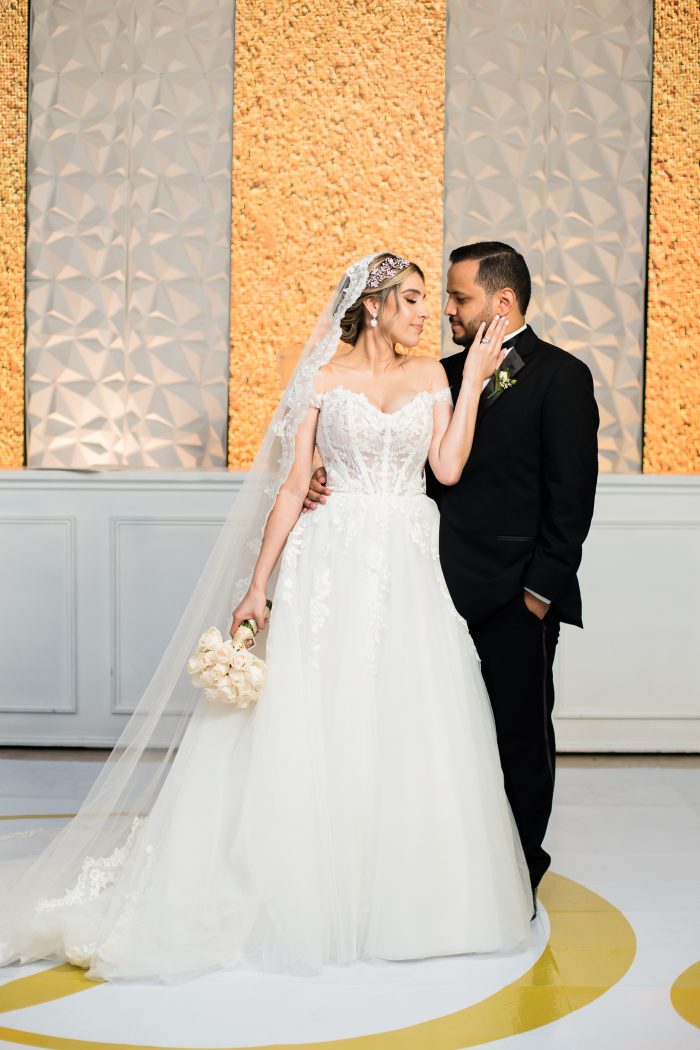 PC: Alejandro Mendoza
Traditional/Classic Photography
This style includes posed and formal portraits of the couple and their families.
It often involves traditional poses and compositions — classic and subject-focused with less emphasis on filters, choreography, atmosphere, or tricky effects.
The photographer provides direction to create timeless and well-composed images.
May blend color and black and white photography for a timeless feel.
Photojournalistic/Candid Wedding Photography
Similar to Documentary photography, this style focuses on capturing candid moments and emotions as they unfold during your wedding day. Think "emphasis on storytelling."
The photographer aims to capture genuine, unposed moments without much interference or direction.
Fine Art Wedding Photography Styles
This style emphasizes artistic and creative compositions with sophisticated shooting techniques, lighting, and tools. Analog film photographers tend to love this style.
It often involves the use of unique angles, lighting, and post-processing techniques.
The goal is to create visually stunning and aesthetically pleasing images that count as "works of art" to hang in your home.
Contemporary/Modern Wedding Photography
This style blends traditional and photojournalistic elements with a modern twist.
It often incorporates creative lighting, unexpected angles, playful flourishes, and unique settings.
The photographer may use innovative techniques to make the images distinctive and memorable.
Destination Wedding Photography Styles
These styles specialize in capturing weddings held in unique or exotic locations.
They often highlight the natural beauty and cultural elements of the destination, especially if you're getting married outdoors.
The photographer may need to adapt to different environments and lighting conditions.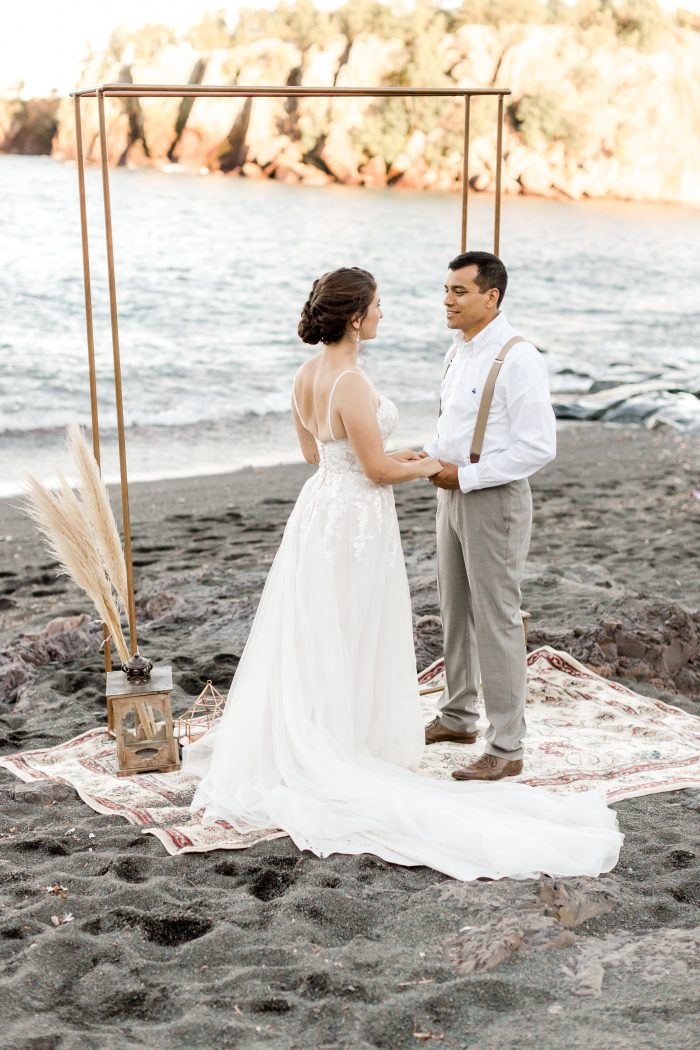 PC: Alexandra Robins Destination Photo
Lifestyle Wedding Photography
This style blends candid moments with a touch of editorial and lifestyle photography.
It often incorporates the couple's personality and interests into the photoshoot.
The photographer may work to create a relaxed and comfortable atmosphere.
Learn more about types of photography in our gallery highlights.
Wedding Photography Shot List
When meeting with your photographer and discussing your package, it's important to agree on a shot list of what you'd like included. Here are subjects and details we love to see from our real brides' galleries… Bookmark this page to use as a reference for your wedding photography shot list!
Pre-Ceremony Shots:
Bride and bridesmaids getting ready (hair, makeup, dress)
Groom and groomsmen getting ready
Individual portraits of the bride and groom in their wedding attire
Close-ups of bridal accessories (shoes, jewelry, bouquet, veil, etc.)
Candid moments of the bridal party getting ready (laughing, toasting)
Parents helping the bride and groom with final preparations
Shots of the wedding dress and suit hanging or laid out
Bride and bridesmaids having a champagne toast
Groom and groomsmen doing a cheers with a drink
Candid moments of emotions, nerves, or excitement before the ceremony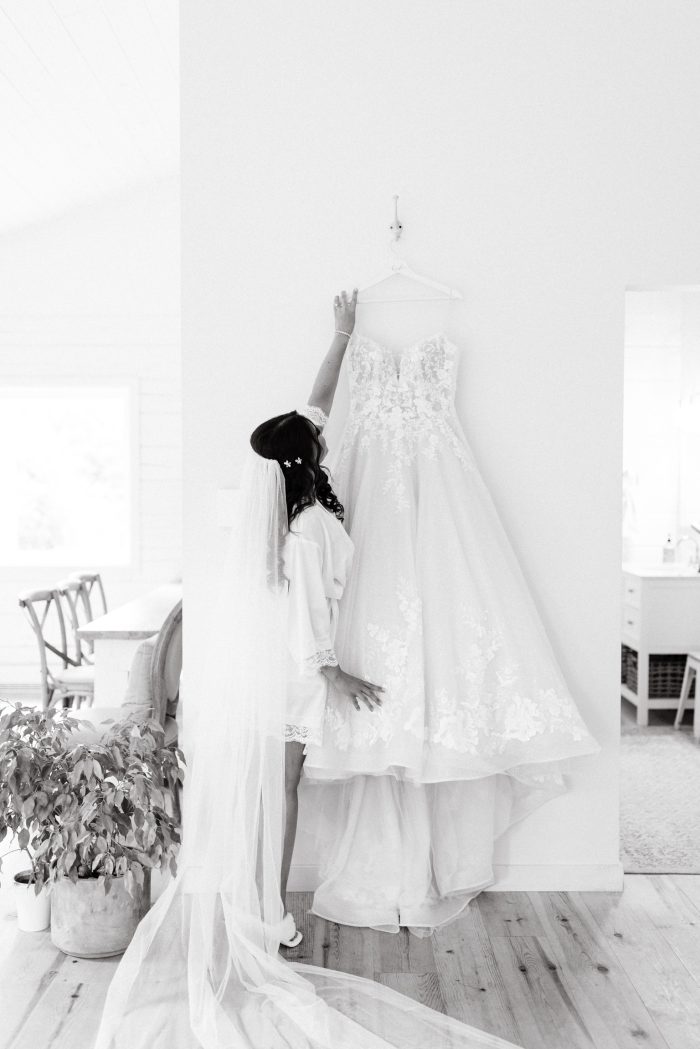 PC: Chelsea Mason Photography
Wedding Photography Ceremony Shots:
Wide shots of the ceremony venue and decor before guests arrive
Guests arriving and being seated
Close-ups of ceremony details (altar, flowers, signage)
Processional shots (bride walking down the aisle, bridal party)
Groom's reaction upon seeing the bride
Exchanging of vows and rings
Close-ups of the couple's hands during the ring exchange
Candid reactions of guests during the ceremony
First kiss as a married couple
Recessional shots (couple walking back down the aisle)
Bride and groom exiting the ceremony venue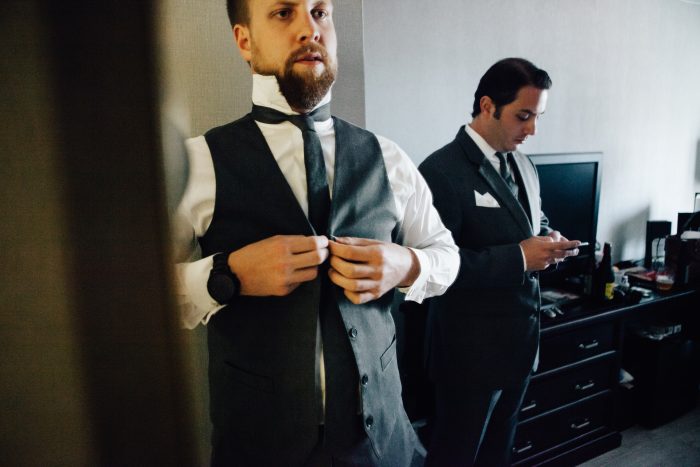 PC: Amanda Sutton Photography
Post-Ceremony Shots:
Formal family portraits (parents, grandparents, siblings)
Extended family and group photos
Bridal party photos (bridesmaids, groomsmen)
Bride with bridesmaids, groom with groomsmen
Candid moments with family and friends
Bride and groom alone for intimate portraits
Candid shots of the couple interacting naturally
Shots of the newlyweds leaving the ceremony venue (if different from reception)
Reception Shots:
Venue shots (interior and exterior)
Table settings and decor
Wedding cake and other desserts
Guests mingling and enjoying cocktails
Candid shots of guests during speeches and toasts
First dance
Parent dances
Cutting the cake
Bouquet toss
Garter toss
Guests dancing and having fun
Candid moments of laughter and joy
Evening or nighttime shots of the couple
Special details (guest book, favors, centerpieces)
Miscellaneous Wedding Photography Shot List:
Sunset or golden hour portraits
Romantic shots with creative lighting
Any special traditions or cultural ceremonies
Shots of the couple's exit from the reception
Shots of the couple in a getaway car
Venue details at different times of the day (morning, afternoon, evening)
Any surprises or unique moments planned by the couple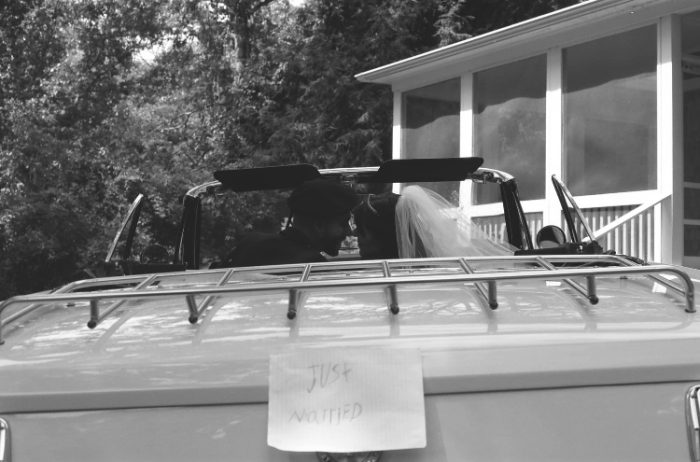 PC: Unknown
Wedding Photography Tips for Great Wedding Day Poses
While it's important to relax and trust the process to get great wedding photos, it's also helpful to prep a few "best practices" to feel and look your best in front of the camera. Here are a few ways to improve your outcomes and optimize the experience…
Practice Posing Beforehand
Spend some time practicing posing together before the wedding day. This can help you feel more comfortable and confident in front of the camera.
You can practice at home or with your engagement photographer to get a sense of what poses and angles work best for you as a couple.
Trust Your Photographer
Your photographer is experienced in capturing beautiful poses and moments. Trust their guidance and direction during the photoshoot.
A skilled photographer will provide clear instructions on how to pose, where to look, and how to position your bodies for flattering compositions.
Choose the Right Time for Photos
Consider scheduling a "golden hour" photoshoot. The golden hour occurs during the hour just after sunrise or before sunset and provides soft, warm, and flattering lighting for outdoor portraits.
If you prefer indoor shots, ensure there's ample natural light or talk to your photographer about their lighting setup.
Plan Adequate Time for Portraits
Allocate enough time for portrait sessions. Rushed photos can lead to stress and subpar results.
Factor in travel time if you want to take photos at multiple locations, and allow time for any wardrobe changes.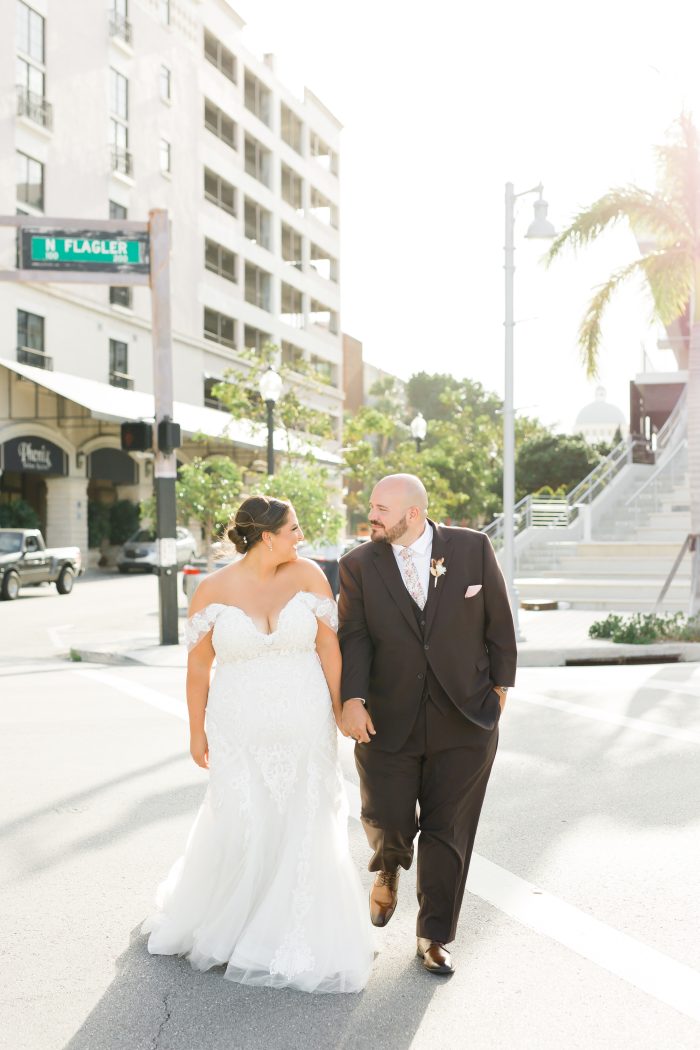 Relax and Enjoy the Moment
Try to relax and enjoy your wedding day. Genuine emotions and expressions make for the most beautiful photos.
Trust your photographer's expertise and allow them to guide you in posing and capturing candid moments.
Minimize Distractions
Inform your wedding party and guests about the importance of not blocking the photographer's view during key moments.
During posed shots, designate someone (such as a bridesmaid or groomsman) to help gather and organize the necessary people for efficient group photos.
Consider a First Look
A "First Look" is a private moment where the couple sees each other before the ceremony. This can result in some of the most genuine and emotional photos of the day.
It can also help ease any pre-ceremony nerves and allow for more time for portrait sessions.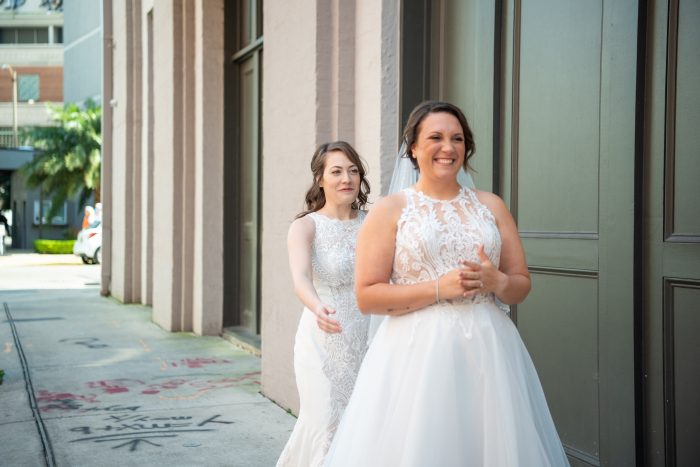 PC: The Red M Studio
Wedding Poses to Avoid
To help make the most of your wedding photography time and feel your best for portraits, here are a few things to avoid capturing on camera:
Overly stiff or formal poses with forced smiles and fake expressions
Awkward hand placement
Overly dramatic poses and angles (if you'd like a timeless look)
Overly trendy or dated poses, or poses that don't reflect your personality
Ignoring the venue or environment
Wedding Poses to Consider
Instead, focus on effortless and meaningful details you'll want to look back on for years. Here are a few wedding poses for brides to consider:
Buttoning up dress buttons
Getting ready together with bridesmaids
Hair and makeup
Admiring the dress
Putting earrings in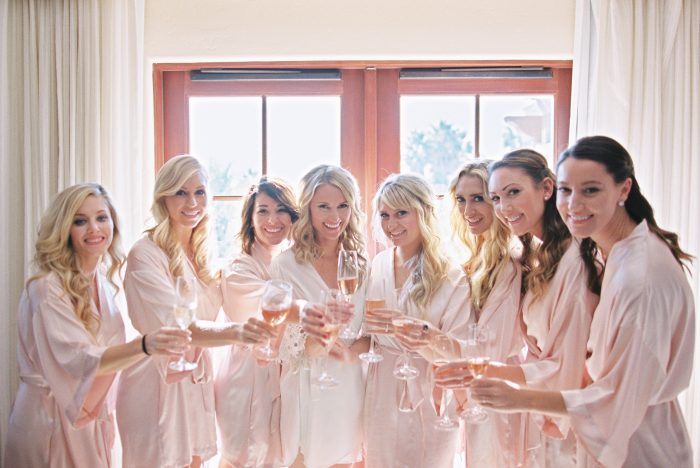 PC: Michael and Anne Photo
And wedding photography poses for grooms to consider:
Tying the tie
Groomsmen getting ready together
Group shots of groomsmen
Silly poses with the dudes
With your furry little friends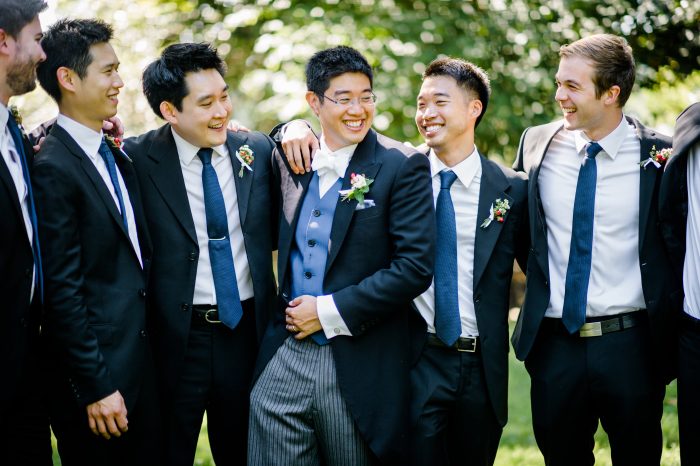 PC: Caroline Lima Photography
Wedding photography tips and poses for just you and your love bird:
Capture a First Look
Stepping into your getaway car
Use your bridal veil to wrap around and create unique framing effects 
A sultry look at each other — think "boudoir"
Your first dance
A passionate kiss
The sweet "dip kiss"
Use your wedding gown train as a blanket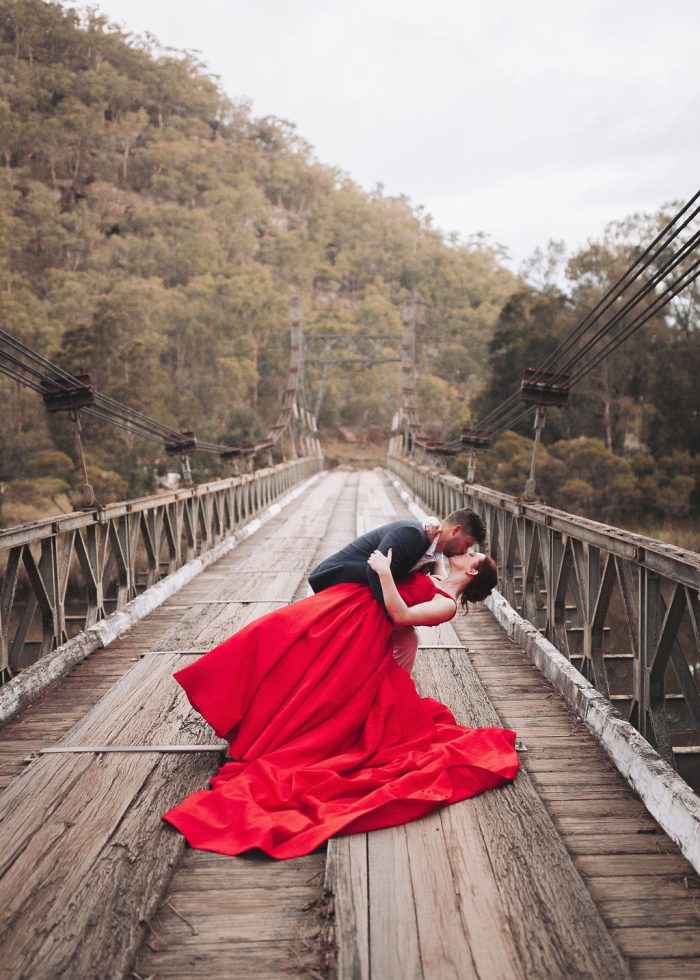 PC: Sarkodie Photography
Love our wedding photography tips? We can't wait to see the final results! Remember, whatever you plan or prep for perfect photos, the most important thing is to relax and enjoy every moment. Your wedding day will go by SO FAST, and no matter how hard you try to capture every last moment, it truly is a once-in-a-lifetime experience. Soak in the emotion as much as you can, and then relive the highlights once you get the final edit from your photographer. (And share your love story on our Real Brides gallery, of course!) 
More blogs like this:
How to Pick the Perfect Bridal Veil for Your Wedding Dress
The Best Bridal Accessories and Jewelry Styling for Maggie Brides
Dog Wedding Ideas to Include Your Furbaby in Your Big Day
Cheers to your perfect wedding portraits!