Tips and Trends
Wedding Inspo
|
September 7, 2021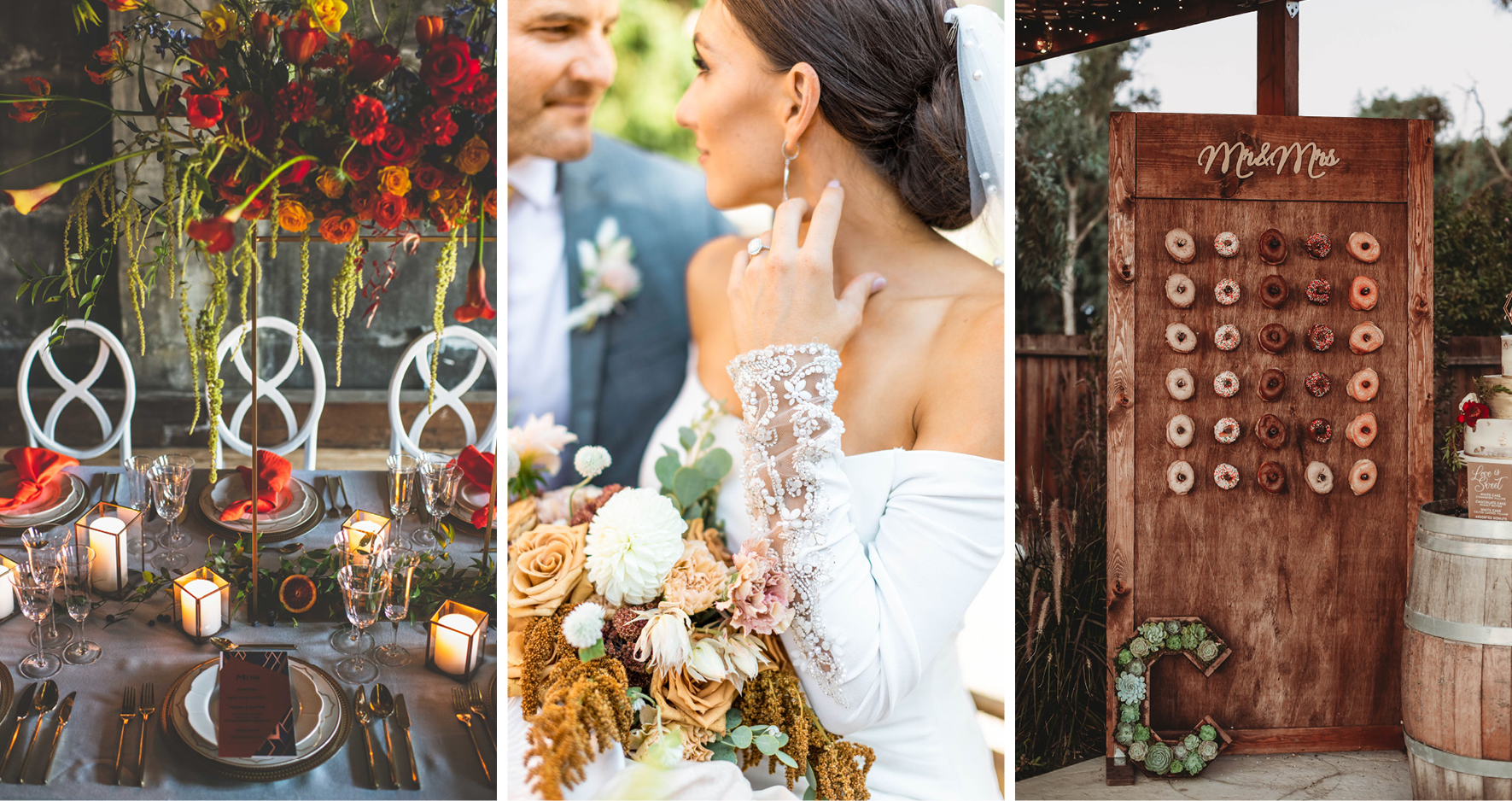 Spring weddings may be popular, and summer weddings may be magical, but autumn weddings take the cake with a special dose of moody sophistication! If you're in the books for a late summer or early holiday-season wedding, here are nine fall wedding color palettes for a cozy celebration—from airy and crystalline to lush and sultry. Keep scrolling!
First things first. What are good colors for a fall wedding?
What are good colors for a fall wedding, you ask? Here are some classic fall color combinations reminiscent of an autumn harvest that also double as fabulous wedding palettes. These cozy color combos include:
Crimson + Sienna
Jewel Tones, such as Red, Purple, or Emerald
Pumpkin + Sage Green
Caramel + Apricot and/or Peach
Navy Blue + Silver Accents
Berry Tones, such as Rich Purples and Reds
Black + Burgundy for a Gothic or Halloween Theme
Gold + Earthy Tones
Mustard Yellow + Champagne + Eucalyptus
Now that we have a good understanding of what colors are good for a fall wedding, we'll explore more in depth the most popular fall wedding color palettes for this year! Scroll on!
Bright Color Palette: Orange, Crimson, and Sienna
PC: Amanda Macchia Photography
Lay an elegant and moody foundation with browns and nudes like sienna, then add fiery red and burnt orange to evoke an autumn sunset. Play with this color palette in your napkins, table settings, and reception space. And while you're at it, add hanging florals and ivory candle centerpieces amidst greenery for a uniquely festive vibe. So chic!
Jewel Tones: Cranberry, Eggshell, and Emerald
PC: Eden Strader Photography; Dress: Suzanne Rose by Sottero and Midgley
Want to incorporate reds and greens into your fall wedding color palette? Use jewel tones and a few neutral accents to keep your theme from looking too Jingle Bells-y. We suggest pairing your wedding look with an evergreen forest backdrop for a serene and sophisticated vibe.
Fall Wedding Color Scheme: Caramel, Apricot, and Bay Leaf Green
PC: SV Photography; Dress: Charlene by Maggie Sottero
Surprising and contrasting hues paired together make for a trendy and sublime fall wedding color palette. Caramel, apricot, and bay leaf green give a seasonal vibe while creating a romantic fairytale autumn feel. We think this table setting complete with festive florals, elegant candles, and wicker chairs is a scene straight from a fairy tale. Wouldn't you agree?
Fall Wedding Color Palette: Mustard Yellow, Champagne, and Eucalyptus
PC: Hannah Mac Photography; Dress: Admina by Sottero and Midgley
In other words, load your banquet table with all the colors of the harvest! Consider incorporating sage and cream accents into your fall wedding color palette for a totally natural autumnal scheme. Then, choose a shimmery champagne wedding dress by Maggie Sottero, and pair it with a pumpkin backdrop for a fairytale wedding look. Magic!
Blue Accents: Navy + Muted Pinks
PC: Eden Strader Photography
For a late November wedding, play up the navy and silver theme by adding in muted pinks. There's nothing better than a soft and winter-y color palette to usher in chillier weather! We adore this velvet-blue wedding cake paired with vintage candles, pink and white ranunculus bulbs, and satin ribbons. The snowy contrast will leave your guests breathless!
Berry Tones: Crimson + Purple with Greenery
PC: Kellianne Korthof Photography
Don't resist your vampy side by combining striking and parallel colors. We love berry tones, and these made-for-each-other hues look stunning with cranberry and crimson accents with a touch of greenery. Exhibit A? This unique and modern fall wedding cake that's practically oozing romance. Gorgeous! To see more fall wedding cakes, click here!
Fall Wedding Color Palette: Muted Yellows and Oranges
PC: Style Me Pretty; Dress: Tuscany Lane by Maggie Sottero
To achieve a whimsical, almost summery vibe, take a palette typically reserved for spring weddings, then create a rusted, textured feel with muted yellows and oranges. We dig a good fall wedding color palette that features autumn harvest colors. Take your wedding portraits to the next level with a rustic, yellow rose bouquet and a historic red brick building as your backdrop. And if you're planning a summer bash, see more trendy summer wedding color palettes here!
Black + Burgundy for Gothic Wedding Theme
PC: Francesca Hill Photography; Dress: Zander by Sottero and Midgley
Dark and moody details make this fall wedding color palette stand out against a romantic backdrop. Hauntingly elegant, gothic wedding themes are perfect for a Halloween or mid-November wedding. For a more classic Halloween-themed wedding, lean into the natural hues of fall with amber and moss green. Or, for a more dramatic vibe, pair a black wedding dress with deep plum and burgundy florals. This palette is fabulously versatile and straight out of a gothic fairy tale!
Rustic Theme: Gold Shimmer + Earthy Tones
PC: Malissa Q Photography
For a more minimalist take on an autumn wedding palette, pair gold shimmer with earth tones and neutrals. Together, these color combos create the perfect foundation for a rustic and cozy celebration.
We hope you've enjoyed these 9 cozy fall wedding color palettes. You're now on your way to curating a gorgeous seasonal wedding. Next on your wedding to-do list? Check out these 7 winter wedding palettes for a chic celebration, as well as the unexpected perks and savings of having an off-season wedding. Cheers!