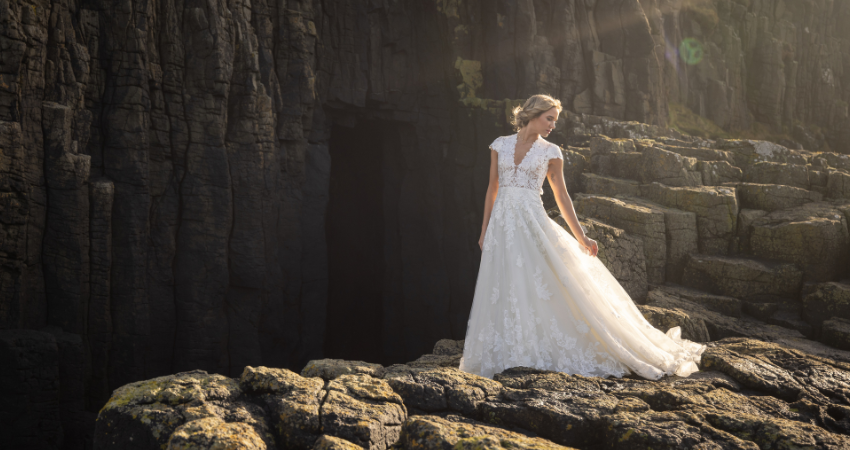 Happy Earth Day brides! As we take the day to celebrate our beautiful planet, we wanted to take a moment to acknowledge the gorgeous inspiration that our designs come from. From the waves of the ocean to the twinkling stars in the midnight sky, our collection is full of many nature wedding dresses inspired by Mother Earth. Whether you're looking for a wedding dress or simply a nature lover, keep reading for some organic wedding dress inspo, find one of these gowns at an Authorized Retailer near you by clicking the button below.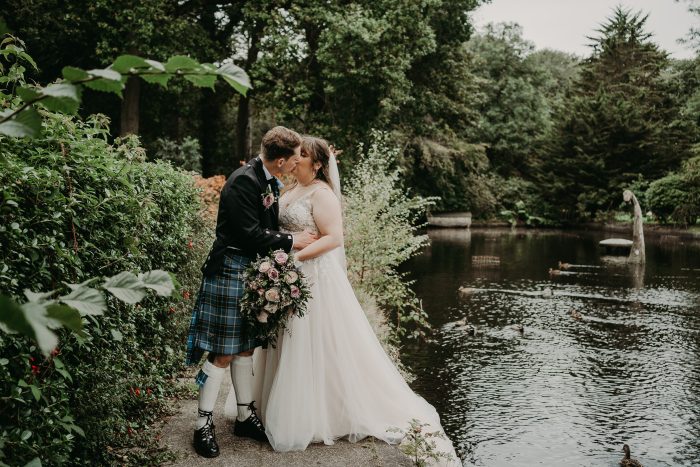 PC" Zane Corlett Photography
First on our list? The beautiful Minerva by Rebecca Ingram. This beautiful A-line is giving whimsical wildflower garden with its chic rose motifs starting on the bodice and trailing down the skirt. With its sexy V-neckline and soft tulle, you'll feel connected to nature as you sway down the aisle.
We picture you wearing this gown in a forest locale complete with moody trees, a bouquet designed with local floral and fauna, and of course, your true love.
Psst… Love the floral lace on this gown? Make sure to read our blog for more floral wedding dresses and accessories to say "yes!" to for your wedding day.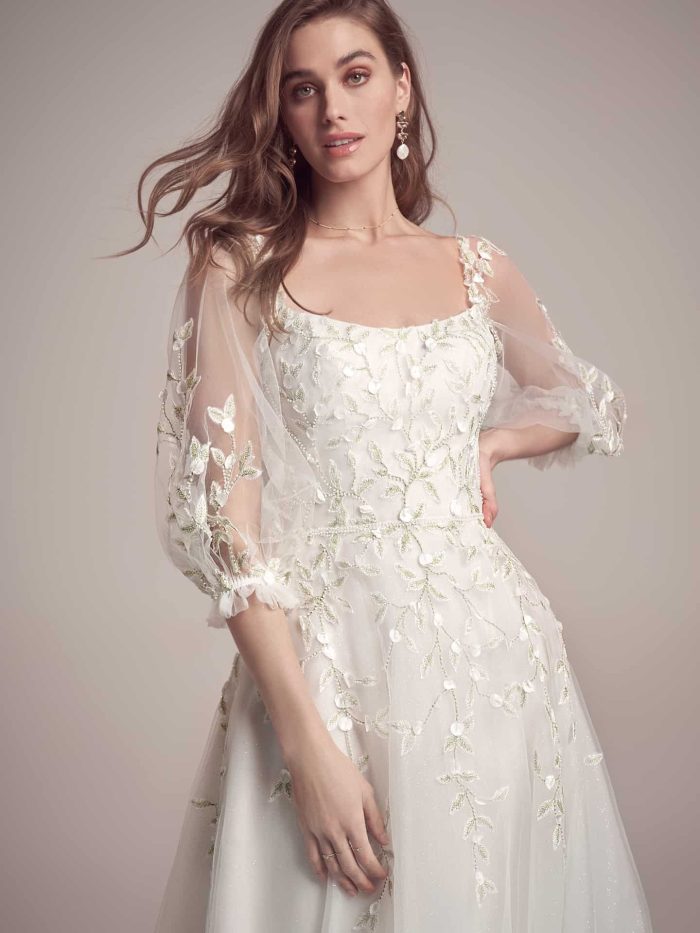 Next up on our list of nature wedding dresses is our beautiful gown, Louisa by Maggie Sottero – a gown inspired by the forest and all the beauty found within it! This A-line gown is full of whimsical details like beaded vinery, sparkle tulle, and chic square neckline.
Our favorite parts? The trendy pearl details, detachable bishop sleeves, and matching cathedral-length veil to personalize this bridal look for your love story!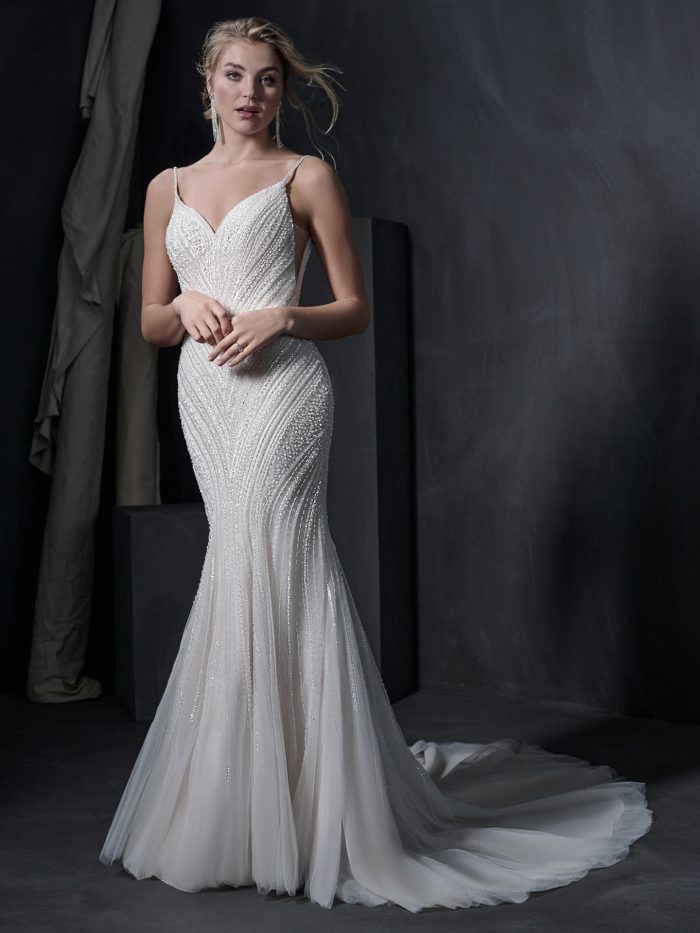 Are you more of a winter bride than a summer bride? You're in luck! We have a nature wedding dress inspired by the gorgeous icicles and unique snowflakes that blanket the world in winter! Boston by Sottero and Midgley embodies the glittering snow with it's unique beading and ivory colorways and is perfect for brides who want to channel their inner Ice Queen for their wedding day.
Don't panic though, this gown is the perfect canvas to make it uniquely yours for a winter wedding. We picture this gown paired with a chic fur wrap (faux of course), and a silvery crown to truly channel your inner winter Royalty for your wedding day.
Love this gown and are wanting to plan a whole winter wedding now? Make sure to read our blog for more winter wedding ideas to go along with your frosty bridal look!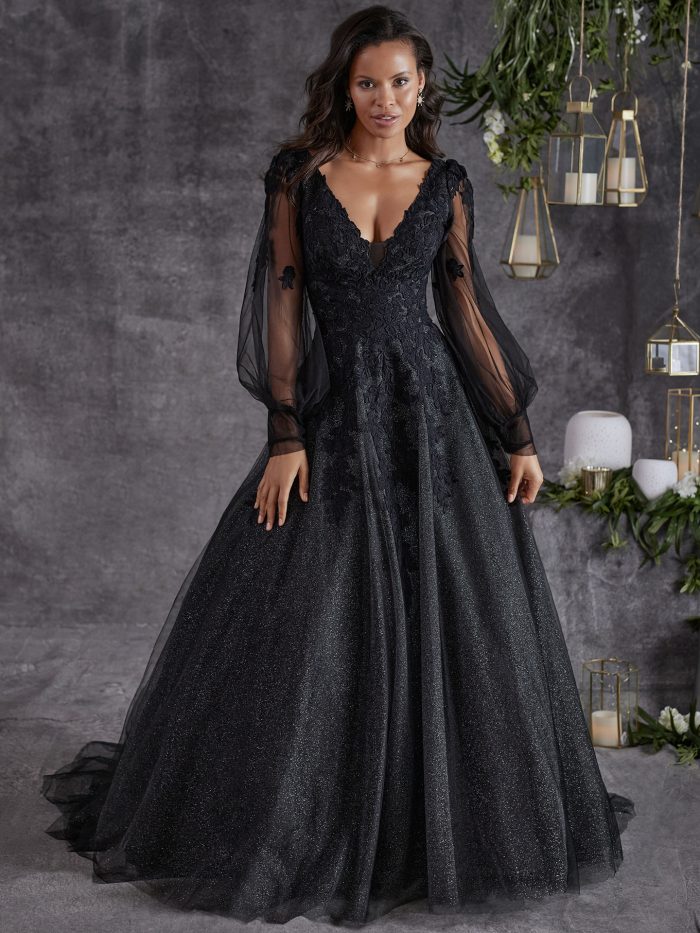 You heard it here first: black wedding dresses inspired by the stars are in and no other style better embodies this trend than Alexandria by Rebecca Ingram. This vintage-inspired A-line wedding dress is as bold and dreamy as a midnight sky with its head-to-toe sparkly tulle and chic lace motifs.
It's easy to fall in love with a gown like this, and easier still when you take its personalization options into consideration:
Add covered buttons down the back for a vintage vibe.
Add extra lace for extra romance.
Make the gown sleeveless for a sexier look.
Pair the gown with a matching cathedral-length veil.
Psst… Love the black wedding dress look? Make sure to read our blog to see more of our daring black bridal gowns!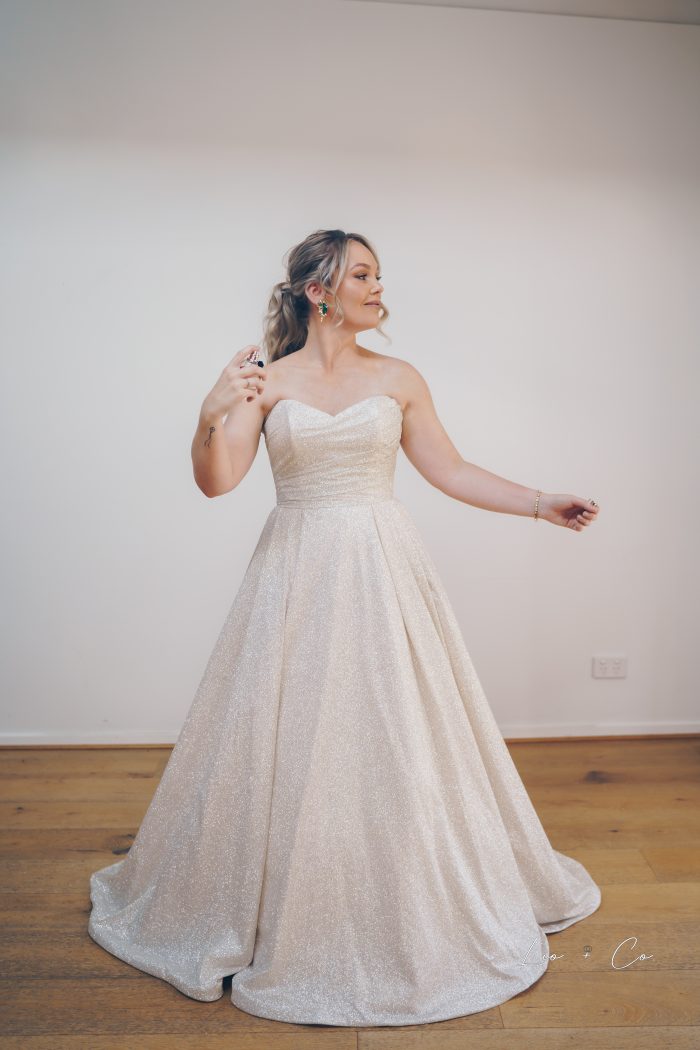 PC: Lio and Co. Weddings
Don't worry brides, if you're not a night owl like our midnight loving brides we have a gown for you too! Welcome our sunlight-inspired wedding dress, Anniston by Maggie Sottero, to your Pinterest board.
This show-stopping wedding dress is what dreams are made of! With its ruched bodice, full ballgown skirt, sparkly tulle fabric, and gold colorway this nature wedding dress invokes warm summer days and sparkling sunlight!
By the way, this Quick Ship wedding gown has an equally fabulous Sister Style! If you're more of a fan of classic satin over trendy glitter, take a peek at the oh-so-romantic Anniston Marie by Maggie Sottero.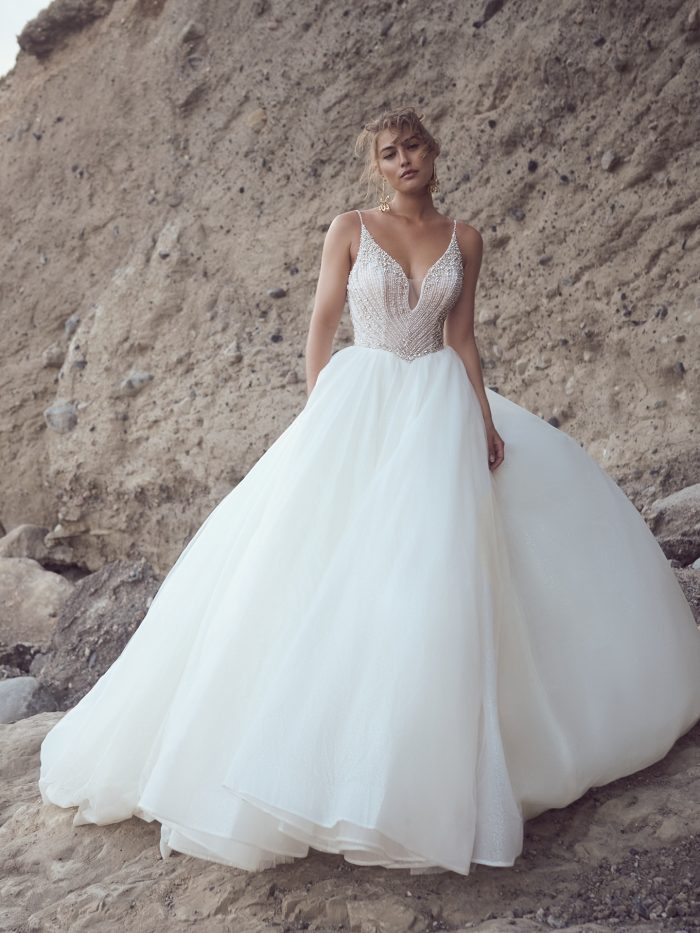 When we think of the ocean we think of sparkling water, bold crashing waves, sirens ready to lure you to the deep, and Bannock by Sottero and Midgley.
This bold and bodacious ballgown has everything an ocean loving bride like yourself loves! From its full and flowy skirt (designed with our one-of-a-kind glitter tulle of course), to its sexy beaded bodice, we can't help but think of crashing waves and mysteries from the deep.
Don't worry though, if you're looking to have more of a lowkey bridal, you can change the glitter to plain tulle and remove the train or a more casual look!
Make sure to find an Authorized Retailer near you to see this ocean-inspired nature wedding dress IRL today!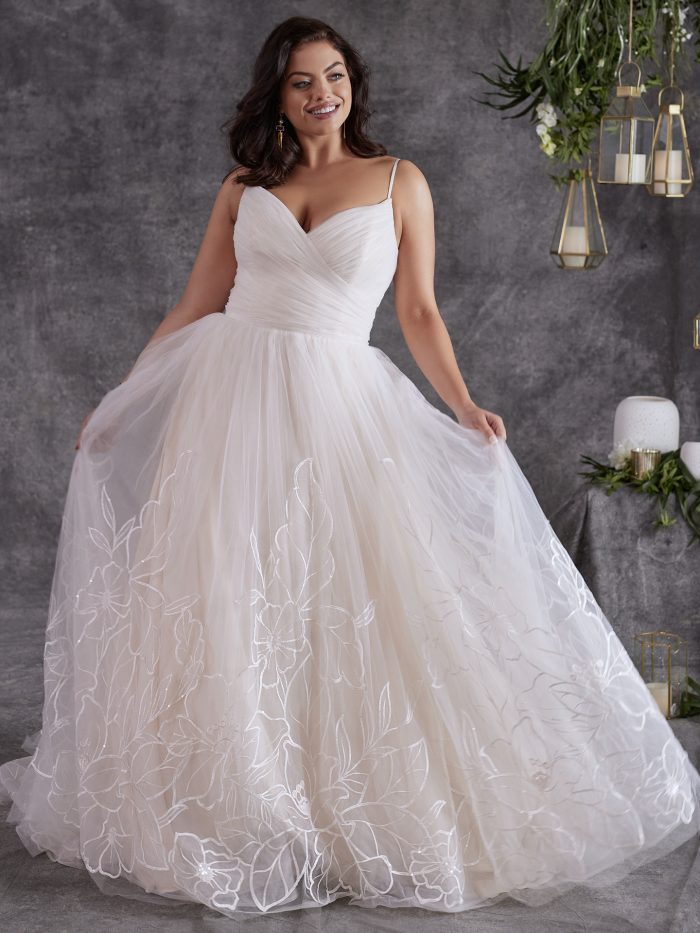 We didn't think we'd leave you hanging with one floral nature wedding dress, did you? Say hello to Watson by Maggie Sottero, another one of our flower power romantic bridal gowns.
This unique wedding dress summons sandy beaches, sweet smelling exotic flowers, and the ocean breeze with its flowy tulle fabric, delicate spaghetti straps, and cinched waste. And with a scalloped floral skirt and ruched bodice, you'll be ready to put your feet in the sand – or walk down the aisle. Whatever your heart desires!
Psst… Don't forget to pair this nature inspired wedding dress with its matching chapel-length veil!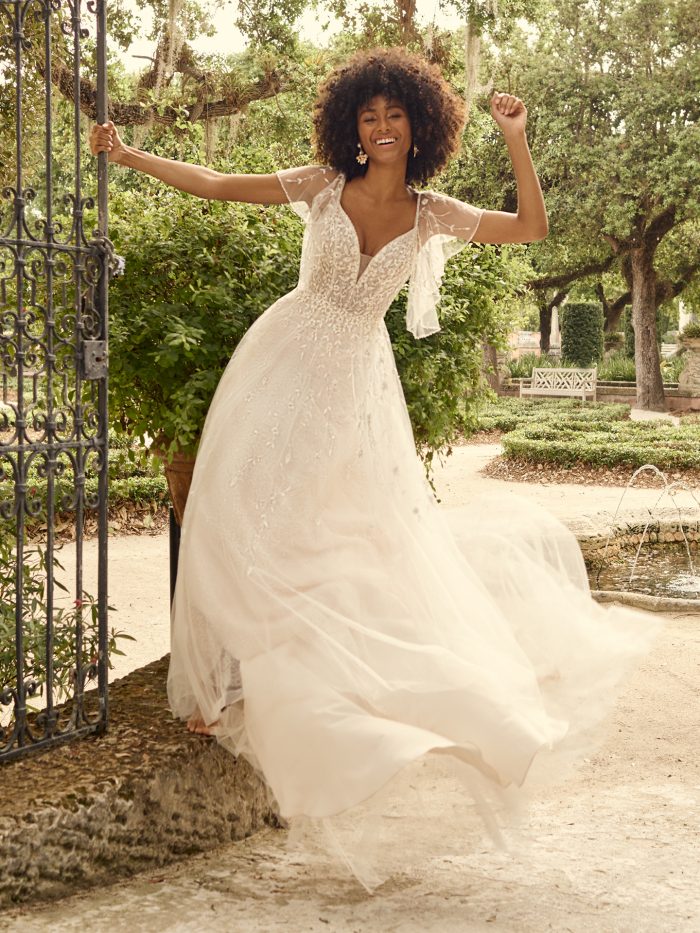 At Maggie, our designers are inspired even by the tiniest of beauties found in nature. With its playful flutter sleeves, flowing fabric, and unique lace design, Paige by Maggie Sottero is as striking as a butterfly!
We can't help but fall head-over-heels in love with this wedding dress, and its abundance of personalization options only add to our excitement! Keep reading for a list of the ways to customize this gown for your love story:
Change the textured tulle to plain tulle.
Change the textured tulle to sparkle tulle.
Add crystal buttons down the back for a vintage vibe.
We don't know what's better, this butterfly-inspired wedding dress or the butterflies you'll get as you walk down the aisle!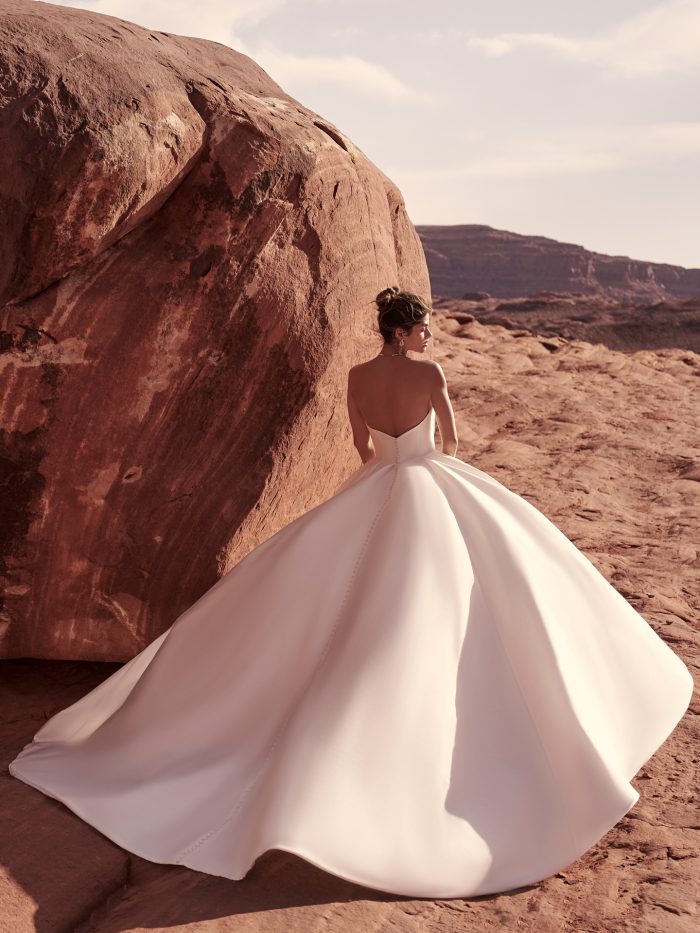 Is there anything better than cloud watching? What about wearing a wedding dress inspired by them? From it's full and airy skirt to its ivory colorway reminiscent of the sky, Alera by Sottero and Midgley is whimsical, dreamy, and magical. Just like a cloud.
Psst… Make sure to match this cloud wedding dress to your imagination by personalizing it with a chic Mikado bow for added elegance!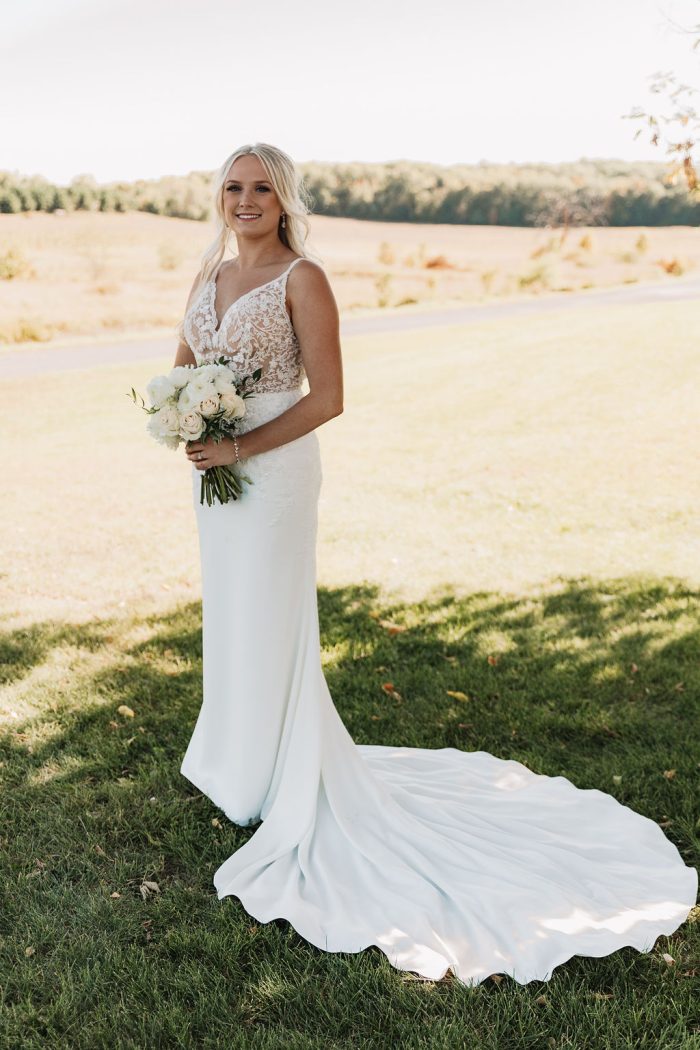 PC: Alexis Christine Photography
Last, but certainly not least, is our vine-inspired nature wedding dress, Carmen by Rebecca Ingram. Its intricate lace patter resembles the delicate vines found in jungles all over the world as it climbs the length of the gown in graceful ivory thread and beading. And with breathable crepe fabric, it's the perfect choice for nature-loving brides who are inspired by the ease and beauty of Earth.
As we celebrate Earth Day, let these nature inspired wedding dresses offer a unique way to incorporate the beauty of the environment into your special day. Not only will a nature-inspired gown help your partner appreciate your beauty, but it will help them appreciate natures beauty as well!
For more wedding dress inspo, make sure to follow our socials below and learn about how to appreciate nature on your special day by reading the blog below!
More Blogs Like This:
Green Wedding Ideas Inspired By Earth Day For A Sustainable Celebration