Tips and Trends
Wedding Inspo
|
August 19, 2020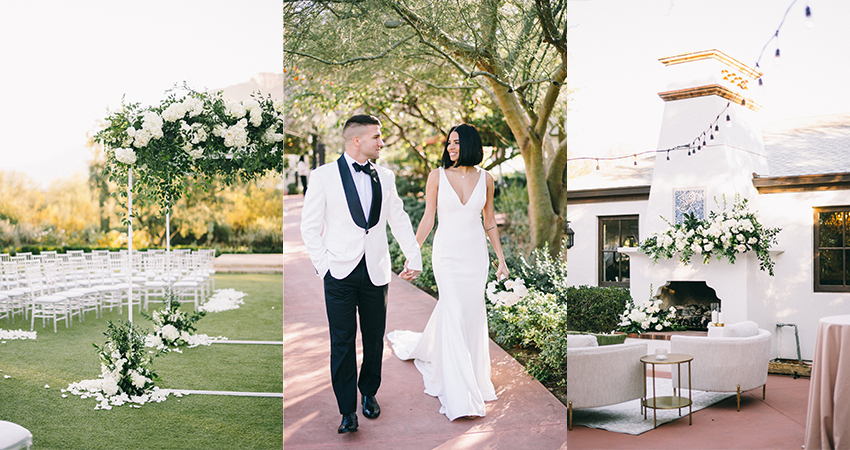 Dreaming of a mid-century modern wedding aesthetic? Say hello to this stylish, sophisticated, and romantic styled shoot by Jaimee Morse Fine Art Photography. Featuring a Palm Springs spread, clean details, chic florals, and romantic venue spaces, this outdoor shoot is sure to get the modern wedding inspiration rolling. Scroll on!
Green and White Modern Wedding Invites
Wedding stationery is typically clean and elegantly monogrammed. So unless you're going all out with the mid-century color and pizzazz (e.g. bright vintage patterns and kitschy décor), we say stick to the chic and minimalist approach for your wedding invites.
Add a fresh touch with an acrylic-inspired stationery style and a bold envelope—a gorgeous treat for your guests' mailboxes! Tie this theme in with your name cards and menu, and your guests will be "eating up" this stylish, modern vibe.
Fresh Florals with Green and White Accents
When it comes to a mid-century palette, it's all about saturation and contrast. Try a neutral green and white combo for your florals to make a fresh, stunning impact. The greenery will be sure to add a loose, organic contrast to your venue's clean lines and geometric angles.
Play up the outdoor space with big cacti and tropical planters. And don't forget to use the natural colors of the space for unique décor and stunning photo ops!
Mid-Century Modern Bridal Beauty: HAMU, Jewelry, and Accessories
There are many ways to translate a modern aesthetic to bridal beauty, be it a statement look in hair and makeup, or an effortlessly glam vibe with minimalist jewelry and clean lines.
A mid-century modern wedding look is all about simple yet high-impact touches, AKA this model's chic bob hairstyle, nude makeup palette, closed toe shoes, and subtle necklace and earrings. It's stylish, stunning, summer-ready, and even a bit vintage!
Minimalist Wedding Dress for a Mid-Century Modern Wedding
For a stylish and swanky bridal look, consider a minimalist wedding dress in a pure white colorway. This model wore sophisticated wedding dress Fernanda by Maggie Sottero, featuring a deep V-neck, tank straps, and Jersey lining for comfort.
The slinky sheath silhouette is versatile and flattering for your modern wedding aesthetic. And it's easy to wear for an outdoor venue, poolside party, or desert-chic oasis!
Mid-Century Modern Wedding Grooms Attire
If your sweetheart is opting for a suit, consider a formal palette in white and black to match your wedding dress's chic style. A white coat + black pants + bow tie ensemble is an exceptional choice for summer weddings.
This groom's look also gives their celebration an air of mid-century playfulness, á la Buddy Holly and Sammy Davis Jr.!
Outdoor Ceremony Setting for Mid-Century Modern Theme
Due to its artistic and architectural influences, a mid-century modern wedding often incorporates contrasting designs, such as indoor with outdoor, minimalist with deluxe, and clean lines with unique patterns and textures.
When it comes to your ceremony, simple white chairs complement a bright floral palette. And a minimalist wedding archway adds a cool geometric design to a natural, romantic outdoor backdrop. It's the perfect setting for saying your "I do's."
Mid-Century Modern Wedding Venue with Fresh Details
When it comes to fashioning your indoor space, focus again on those gorgeous contrasts between natural and architectural, intimate and airy, and formal and informal. For instance, pillars of artful florals and ceiling garlands add a lush, nature-inspired element to an all-white venue space—a stunning scene for your guests to relax and mingle.
Swanky fireplace seating areas encourage guests to socialize and circulate, while strategically placed bars and food carts keep the buzz going during your reception. Stunning!
Table Settings and Dining Details
Hosting a sit-down dinner for your modern wedding? Create a lush and intimate setting with over-the-top florals and chic candlelit table settings.
We love the balance of jewel tones with crystal in this velvet-and-acrylic dining palette. It's a luxe yet modern combo for all-night feasting and drinking. Candles add a romantic touch to the spread, while monogrammed napkins create a chic and formal vibe. So chic!
Modern Wedding Cake and Desserts
Looking to add some freshness to your dessert table? Opt for clean lines, architectural details, and classy neutrals for your confectionery and embellishments.
To play up the mid-century modern wedding aesthetic, also consider adding greenery + bright florals to your dessert table. We're especially digging the garland beneath the cake stand, which brings out the geometric shimmer on the wedding cake!
Outdoor Reception Space and Food Trucks
One of our favorite trends for a sweet, summery, and modern wedding vibe? Fresh-squeezed juice for your reception! Opt for a cute vintage-inspired truck to match your theme. Then invite guests to enjoy your outdoor space by placing it among outdoor seating, plush accoutrements, and a patio bar. Cheers to the classiest day ever!
Ready to pull off the perfect mid-century modern wedding celebration? Check out more modern wedding dresses in our post on Simple Yet Stunning Wedding Dresses for the Minimalist Bride.
And if you love this fresh, modern wedding theme but want to add a little more color and pizzazz, head over to this Vibrant Styled Shoot Inspo for a Color Block and Citrus Wedding. Starring halter-neck bridal gown Claudia Dawn by Maggie Sottero, it's chock-full of confetti, watercolors, and dazzling desserts. Party on!