Real Weddings
|
May 12, 2020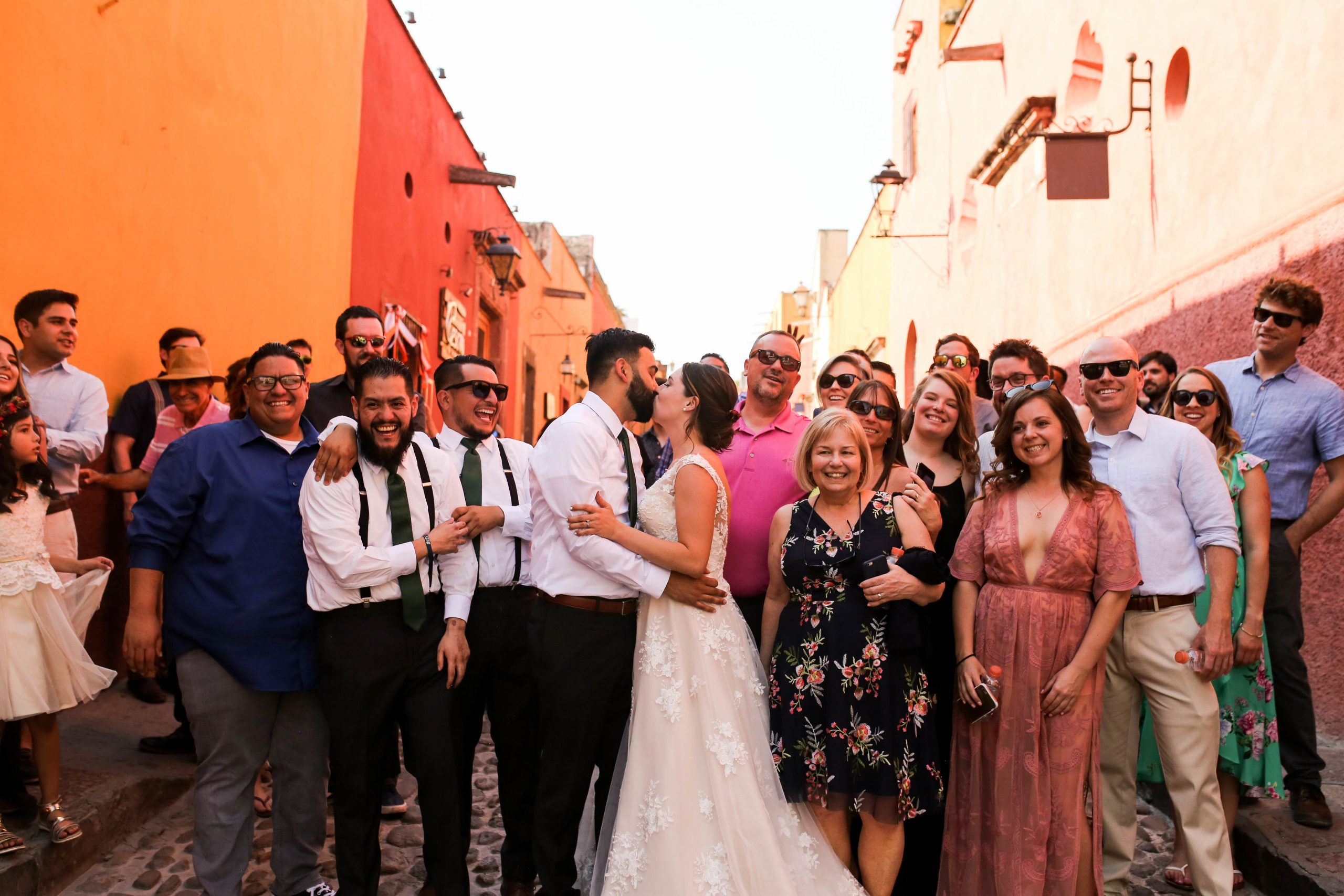 This colorful and vibrant Mexican wedding featuring a traditional "callejoneada" has us swooning! We're absolutely giddy this gorgeous couple chose to share their special day with us. Keep scrolling to see how our #Maggiebride, McKenzie, met her sweetheart, why they chose to get married in Mexico, and how they incorporated traditional Mexican wedding aspects into their big day.
Finding Love in Cancun
We love love! And the way this sweet couple met has us heart eyeing. As the story goes, McKenzie and Martin were both invited as plus ones to Cancun with their friends. On the first night, they participated in an ice breaker game, which entailed picking a name badge off the stage of someone in the group. McKenzie said that as fate would have it, Martin chose her name, which resulted in them talking all night… and the rest is history!
After three years of dating, Martin devised an elaborate plan to get McKenzie on a trip to San Francisco with some friends for a surprise proposal. Because she is a Pixar-film lover, she was ecstatic when her friends surprised her by taking her to Pixar Animation Studios for a full tour. They met up with Martin, who joined them for the tour.
Little did McKenzie know that Martin was the one who had planned everything from the beginning. When he got down on one knee after the tour was over, McKenzie said, "I was so caught off guard, I could barely utter "of course,"—but it was perfect!"
A Stunning Setting in Central Mexico
McKenzie and Martin both knew they wanted to celebrate their love in Mexico since many of Martin's relatives live there, but there were many things that drew them to San Miguel de Allende, the picturesque setting where their nuptials took place.
Adorned with cobblestone streets and colorful architecture, every inch of the small yet stunning town is steeped with history. Its eclectic shops and gourmet restaurants also make it the perfect, ultra-romantic honeymoon destination. And after seeing how kind and welcoming the people were, it didn't take long for the couple to realize that this was the perfect place to tie the knot!
With the help of her #expert wedding coordinators at Solei San Miguel, McKenzie found the perfect venue—an AirBnB previously owned by renowned jewelry maker, Carmen Beckmann. Now known as Casa Beckmann, this gorgeous mid-century masterpiece has a Mexican Casona charm with original furniture from the 60's.
Instead of transforming the space, McKenzie and Martin decided to highlight its original features with colorful flowers and luscious greens. They said it was the perfect setting for their Mexican wedding with a traditional callejoneada.
A Wedding Dress Worthy of a Destination Wedding
Cue the dreamiest of A-lines. A destination summer wedding would not be complete without an easy-breezy and whimsical style like Meryl Lynette by Maggie Sottero.
Featuring a bodice with Swarovski crystals and a skirt with sparkling lace appliqués over layers of tulle, this wedding dress is perfect for the adventurous bride with a major romantic streak. And the square back and plunging V-Neckline add just the right amount of sexy!
McKenzie said of her gown, "I immediately felt so comfortable and confident in the dress, but I knew it was "the one" when I thought about walking down the aisle and dancing around the streets of San Miguel in it. I just always pictured myself in that specific dress. And it was the perfect complement to the romance of the location."
A Traditional Callejoneada Led by Mojigangas
The ceremony and cocktail hour took place on the rooftop of Casa Beckmann, allowing guests to soak up the afternoon sun and admire the sweeping views of the city.
After that, they took to the streets for a traditional "callejoneada," a regional tradition in which the entire wedding party parades through town, dancing and singing in celebration of the newlyweds.
The parade was led by giant "mojigangas," which are papier-mâché puppets designed to look like the bride and groom. At the end of the callejoneada, the mojigangas led the wedding party back to Casa Beckmann for an evening of dinner, dancing, tres leches cake and of course, tequila!
Wanting to honor Martin's Mexican heritage, and the fact that they met in Mexico, McKenzie and Martin brought in other cultural aspects of Mexico to their day. These traditions included hanging "papel picado" (confetti) in the venue's entry way, serving Mexican cuisine and local craft beer, playing Mariachi music, including a Spanish translation of their vows for Martin's family, and giving out silver "milagros" (small silver charms that represent wishes for people) to their guests as wedding favors.
And the best part? Their adorable "burro" (aka donkey) that accompanied the wedding party was easily the star of the show.
Tip for Brides-to-Be
McKenzie's tip for all brides-to-be is: "Hire a coordinator and be present during the day! You don't need to worry about coordinating the timing of everything, making sure vendors have all the needed items, or buying additional beer that you will inevitably run out of. The added cost was SO WORTH IT for our small budget wedding!"
McKenzie also tells us that her favorite memory was when she and her new hubby decided to sneak off to a nearby taco truck to share an ultra-romantic moment and of course, a delicious late-night snack.
The credit for capturing this dreamy day goes to Jordan McDonnell. For more swoon-worthy photos, follow her on Instagram at @jordanerinnn. McKenzie said of Jordan, "She was an absolute JOY to work with!"
Thanks for reading about this Instagram-worthy Mexican wedding with a traditional callejoneada. For more gorgeous #realwedding inspiration, visit our Real Brides page. And if you and your sweetheart recently tied the knot, don't forget to submit your photos to be featured on our website!
Related Posts:
8 Ultra-Romantic Wedding Destinations for Your 2021 Celebration