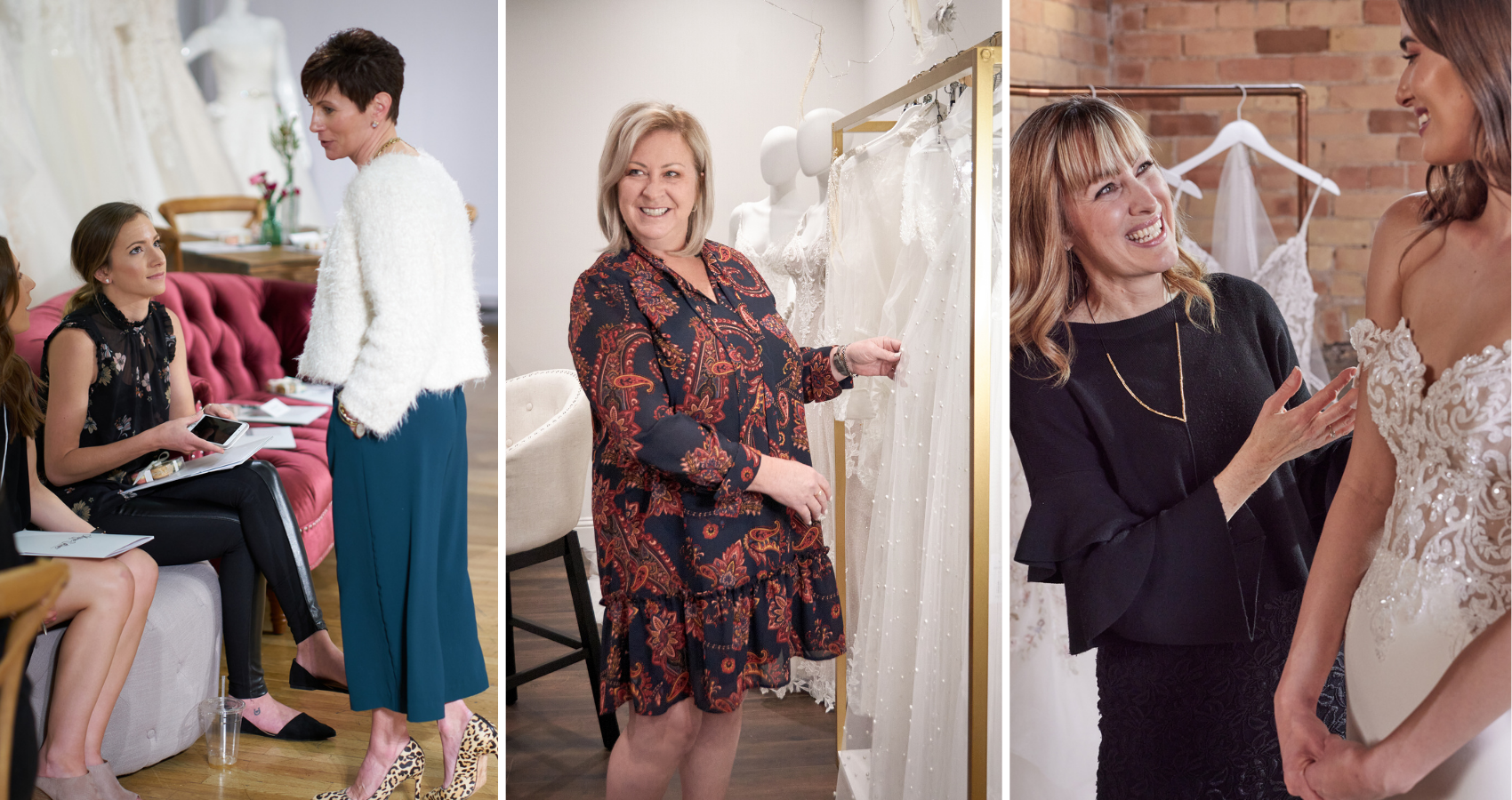 It's Women's History Month, and as a women owned business we are so excited to celebrate the amazing women in our company, our industry partners, and our brides! One of the main pillars of our company is that it is for women, by women. We proudly have mothers and daughters running the show at Maggie.
We are constantly inspired by the amazing, diverse group of women that make up the Maggie Family. We're friends, collaborators, dreamers, creatives, leaders, risk-takers, trend-setters, and most importantly, we're each beautifully and uniquely ourselves. Read on to hear from a few of the faces at Maggie, and our history as a women-led and women owned business!
Our History as a Women Owned Business
Female leadership is a key part of our company's success! We've been a women-led and women owned business from our very beginning. Twenty-five years ago, we started as a boutique in Sydney, Australia. Our brand grew, and Lesley Margaret ("Maggie") Webster assumed the name of "Maggie Sottero" in honor of her great grandmother.
Now, Lesley's daughter, Kelly Midgley, followed in her footsteps and assumed the role of CEO this past year. Learn more about the legacy of our company from our Our Love Story page.
But the female leadership doesn't end there!
We have women in leadership positions across the company, spanning a multitude of departments. Our cohort of female employees is what makes Maggie Sottero the brand you see today! You can meet a few of these amazing women down below!
We sat down with a few of the women behind Maggie to chat about career advice, what it's been like to be in a leadership role as a woman, and how they got their start in the industry!
Read on to learn more from Kelly Midgley, CEO, Christina Blanchette, VP of Sales and Marketing, and Suzanne Robbins, Director of Sales and Customer Programs! Their leadership is such a value to our women-led company!
Kelly Midgley, CEO
How did you get your start in the bridal business?
"My family has been in the bridal business for about over 45 years now. Growing up in the bridal business was such a joy. As a little kid, I would hide in the racks of our bridal boutique and scare our customers. I would always have conversations with our staff and our vendors, and they were always so kind to me. They made me feel like family. It was such a wonderful experience growing up in that environment."
Who has been your greatest influence?
"Throughout my life, my mother and grandmother have been my greatest influence. They were such strong ladies in business and taught me that there are no barriers. If you want something and work hard, you will find a way to make things happen."
What do your daughters think of the family business?
"I'm so excited to start introducing my twin girls to Maggie. I recently took one of my girls to Florida, where we just shot the campaign for our next collection. It was so much fun having her tag along. Everyone there was so nice and welcoming, which made it even more special. She was in absolute awe of our gorgeous models. She loved it!
Sometimes she was our Art Director, choosing which images she liked, and once she was bored with that, she was off making little habitats for the lizards scampering around. It brought back so many memories of when I was little and tagging along with my mom. I truly feel so fortunate to have these experiences as a leader in a women owned business, as well as a mom."
As CEO, Kelly is the expert in everything Maggie and everything bridal. Get to know this trend-setting woman and learn about bridal from an expert below:
Christina Blanchette, VP of Sales and Marketing
Do you have any advice on getting into the fashion industry?
"I have to say, I never had my heart set on the fashion/bridal space in terms of my professional journey. But life always has a funny way of working out, right? I had always had a personal love for fashion, bridal, and that world. I mean, how could you not?
We're an industry full of LOVE and cutting-edge designs. I started my career in a completely different industry. My heart energy and skill set led me to where I am now. And I could not be more grateful for the universe working its magic to get me here.
My advice for those who would like to get into this industry is that there is no secret point of entry into bridal fashion. I believe it's more about establishing a skill set that truly speaks to your heart and letting that lead you to find what you love to do.
Maybe your entry point is right into bridal, or maybe you break into a different industry as I did and use your time in that space to perfect your skills and master your craft. If your passion aligns with your skills, I really think that's the ticket to getting where you want to go.
There is no right or wrong path. Lean on those around you to help find your way. I always tell my team that we must navigate this journey together. When the time is right, the opportunity will present itself.
Trust the process and trust yourself that you will get there!"
Can you share an important career insight?
"As a woman and mother in the professional world, I'm always asked, 'How do you balance your family and your career?' It's the tale as old as time- how can a woman be a mother AND a professional force at the same time?
There are many layers to my insight on this. As a woman, you're taught you have to choose between family and career- but you don't. It is a juggling act, and I would be lying if I said it comes effortlessly. I've learned that it takes focus, time, and setting priorities. I can lead a team AND tuck the kiddos into bed with a nighttime story.
It's important to me as a mother to be a role model in this way and many others to my daughter. I want to show her that she can do whatever she puts her mind to, and to be gentle with herself on that journey to getting there.
If something needs my attention at work, I take care of it. But if my kids need something, I'm going to make sure I step up as their mother. It's a constant balance, and it's important for women to know that it is OK if it isn't done perfectly. I mean, we have to give each other some slack, it's not as if men are asked how they're VP of their department and a father.
There's this stereotype that we all have to be superwomen, but in reality, that's not possible. So, it's crucial that you take time for yourself. I may be a leader and a mother, but I'm also just me. And I need to take care of myself.
Consider this my official endorsement for whoever is reading this to enjoy a nice glass of wine and a moment to yourself tonight."
Who has been a great influence in your life and career?
"Not any one particular person has been the defining influence in my life and career. But instead, the culmination of leaders I've had over the years has shaped my perspective. Watching others, especially fellow women, succeed in their own career path caused me to think, 'I want to become that.' I've had many amazing mentors over my career, so it's difficult to pinpoint just one!
On the flip side, there are great leaders, and not so great, and I've worked with both throughout the years. This has allowed me to pull the best pieces from these experiences and learn how I want to be a leader for my team and how I can inspire others to do the same in women led businesses.
I have learned from others how I want to personally lead. Additionally, I've learned from others' fumbles, and it's taught me how I would like to show up differently. So, my advice is, seek the opportunities to learn and grow from others, in whatever way that may be, even if it's not evident at first that it's a lesson to be learned."
Suzanne Robbins, Director of Sales and Customer Programs
How did you get into the bridal fashion industry?
"I chose to get into this career because I have always loved fashion and clothing. Even as young as the age of five, my mom taught me how to sew. I remember getting in trouble one time because I wanted to make a dress for my doll, and my mom had laid out this fabric on her cutting table to make me a dress. But I wanted my doll to have a matching dress, so I cut out some pieces smack-dab in the middle of that fabric.
Needless to say, my mom had to artfully place some faux pockets in the dress so that she could still use the fabric. I walked down the runway at a community fashion show, wearing that dress and holding the doll with the matching outfit so proudly. I have always loved fashion, and that's why my mom decided that she better teach me exactly what to do and how to layout a pattern properly."
What is it like working for Maggie Sottero, a women owned business?
"It's incredible working for a women owned business. I love working for Maggie Sottero because we really make brides' dreams a reality every day. These dresses are so gorgeous on a bride! When I have an opportunity to visit a special in-store event, it's so personally rewarding for me to guide brides and help them find the dress of their dreams.
When they're wearing that dress and they know that they look so beautiful and confident inside and out, that's what makes me happy about helping them through this journey."
Who has been the most influential in your life?
"The person who has been the most influential in my life has been my mom. She is so phenomenal. I just can't say enough good things about my mom. Growing up, all my friends had stay-at-home moms. But my mom was a career, working woman. I was always so impressed with her because she made everything look effortless. She never missed an important event in my life, from dance recitals to performances, and she was even involved in PTA, planning class parties through my time in elementary school.
So, today, I just look at her in awe because she made it look so effortless, and I try to be like her. I feel so blessed to work for a company that is run by women and owned by women. We all understand that while we're passionate about our jobs, as I love what I do at Maggie every single day, my family also comes first.
I am also so happy about the balance I have been able to strike between my personal life and my professional life and how it works so beautifully for me and my family. Everyday, I am so grateful for that, and to be a part of a women led business."
From a Women-Led Company
Happy Women's History Month from all of us at Maggie! We are constantly inspired by the powerful, amazing, courageous, and strong brides we are proud to have in the Maggie Family.
No matter who you love, your skin tone, your religion, etc. – know that Maggie will ALWAYS be in your corner. We can't celebrate fully until we're all at the top of the mountain! Let's work together to get to that peak- the view will be amazing
As women, we have to look out for each other, always offer a helping hand, and lift each other to greatness! We love doing this through our Instagram and Blog, so make sure to check both out to learn more about the amazing women in our Maggie Family
To support and learn more about this women led company, and be the first to know about all things Maggie, make sure to sign up for our newsletter and exclusive text messages!
Make sure to check out our other Blogs about powerful women in business:
Celebrating Black History Month: 7 Black Owned Businesses For Brides To Support
Diversity in Fashion: What Black History Month And Inclusivity In Bridal Means To Me