Real Weddings
|
April 25, 2016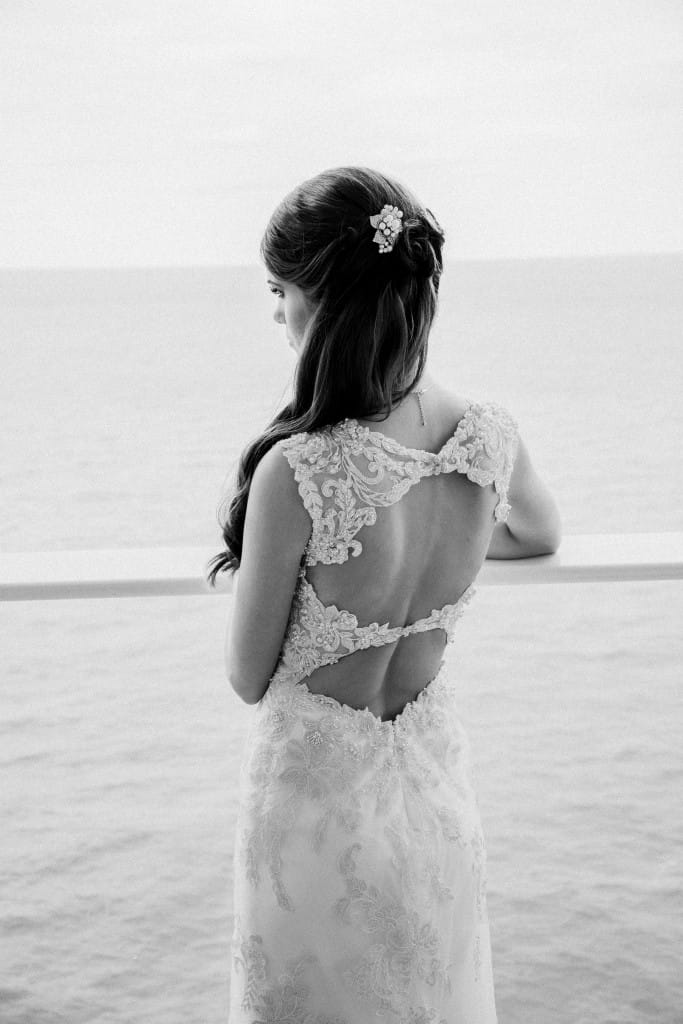 Maggie bride Jessica shimmered with elegance and sweet sophistication in her Jade gown from Maggie Sottero's Serencia Collection. Inspired by the wedding party's Caribbean backdrop, Jessica and her groom, Steve, chose pearls and coral-pink dresses for the bridesmaids, and smart suspenders and navy-blue suits for the groomsmen. Steve had proposed to Jessica by leaving a message-in-a-bottle in the sand near his parents' beach house—he had to point it out twice before Jessica pulled out the cork to find "Will you marry me?" scrolled on the paper inside! Jessica's favorite part of her wedding was when she and Steve danced to Tim McGraw's "My Best Friend," and Steve sang to her. "I couldn't stop smiling," says Jessica—after all the chaos and emotion of nuptials, it's important to "remind yourself of what is truly important."
It's clear that our lace wedding dress was meant to find its way to Jessica; it was the first dress she tried on! Jade features an exquisite double-keyhole back and a Swarovski crystal- and bead-encrusted bodice. These lavish embellishments add tasteful opulence to the gown's delicate cap sleeves and chapel-length train. We love that Jessica styled her locks in side-swept waves to match her nautical theme; it gave the occasion an air of Old Hollywood glamour and fit perfectly with the gown's luxe shimmer and sweetheart neckline! We think she looks just like a mermaid princess.
Be sure to scroll through our selection of crystalline gowns and view the rest of Maggie Sottero's Serencia Collection on our website, and keep up with our blog for more real weddings and Maggie inspiration!
These gorgeous photos are thanks to Sarah Aaron Photography
Which Maggie Sottero gown did you wear? Jade from Maggie Sottero's Serencia Collection
How did you know when you found "the dress"? It was the first wedding dress I'd ever tried on.  I felt beautiful and it had every feature I wanted in a dress.  Plus, I knew Steven would love it.
What was your favorite part of the dress? Everything.  Obviously, the double keyhole back is amazing, but I really fell in love with the detail.  The crystal and pearl beading and embroidered lace pattern is so beautiful in person.  When I'd go back to the boutique for fittings and see it waiting for me in the fitting room, I couldn't believe it was mine.
What was your favorite wedding day moment? Our first dance.  We danced to Tim McGraw "My Best Friend."  Steve sang to me like he always does.  The tears went away and I couldn't stop smiling.
What advice do you have for future brides? Remind yourself of what is truly important.  There are bound to be some mishaps on your wedding day and if you focus on the good things, your day will be great.  Our wedding day was chaos, but I had a new appreciation for all the things that were right.  Our friends and family were so amazingly helpful and supportive and we were happily married!  With all that was right, the other details seemed less important.
How did you and your now husband meet? We met the summer before my senior year of high school through some mutual friends who thought we'd make a good match.  Here we are almost 10 years later.
How did he propose? We were celebrating our 5th year of dating at his parent's beach house near Chincoteague, VA.  We were playing fetch at the beach with our Labrador, Dixie, and Steve pointed out an old glass bottle on the ground.  I looked at it, uninterested, and continued to play with Dixie. When he pointed out the bottle again, I gave it a second look and noticed there was a message inside. I picked up the bottle, removed the cork, and unrolled the scroll that read "Will you marry me?"
Where did you get married?  In the Caribbean Sea on Royal Caribbean's Allure of the Seas.
Did your wedding have a theme? Nautical elegance… I just thought of that!
How did you decide what you wanted your wedding to look like? We based everything off of the venue and my dress.  We thought navy for the groom and groomsmen would be perfect for the nautical setting and a soft pink to accent the groomsmen and the pink accents in the venue.
Describe your wedding in one word. Emotional