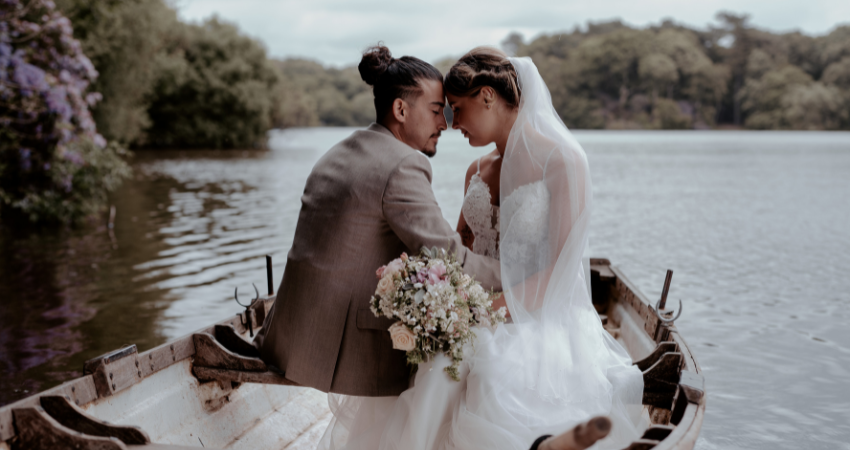 Are you dreaming of a lace wedding dress but can't decide on the neckline? We got you! From halter neckline gowns to strapless, we carry lace wedding dresses in any style for any bride that are the epitome of classic romance and will bring a touch of timeless charm to your special day. Keep reading to find the wedding dress and neckline of your choice, but first, make sure to take our Style Quiz below to get an idea of gowns that match your budget, style, and venue choice.
Lace Halter Neck Wedding Gowns
Do you love lace and are looking for a little bit more coverage with your lace wedding dress? Consider saying "yes!" to a halter neckline wedding dress.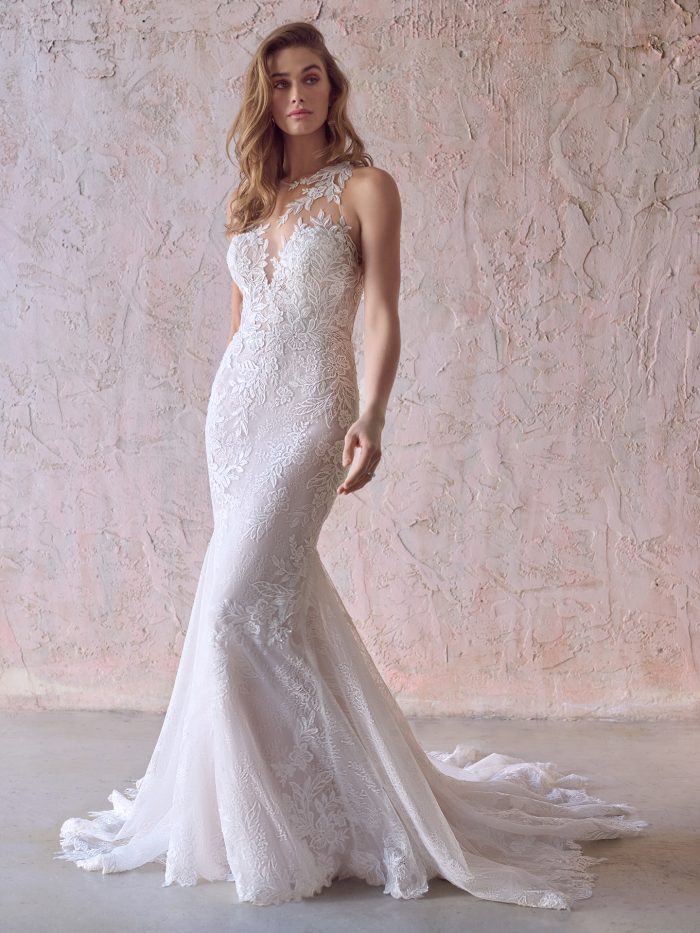 First up? Say hello to Kern by Maggie Sottero! Picture yourself gliding down the aisle in this lace halter neck wedding dress that exudes timeless elegance. This breathtaking gown features a delicate lace illusion bodice that hugs your curves, creating a stunning hourglass silhouette. The halter neckline draws attention to your graceful shoulders, while the intricate lace patterns cascade down the length of the dress, adding a touch of whimsical romance. The dress also features a lace illusion back that gives you a touch of sexiness as you walk down the aisle!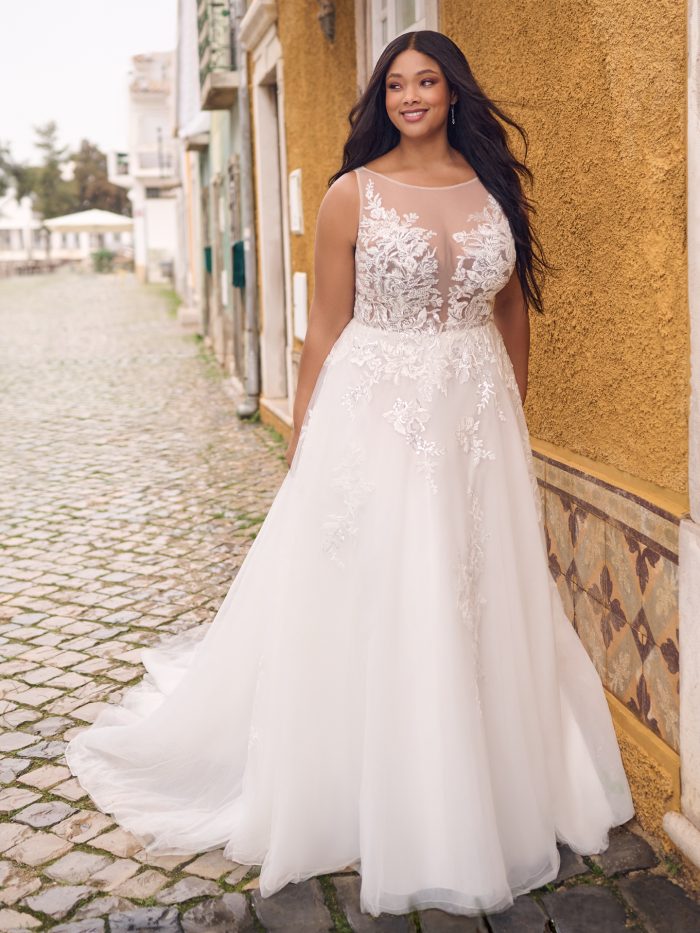 If you want gown that provides that illusion lace look but has a plunging neckline, then Lindsey by Maggie Sottero is the perfect choice for you. This chic masterpiece combines clean lines with intricate lace detailing to create a dress that is both bold and feminine. The halter neck draws the eyes towards your radiant smile, while the alluring illusion bodice adds a hint of sensuality. With its vintage-inspired buttons on the back, this dress effortlessly enhances your natural beauty and leaves a lasting impression on all who lay eyes on you.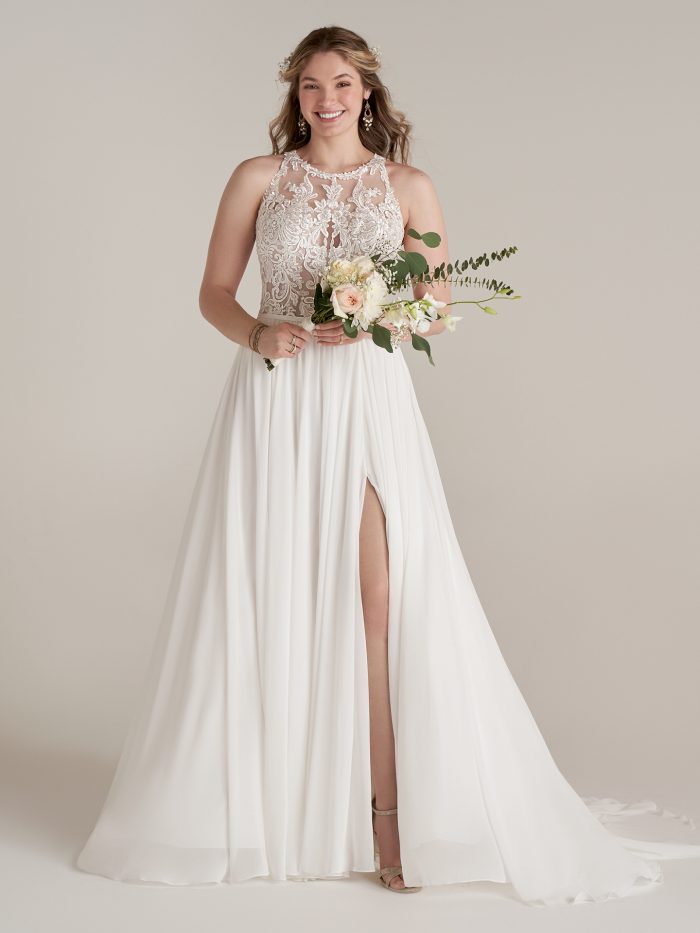 For the free-spirited bride who dreams of a bohemian wedding, Tasha by Rebecca Ingram is a lace dress that captures the essence of wanderlust and romance. This whimsical gown features a flowing skirt that sways with every step, creating an enchanting aura as you dance beneath the moonlight. The halter neckline is adorned with delicate floral lace, adding a touch of rustic charm to the dress. With its effortless beauty and airy silhouette, this dress encapsulates the carefree spirit of your love story, ensuring a wedding day filled with joy, laughter, and eternal memories! Psst… If you love chiffon but are worried about wrinkles, read our blog for the best tips and tricks to get them out!
Strapless Lace Wedding Dress Styles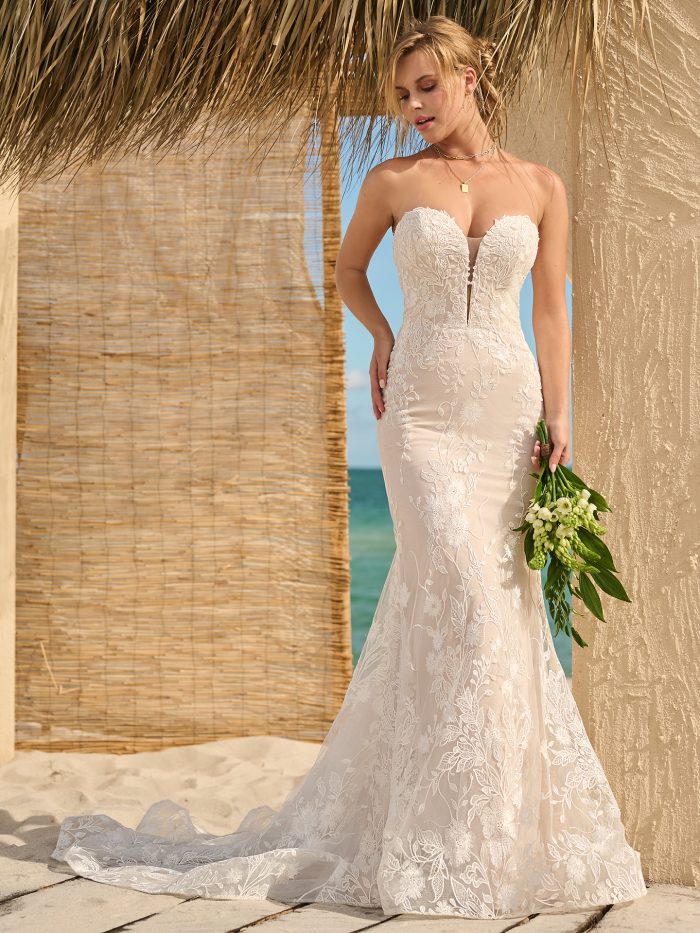 Are you ready to make a truly unforgettable entrance? Imagine slipping into Nelly by Rebecca Ingram – a lace wedding dress that embodies true modern sophistication. This dreamy gown boasts an alluring sweetheart neckline adorned with intricate lace, adding a touch of softness and femininity to your bridal look. The beautifully fitted bodice gracefully highlights your curves through its fit-and-flare silhouette, creating a sense of ethereal beauty as you gracefully move around the dance floor. Imagine the delicate lace appliqués sprinkled along the skirt, shimmering under the twinkle lights, ensuring all eyes are fixated on you on your magical day. Psst… If your wedding is quickly approaching and you don't have a gown, this is one of our exclusive Quick Ship gowns!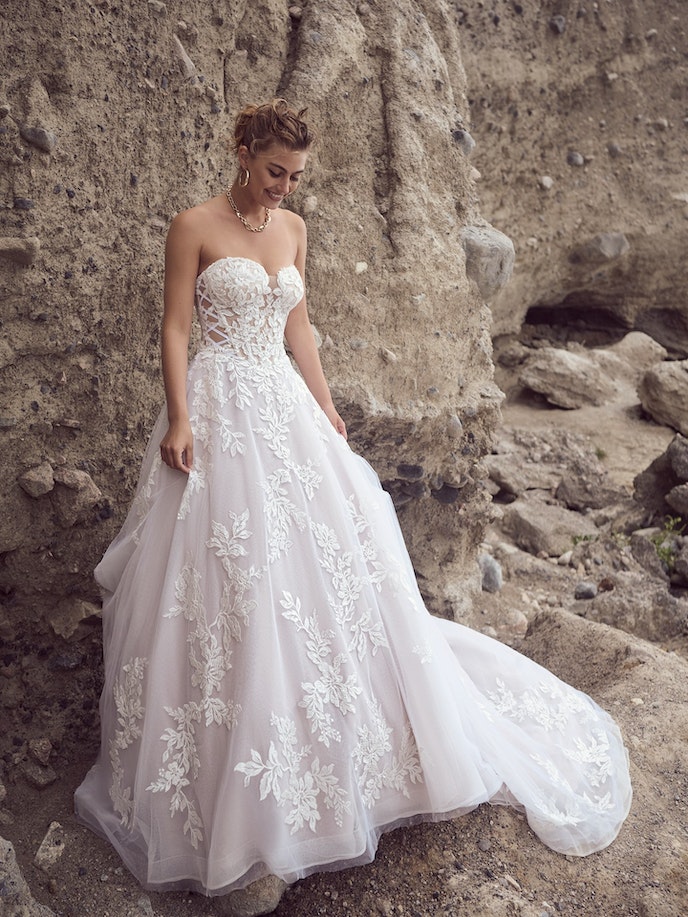 Another one of our gorgeous strapless wedding dresses is Everett by Sottero and Midgley. This regal strapless lace wedding dress holds an enchanting power to turn dreams into reality, and this particular gown perfectly epitomizes that notion. With a timeless and romantic touch, this dress invites whispers of whimsical fairy tales. The unique combination of delicate floral lace and intricate corset cutouts creates a mesmerizing effect that will leave your guests in awe. Looking to personalize this gown so it can further match your love story? Look at some of the following options!:
Change sparkle tulle to plain tulle.
Add detachable off-the-shoulder lace cap-sleeves.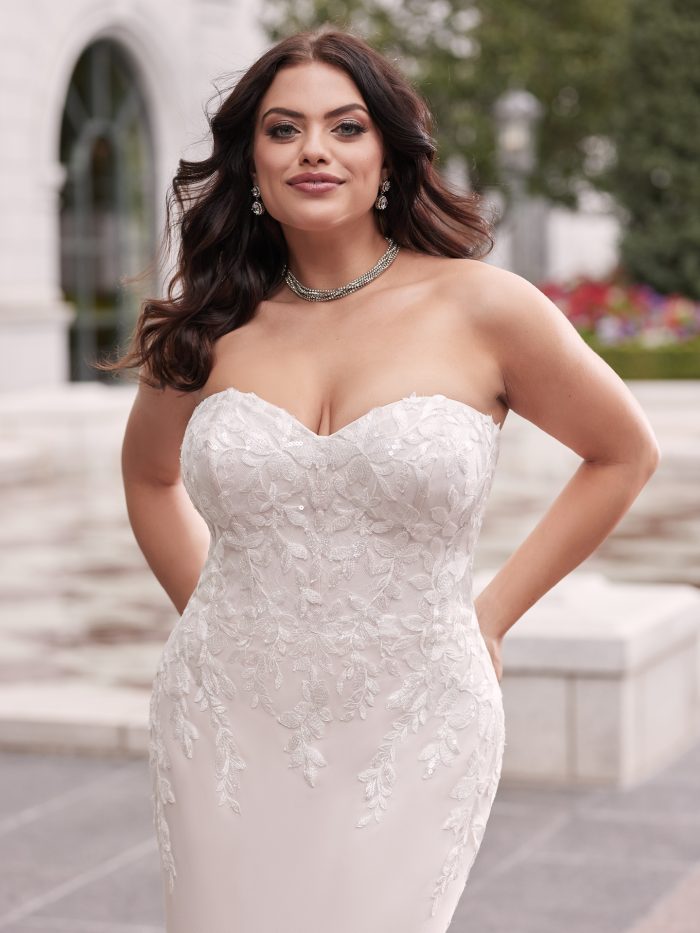 Lily by Rebecca Ingram is another gorgeous lace bridal gown perfect for our lace and crepe-loving brides. Picture yourself walking down the aisle, in this breathtaking gown that captures the essence of romance and elegance. This stunning gown features delicate lace detailing cascading gracefully from the sweetheart neckline, accentuating your feminine charm. And we love how the strapless design allows you to embrace your shoulders with confidence, revealing a touch of radiance and empowering you to feel like a true princess on your most special day!
V-Neckline Wedding Dress Styles
The best way to add some subtle sexiness to your lacey bridal look is through a V-neckline! Whether you're looking for an A-line wedding gown or a lace mermaid wedding dress there's a lace bridal dress for any style with this flexible neckline.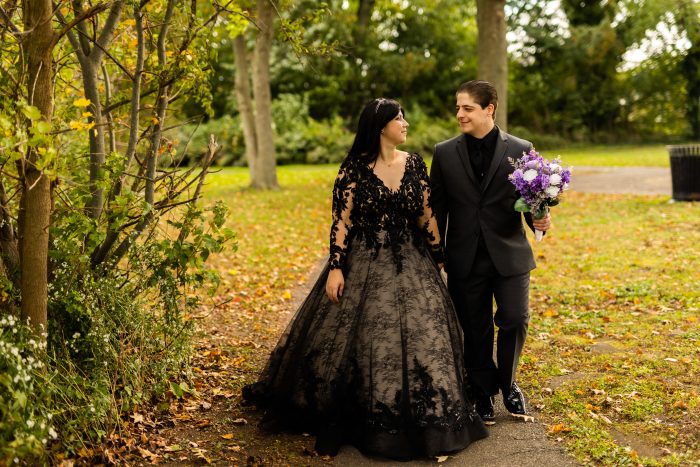 PC: Lauren O'Brien
Radiate sheer radiance and grace in a long sleeve lace wedding dress that embodies sheer elegance. This black lace wedding dress design will highlight your dark romantic side with its layers of black lace and tulle. The intricate lace details on Zander by Sottero and Midgley are carefully handcrafted and sweep across the bodice and down to the skirt, creating a mesmerizing visual spectacle that is both enchanting and modern. If you love this style but want something sexier, make sure to check out its Sister Style, Zander Lane by Sottero and Midgley for an alternative look. Psst… This isn't our only black lace wedding dress! Read our blog to see more style options!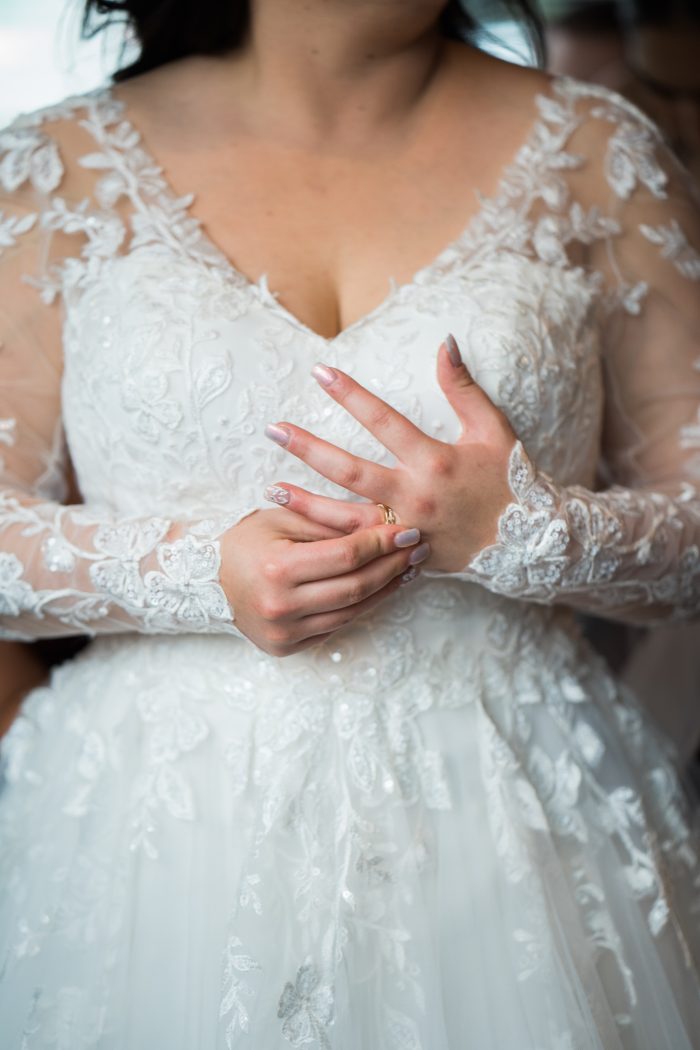 PC: Shawna Vine Photography
Tessa by Rebecca Ingram is another long sleeve lace wedding dress with a V-neckline for our brides who want a bit more coverage. Picture yourself walking down the aisle, exuding elegance and charm in a breathtaking V-neck lace wedding dress. The graceful V-shaped neckline is poised to frame your collarbone and accentuate your feminine features, and the cascading ruffles create a truly captivating silhouette.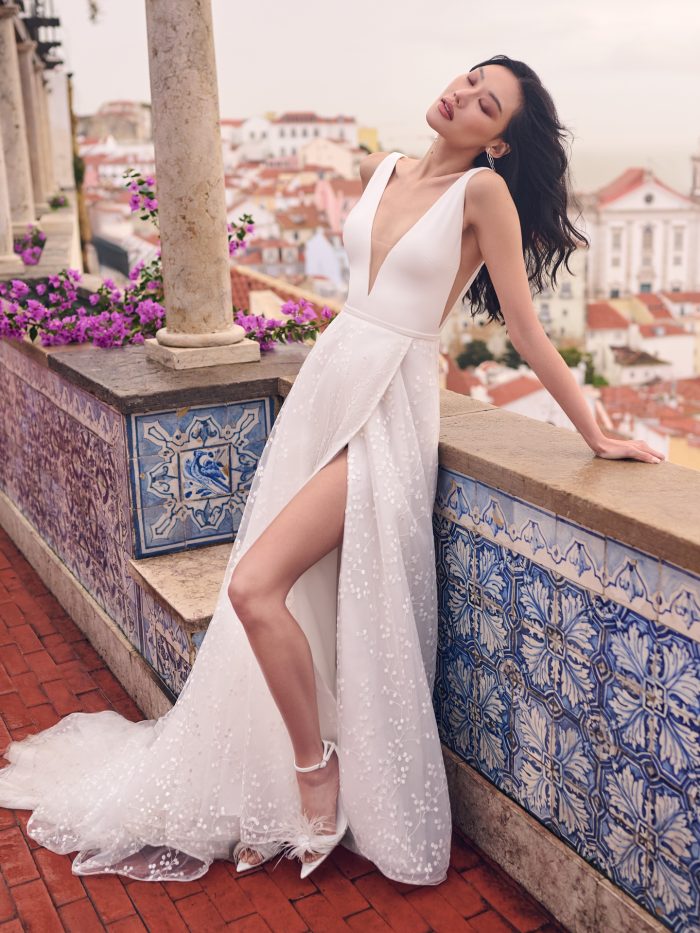 Lace doesn't have to cover the whole dress to be considered a lacy gown! Consider Brannagh by Maggie Sottero if you want something lacy yet simple. We absolutely love the plunging V-neckline and thigh-high slit. This ethereal marvel is designed to celebrate your inherent beauty, with a deep neckline highlighting your radiant face and showcasing your glowing confidence.
Lace Square Neck Bridal Gowns
Square neck wedding gowns are popular amongst brides for a reason! And when you pair it with lace, it takes a traditional look into a modern style. See some of our favorite lace wedding dress styles with this chic neckline!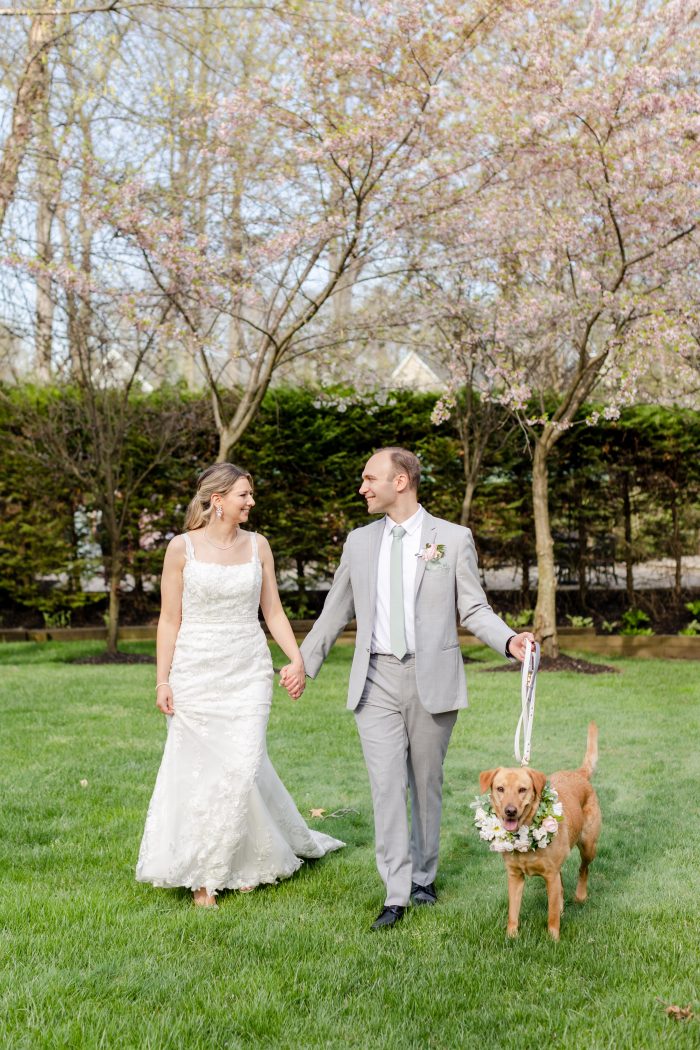 PC: Siobhan Stanton
Albany by Maggie Sottero is not only one of our favorite lace mermaid wedding dress styles, but it's also one of our favorite square neckline styles! This enchanting design combines timeless elegance with a modern twist. The square neckline frames your shoulders delicately, while the intricate lace detailing adds a touch of romance. With its classic silhouette and clean lines, this dress is perfect for the bride who wants to feel both sophisticated and feminine. Take a look at these personalizations for ways to customize this gown to your love story!:
Change the beaded tulle to plain tulle or sparkle tulle
Add covered buttons down the back for a vintage vibe
Line the bodice for more coverage
Add a detachable bridal train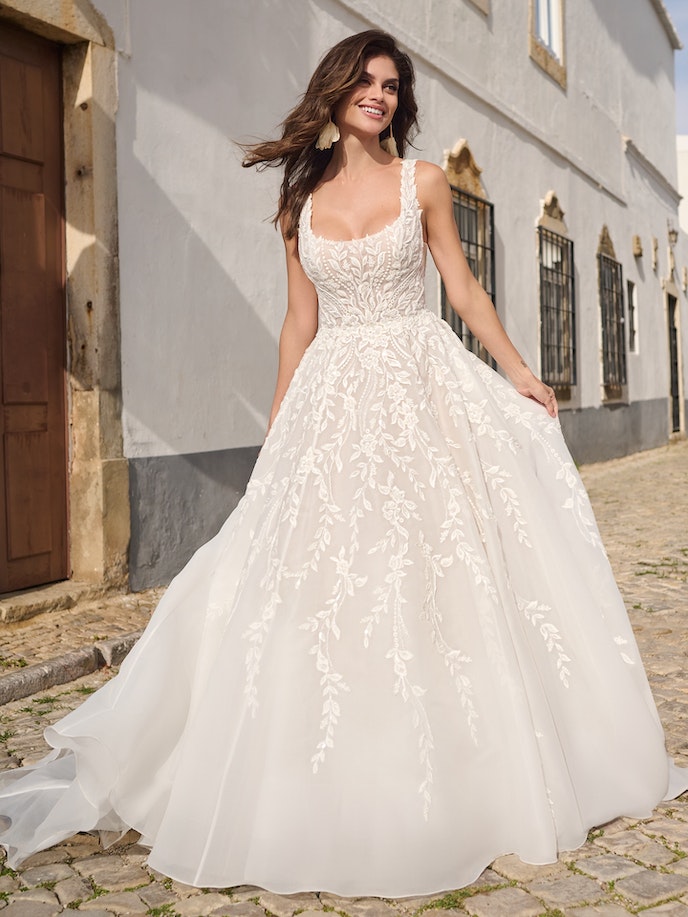 If you want a square neckline ballgown, take a look at our organza and lace wedding dress, Maddox by Sottero and Midgley. The square neckline draws attention to your beautiful décolletage, while the lace appliques add depth and texture to the bodice. The dress gently hugs your waist before cascading into a flowing, ethereal skirt that will make you feel like you're walking on clouds. This dress is perfect for the bride who desires a timeless and elegant look that will make her feel like a true princess.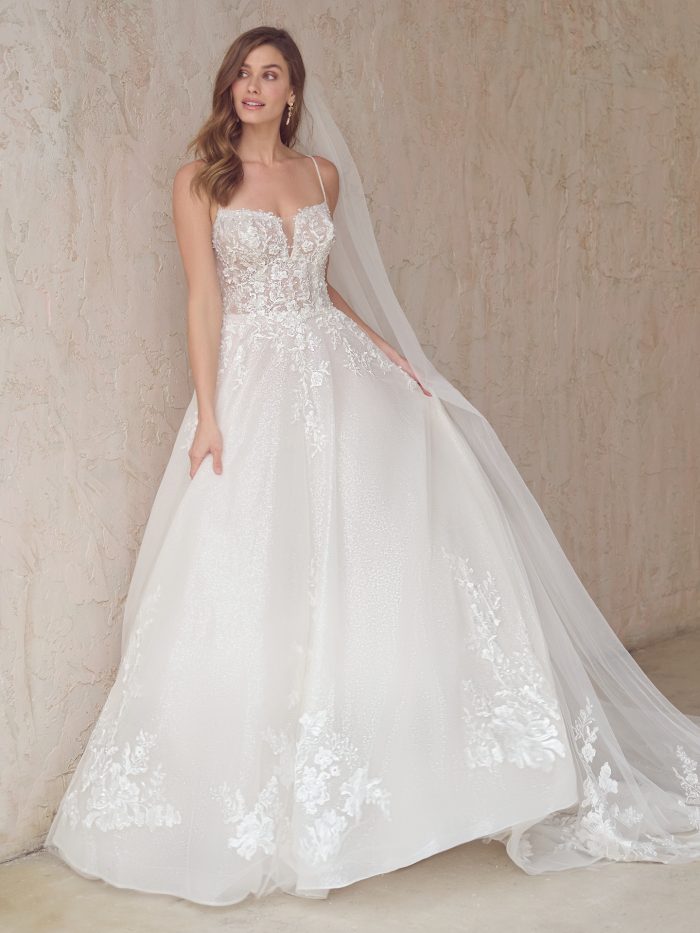 For those seeking a more whimsical look, Casey by Maggie Sottero is a square neckline lace wedding dress that is a dream come true. This dress also has many customizations to choose from:
Change the glitter tulle to plain tulle or chic organza
Remove the train for a more casual look
Line the bodice for more coverage
Add a matching veil
Lace Sweetheart Neckline Wedding Dresses
Last, but certainly not least, we can't forget about lace wedding gowns that feature a classic sweetheart neckline.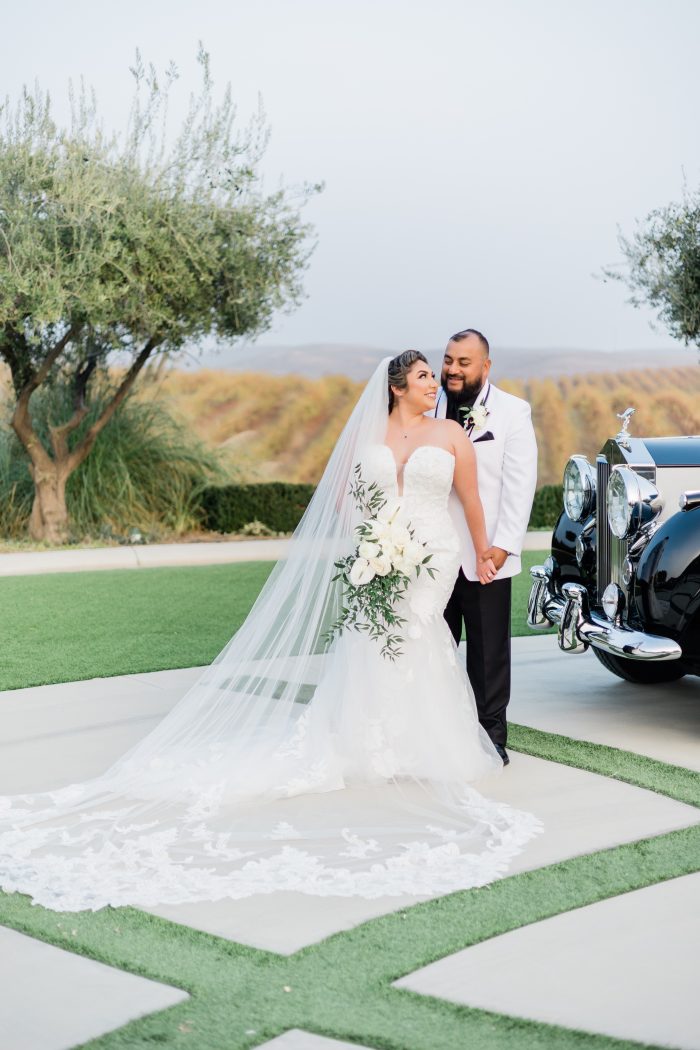 PC: Marianne Lucas
If you love a lace mermaid wedding dress, consider Hattie by Rebecca Ingram. But this isn't the only Hattie gown that has a sweetheart neckline – all the variations do as well! Read our blog to see our different Hattie wedding dresses for your love story.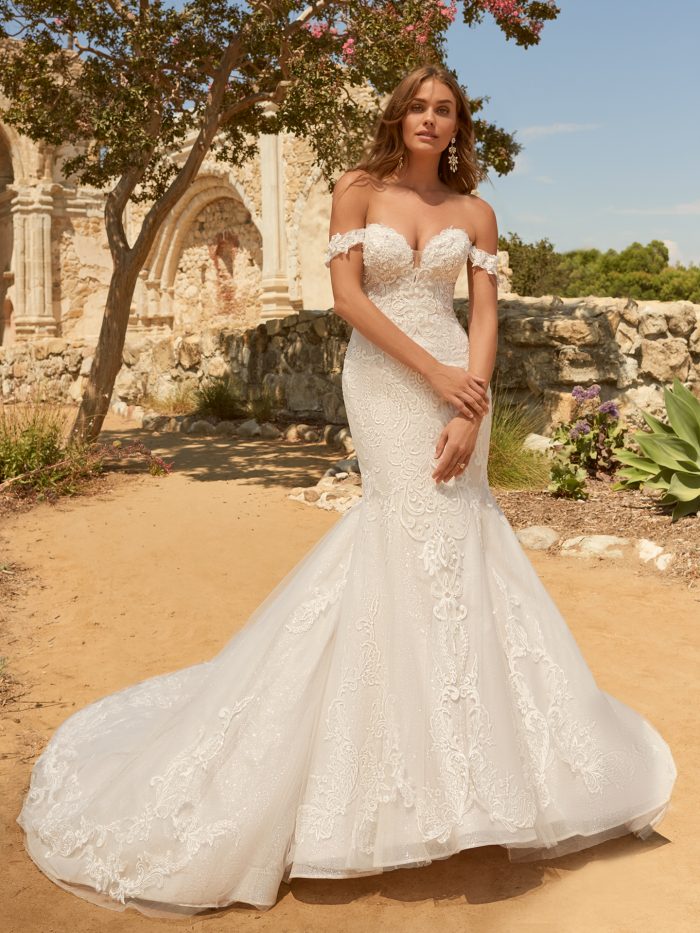 Say "I do" in style with our sweetheart neckline lace wedding dress, Frederique by Maggie Sottero, designed to capture hearts. This breathtaking gown combines traditional romance with a contemporary twist. The sweetheart neckline enhances your natural beauty, while the sleek and form-fitting bodice accentuates your curves, creating a stunning silhouette. The lace detailing, carefully placed to highlight your features, adds a touch of femininity and grace.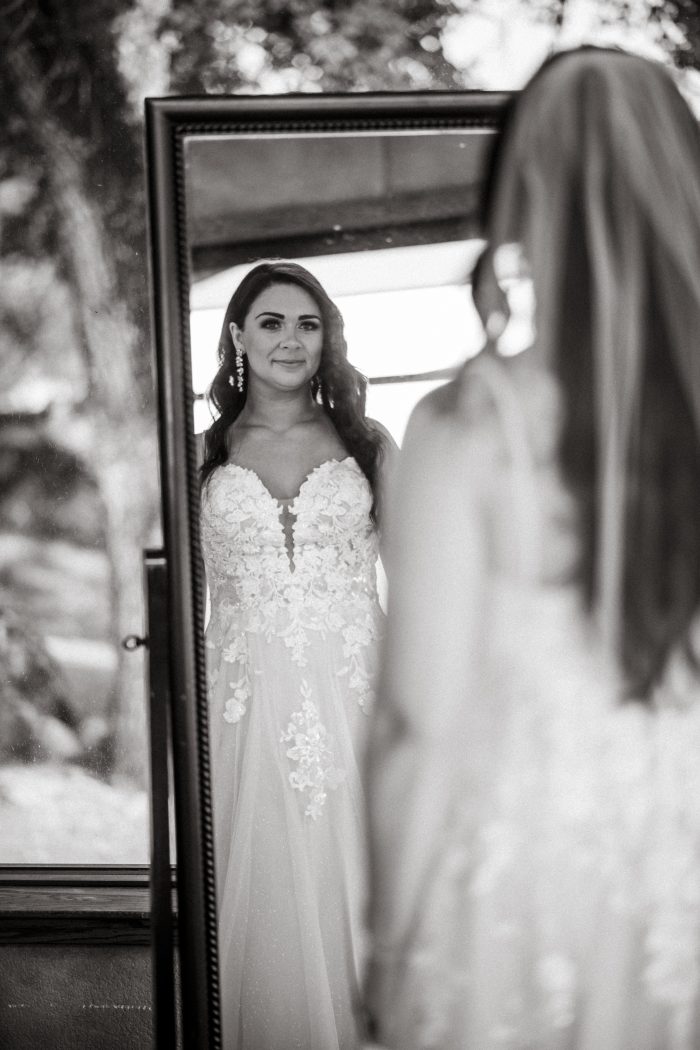 PC: Olha Melokhina
Lastly, consider choosing Stevie by Maggie Sottero for your sweetheart wedding dress option! This is a perfect option for free-spirited brides who want to embrace their bohemian charm with a sweetheart neckline. This chic gown has a combination of lace and tulle that'll make you feel like you're dancing on a cloud. The sweetheart neckline flatters your neckline and shoulders, while lacework throughout the dress adds an air of timeless beauty. The ethereal A-line silhouette and the lightweight fabric ensure you can dance the night away on your magical day!
Lace gowns with different necklines offer brides a beautiful and versatile option for their special day! With different options brides can find a style that is both flattering and unique to their personal taste. Whether a bride desires a more traditional look or a contemporary twist, any lace gowns will make every bride feel confident on their wedding day.
To try on these gowns IRL, make sure to visit one of our Authorized Retailers below by clicking the link!
More Blogs Like This:
Seven Types of Lace to Know While Shopping for a Wedding Gown
20 Quick Delivery Wedding Dresses For The Soon-To-Be Bride