Tips and Trends
|
November 4, 2021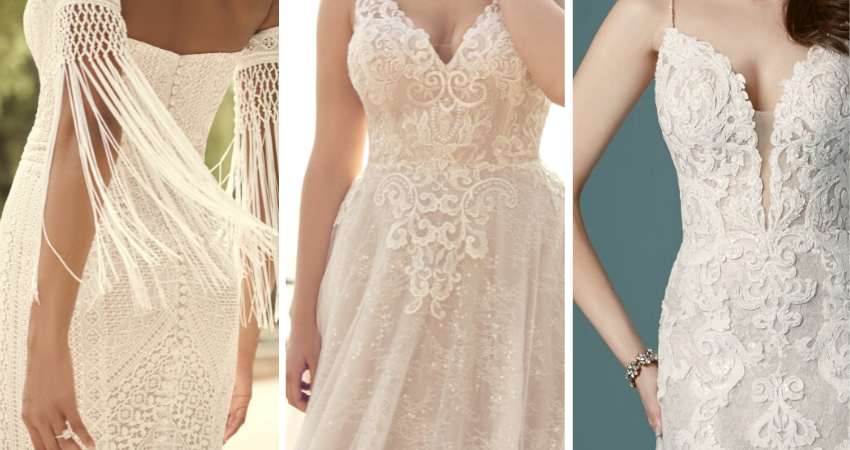 Lace is a go-to fabric for both vintage-inspired and modern wedding dresses. With its intricate construction and romantic floral and geometric details, lace is a timeless staple that never fails to look fresh season after season. If you're in the market for a lace wedding dress, consider maintenance and preservation up to and following your big day. Browse our guide for lace wedding dress tips. Plus, learn how to clean and repair different varieties of lace below. Keep scrolling!
Know Your Lace
While always timeless and romantic, different lace textures create a variety of bridal looks depending on construction and layering. Know the type of lace you like and are most comfortable in. This lace wedding dress tip will help you in the long run with your dress hunt. Here are some varieties to keep in mind:
Alençon Lace Wedding Dress
Alençon Lace Wedding Dress is a needlepoint lace that originated from France and is typically a floral design on a sheer or net background. It has a soft, cotton-like texture.
Eyelet Lace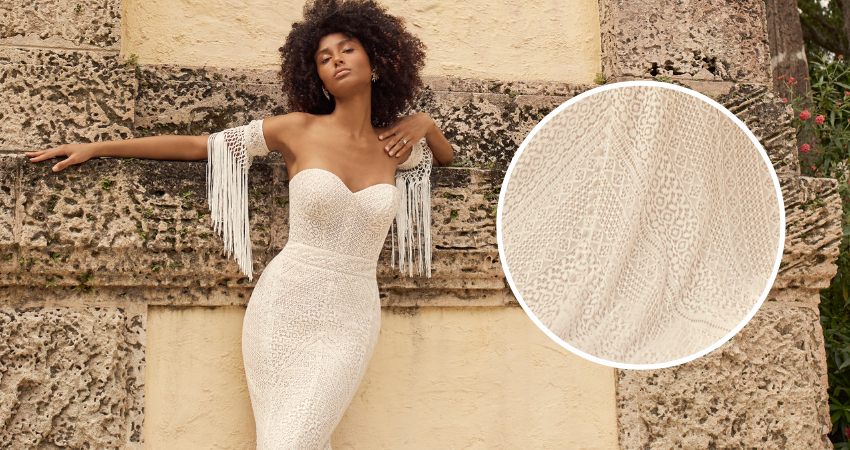 Eyelet lace is a light and airy fabric and typically made with cotton, silk, or satin. This flirty and modern style adds a touch of boho to your gown.
Chantilly Lace Wedding Dress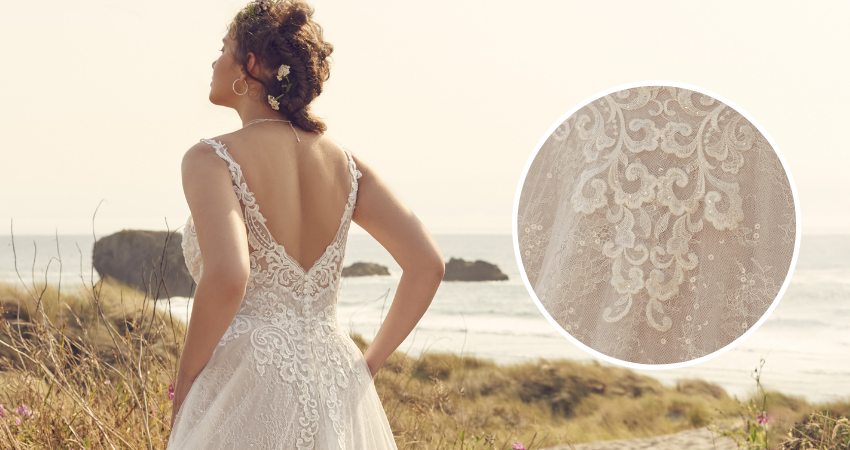 This French lace is made by twisting and braiding lengths of thread around bobbins. Chantilly lace is rich in detailing and patterns and made with linen or silk.
Embroidered Lace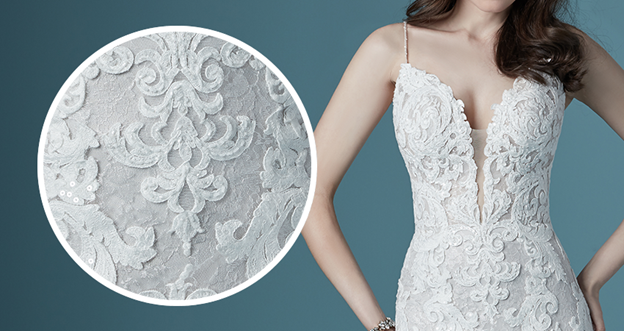 Delicate patterns are tightly stitched onto an illusion base, forming the appearance of an applique. Often, pieces of embroidered lace are on top of a separate tulle layer.
Guipure Lace Wedding Dress
Also known as Venetian lace, Guipure lace is a firm, stiff lace without a net background. Patterns are created by a series of close, embroidered stitches onto fine fabric.
Knit Lace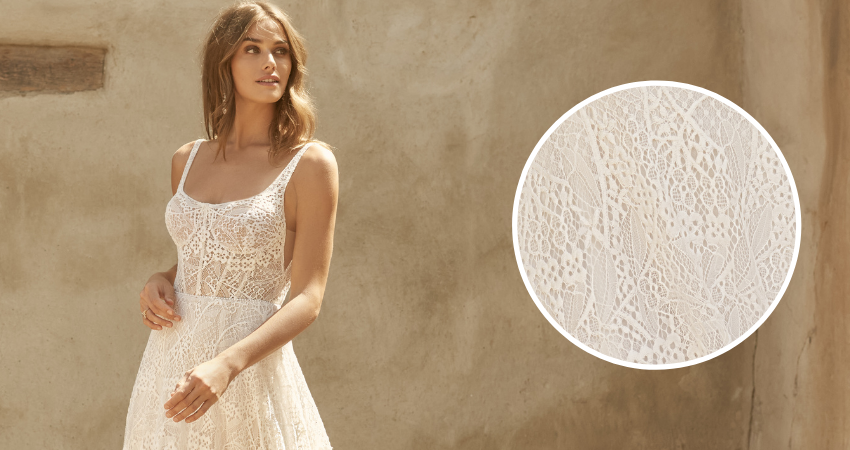 Knit lace is a soft lace without tulle backing, which makes a more flexible fabric that contours around the body with ease.
How to Clean a Lace Wedding Dress
After your big day, it's important to follow a simple but effective regimen to keep your lace wedding dress in top condition.
First, identify the stains on your dress, such as food, sweat, and dirt marks. Especially inspect the hem.
If the hem is dirty, fill your bathtub with warm, soapy water, hang your dress above, and let the hem soak for a couple of hours. After soaking, use a toothbrush and liquid detergent to gently scrub the hemline back to its natural color.
For sweat stains on the bodice of the dress, spray the lining with a soap and water solution and use a toothbrush and liquid detergent to clean out the stains. Do the same with other stains around the dress. If the soapy water solution does not get a stain out, soak the area in an OxiClean solution until the stain disappears.
If your dress requires allover cleaning once you've spot-removed the stains, take it to a professional dry cleaner. When complete, store the gown in an acid-free box.
How to Repair Ripped Lace
The intricate construction of lace makes it prone to damage during all the hustle and bustle of your big day, but all is not lost if you find a rip. Here's how to best repair ripped lace on a wedding dress.
First, place your dress on a flat surface, such as an ironing board. Examine the tear and position the ripped lace accordingly. Place straight pins through the lace on to the ironing board to help keep the dress and damaged area from moving.
Using thread that is similar in color, thickness and texture as the lace, make a double length of thread and begin stitching by loosely weaving in and out of the fabric. Start on the underside of the lace that has a thicker pattern and create a knot. As you stitch, work to make your stitches blend in with the existing pattern.
Once the tear is closed up, end your stitching with the needle again on the underside of the lace and make a knot in the thread. After that, carefully trim extra threads and remove the pins from the dress.
TLDR? Here's the main points on fixing a ripped lace wedding dress:
Identify the tear and figure out how you want the lace to lie after repairing.
Secure the lace with pins.
Find thread that is the same color, thickness, and texture as the lace.
Loosely weave in and out of the fabric through the tear, using more solid portions of lace to help stabilize your thread by creating knots.
Keep the stitches in line with the pattern to conceal your repair.
Finish your needle underneath the lace and tie a small knot.
Once the tear is repaired, carefully trim off extra fabric sticking out and remove the pins.
Voila! Your dress is like new!
Keep these lace tips and tricks in mind as you search for your perfect lace wedding dress and help preserve it for future generations. Find a boutique near you to find your dream lace wedding dress. Also, for more lace wedding dress inspo learn more about our vintage lace wedding dresses for an antique celebration. Lastly, make sure to follow us on Instagram to keep up to date on the newest and greatest lace wedding dresses that Maggie Sottero has to offer.