Real Weddings
Wedding Inspo
|
June 17, 2020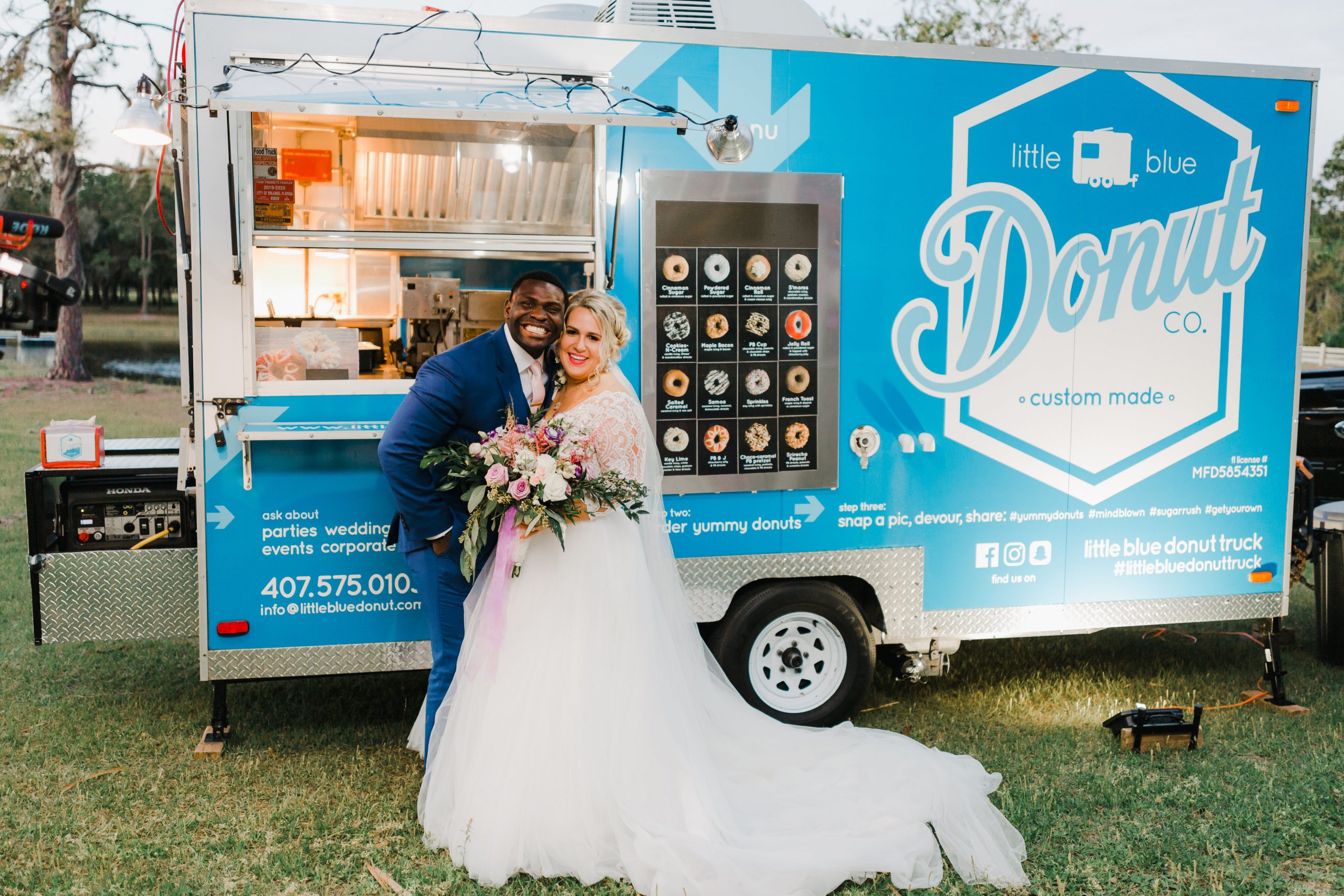 At Maggie Sottero Designs, we love love! And these two newlyweds from Wauchula, Florida are giving us all the feels! Their March wedding featured some of our favorite things, including unique cuisine, a donut truck, DIY details, and a gorgeous lace ball gown wedding dress. Keep scrolling for some major #weddinginspo.
Finding Love in Our Hometown
My sweetheart, Adson, and I met each other in elementary school. We weren't really friends but since we're from a small town, basically everyone knows everyone. We reconnected through my sister and Adson's best friend during the summer of 2017, and the rest is history!
My two "rules" for proposing were: 1) I had to have my nails done, and 2) there had to be a photographer there! One of my photographer friends said she needed a couple to model for some new photos for her website. We gladly agreed and met up at Bok Tower Gardens in Lake Wales, Florida, which is one of my favorite places!
My friend started taking our photos, and then suddenly, Adson got down on one knee. She captured the whole thing! Our other friend, Isaac, was hiding in the bushes and captured it all on video as well. I was totally surprised and have to say it was a complete dream come true!
Finding "The One:" A Scallop Lace Ball Gown Wedding Dress by Maggie Sottero
Since I'm super close with my family, I brought 10 of them dress shopping with me. And surprisingly, I didn't feel stressed out at all. We started at The Dressing Room in St. Petersburg, Florida, where stylist Courtney helped me pick out some beautiful wedding dresses.
When I tried on a gorgeous lace ball gown wedding dress called Mallory Dawn from Maggie Sottero, something inside me knew it was "the one." I felt so happy and couldn't stop looking at myself in the mirror!
I'm not great at making decisions, so I walked out of the shop without officially saying "yes." However, I couldn't get that lace ball gown wedding dress out of my mind! We went to another dress shop, and every wedding dress I tried on felt so "blah" compared to Mallory Dawn.
I mean, few things are more enchanting than flowy tulle combined with embroidered scallop lace! So I called Courtney, and she let me sneak back in to try the wedding dress on one more time for my perfect "say yes to the dress" moment!
The Inspiration for a Spring Wedding
The inspiration for my wedding was lavender. And since we got married in March, I decided to go with spring vibes! Pinterest helped me gather all of my wedding inspiration. Most of the wedding was DIY, and with the help of my wonderful mother, everything turned out exactly how I wanted!
My bridesmaids all wore lavender and light blue dresses, which matched the groomsmen's green and lavender boutonnieres. And Adson's blue suit contrasted perfectly with his groomsmen's sharp grey suits.
The Donut Truck at Our Reception that Our Guests Loved
Since Adson and I both LOVE donuts, we knew we had to include them at our wedding. I didn't want to go with the typical donut wall, so we found Little Blue Donut Co. in Winter Park, Florida.
They traveled all the way to our wedding to make homemade donuts for our guests during the reception and had countless delicious flavors. The donut truck was definitely a crowd favorite!
A Beautiful Wedding Ceremony and Unique Reception
My dad spoke and prayed over us at the beginning of our ceremony, my uncle officiated, and then we took communion with all of our guests. It was absolutely perfect from start to finish.
Our venue was a local civic center that we transformed into our dream space. The entire day took place in one room, and we had over 300 guests in attendance. We also had a live painter who captured our first dance and other special moments during our reception. It was truly unique!
Food Festival Themed Dining with Unique Cuisine
We had a "food festival" themed dining that featured different types of food: Haitian (all cooked by Adson's mom), Mexican (a nacho bar), and Italian (lasagna, salad & bread sticks). Delish!
Adson is Haitian, so the cuisine at our reception was a lot of blended cultures, and I have to say, the Haitian food was the most popular!
My Favorite Moment from the Big Day
Our wedding day flew by. My only regret is that I wish it hadn't ended so soon! It's so hard to pick a favorite moment, but if I had to pick just one, it would be our "first look" before the ceremony.
Initially, I was totally against doing a "first look," but it turned out to be such an amazing moment for the two of us. We decided to read our handwritten vows to each other during our first look. It was a beautiful moment that I'll never forget!
The Perfect Timing for a 2020 Wedding
The timing of our wedding was truly divine! We got married just before COVID-19 could disrupt our plans. After the wedding, we went on a mini-moon to Orlando, Florida for three nights. By the time we got home, basically everything had shut down! We were so fortunate to not have any restrictions on our wedding day. It was a huge blessing we will never take for granted!
Wedding Day Tips for Brides-to-Be
My biggest tip for bride-to-be is to simply take it all in. It was easy for me to get stressed out and over think things, especially since most of the wedding was DIY. But when the day (and day before) came, I blocked out everything and didn't allow myself to think of the little details.
I know it seems like the most cliche answer, but I let myself live in the moment. Our wedding day flew by, but I feel like, because I cherished every second, I can look back and remember so many special moments as if they happened yesterday.
A Sneak Peek of Our Wedding Video
Our wedding photographer, Rachel Laxton, captured our day so perfectly on camera as well as our videographer, Isaac Leimeister! Our wedding day was everything we dreamed it would be and more!
We hope you've enjoyed Megan and Adson's spring wedding featuring unique cuisine, a donut truck, and a romantic lace ball gown wedding dress. To see more lace ball gown wedding dresses, click here! And for more real wedding inspo, visit our Real Weddings Pinterest page. Cheers!
Feeling inspired? You might also like:
Classic Wedding Featuring Elegant Details and a Historic Venue
This Boho Bride Fell In Love with an Unexpected Wedding Dress