Dresses
Wedding Inspo
|
September 12, 2023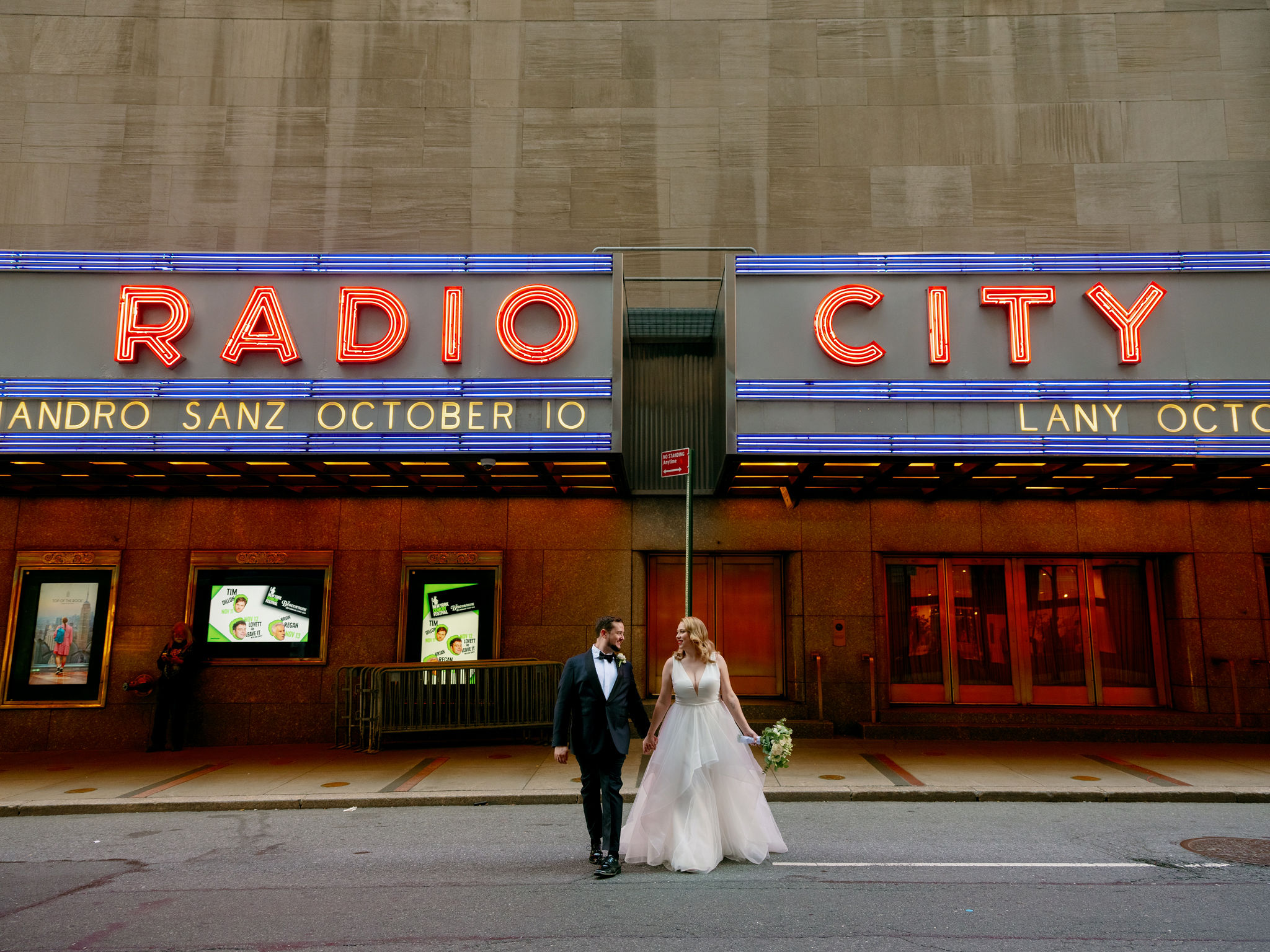 If you're the type who bookmarks famous wedding dresses and pins over-the-top Oscar gowns, this style gallery is for you. These silhouettes are unique, elegant, and truly luxurious — everything we love about glam women in history and their most iconic formalwear. Keep scrolling for our picks for celebrity wedding dresses and all the ways to make them your own!
Psst… Don't forget to take our Wedding Dress Quiz. Click the button below so you can find your style based on budget, aesthetic, and must-haves.
Classic Audrey Hepburn-Inspired Wedding Gowns
Who doesn't love Audrey Hepburn? If Holly Golightly is your muse, look for a few features: a classic silhouette, tailored minimalism; and chic details.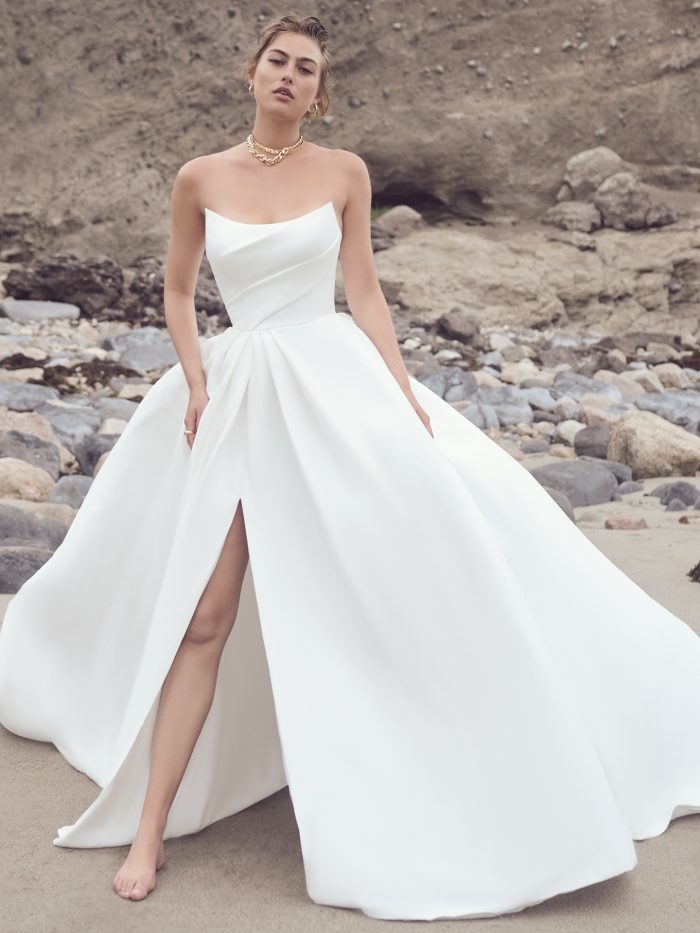 If you love the look of a glamorous 50's-inspired style a la Sabrina or Funny Face, look no further than this bombshell bridal gown! Made of sleek satin fabric, this old Hollywood-inspired wedding dress is a show-stopper. Featuring pleated skirt and a cat-eye neckline, this a modern take on the Audrey Hepburn style.
This design could be straight out of 1954's Sabrina — a timeless silhouette featuring impeccable draping and a stunning train.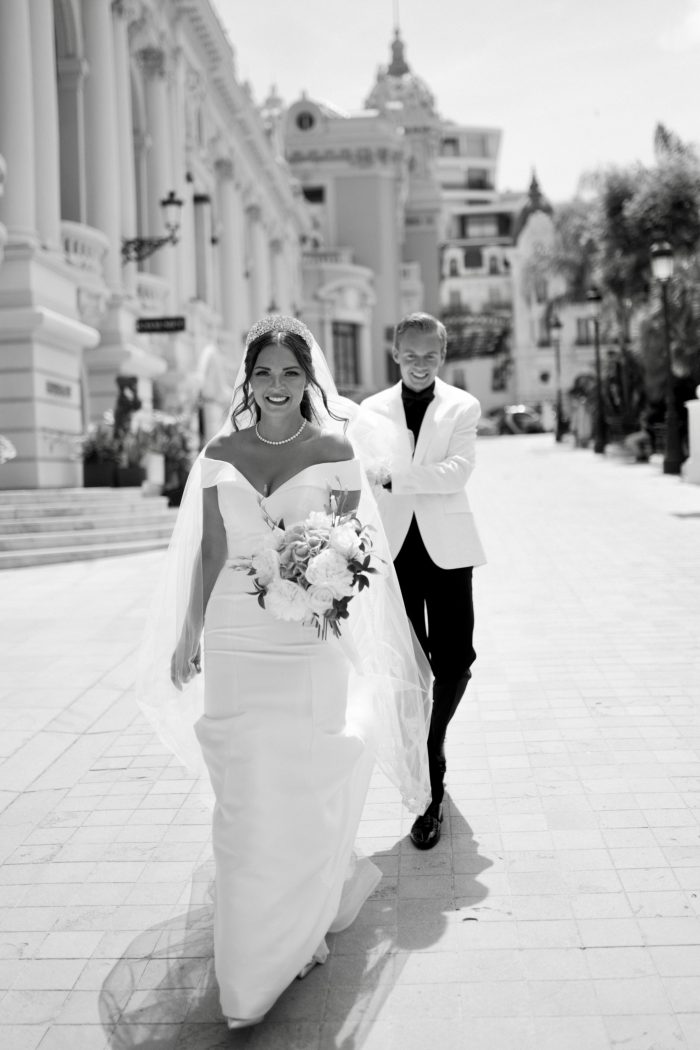 PC: Gabriella Vanstern Photography
If you loved the satin in Aspen but want something fitted, consider saying "yes!" to Josie by Rebecca Ingram. With this simple and sophisticated wedding dress you'll channel her red carpet looks — feminine silhouette, slinky neckline, and romantic embellishments. Second, you can channel the star's real-life wedding look — demure, classic, and perfectly poised.
This off-the-shoulder bridal gown makes an elegant yet luxe statement. It's soft, effortlessly sexy, and just the perfect amount of extravagance.
Feminine Margot Robbie Bridal Inspo
Margot Robbie's fashion style is an exquisite blend of timeless elegance and modern charm. She effortlessly exudes confidence and femininity in her choice of attire, often opting for chic, figure-flattering silhouettes that accentuate her natural grace. Margot's fashion choices always radiate sophistication, while channeling classic and contemporary fashion!
Our first choice for this modern-day Barbie? Well, we had to go with something pink!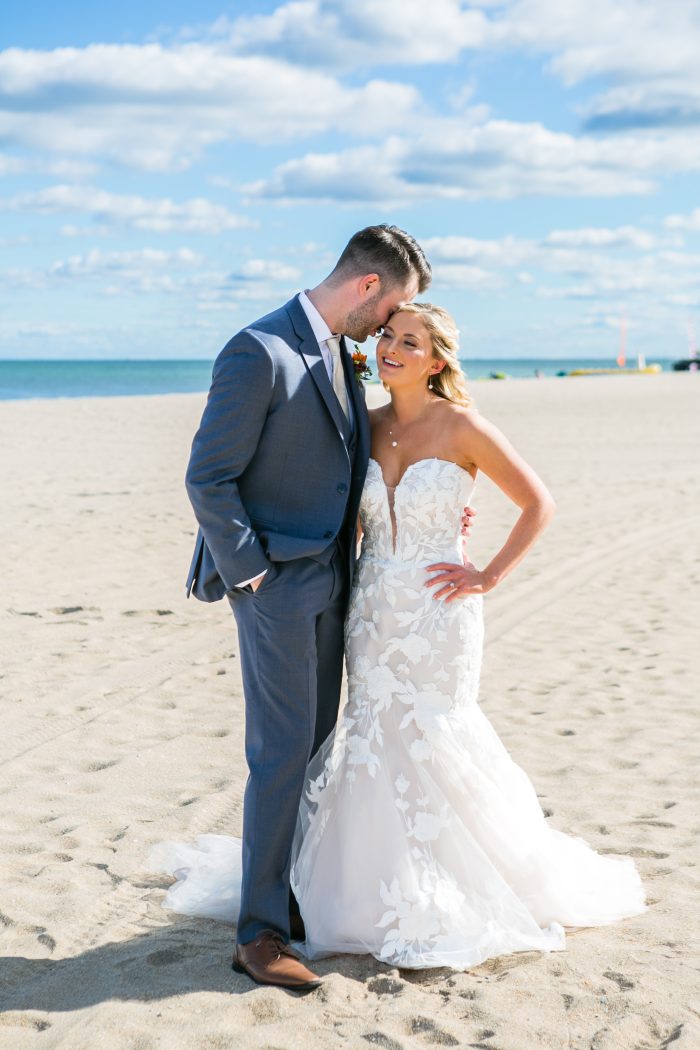 Hattie is trendy, yet classic. With its mermaid silhouette, large floral lace, plunging neckline, and sparkle tulle it gives a modern and feminine twist for any bride looking to mimic Margot's style!
Psst… Read our blog about the different Hattie sister styles to find the Hattie gown for you!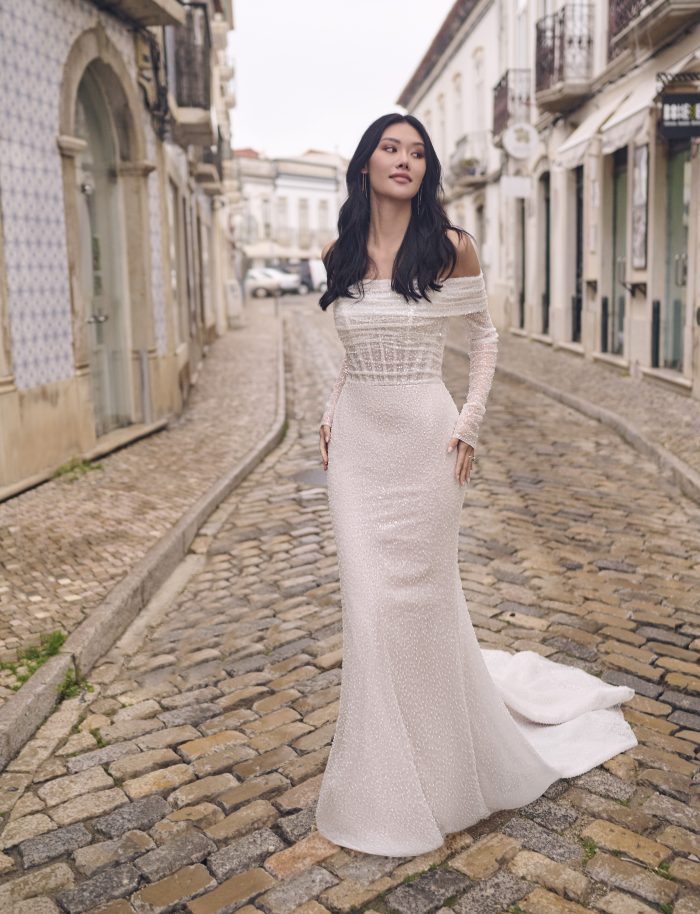 Margot Robbie's fashion style is all about classic silhouettes with modern touches. Her ability to effortlessly combine classic elegance with a modern twist is a reflection of what many brides dream of for their special day! Drew is the perfect example; glamorous and opulent. And Barbie would definitely have it in her wardrobe!
With exposed boning, and chic scoop neckline, and a removable off-the-shoulder beaded jacket you'll not only feel as beautiful as Margot Robbie walking down the aisle but as stylish as her too!
Glamorous Diana Ross Wedding Gowns
We can't share a list of glamorous celebrity women with iconic style without talking about Diana Ross! Diana Ross's iconic stage presence and unmistakable sense of confidence radiates powerful, feminine energy and has inspired fashion-lovers all over the world to embrace their own unique sense of style with poise and grace! If you're looking to style your bridal style after her star power, look for styles that are figure-flaunting and filled with Studio 54 fabulousness.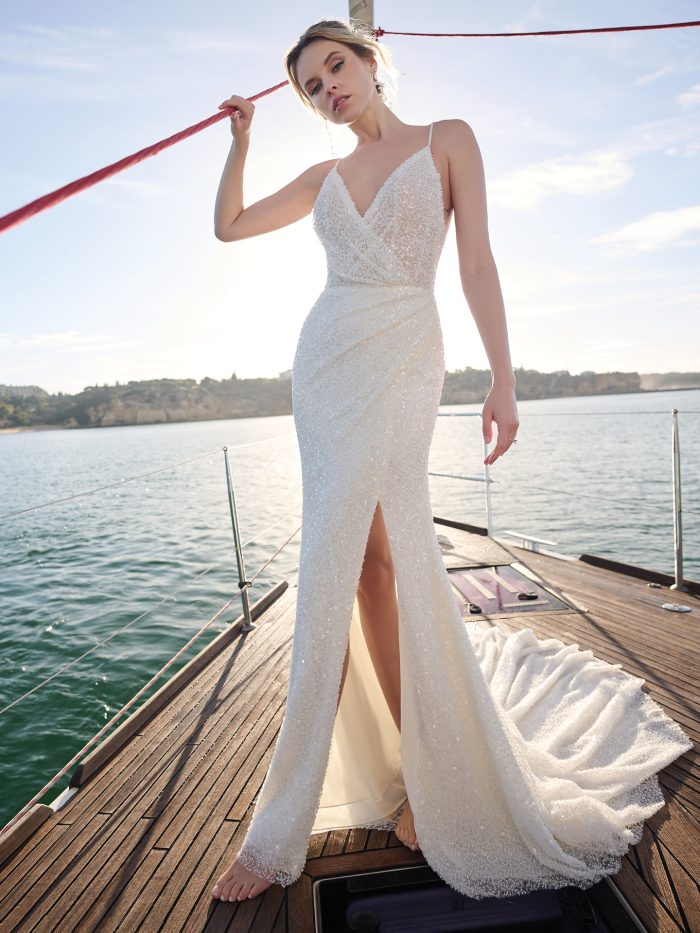 First up is Topaz by Sottero and Midgley! This allover beaded wedding dress channels her Superbowl National Anthem performance in 1982 with a deep V-neck, ruched bodice, and sexy thigh-high slip. It's perfect for the diva in every bride who wants to look like a superstar on their wedding day.
If you're in love with the beaded bridal look, make sure to read our blog to see similar styles!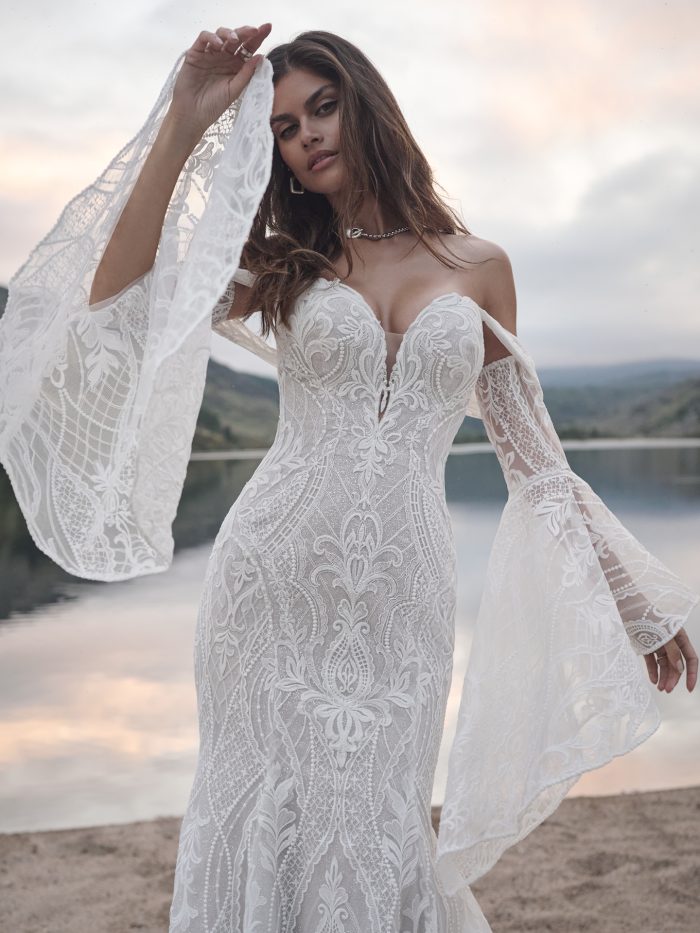 Bronson is another gorgeous look for brides looking to bring some of Diana Ross's stage style to their bridal look! This fit-and-flare wedding dress features intricate and unique lace with dramatic detachable bell sleeves that channel 70s fierceness in the best way possible!
Show-Stopping Marilyn Monroe Bridal Dresses
It's no surprise a Monroe-inspired celebrity wedding dress is all about the curves. The blonde bombshell's fashion style effortlessly exudes sensuality and sophistication through her iconic wardrobe, often featuring figure-hugging dresses that celebrate her curves! When picking celebrity wedding dresses, we focused on timeless designs that would highlight brides' curves and let their beauty shine through!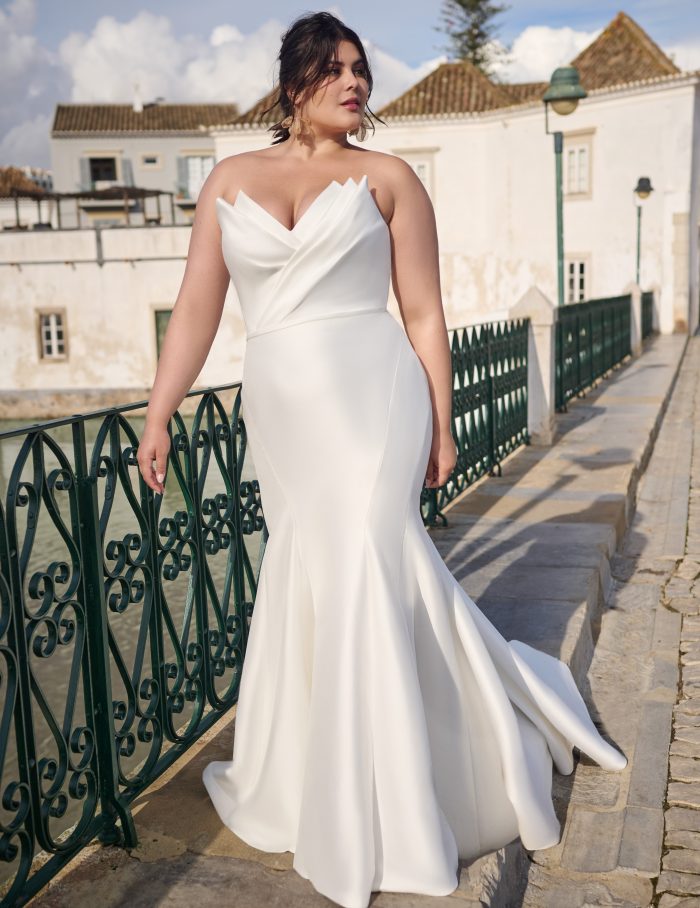 A Marilyn celebrity wedding dress look wouldn't be complete without Marilyn by Sottero and Midgley. This fit-and-flare satin gown is giving 50s realness with its strapless asymmetrical neckline and detachable bow. Not only is it classic, but uniquely sexy just like the "Happy Birthday, Mr. President," singer.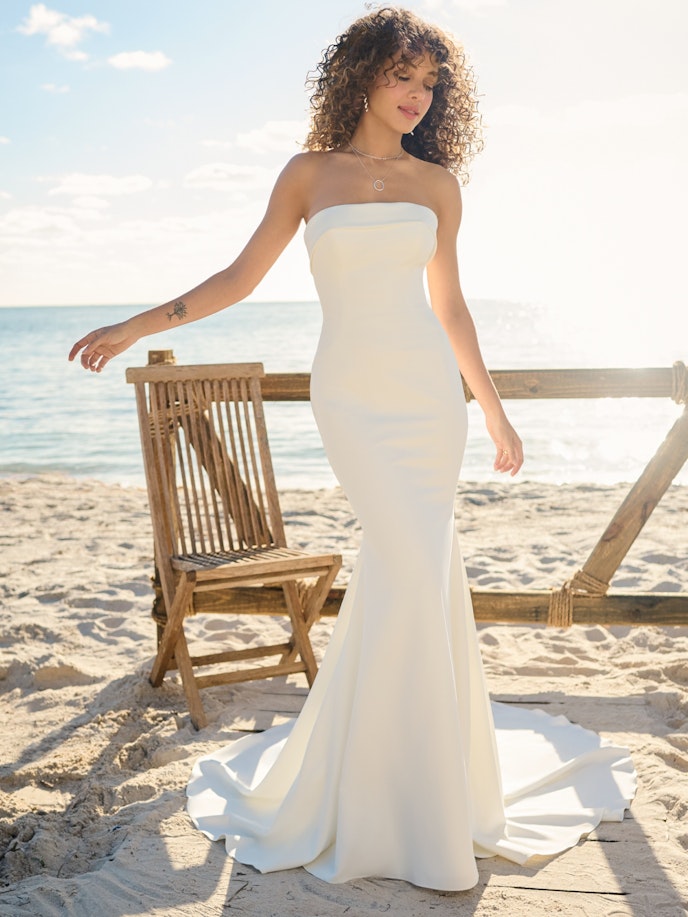 Another Marilyn Monroe wedding dress option is Francine by Rebecca Ingram. This simple mermaid wedding dress exudes simple vintage sexiness and we think Marilyn would have loved this chic look. With a sophisticated banded cuff along the strapless neckline, vintage-inspired buttons down the back, and modern crepe fabric this wedding gown will not only show off your curves but create a timeless look for your wedding day.
Psst… If you love the crepe bridal style, make sure to shop our other crepe wedding dresses by reading our blog!
Chic Selena Gomez Celebrity Wedding Dresses
Whether you're Team Hailey or Team Selena, there's no denying that Selena Gomez has impeccable fashion sense. Combining casual chic with high-fashion glamour, Selena often embraces contemporary and youthful looks with a touch of bohemian flair.
Whether you love her red carpet or everyday looks, consider the following celebrity wedding dresses to say "yes!" to.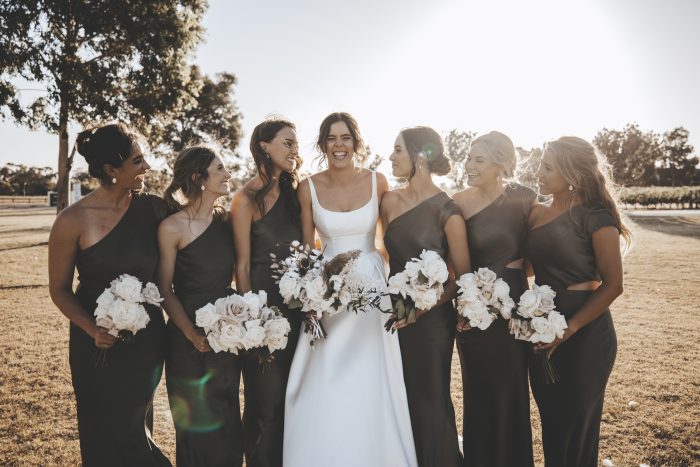 PC: Partographia Photography And Video
First up is aptly named, Selena by Maggie Sottero! With simple lines, chic satin fabric, and a square neckline, not only is this wedding dress elegant and sophisticated, but modern and chic! Our brides think so too:
"Gorgeous! It was exactly "me," and I felt beautiful, elegant, and comfortable. I added a Maggie Sottero lace jacket for the ceremony, and my seamstress added a bow to the back. My bejeweled sneakers were the perfect touch for the reception!" – Liz
"The Selena gown is so chic, flattering and comfortable! I did not want to change out of my dress. I stayed it in all night even through the after party." – Jacqueline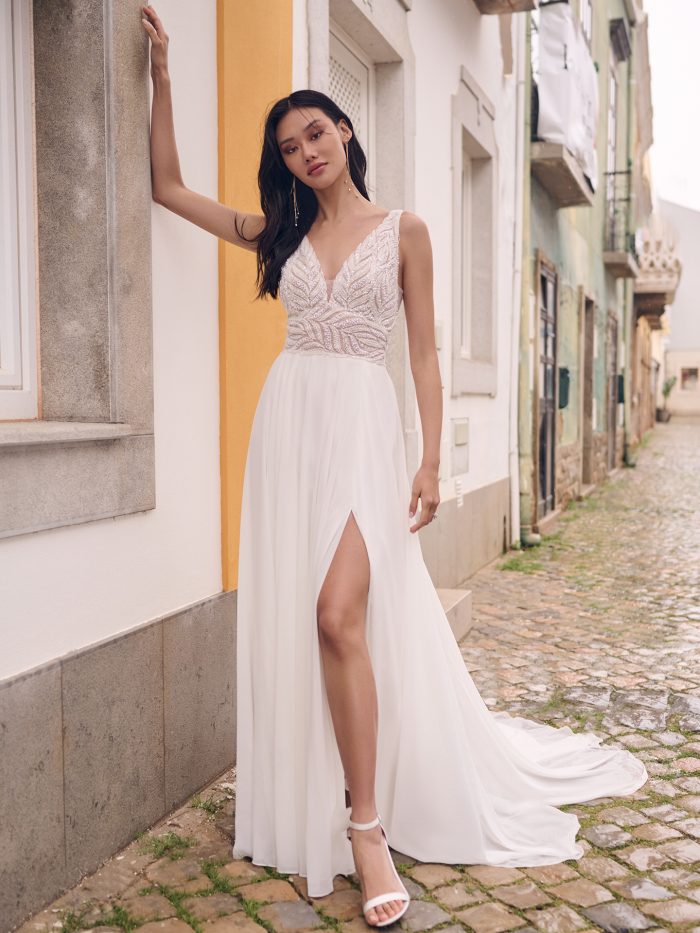 If you love Selena Gomez's more boho looks consider open back beaded and chiffon wedding dress, Maurelle by Maggie Sottero! This beach-inspired wedding dress not only features a sexy thigh-high slit but a daring V-neck that would not only look great on the Queen of Instagram, but on you for your wedding day!
Trendy Zendaya Bridal Dresses
Zendaya's fashion style is a captivating fusion of bold experimentation and impeccable elegance. She's renowned for pushing boundaries and embracing unconventional trends while maintaining an air of sophistication. Zendaya effortlessly transitions between cutting-edge streetwear, avant-garde couture, and classic Hollywood glamour, showcasing a versatility that few can match. Her fearless approach to fashion has made her a true trendsetter, inspiring individuals to take risks and express themselves through their clothing choices.
That's why we chose bold looks such as Bodie by Maggie Sottero and Positano by Sottero and Midgley!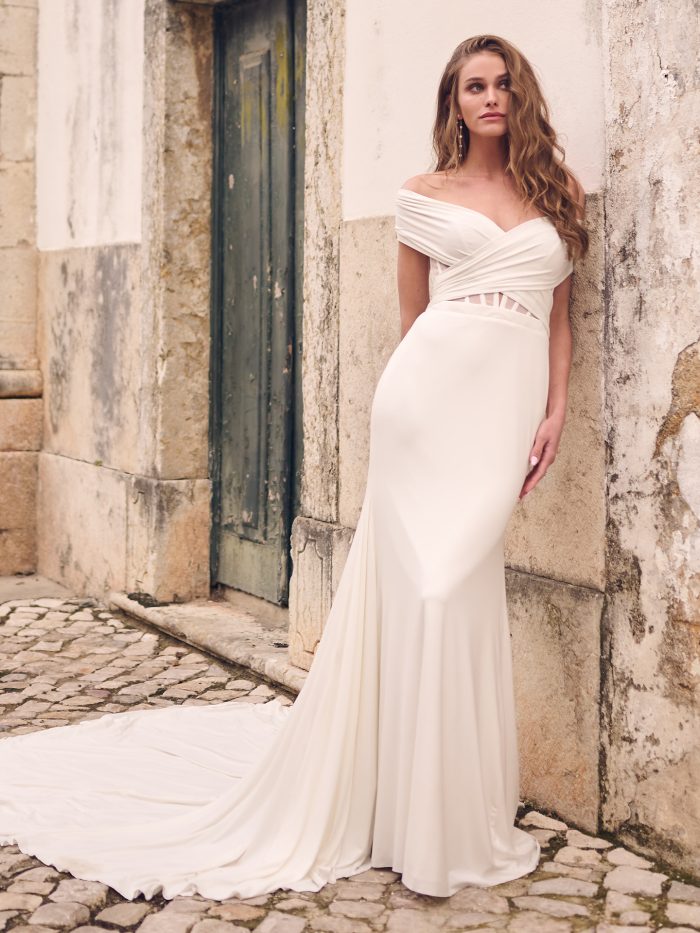 If you're a fan of Zendaya's style, then you must be familiar with her gorgeous 2015 Oscar's outfit where she donned a gorgeous white gown designed by Vivienne Westwood. To match this iconic look for brides who want to have a similar style on their wedding day, we suggest the unique Bodie wedding dress.
Made of luxurious crepe with an exposed corset bodice, this Grecian wedding dress has more than meets the eye! Whether you want cap-sleeves, off-the-shoulder dreaminess, or a sexy strapless look, the luscious stretch jersey streamers can be used for a customizable look to make the wedding gown uniquely yours!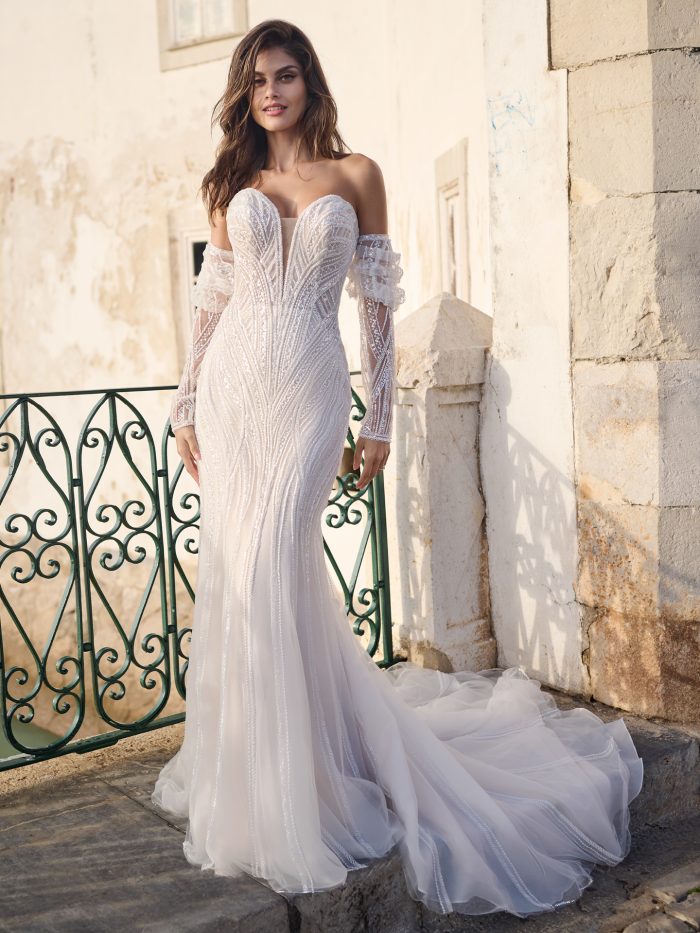 Positano is another beautiful celebrity wedding dress for brides who fans of the Euphoria star. With intricate beading, a plunging sweetheart neckline, and an illusion bodice, this wedding dress is sexy, modern, and celestial.
It also features many personalizations like crystals down the back for a vintage vibe, detachable off-the-shoulder puff sleeves, and a detachable train with beaded embroidery and organza! Perfect for your red-carpet moment.
Moody Jenna Ortega Celebrity Wedding Dresses
New Hollywood Jenna Ortega is making headlines right now for more than her star roles in Wednesday and Beetlejuice! Her youthful and edgy fashion style has drawn fans of the bold and trendy like a moth to a flame! Her urban yet sophisticated and fearless approach to fashion is perfect for our brides who are craving a bolder look for their wedding day.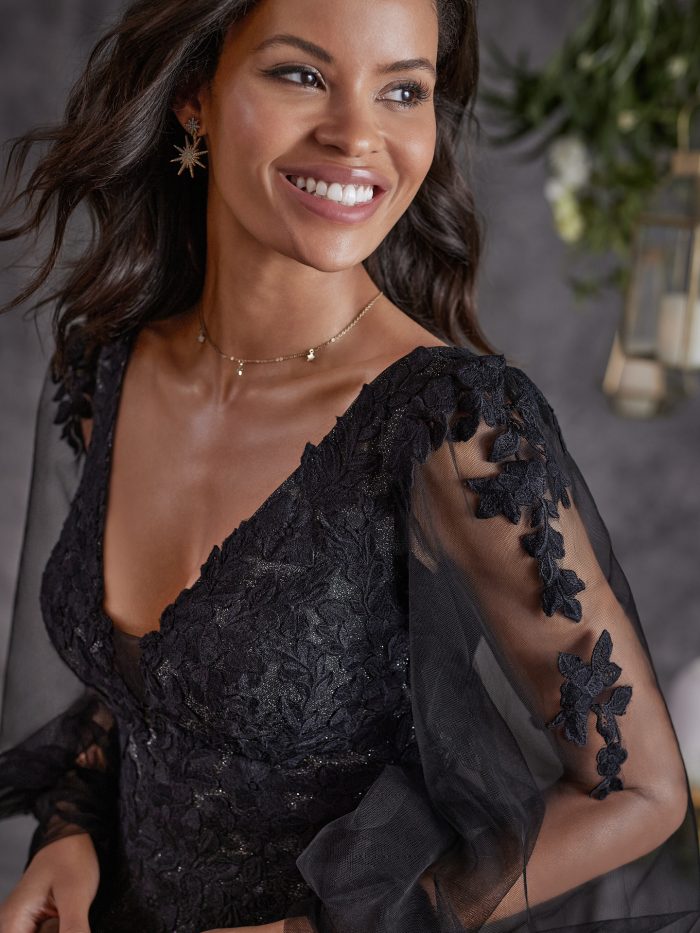 Much like her character Wednesday, Jenna Ortega loves to don black on the red carpet and in her streetwear. That's why we chose vintage-inspired Alexandria by Rebecca Ingram as one of the celebrity wedding dresses inspired by her!
With long illusion lace bishop sleeves, a modern V-neck, gothic lace over tulle, and an open back this is an ideal gown for brides who want to have a romantic, yet bold, look on their wedding day. Psst… this is one of our coveted Quick Ship wedding dresses for our brides getting married on a shorter-than-normal timeline!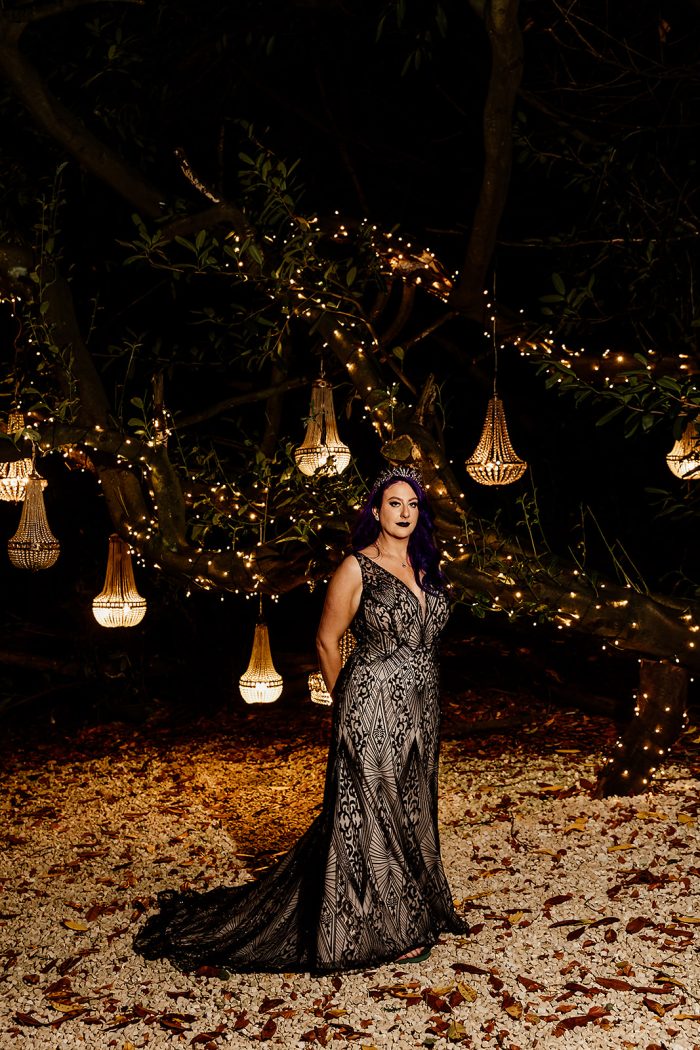 PC: Mark Barns
A gorgeous art deco wedding dress featuring a black colorway is perfect for fans of this edgy actress. We can't help but fall in love with the intricate beaded lace, fitted silhouette, and V-neck. We picture this wedding dress in a Halloween-inspired celebration. Don't believe us? Just take a look at one of our Real Brides reviews!:
"We had an elegant gothic wedding at Halloween, everything dark, witchy, and elegant, the dress and black veil honestly just set the day off everyone couldn't believe how beautiful it was. I wanted the wedding to just show mine and my husband's personality and the dress was definitely a bit of me!!" – Rebecca
Designer Michelle Yeoh Bridal Gowns
Last, but certainly not least, we can't have a list of celebrity wedding dresses inspired by iconic women in Hollywood list without mentioning Oscar winner Michelle Yeoh! Michelle Yeoh is best known for her leading role in Everything, Everywhere, All At Once, and also for her captivating fashion style! Combining a blend of classic elegance with refined sophistication, she often opts for timeless silhouettes, impeccable tailoring, and luxurious fabrics that highlight her natural beauty. AKA, the perfect celeb to style your bridal look after!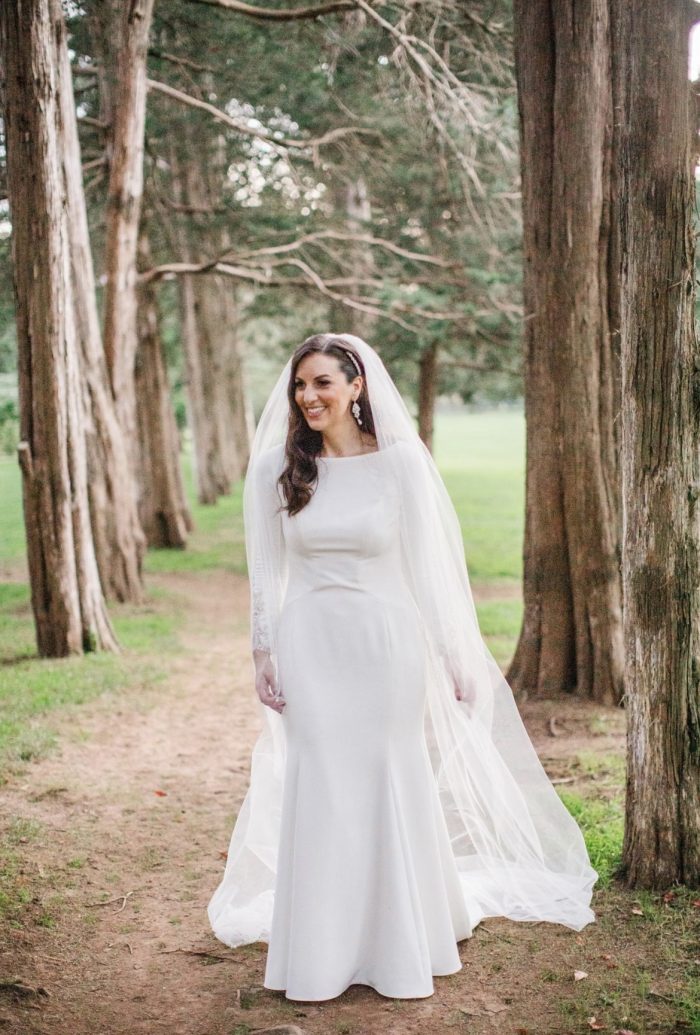 Aston is our first choice of wedding dresses that match you and Michelle Yeoh's style! With long crepe sleeves, a high neck, and chic beading down the back, this wedding gown is not only sophisticated but luxurious. Not only can we imagine this on the red carpet, but we can see it going down the aisle as well!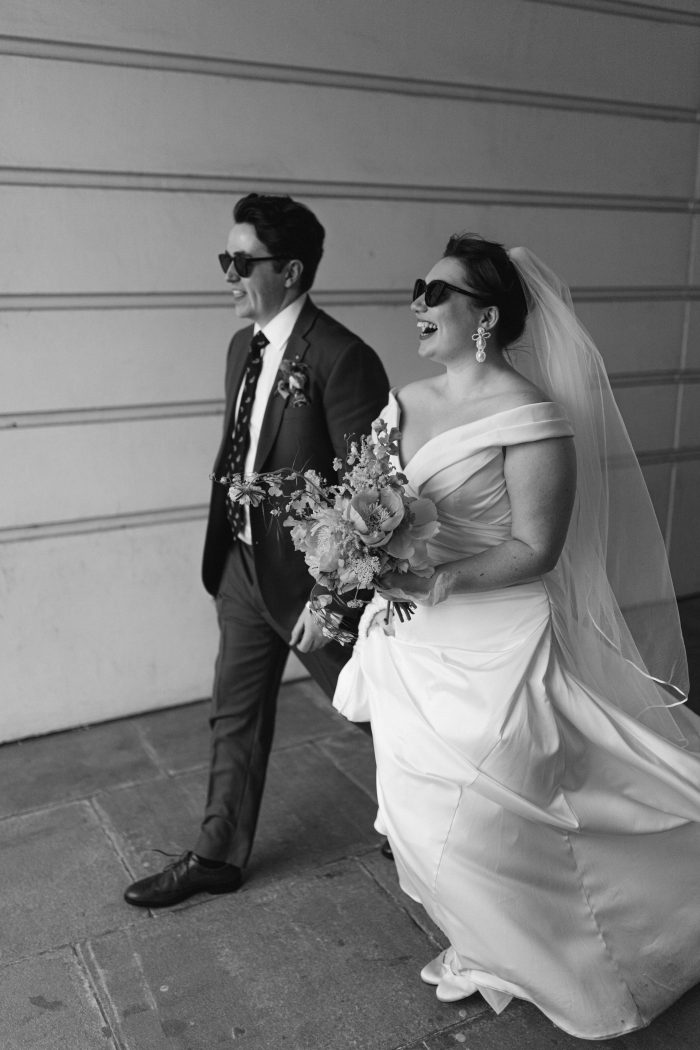 PC: Leah Lombardi
Another bridal style inspired by the Crazy Rich Asians star is Tenley by Maggie Sottero. With chic fabric, a ruched bodice, and off-the-shoulder sleeves this look is giving Hollywood leading lady and is a great choice for our mature brides who want to feel sexy and classic on their big day.
Love these famous wedding dresses and style inspo? Make sure to find one of these gowns at an Authorized Retailer by clicking the button below!
More Blogs Like This:
Taylor Swift Wedding Dress Inspo for Each Era
Trend Alert: Barbiecore Wedding Dresses and Inspo