Dresses
Events and Boutiques
|
June 24, 2020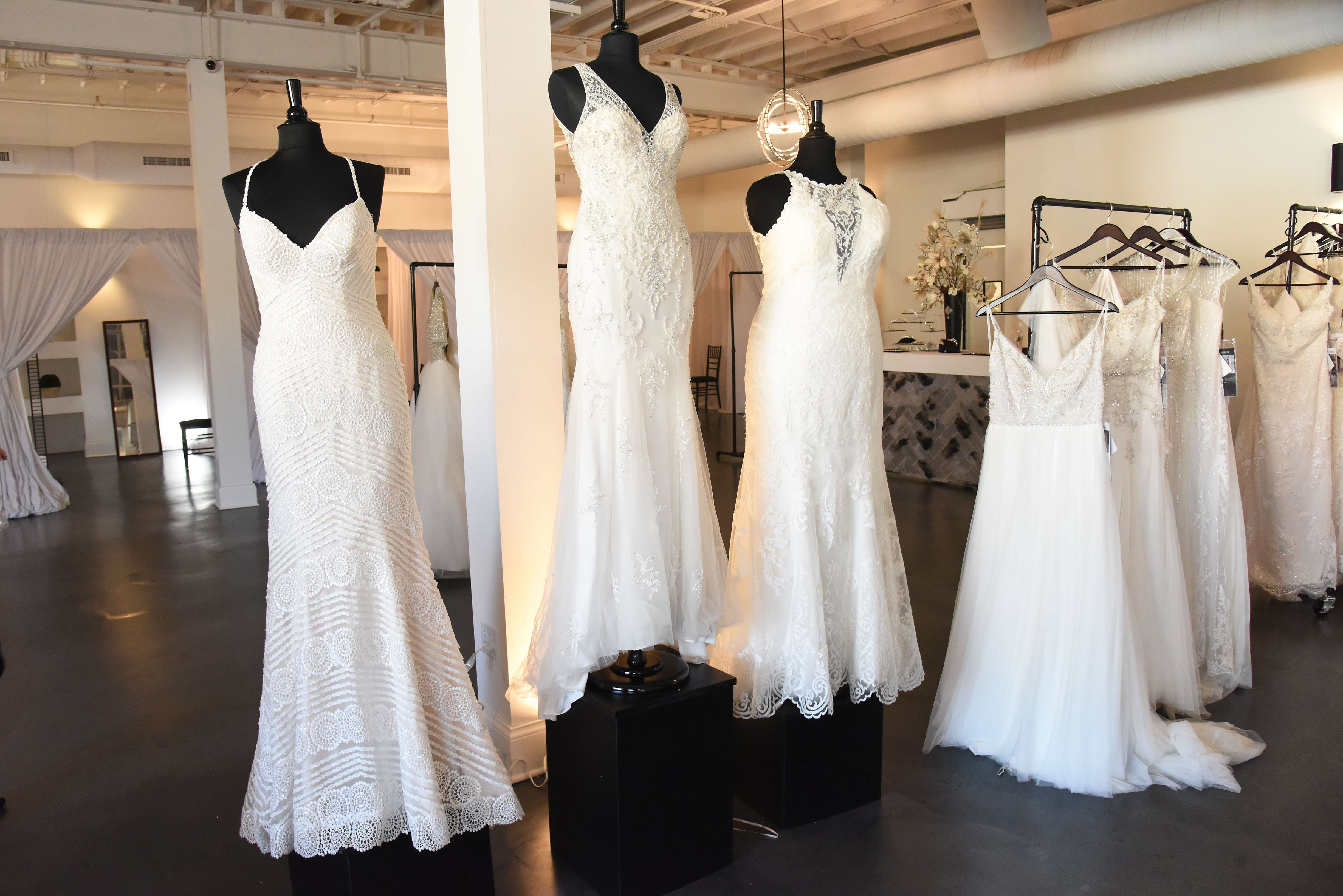 Today we're tackling the key parts of wedding dress shopping, AKA how to find a specific wedding dress where you live, how to browse related styles, and what to expect at your local boutique. Enjoy!
How to Find a Specific Wedding Dress Where You Live
When it comes to helping you find your dream wedding dress, no one does it better than our Maggie Sottero Designs Authorized Retailers! Below, we've compiled some tips on how to find a specific wedding dress by Maggie Sottero and how to make the most of your bridal appointment!
Use the Dress Finder Feature on Our Website
Congrats! You've found your favorite dress! We created the Dress Finder Feature on our website so you can find a specific wedding dress near you. To find boutiques near you that carry your favorite style, scroll down on the Dress Details page. Then enter you zip or postal code to find a boutique near you that carries that specific wedding dress!
To See a Similar Dress, Browse Related Styles
If your wedding dress is not yet at a boutique near you, don't fret! You can browse Related Styles by clicking "Find Related Styles" at the bottom of the page. This will help you find similar wedding dresses that boutiques carry in your area.
Hint: Even if your wedding dress is at a boutique nearby, feel free to browse the related styles near you anyways!
Book an Appointment with Your Local Boutique
Next, call the boutique or visit their website to book your appointment. Most brick-and-mortar bridal stores require an appointment for you to try on wedding dresses. You can also use our Store Locator to find shops in your area. Just click on the store name or phone number to book your appointment.
Hint: The little computer icon by a boutique's name means they also offer virtual appointments!
Inquire About Other Maggie Sottero Inventory at the Boutique
Before you go to your appointment, make sure to ask about the boutique's Maggie Sottero Designs inventory! Our Authorized Boutiques carry a diverse selection of sample dresses from our Maggie Sottero, Sottero and Midgley, and Rebecca Ingram lines, in various sizes and colorways.
Your boutique may have a list of samples on their Pinterest page or website for you to browse before your appointment. Or you can ask for your own Pinterest board to match styles.
Request a Specific Wedding Dress Through Our Loan Sample Program
Most Maggie Sottero wedding dresses from current collections are available to be shipped through our Loan Sample Program. If a boutique in your area doesn't carry a sample of the gown you're interested in, they may be able to borrow the wedding dress for you to try on for your appointment date.
Submit your requests to your boutique ahead of time (at least two weeks in advance of your appointment). And then plan for a possible fee for the loan request, depending on the boutique's policies. If you have further questions about our Loan Sample Program, inquire with your local boutique!
Ask Your Boutique About Upcoming Store Events
A Maggie Sottero store event is a great opportunity of how to find a specific wedding dress you're looking for. Our Authorized Retailers typically host store events to showcase their permanent or loaned inventory. This gives brides the chance to try on wedding dresses in a celebratory, personalized atmosphere. Check out our Store Events listings for upcoming events in your area, or inquire with your shop directly.
There you have it! We hope these tips have been helpful on how to find a specific wedding dress where you live. For more tips on how to have the best experience while shopping at your local bridal boutique, click here. Happy dress shopping!
Special thanks to: 💒Brides of Florida / 💍The Crystal Bride / 📷Dipp Photography / 📷Michael A. Marcotte Photography / 💁‍♀️💌Bonnie Rodriguez