Tips and Trends
Wedding Inspo
|
May 5, 2020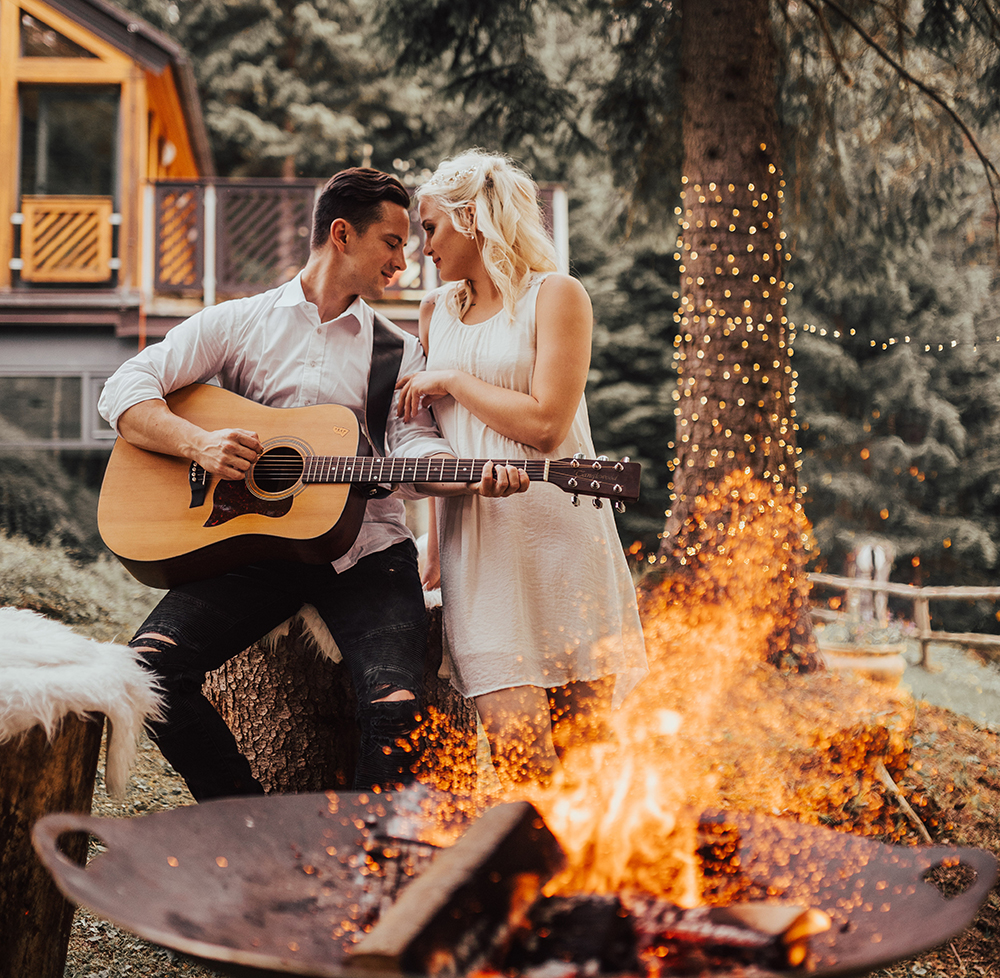 With social distancing, many couples have had to halt their wedding planning and wedding date for an unspecified time in the future. We'd like to offer some hope, cheer, and inspiration during this unprecedented time. So if your would-be celebration is coming up, here are some creative ways to celebrate your original date if your wedding has been postponed!
Get Dressed Up for a Date Night
Of course, no celebration is complete without formalwear. With your original wedding date coming up, this is the perfect excuse to pull out your cocktail attire and dancing shoes, or treat yourself to a little online shopping. (And of course, you could also put on your actual wedding attire—totally up to you!)
Eat Your Wedding Cake
You've been looking forward to your catered masterpieces for months. Even if your wedding party is postponed, you can still mark the occasion with a mini cake in the same flavor your ordered for the big day, or with a special dessert ordered for delivery or pickup nearby. (This is also a great way to support your local restaurants during the COVID-19 crisis!)
Take a Walk Down Memory Lane
Set aside the evening to re-watch your favorite movies, browse old photos, read each other love letters, and reminisce about everything you did together pre-pandemic. It's a great way to mark the occasion and keep each other happy and excited, despite the need to reschedule.
Give Each Other a Pre-Wedding Gift
If your wedding has been postponed, exchanging pre-wedding gifts is a small but lovely gesture to lift each other's spirits. In keeping with quarantine measures, you might find a perfect indulgence to make your partner's life a little sweeter during lockdown—be it loungewear, a tea or coffee accessory, or a new novel to read.
Re-Plan Your Honeymoon
Use this day to do something you rarely have time to do in normal circumstances—plan your honeymoon! As you've likely had to postpone your trip, this is the perfect opportunity to research activities, restaurants, and adventures that your destination offers to make it extra special. (Here's a great place to start on our blog: 10 Affordable Honeymoon Destinations that Still Make You Feel Like Royalty.) Or, you can still celebrate your love with these 5 COVID Honeymoon Ideas for Couples During the Pandemic!
Get Together with Friends and Family Digitally
Just because you're not having a party IRL, there's no reason to celebrate in isolation! Invite your friends and family to join via Facebook Live or Zoom, and share a few ways for them to prep and connect beforehand. For example, everyone could make the same cocktail recipe, share old photos, or (for local guests) organize a car parade to drive by your home with signs and well-wishing.
Have a Photo Session
Some photographers may be willing to host a mini photo shoot to mark your occasion, as long as you adhere to safe distancing and careful planning. Schedule this "postponement session" on your porch, in your front yard, or at a nearby park, then incorporate these photos into your later celebration. Win win!
Dance to Your Wedding Playlist or Favorite Songs
Take some time during your date night for a mini dance session in your living room! Share your favorite songs with any virtual guests to get the party started long-distance. (And, of course, record your best dance moves to show off on social media!)
If You're Not Physically Together on Your Wedding Date, Celebrate Virtually
If your wedding has been postponed, and you and your sweetheart can't be physically together on your original wedding date, we feel for you! Good news is that you can still mark the occasion long-distance. A few ways to connect digitally: host a Skype couple's dance party, watch a movie together on Netflix, or coordinate a takeout feast to eat "together" over FaceTime. Cheers!
Don't Want to Wait? Have a Virtual Wedding!
Despite the current social limitations, many couples are opting to go forward with their wedding in a private, at-home ceremony with just their officiant and photographer present. If this is a safe option for you and if you are able to get a marriage license valid for your original date, check out our full post for hosting a virtual wedding while social distancing.
Lastly, Play Bridal Bingo with Us!
Have extra time at home? Play Bridal Bingo with us on Instagram! Simply screenshot the images below, upload them to your Instagram story, fill them out, and make sure to tag your friends and vendors. Then tag us @maggiesotterodesigns so we can feature you on our story!
Ready to plan your perfect "postponement?" Head to our Pinterest boards for more ideas and inspiration to adapt to your pre-wedding festivities for your postponed wedding! Remember, despite the delays and difficulties, you're still on track for all things chic, romantic, and magical that you planned for your original wedding date. And in the meantime, here's to making the most of your detour with some wedding mindfulness and a beautiful one-on-one date with your true love. Happy celebrating!
Related content:
Wedding Disasters: How to Not Sweat the Small Stuff on Your Big Day