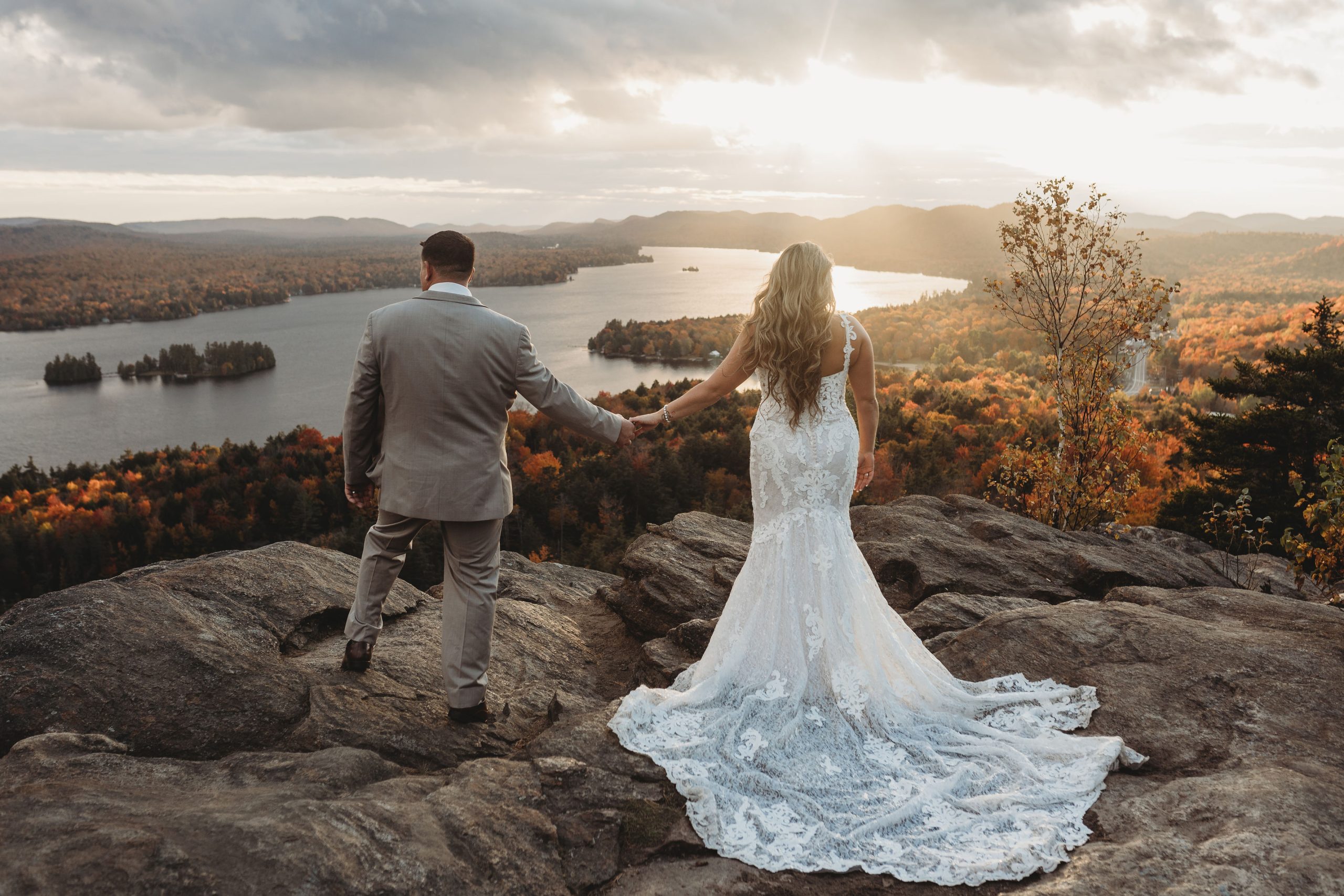 Hi Brides! Excited to embark on your wedding dress shopping journey? We know weddings can be expensive and overwhelming to plan at times, but no worries! We're here to help you understand how much wedding dresses cost and figure out what's best for you and your journey as a bride.
It's important to know your desired price point before you start shopping—make sure to factor in alterations costs as well because you want your beautiful gown to fit you like a glove!
If you want more tips and tricks, wedding education and #MaggieInspiration for your big day, make sure to sign up for some exclusive text messages below!
How much do Maggie Sottero wedding dresses cost?
According to the Knot, the average cost of a wedding dress varies based on various factors, including region, venue, and individual customizations. Here at Maggie, we have three incredible gown lines with a variety of price points, aesthetics, and styles to match the beauty and diversity of our brides.
Maggie Sottero is our core line of romantic gowns for a timeless-yet-personalized aesthetic. These gorgeous gowns range from $1500 to $3000.
Our Sottero and Midgley couture gowns are designed for glamour, sophistication, and a one-of-a-kind statement. These gowns are slightly more expensive, ranging from $1500 to $4000.
Rebecca Ingram is our line of classic, flirty, and elegantly tailored gowns at budget-friendly price points. These wedding dresses cost from $900 to $1400.
Wedding Dresses Under $1200
Love chiffon, lace, and affordability? Consider saying "yes!" to Tasha by Rebecca Ingram. This romantic halter neck gown is perfect for brides who want a casual beach ceremony without spending too much on wedding dresses cost.
Psst… Are you getting married in a hurry? This is one of our many Quick Ship gowns! If you're a bride in a time crunch, this dress will get to you in a shorter-than-normal timeframe for your wedding day. 
PC: Jessica Thomas Photography
Another affordable wedding dress option is Lorraine by Rebecca Ingram! This chiffon and lace beauty is extra special though. Why? It has many Sister Style options! If you love the look of Lorraine but want something a little different, take a look at the variations below:
Lorraine Dawn by Rebecca Ingram
Lorraine Leigh by Rebecca Ingram
Lorraine Dawn Lynette by Rebecca Ingram
Lorraine Lane by Rebecca Ingram
Lorraine Lane Marie by Rebecca Ingram
Lorraine Anne by Rebecca Ingram
Clover by Rebecca Ingram is another one of our affordable wedding dresses that's perfect for brides on a budget and brides with style.  This chic satin wedding gown is picture-perfect with a sweetheart neckline, ruched bodice, and fit-and-flare silhouette.
Last but certainly not least is simple and stunning Theordora by Rebecca Ingram. It's the perfect mix of elegance and casual with a plunging V-neckline, curve-hugging silhouette, and open V-back.  It's the ideal choice for brides who are looking for comfort and fashion for their wedding day.
Love these affordable wedding dresses? Keep reading to see more options under $1500 and read our blog to see more affordable wedding dress options!
Wedding Dresses Under $1500
Want to feel flirty and feminine on your wedding day? Primrose by Maggie Sottero is the perfect gown for you then! With floral lace, breathable chiffon, and romantic flutter sleeves you can't beat it! Love this gown but want something with a little bit more coverage? Talk to an Authorized Retailer near you about getting this dress with a lined bodice!
Whereas Primrose is all light and airy, Alexandria by Rebecca Ingram is sultry and daring. This midnight black dress is the ideal choice for brides who want to make a one-of-a-kind statement on their wedding day. With sheer bishop sleeves, a plunging V-neck, and scattered lace it's giving whimsical, dark fairytale and we're here for it.
Psst… Love this black wedding dress?? Take a look at our other beautiful black wedding dresses by reading our blog and keep reading for more wedding dresses cost!
PC: Rosenberry Media
If you've had your eye on a Maggie Sottero dress for a while then you know Hattie by Rebecca Ingram. If you haven't, here's all the must-know info for this stunning mermaid wedding gown! There's a lot to love about this highly reviewed dress. Starting from the top, fall in love with its plunging sweetheart neckline, and then be ready to swoon as you make your way down its fitted silhouette and take in the oversized floral lace. Don't fret though! If you love the lace of Hattie but don't love everything that goes into this gown, take a look at its Sister Styles below:
If you're looking to feel like a Hollywood starlet on your wedding day, Foster by Maggie Sottero is the gown for you! This creamy fit-and-flare wedding dress features a ruched bodice, classic V-neckline, buttons down the back, and the option to personalize your gown with a bow or detachable train (sold separately).
Wedding Dresses Under $2000
If you're a bride with a bigger wedding dress cost budget (but just as much style!) we have a ton of wedding dress options for you as well. First on our list? Watson by Maggie Sottero.
Watson is another black wedding dress in our collection and appeals to brides who loves nature but loves a little bit of mystery as well. With a large floral print, black colorway, and sexy V-neckline you'll absolutely be getting some bang for buck.
PC: Dania Zaragoza Photo
Another beautiful option for brides who love floral lace is Greenley by Maggie Sottero! This fit and flare option is sexy and chic with garden-inspired lace, a deep V-neck, and open back. For brides who love a sexier option, this gown features a sheer bodice, however if you want more coverage consider asking for a lined bodice during your bridal appointment.
Speaking of sexy and chic, next on our list is Bailey Lane by Sottero and Midgley. This V-back mermaid wedding dress is opulent, elegant, and sultry with beaded lace, tulle fabric, and trendy spaghetti straps.
Psst… Love this style? Look at Sister Style, Bailey by Sottero and Midgley, for even more options!
You didn't think we'd feature another one of our beautiful black wedding dresses did you? Give a round of applause to couture strapless wedding gown, Aspen by Sottero and Midgley! This cat eye neckline wedding dress is striking with its wedding dress costs, full satin skirt, and thigh high slit. Th perfect option for brides looking to make a statement!
Wedding Dresses Under $2500
PC: Ernst And Co Photo
Lacy, sparkly, and sexy, Tuscany Royale by Maggie Sottero is worth every dollar. This fit-and-flare wedding gown with its dramatic bridal train is what dreams are made of! Love this gown but it's missing something? No worries! Read our blog to learn more about the many different Sister Styles in this collection.
Next is Cezanne by Sottero and Midgley. This dramatic Grecian-inspired bridal dress has layers of fabric with a sexy thigh high slit that will draw all eyes to you on the big day. Our favorite part, apart from chic ruching of course? The elegant satin off-the-shoulder sleeves.
If you love vintage-inspired wedding gowns then you'll love Veronique by Maggie Sottero. This unique bridal gown is head-to-toe glitter and lace with an illusion lace back, sexy V-neck, and detachable long sleeves!
Psst… Make sure to get the matching cathedral-length veil to have a head-to-toe Maggie Sottero look!
Last but certainly not least, we can't get enough of plus size wedding dress, Dove by Sottero and Midgley! This lacy mermaid gown is head-to-toe sexy with a plunging sweetheart neckline and open illusion lace back with illusion lace!
All-in-all, we know wedding dresses cost a big chunk of change from your wedding budget. However, we want our brides to know they have options! No matter your ideal spend, you deserve to be your happiest, most confident self on your wedding day. We hope this collection of budget-friendly wedding dresses helps you narrow your search to find your perfect dream gown!
Be sure to find an Authorized Retailer near you by clicking the button below! And in case you're looking learn more about Maggie or more wedding inspo, check out these blogs. Happy dress shopping!
More Blogs Like These:
Wedding Dress Customization & Personalizations with Maggie Sottero
The Ultimate Guide To Choosing Your Wedding Dress Fabric