Real Weddings
|
January 23, 2017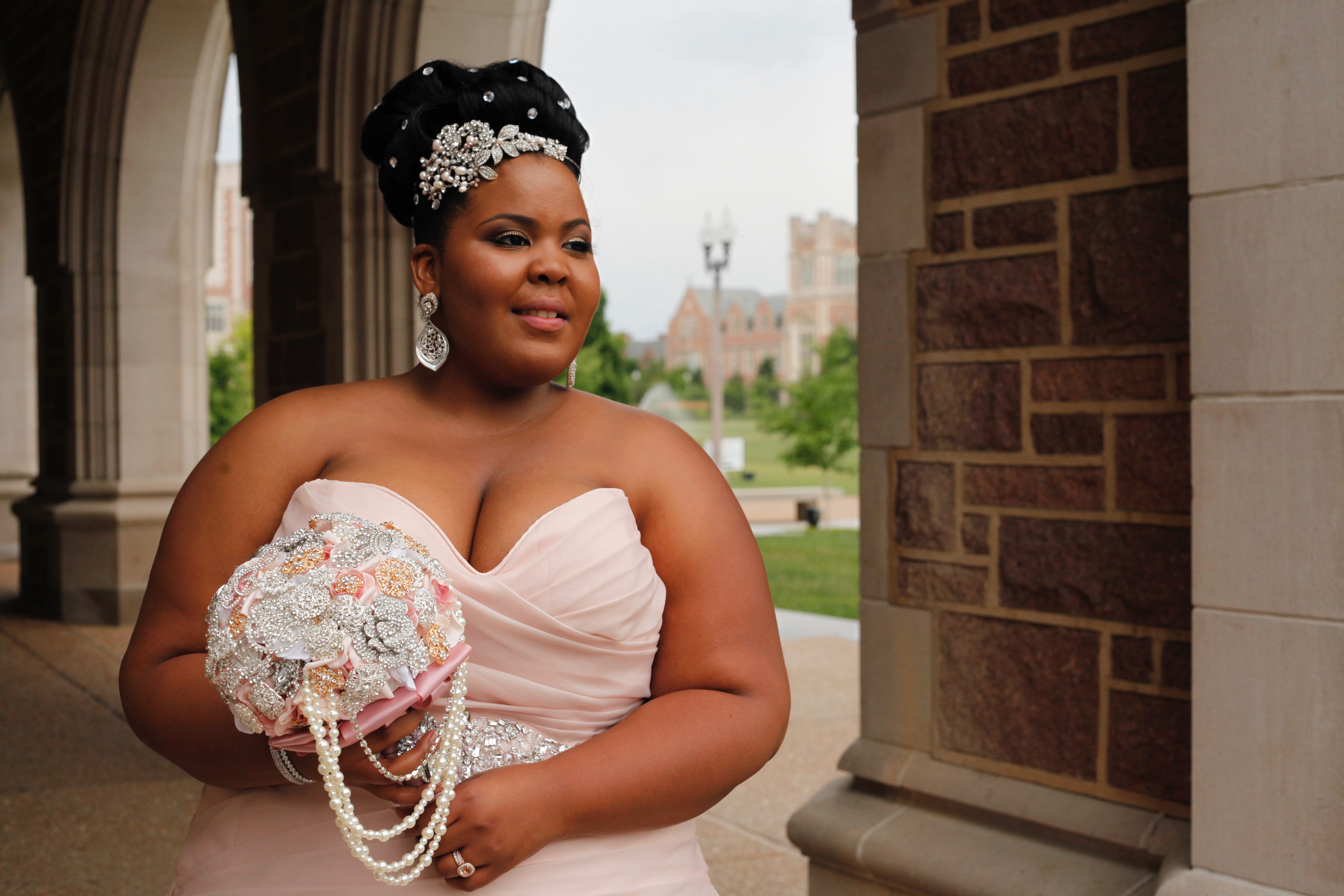 All hail the blush wedding dress, a perfect fusion of classic romance and edgy glamour for the sweet-yet-sultry bride. Still not convinced? Get inspired by Maggie bride Whitney's Gatsby-themed nuptials, featuring feathers, sparkling accents, a brooch bouquet, and the inimitable Divina in blush.
This unique and super flattering style can be found at an Authorized Retailer near you.
Which Maggie Sottero gown did you wear?
I wore the gorgeous Divina Dress in Blush.
How did you know when you found "the dress"?
The Divina was the first dress I tried on in white. I tried on others and I didn't have that magical princess feeling. The girls at Clarice Bridal in St. Louis showed me the color options in the Divina. When I saw the pink I fell in Loveeee! I knew that was the one!
What was your favorite part of the dress?
The color! It was the perfect shade of blush pink. The dress was classic but I loved the subtle uniqueness of the color.
How did you and your partner meet?
My husband and I met at my job. I worked for a luxury retailer and my working section was right across from men shoes. Seemed as if he bought shoes every week until he asked for my number.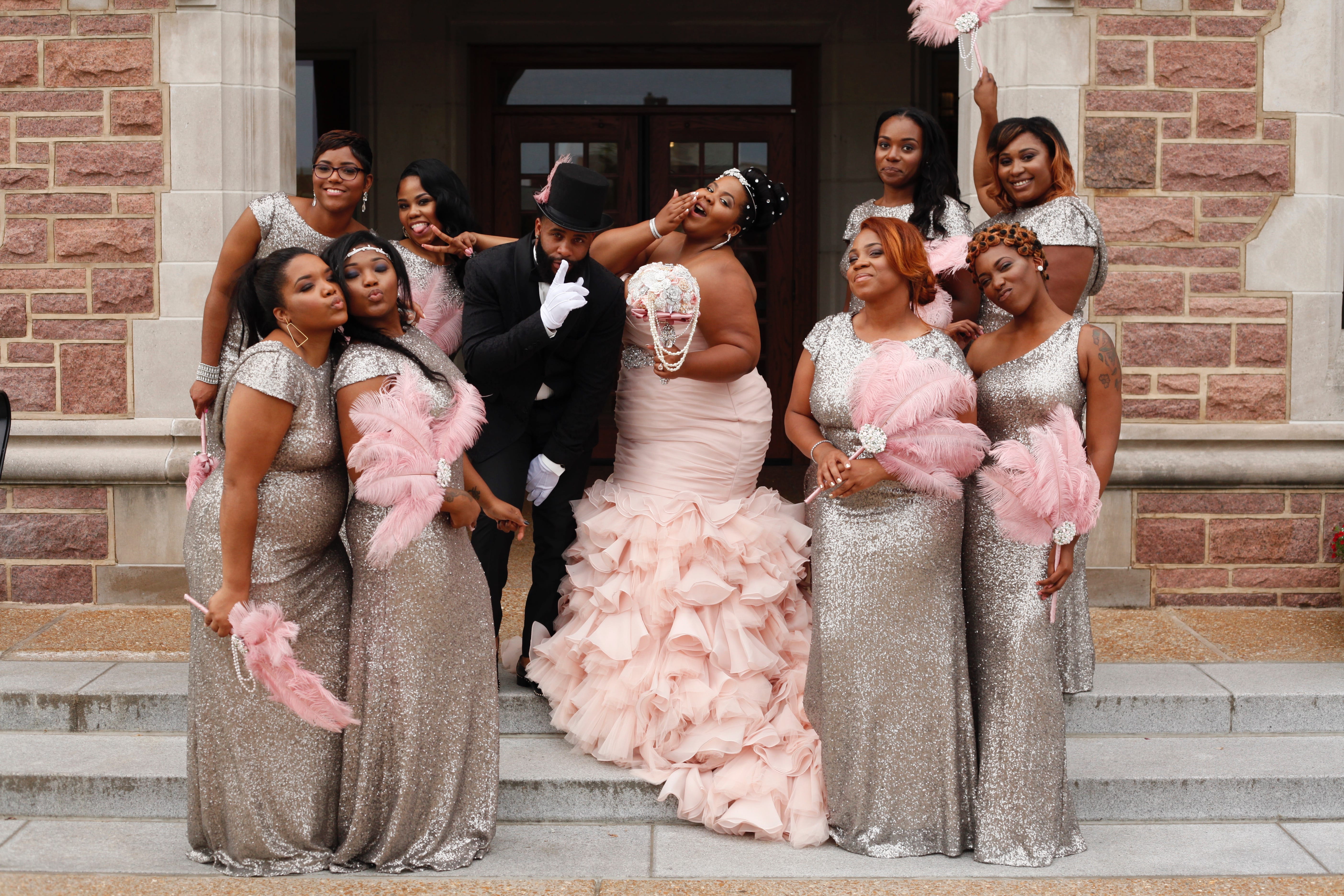 How did he propose?
While dating, I was living in St. Louis, MO and he was living in San Fransisco, California (Talk about long distance) he received a promotion at his job located in Atlanta, GA. He asked me to come with him his first day there. Before I arrived, he sent me an extremely detailed email of everything to wear for every day I was there. I couldn't figure out why I needed to bring my red formal gown but I just followed the instructions. He picked me up from the Intercontinental hotel. We drove to a beautiful Tuscany inspired restaurant. There was a table of two right in the middle of the restaurant. We had an amazing meal. The server came and served me a glass of champagne while recording me. I was confused on why he had a camera in my face. I look up and there's my husband in suspenders and a bow tie on one knee in the middle of this beautiful restaurant. When I said YES!, the whole restaurant clapped and cheered us on. Apparently they all knew what was going to happen and couldn't wait for the show! Since I was away from home he had a video collage of all my friends and family saying congratulations! Truly magical.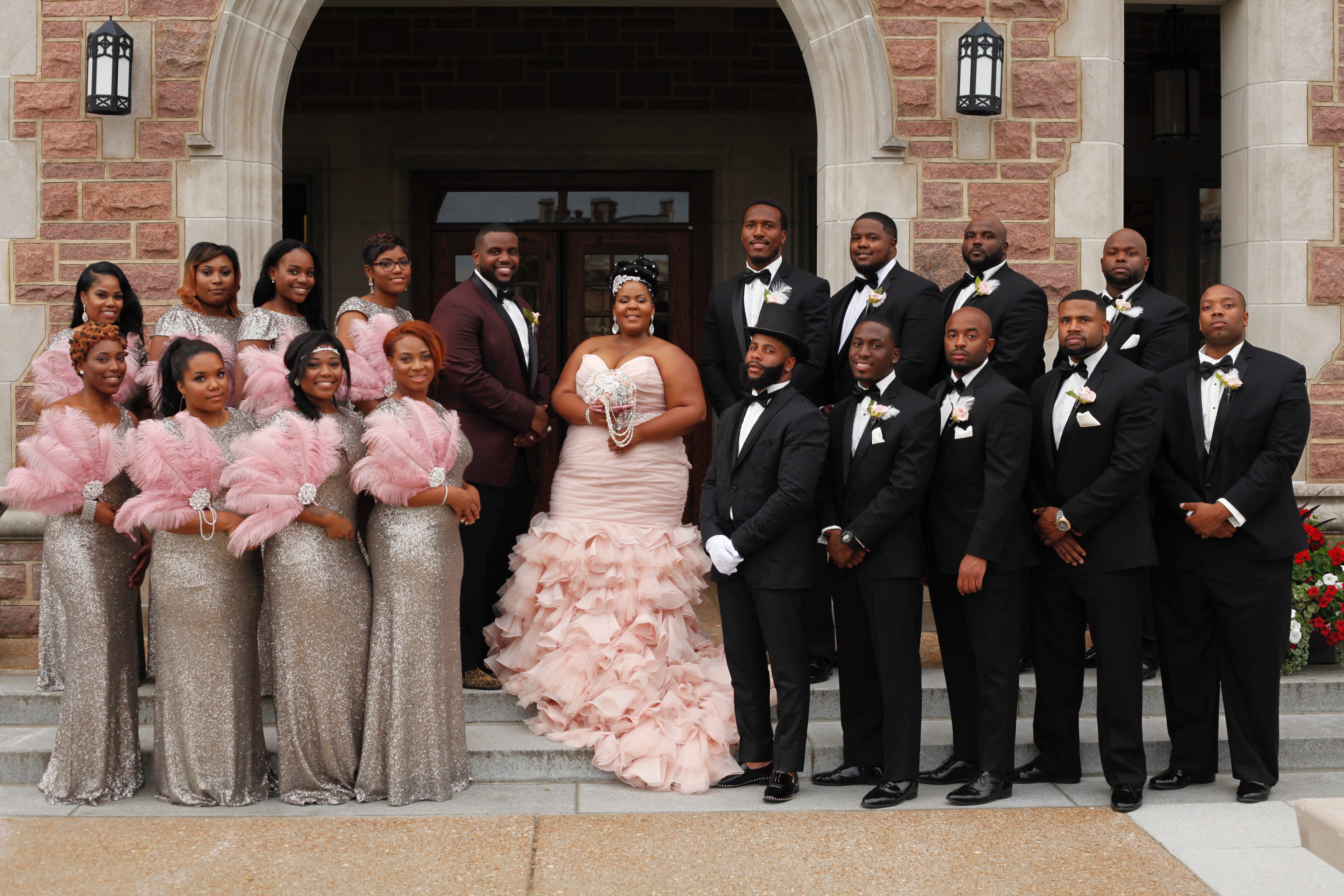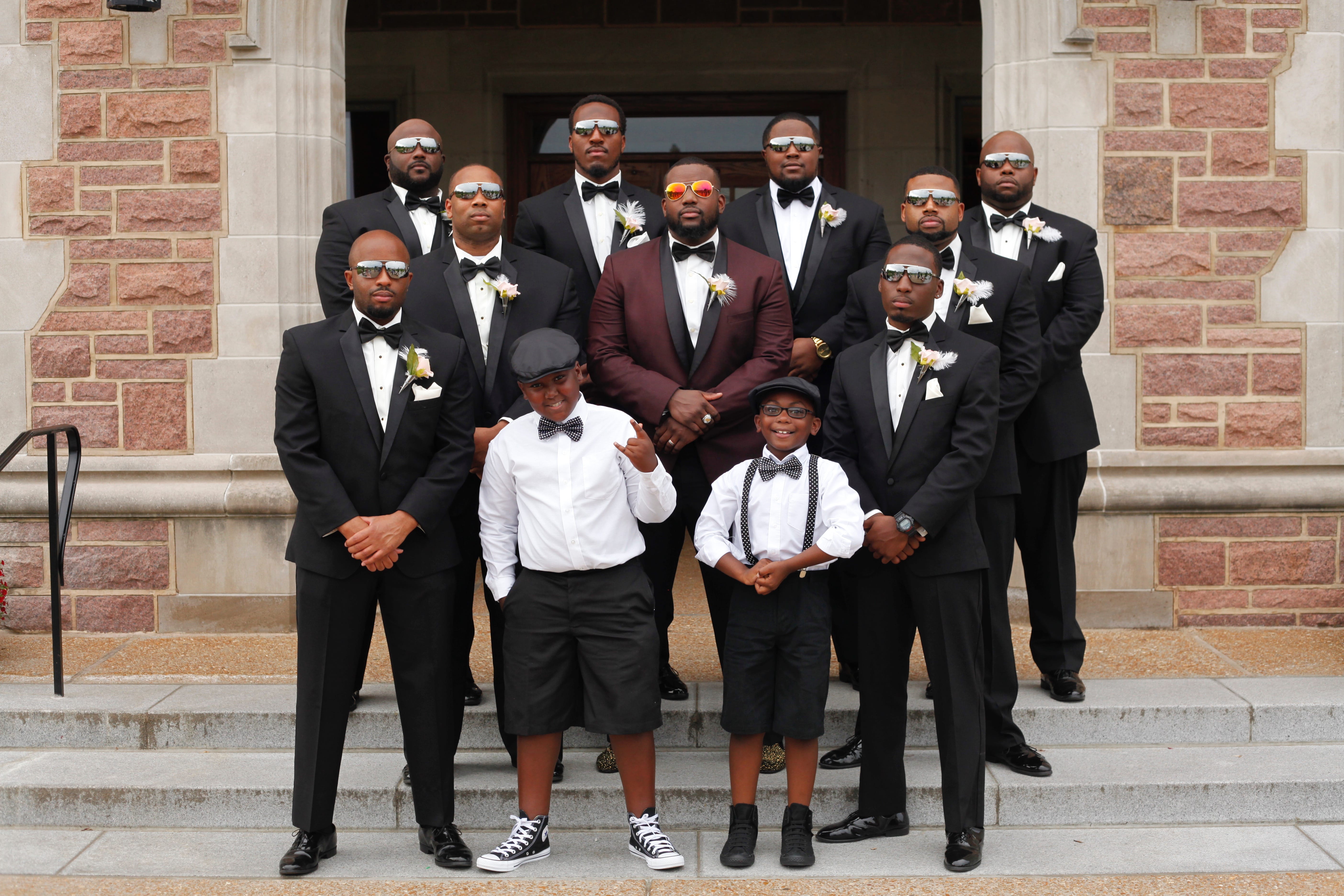 Where did you get married?
We were married at the Washington University Chapel in St. Louis, MO. They had the most amazing stain glass windows.
Did your wedding have a theme?
We had a Great Gatsby-themed wedding. Our guest loved it and we were in full costume! There were flapper girls in shimmy dresses everywhere! Our wedding looked like a 1920's film.
How did you decide what you wanted your wedding to look like?
My husband and I are both pretty fancy people. When I said I wanted sequins and he said he wanted classic black tuxedos, we instantly thought Gatsby! From there it was easy to plan colors and décor to fit the theme perfectly. I knew my dress would be pink so our accent colors were pretty neutral for a cleaner timeless look.
What was your favorite wedding day moment?
My favorite wedding moment was walking down the aisle. After all the planning, frustrations, ripping and running, and tears, getting to the aisle made it worth it all. Seeing all your loved ones crying, hugging each other and snapping photos made it so magical. Not to mention seeing the love of your life at the end, waiting for you, smiling with tears in his eyes.
What advice do you have for future brides?
Future brides, when planning, do exactly what makes you and your future husband happy! When you are truly happy with what you want, you'll have no regrets, even if everyone thinks the flower choices are hideous. You'll look at your photos and see a reflection of yourself in every shot.