Real Weddings
|
December 29, 2016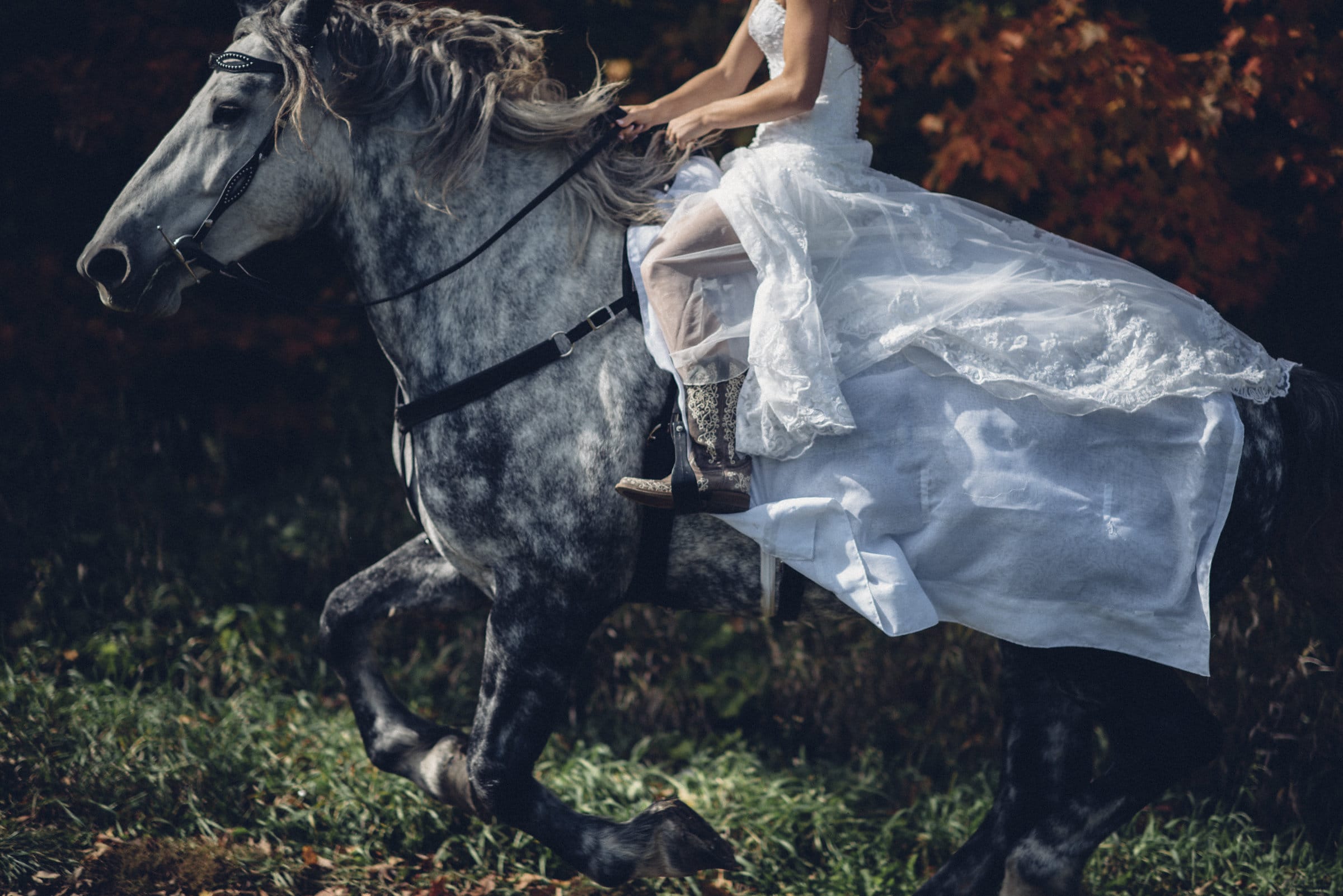 Today we have the most magical of country weddings, featuring real bride Markie in Marlow by Sottero and Midgley! Keep scrolling for her love story (with major outdoor wedding inspiration!), and check out our list of gowns inspired by wedding venues to start scouting your dream location!
Which Maggie Sottero gown did you wear?
Marlow by Sottero and Midgley
How did you know when you found "the dress?"
I knew when I had found "the dress" because when I came out to show my friends and family Shania Twain was playing on the radio. Since I'm a country girl it seemed like a sign, as we were in downtown Toronto where country music is not very popular. Also, since I had decided to ride a horse to the ceremony, I knew I needed a dress that was light and not too tight around the legs, but still form fitting. It just had it all!
What was your favorite part of the dress?
My favorite part was the lace and how light it was.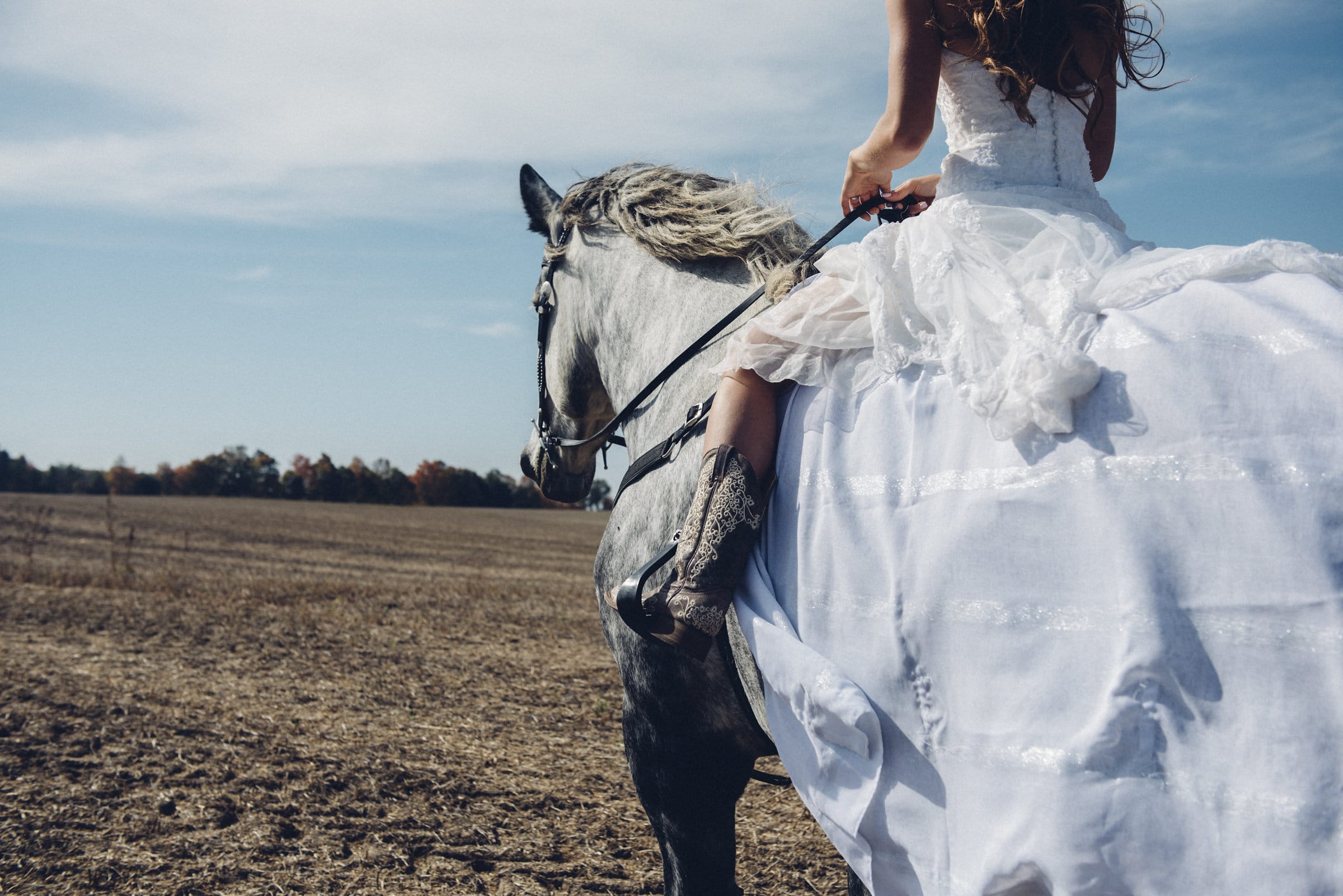 How did you and your partner meet?
My husband knows two things about me: I LOVE Christmas, and I am very close to my family. I still have all four of my grandparents and our family may not be a large one but it is very close.We were opening gifts on Christmas Day and there was one gift left under the tree. My mother handed it to me but it had no "From" card on it. I opened the box and there were white wooden letters in the box. My mother in all of her excitement had accidentally shaken the box so the letters were out of order (little did I know). I started to leaf through the letters and thought it spelled out "Welcome" and was just a sign you put on a shelf and shut the lid. My husband grabbed the box, rearranged some stuff, and gave it back. I started reading the letters in order again and they spelled out "Will you marry me?" I turned around and he was behind me on one knee! It was very, very special to me because all of my grandparents got to be a part of it as well as my parents and siblings. He was truly brave that day, and on Christmas Day no less!
| | |
| --- | --- |
| | |
Where did you get married?
We got married on my parents' property. They have a 50-acre parcel of land with trails that wind up a large hill through the forest to a small clearing that you can see for miles and miles. We decided since we loved to walk up there that is where we wanted to get married. However it was densely forested, and we only had a few months to clear a spot big enough for over 150 guests, but our families pulled together and we managed to clear almost an acre of brush, plants, grass, and seed, and build trails to make it happen.
Did your wedding have a theme?
Our wedding can only be described as rustic meets elegant, with a bunch of animals thrown into the mix!
How did you decide what you wanted your wedding to look like?
I had a very specific idea of what I wanted my wedding to look like. I don't like frills or fluff or anything like that. I wanted it to look elegant but have pieces of us built into it. It was an outdoor country wedding, so it had to be a little rustic but not over the top.
What was your favorite wedding day moment?
I think my favorite wedding day moment was coming up over the hill on my horse and seeing Andrew for the first time. First off, I couldn't believe I made it up there on horseback without face planting, but more importantly, I hadn't seen Andrew yet and felt much more relaxed once he was in sight.
Describe your wedding on one word:
Beautiful!
What advice do you have for future brides?
My advice would be that it usually all works out in the end! For example, I had a young horse that I taught to ride in a trailer, and she hated the trailer. The day before the wedding when she was supposed to come over for the rehearsal to get used to the sights and sounds, she would NOT get on the trailer—we tried for hours and she simply refused. Needless to say that was very unnerving, and I decided I would not have her come as she hadn't got to see everything I wanted her to see. However, the day of the wedding I got up, went over to the barn, and decided if she were to get on the trailer she would come and if not we would make other arrangements. She walked right on like a pro! Then, once the ceremony was over, she would NOT get back on the trailer to go home again, and ended up spending the entire night at the wedding and joined in the festivities. The guests loved having her there!